Classic Lemon Cupcakes
These lemon cupcakes were previously published in 2013 but I am updating the pictures and recipe.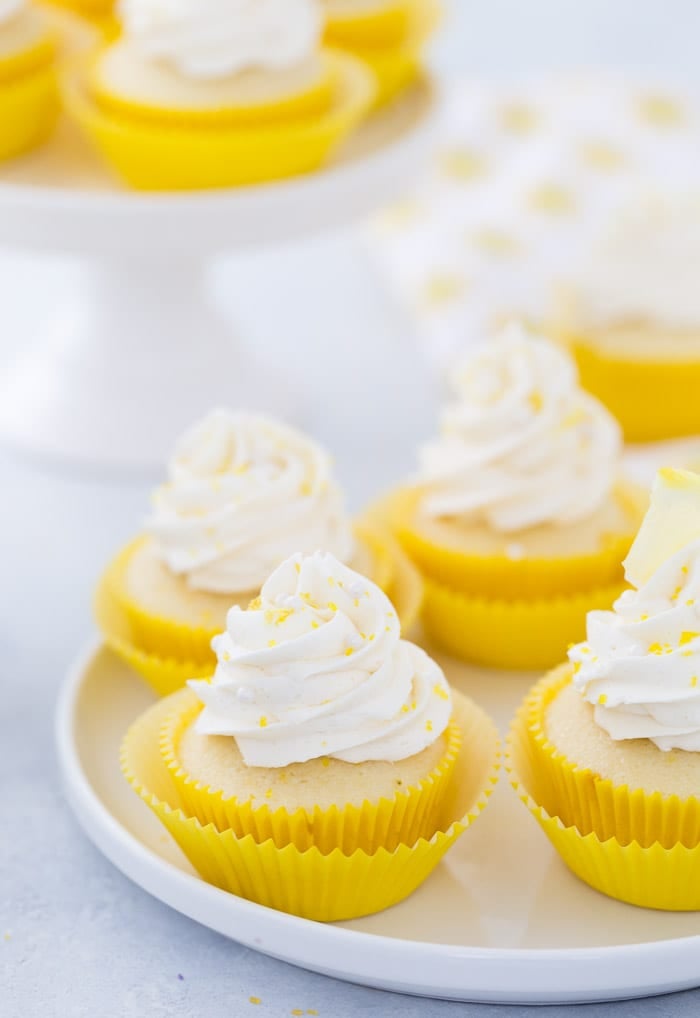 We've been having quite a nice warm February so obviously spring and citrus is on the mind. These lemon cupcakes in particular! I made these a few years ago when I just started baking and needed to revisit it again with a more seasoned eye. It remains one of my favorite cupcakes as the flavor is rich, the cake is moist and the frosting lip pukering. Hello Spring!!
The cupcake recipe uses a reverse creaming technique that I don't use nearly as much given the results. Instead of creaming the butter and the sugar, you drop the butter into the dry ingredients (flour and sugar) and incorporate into pea-sized bits before adding your liquids in two additions. This technique results in a finer crumb and of course a moist cake.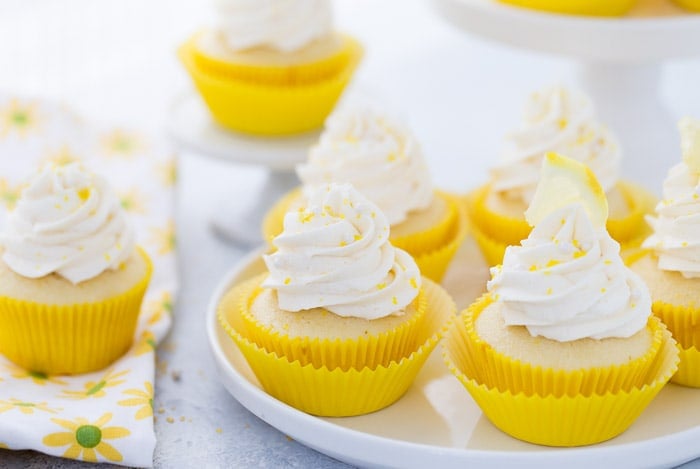 These lemon cupcakes have a great deal dose of lemon. If you are not a lip pukering fan, then this recipe is not for you. Although you could substitute the lemon for orange or sweeter meyer lemons. But with the zest of a whole lemon in the batter and some lemon extract in the batter, you get the flavor and freshness of lemons. The frosting is equally sweet and lemon-y delight!
If you are a fan of great lemon flavor, then these cupcakes are for you. You will love how easy they are to make and they will be a hit this upcoming spring.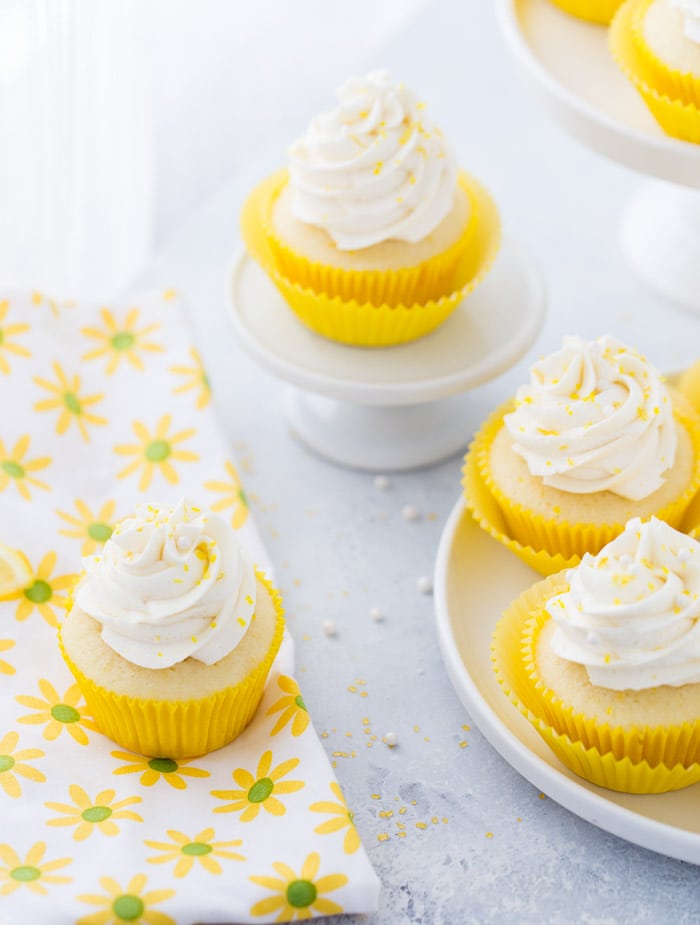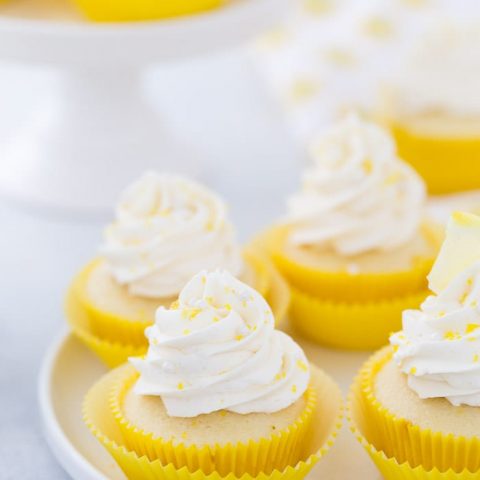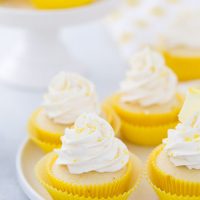 Yield: ~30 cupcakes
Lemon Cupcakes
These lemon cupcakes are filled with fresh lemon flavor with lip puckering sweet lemon frosting. 
Ingredients
For Cupcakes:
1 cup whole milk, room temperature
1 whole egg, room temperature
4 large egg whites, room temperature
2 teaspoons vanilla extract
1 teaspoon lemon extract
2 ½ cups cake flour, sifted
1 ½ cups granulated sugar
1 ¼ tablespoons baking powder
¾ teaspoon salt
zest of 1 lemon
1 ½ sticks unsalted butter, room temperature and cut into cubes
For the Frosting:
3 ½ sticks unsalted butter, softened
3 cups sifted confectioners' sugar
3 tablespoons milk
1 teaspoon vanilla extract
1 teaspoon lemon extract
Zest of one lemon
Pinch of salt
Instructions
For Cupcakes:
Preheat oven to 350 degrees F. Line cupcake tins with liners.
Whisk together a third cup of the milk, egg whites, egg, lemon extract and vanilla extract.
Sift the cake flour in the bowl of an electric mixer fitted with the paddle attachment (Or a medium bowl if using a hand mixer). Combine the rest of the dry ingredients including the lemon zest and sugar. Stir together on low speed for 30 seconds.
Add the butter one piece at a time and blend on low speed for 30 seconds. Then add the remaining milk, and mix on low speed until moistened. Increase speed to medium and mix for 1½ minute. Be careful not to overmix. Scrape the sides of the bowl as needed.
Add the egg/milk/extract mixture in 3 separate batches mixing on medium speed after each addition until combined.
Pour batter into prepared cupcake liners and bake in the center of the oven for 12-15 minutes or until a cake tester comes out clean when inserted in center of a cupcake.
Let cupcakes cool completely before frosting.
Lemon Buttercream
Whip butter for 8 minutes on medium speed using the paddle attachment of an electric mixer. The butter will become pale and creamy
Add the rest of the ingredients and mix on low speed for 1 minute. Then increase speed to medium and mix for 6 minutes until the frosting is very light, creamy and fluffy.
Frost cupcakes using any large pastry tip.
Notes
This recipe is great as a layer cake too. Bake in two or three 8-inch round cake pans for 25-30 minutes.