Mint Chocolate Mousse Cups
These no-bake mint chocolate mousse cups combines two classic flavors in one creamy bite-sized serving. Perfect for St Patrick's Day celebrations.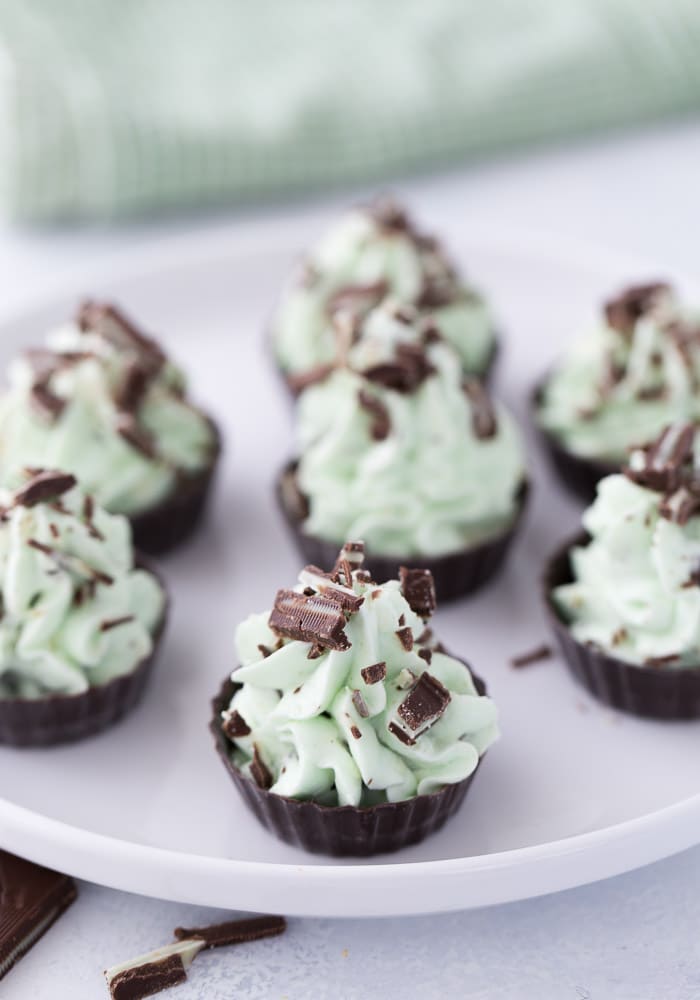 Hello friends!! I have another St Patrick's Day recipe for you today. I made these mint chocolate mousse cups for my husband last week and I was not going to share them since they were so easy. But they were too good not to share and I hope you enjoy them as much as he did.
The hubs requested a mint chocolate cheesecake recently as I was brainstorming recipe ideas for March with him. This is what we do on long car rides when the baby is sleeping in the back seat. When you are married to a baker blogger, it is not often you get your wife to bake you what you want, unless it is Pi Day competition at work and she gets all excited to win. But pies aside, he doesn't get his requests into the schedule very often. So he threw this request in knowing that seasonal flavors are the way to persuade me. But I was too lazy to make an actual cheesecake like this Irish Cream cheesecake with whiskey caramel so I decided to do a no-bake cheesecake instead to satisfy his cravings. It's a quick and easy way to get indulgent creamy cheesecake without the hassle.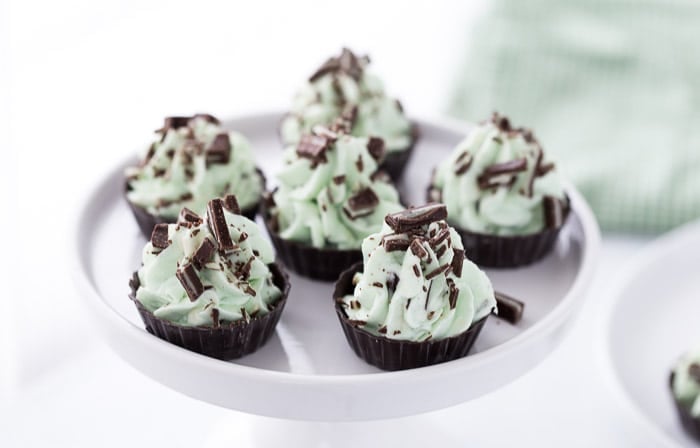 Using this no bake Irish Cream cheesecake as an inspiration, I infused this cheesecake with mint extract, chopped Andes mint and a slight hint of green coloring. It's a creamy delicious filling! To serve, I used chocolate cups I found at Home Goods. I've actually had these in my pantry for months now and forgot about them.  They are perfect to serve fruits, pudding, ice cream or mousse. You can buy them here on Amazon (<—affiliate link) and get creative with them!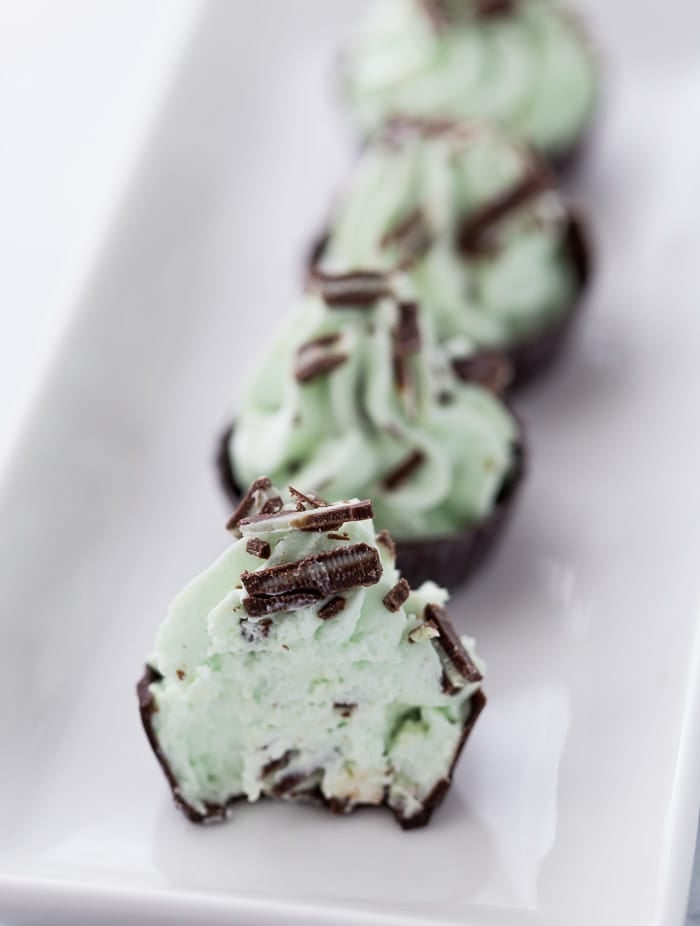 These no bake mint chocolate mousse cups are easy to whip up! With a good dose of mint, Andes mint and a crunchy chocolate cup, the creamy mousse filling is a perfect way to get your mint fix!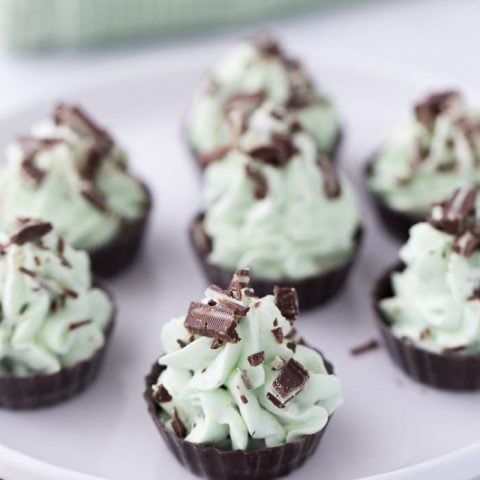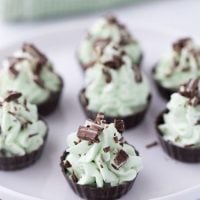 Yield: ~12 chocolate cups
Mint Chocolate Mousse Cups
These no-bake mint chocolate mousse cups combines two classic flavors in one creamy bite-sized serving.
Ingredients
4 ounces cream cheese, softened at room temperature
1 cup heavy cream, chilled
¼ cup powdered sugar
¼ teaspoon mint extract
½ teaspoon pure vanilla extract
one drop of green food coloring
¼ cup chopped Andes mint chocolate, and more for topping
Chocolate cups, for serving
Instructions
Chill a medium bowl (or bowl of the stand mixer fitted with the whisk attachment) in the freezer for at least 10 minutes. Beat the cream cheese until light and fluffy., about 3-5 minutes. Remove from the bowl and set aside. Don't worry about washing the bowl. Add the heavy cream, powdered sugar, mint extract, vanilla extract and food coloring. Whisk the cream until soft peaks form.
Gently fold in the cream cheese mixture into the whipped cream until combined. Fold in the chopped mint chocolate into the mousse. Chill for at least an hour or overnight.
Using a piping bag and tip of your choice (I used Wilton Tip 1M), fill in the chocolate cups with the mousse when ready to serve. I used these chocolate serving cups. Top with remaining chopped mint chocolate.
Notes
You can easily double the recipe for a bigger crowd.
If you don't have the chocolate cups, you can serve the mousse in clear serving cups or ramekins lined with chopped Andes Mint at the bottom.