Irish Cream Cheesecake with Whiskey Caramel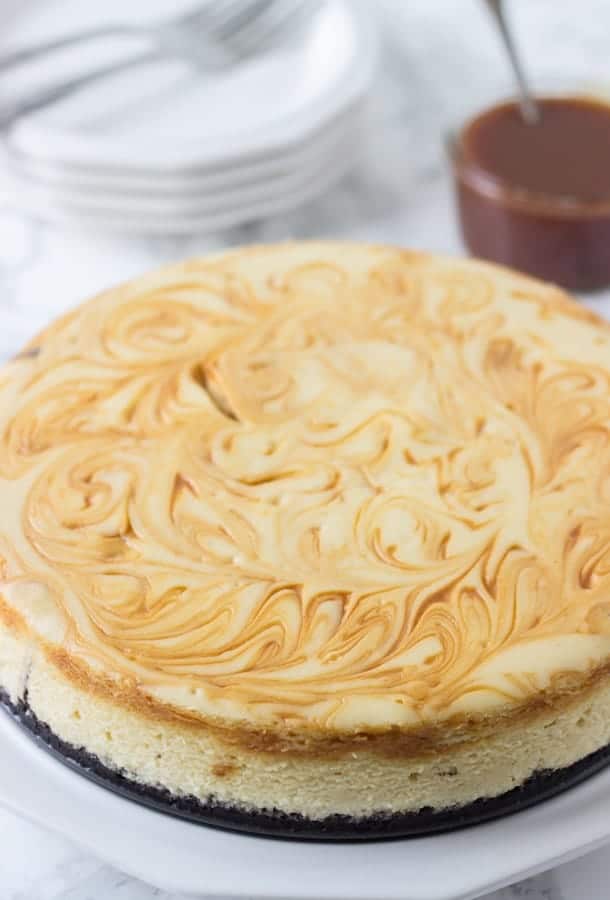 Happy Monday friends! I have a sweet recipe for you today that has climbed to the top of my favorite list but I have to keep things short. I spent most of my Sunday sleeping … the whole time change messed with my clock and now I am FAR behind on my presentation that's due tomorrow. I'm meeting with my dissertation committee members and I need to convince them I think I am ready to graduate. Hopefully they think so too!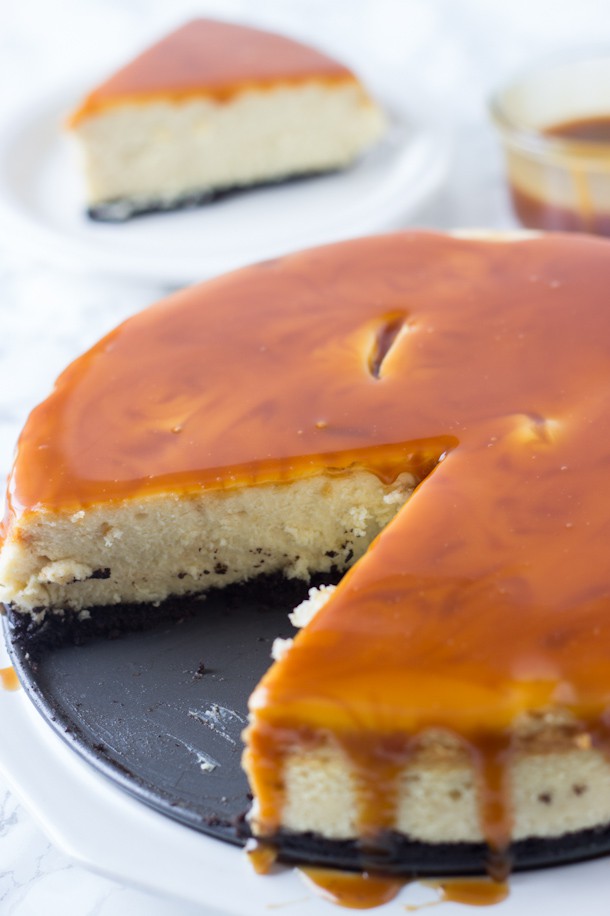 OK this cheesecake. Seriously it does not get better than Irish Cream Cheesecake with a whole lot of whiskey caramel everywhere. It's beyond delightful folks. A super creamy vanilla cheesecake, filled with your favorite irish cream (Bailey's!!!) and swirled with caramel sauce spiked with the best Irish whiskey (Jameson). Best caramel in the world!!
If you do happen to NOT drink the whiskey caramel before making the cheesecake, don't get scared to top the entire cheesecake with the caramel. It's a good decision. And your friends, family or spouse will love you more this St Patrick's Day. I know mine does!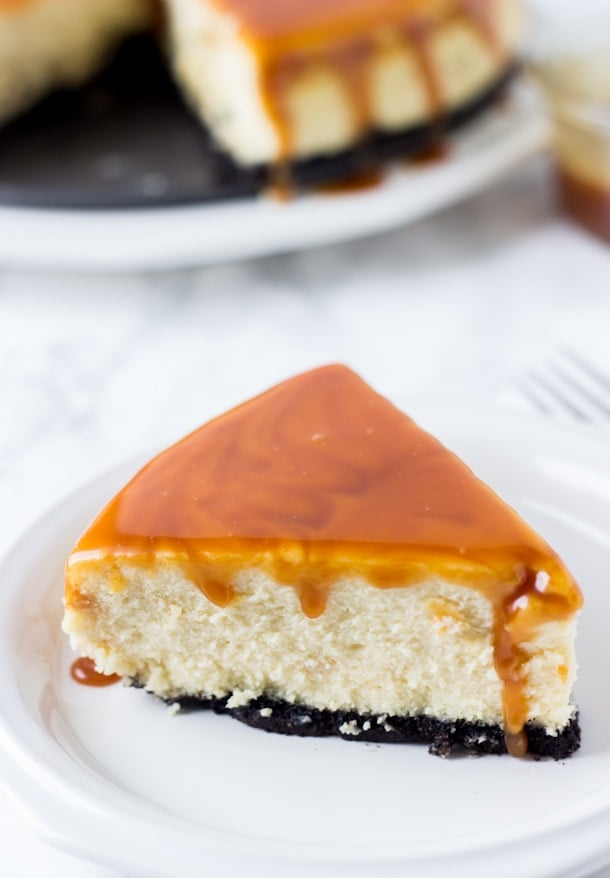 I hope you try this cheesecake soon friends. I'm off to presentation land till tomorrow afternoon. Wish me luck!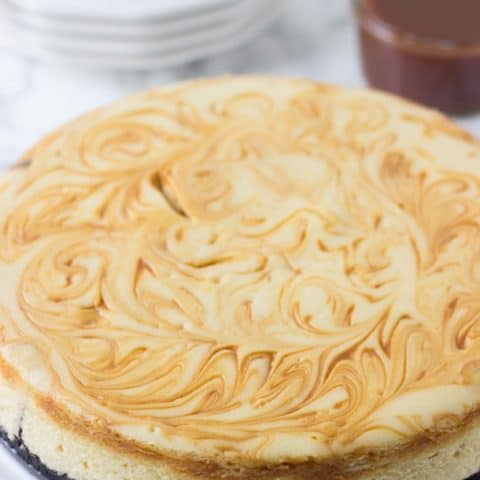 Yield: 9-inch cheesecake
Irish Cream Cheesecake with Whiskey Caramel
Total Time
2 hours
25 minutes
Ingredients
For Whiskey Caramel:
1 cup granulated sugar
6 tablespoons unsalted butter (cut up into cubes)
½ cup heavy cream
1 teaspoon fine sea salt (optional)
2 tablespoons Irish whiskey (or more to taste)
For Crust:
15-20 Oreo Cookies
1 tablespoon granulated sugar
a pinch of salt
5 tablespoons unsalted butter, melted and cooled
For Filling:
3 8-ounce cream cheese blocks, softened at room temperature
1 cup granulated sugar
¼ cup Irish Cream
1 ½ tablespoon all-purpose flour
¼ teaspoon salt
3 large eggs, room temperature
¼ cup whiskey caramel (and more for topping)
Instructions
To Make Caramel Sauce:
In a medium saucepan, melt sugar over medium high heat. When sugar starts melting, whisk until all the sugar melts. Sugar will clump in whisk but keep whisking.
Once all the sugar is melted, stop whisking and let sugar get to a deep amber color. You can swirl the pan to mix. Keep your eye on the caramel, as it will easily burn at this stage.
Whisk in the butter and mix until completely melted. Remove pan from heat and gradually add in the heavy cream. Whisk until smooth. Whisk in the sea salt (if using) and whiskey. Transfer caramel immediately into a glass jar and let cool.
To Make Crust:
Preheat oven to 350 degrees F. Wrap the entire outside of a 9-inch spring -form pan with two sheets of foil.
Using a food processor, pulse the cookies into a fine crumb. Add sugar, salt and melted butter and process until combined.
Transfer the crumbs to the prepared pan and evenly spread it. Use a flat bottom cup and press down on crust to create and even layer.
Bake crust for 8-10 minutes. Let cool while you prepare the filing.
To Make Filling:
Reduce oven temperature to 325 degrees F.
In the bowl of an electric mixer, beat the cream cheese on medium speed until smooth and creamy, about 2 minutes. Add sugar and mix until combined, another minute, scraping down bowl as needed. Add in Irish Cream, flour, salt and vanilla extract. Mix well on medium-low speed. Reduce speed to low and add eggs one at a time, mixing each time until combined. Mix filling until smooth for an additional minute.
Pour half of the filling into the prepared spring-form pan with crust. Pour half of the whiskey caramel on top of the filling and swirl (I used a dinner knife to make the swirls). Pour the remaining cheesecake filling on top. Finally swirl the last half of the whiskey caramel on top.
Place spring-form pan into a much larger baking pan. Add hot water into the larger baking pan to reach half way up the side of your spring-form pan.
Bake cheesecake at 325 degrees F for one hour. Then turn off the oven and leave the cheesecake in the oven for additional 45 minutes. Remove cheesecake from oven and allow to cool at room temperature for at least an hour before chilling. Chill for 6 hours or overnight.
When ready to serve, top cheesecake with whiskey caramel.