Chocolate Almond Souffle
This chocolate almond souffle is your rich traditional chocolate souffle recipe with nutty almond meal adding a wonderful texture. It's perfect for all your entertaining or when you want to indulge in a decadent dessert.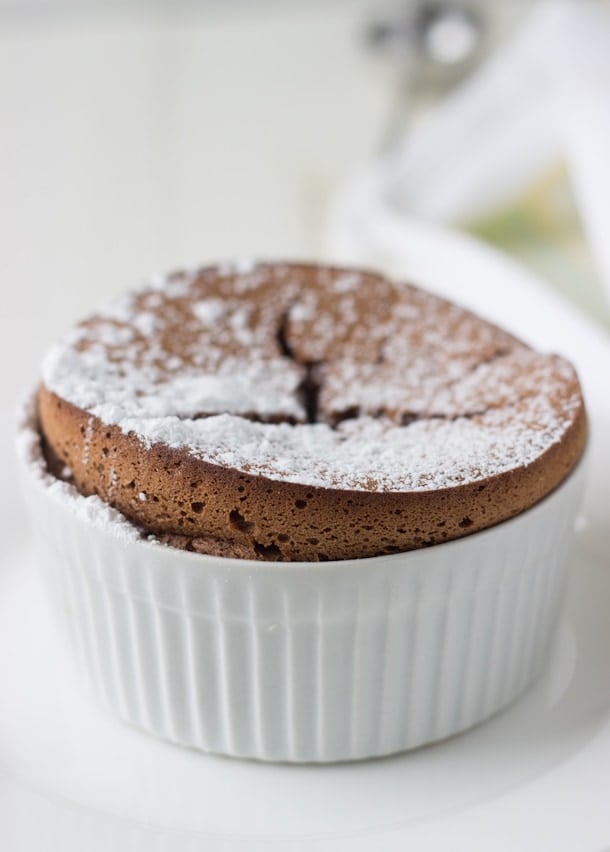 Soooo … we are back on the chocolate bandwagon. I swear I don't know who I am anymore. I am just drawn to chocolate these days and my vanilla-loving self is in complete dissonance. This chocolate almond souffle was not my fault though. It was the result of an emotional baking experiment after watching the final episodes of Parenthood.
In the second to last episode of the show, Adam, one of the Dads and my favorite character, was teaching a middle school student who was aspiring to be a chef how to make chocolate souffle. Keep in mind that Adam had no clue how to cook but he was excited to learn and teach this student that they can do whatever their little heart desires. It was incredible when their experiment came out splendid, with the perfect cracked puffed up top. Of course, watching this I was in tears (don't judge, this show just does that to you) and realized I never tried making chocolate souffle, or any souffle for that matter. What was stopping me? Absolutely nothing. So I got off the couch after that episode, grabbed my copy of Julia Child's Mastering the Art of French Cooking and made a chocolate souffle. It was 11 pm just for the record.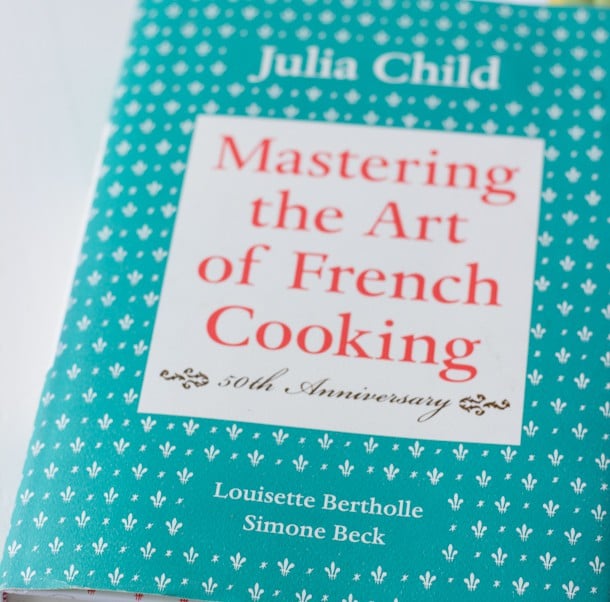 The souffle is a classic French dessert that features a light and airy baked cake with a gooey center. Making a souffle is not as challenging as I had imagined. It's got two key steps; first making a rich chocolate base of flour, milk, egg yolks and melted chocolate. You need to use high quality chocolate for this to ensure it's decadent as possible. The next step is whipping up egg whites into stiff peaks and folding this gently into the prepared chocolate base. Not as difficult right? The delicate part is making sure you do not overwork the batter when folding in the egg whites to maintain the maximum volume. It's the whipped egg whites that give you the souffle it's signature raised top.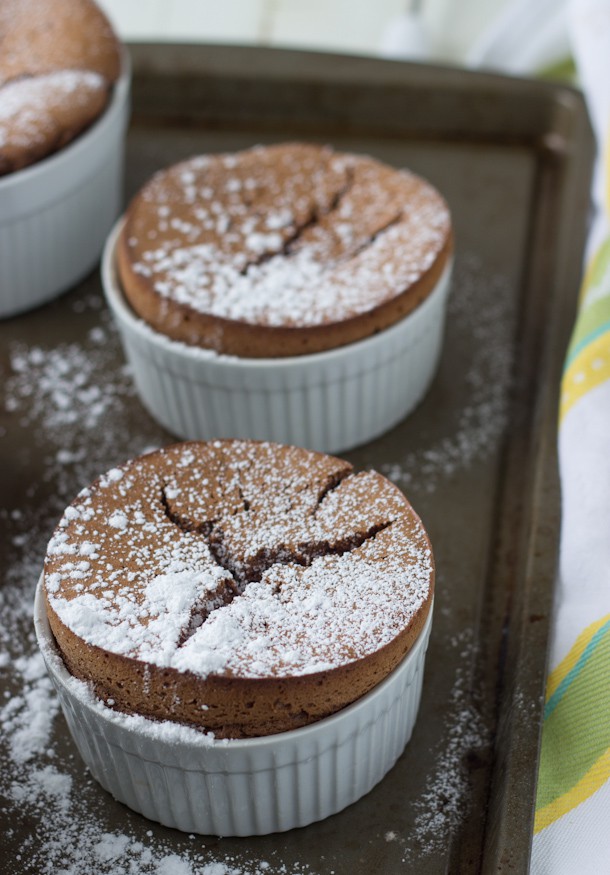 Of course, I couldn't just make a chocolate souffle. Being me, I had to add something. My first thought was toasted hazelnuts but I was out of my favorite hazelnut flour (tragic) so I settled for almonds and used almond meal instead to infuse some texture and flavor into the chocolate base. I am so glad I did because the almond-enriched this chocolate souffle and added a nice nutty flavor to the ever so gooey and rich center.
So my friends if you have been meaning to try this classic French dessert, now is the time!! It's even better than it looks and yet so easy to whip up with a few basic ingredients. Let's try it shall we?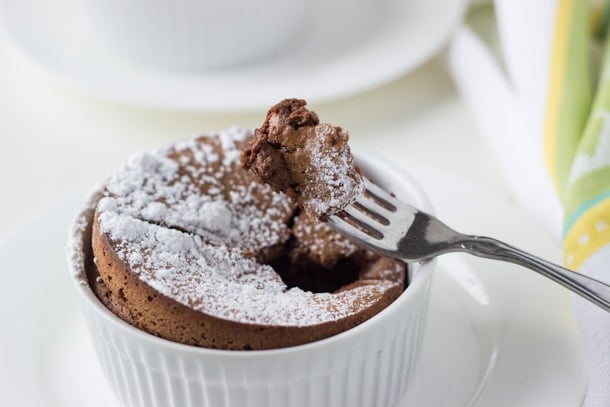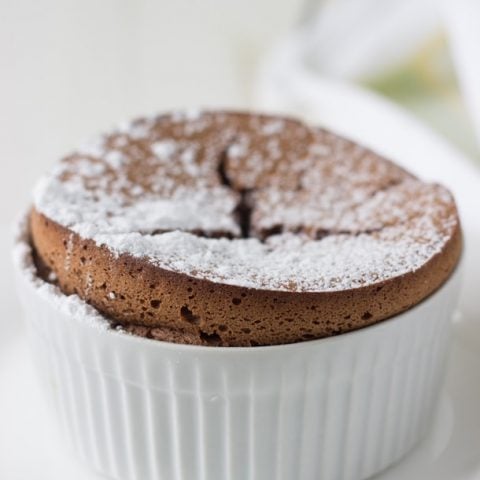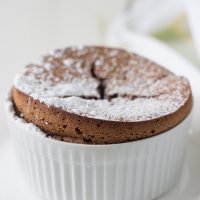 Chocolate Almond Souffle
This chocolate almond souffle is your rich traditional chocolate souffle recipe with nutty almond meal adding a wonderful texture. It's perfect for all your entertaining or when you want to indulge in a decadent dessert.
Ingredients
7 ounces semi-sweet baking chocolate, chopped (I used Ghirardelli)
⅓ cup strong coffee
⅓ cup all-purpose flour
2 cups milk
3 tablespoons unsalted butter
4 egg yolks
1 tablespoon pure vanilla extract
¼ teaspoon almond extract
½ cup pulverized toasted almonds or almond meal.
6 egg whites
⅛ teaspoon salt
½ cup granulated sugar
Powdered sugar (for serving)
Whipped cream or vanilla ice cream for serving
Instructions
Preheat oven to 425 degrees F.
In a medium heatproof bowl, combine the chocolate and coffee. Set the bowl over a simmering pot of water for at least 3-4 minutes. Remove from heat and let the chocolate rest while you make the rest of the recipe.
Grease the inside of soufflé dishes with baking spray or butter. You will need 8 6-ounces dishes or 4 10-ounce dishes.
In a medium saucepan, add the flour. Whisk in the milk, little by little, until a smooth cream forms. Then add the rest of the milk and whisk to combine. Add in the butter and place the saucepan over medium-high heat, Stirring continuously bring the mixture to a boil. Once boiling, keep stirring for additional 2 minutes. The mixture will start to thicken. Remove from heat and whisk for another minute to cool slightly. Whisk in the egg yolks, one by one. Add in the smoothly melted chocolate and whisk to combine. Add in the vanilla extract, almond extract, and pulverized almonds. Whisk to combine all.
In a separate large bowl, beat the egg whites and salt until soft peaks form. With the mixer going, sprinkle in the granulated sugar and beat until stiff shining peaks form.
Scrape the chocolate mixture into the side of the bowl with the egg whites. Using a rubber spatula, delicately fold the chocolate into the egg white mixture. Once combined, pour the mixture into the prepared soufflé dishes. Fill each to just below the inside rim. Place soufflé dishes onto a baking sheet and place into the oven. Reduce oven temperature immediately to 375 degrees and bake for about 25-30 minutes. When soufflé is well risen and cracked, quickly sprinkle the surface with powdered sugar. Continue baking for another 5 -10 minutes. The soufflé is creamy in the center when a cake tester inserted into the cracked tops comes out slightly coated. Optional: you can continue baking for a few more minutes if you want the center to be fully done and the souffle will stand up well.
Serve immediately with whipped cream or vanilla ice cream.
Some affiliate links included in the text above.