Meyer Lemon Olive Oil Cake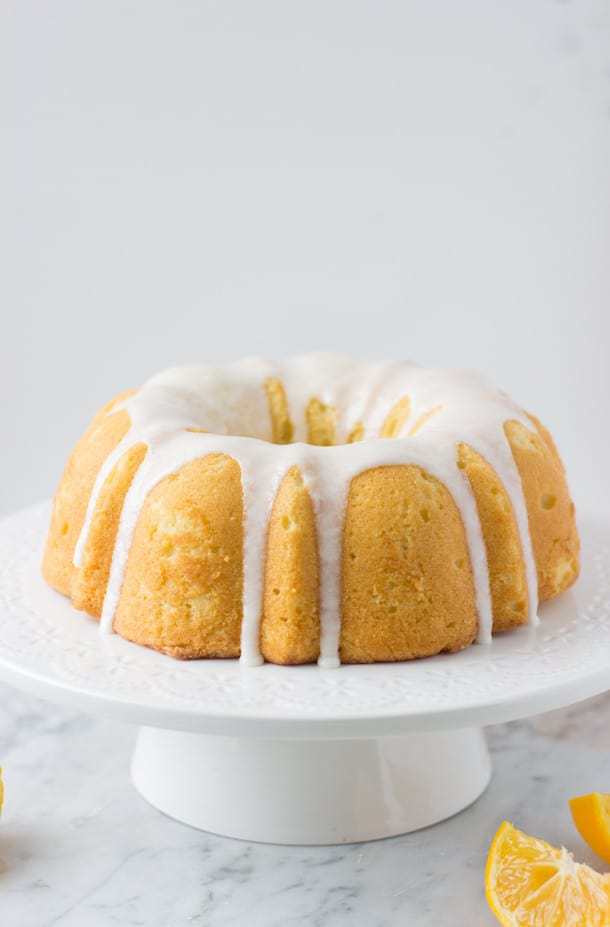 Happy March!! Let's celebrate with a cake shall we? I know you just nodded yes and that's exactly why you are my favorite kind of human 🙂
I made this meyer lemon olive oil cake last weekend after I secured a little more than one needs in meyer lemons. See, this was my first time A) finding them in my grocery store and B) actually trying meyer lemons. I've always heard of how they are a special breed of lemons (a cross between lemons and mandarin oranges) with a sweet citrus flavor. So all the citrus you want without the pucker in the face that lemons bring. When I finally found them at Wegmans, I was a bit too excited and grabbed three bags. Of course, now I HAVE to use them all. (Pssst: you may have a few more meyer lemon desserts coming your way! #sorrybutnotsorry)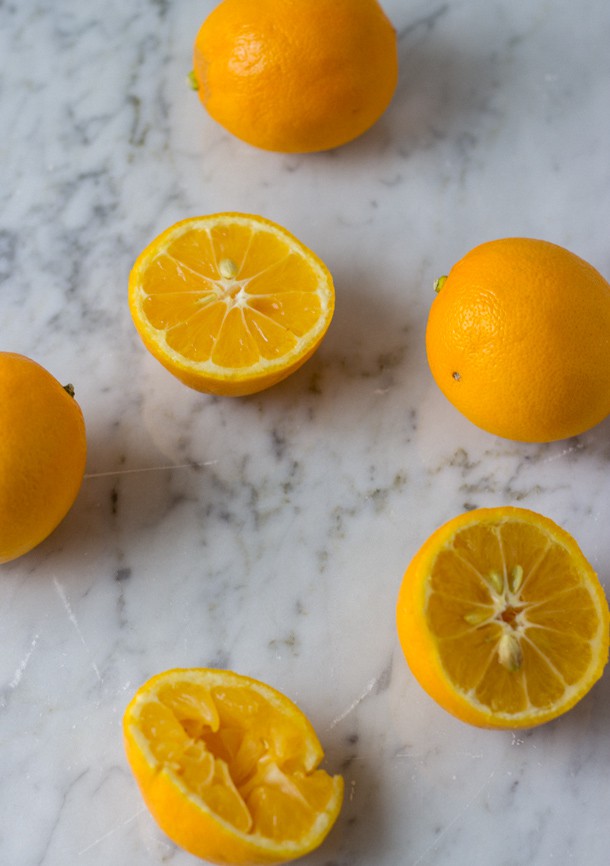 After this meyer lemon buttermilk pie, my next experiment with these beauties was to make a cake of course. Though not any ordinary cake but a super moist, flavorful bundt cake that is easy to whip up and brings out the sunshine in your tastebuds. Like seriously!! This olive oil cake is soft, crumbly moist and bursting with fresh lemon zest and juice. Glazed ever so slightly with a sweet lemon icing, it is just what every snack/tea time needs. Well breakfast too if you are adventurous and have your cake in the morning; no judgement here!
So my friends as you are getting ready to bid winter farewell (lucky you if you live NOT in the Northeast), I urge you to make this simple lemon cake to get ready for Spring and all the new beginnings that comes with it.
Happy Monday!!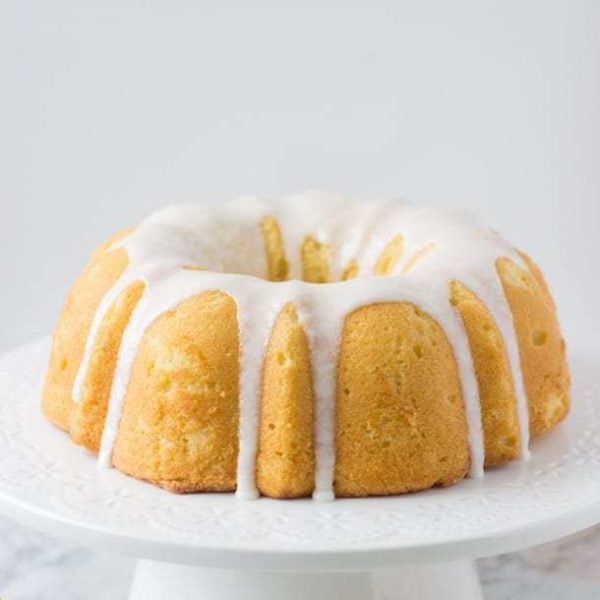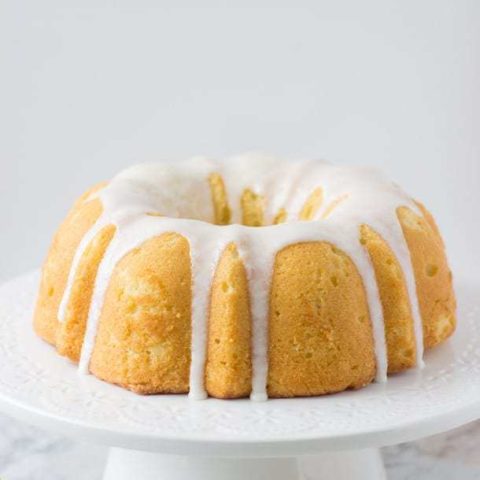 Yield: 1 6-inch bundt cake
Meyer Lemon Olive Oil Cake
Total Time
1 hour
5 minutes
Ingredients
1 ½ cups all-purpose flour
1 ¼ teaspoons baking powder
¾ teaspoons salt
¼ cup (1/2 stick) unsalted butter, room temperature
1 cup sugar
¼ cup extra virgin olive oil
zest of 1 meyer lemon
2 large eggs, room temperature
1 teaspoon pure vanilla extract
juice of 1 meyer lemon
½ cup buttermilk, room temperature
For Lemon Glaze
1½ cups confectioners' sugar
2 tablespoons meyer lemon juice
1 to 2 tablespoons milk, as needed
Instructions
Preheat oven to 350 degrees F. Grease a nonstick 6-cup Bundt pan. In a medium bowl, whisk together flour, baking powder and salt.
In the bowl of an electric mixer, beat together the butter, sugar, oil and lemon zest on medium-high speed until fluffy, about 5 minutes. Scrape down the sides of the bowl as needed. Add in the eggs, one at a time and beating until combined. Beat in vanilla extract and lemon juice.
Add in a third of the flour mixture and half of the buttermilk. Mix until just combined. Then add another third of flour and the rest of the buttermilk. Mix again until just combined. Scrape down the side of the bowl as needed. Add the rest of the flour and mix for 30 seconds. Finish incorporating the flour into the batter by hand with a rubber spatula to avoid over mixing.
Pour the batter into the prepared pan. Smooth the top.
Bake until cake is golden brown and a toothpick inserted into the center comes out clean, about 30-35 minutes.
Transfer to a cooling rack and allow cake to cool in pan for at least 20 minutes. Using a small sharp knife, run it around the edge of the pan to loosen the cake and then invert the cake onto a cooling rack (lined with parchment paper) to cool completely.
For the glaze: Whisk together all the ingredients in a small bowl. If the glaze is too thick, whisk in a tablespoon of milk, a little at a time.
Just before serving, pour the glaze over the cake and allowing it to drip down the sides. Enjoy!
Recommended Products
As an Amazon Associate and member of other affiliate programs, I earn from qualifying purchases.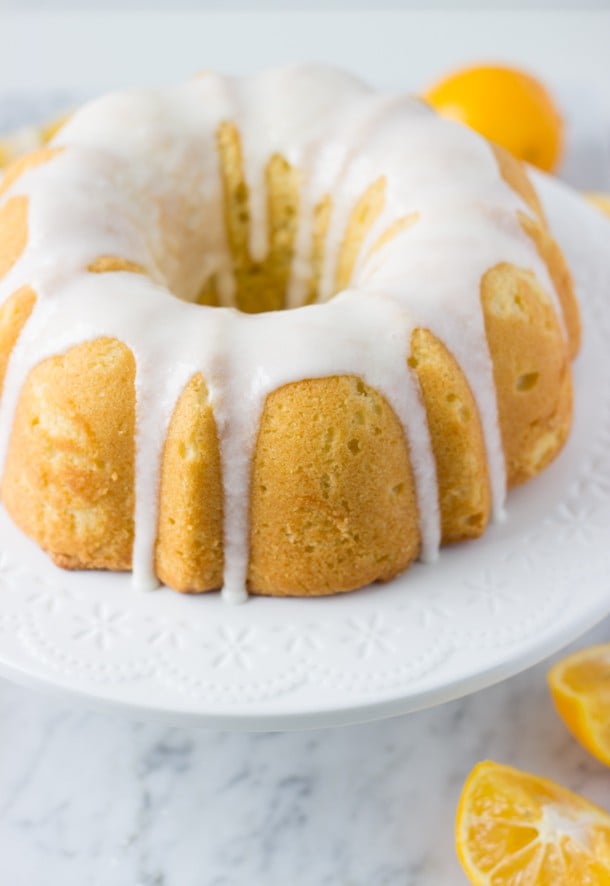 More Meyer Lemon Recipes from Across the Web:
Meyer Lemon and Thyme Pots de Creme – Baking A Moment
Meyer Lemon Macadamia Nut Tart – Love and Olive Oil
Meyer Lemon Madeleine Cookies – The Little Kitchen
Meyer Lemon Creme Brulee– She Wears Many Hats