Meyer Lemon Buttermilk Pie with Blackberry Sauce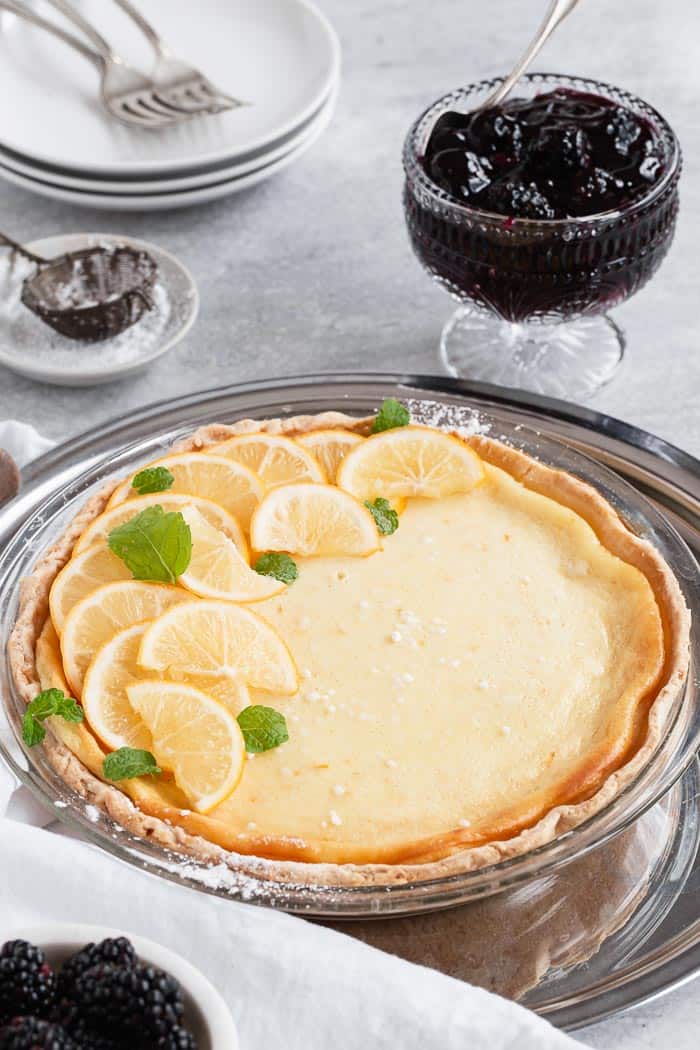 Happy Monday friends! I hope you all had a great weekend. Before we get to this lovely Meyer Lemon Buttermilk Pie, let's talk a bit about the Oscars. As I am writing this post, I am watching the Oscars and will be glued to my couch for the next 4 hours. Do you watch the show? I've been watching it for years and just love the fashion and all the glamour. I even missed Downton Abbey tonight for it.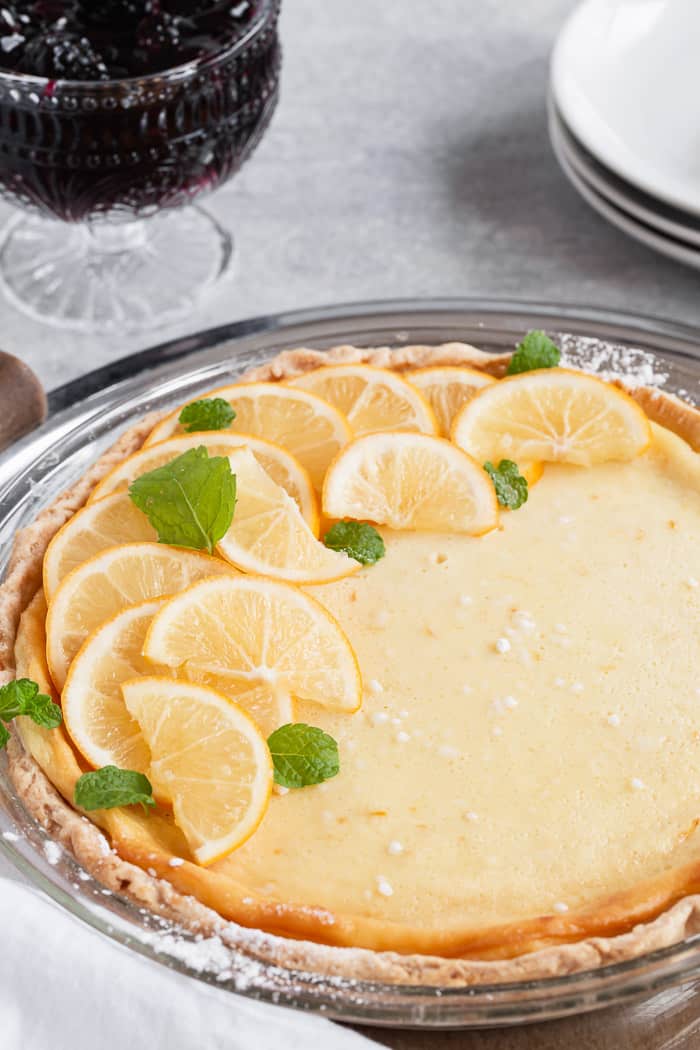 Last night's show (right now for me!) had some wonderful dresses that just left me "WOW". It's hard to pick a favorite but I loved Reese Witherspoon's classic and elegant white and black gown, Lupita's white pearl dress (that woman has arms to kill for), Jennifer Lopez's princess cut blush gown that would be a stunning wedding dress in white (and less cleavage!) and so many other favorites (Kerry Washington, Emma Stone, Viola Davis). If you watched the show, what were some of your favorites?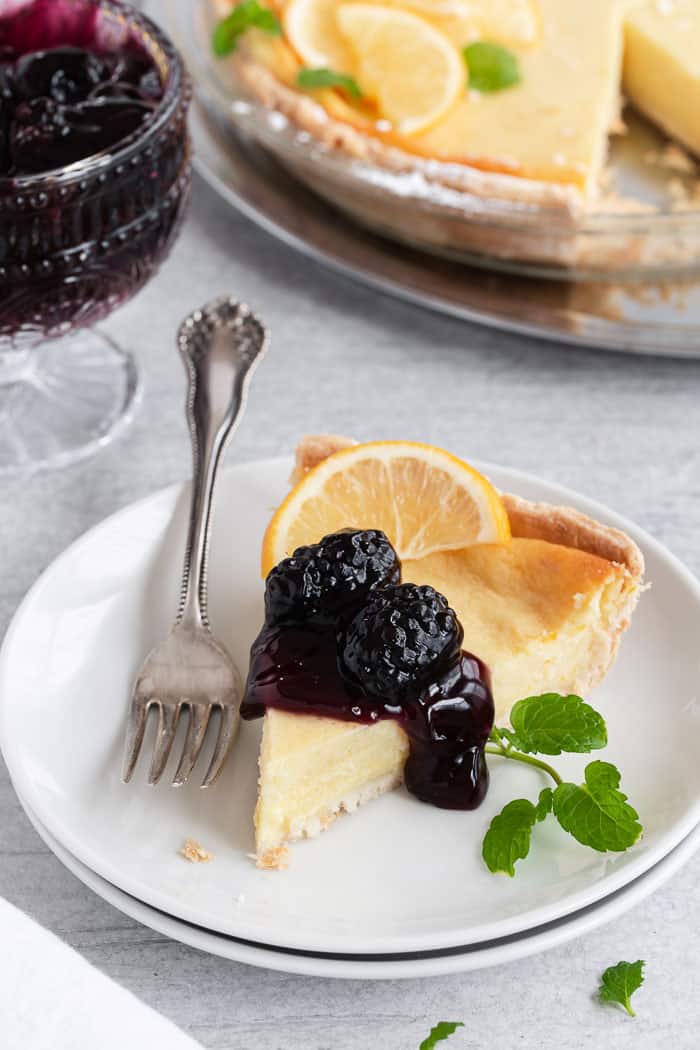 Anyways, pie you guys! Let's just talk about pie because dresses will just make want to shop shop shop.
This Meyer lemon buttermilk pie on the other hand makes me want to eat eat eat. I had two whole slices of this pie which in my 1-2 bite dessert person life is A LOT! It was creamy and tangy delicious! Of course, it doesn't help that there is a blackberry lemon compote on top to seal the deal.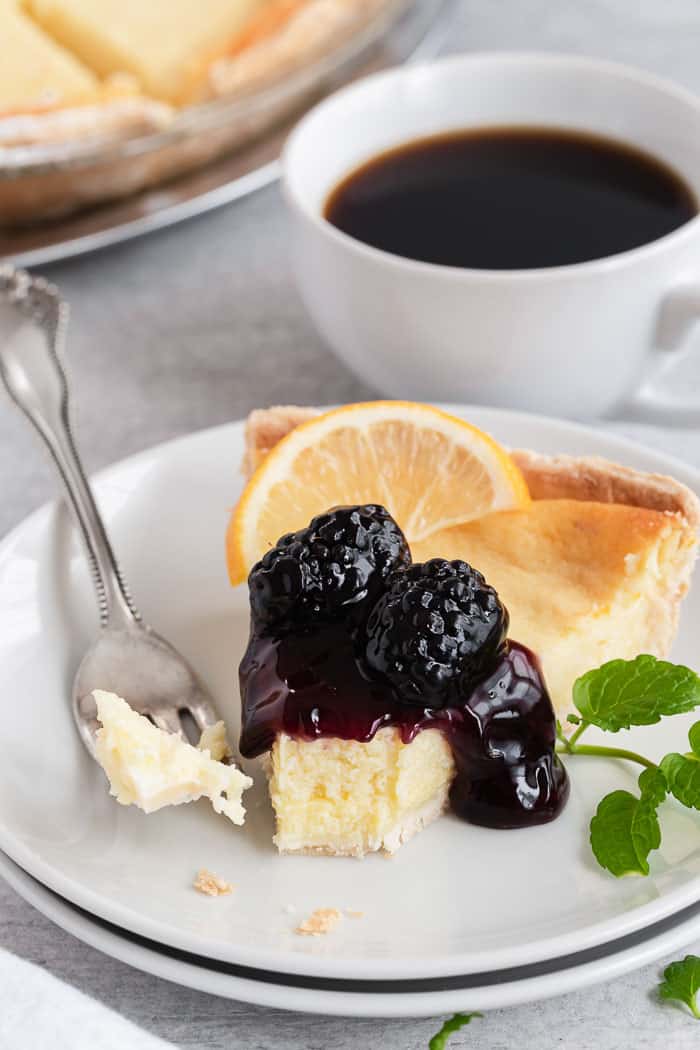 There's a short backstory for this pie. My original idea was to make a two-layer pie with a shaker lemon pie bottom and a buttermilk pie top layer to perfectly combine the flavors of sweet citrus (Meyer lemons) and tangy buttermilk. Actually, it wasn't even my idea… Allie suggested it to me as we were chatting about what I should do with my exciting discovery of Meyer lemons.
After two failed attempts to make the two layers, I gave up and combined both flavors into one seemingly wonderful pie. With the zest and juice of Meyer lemons, this buttermilk pie is bursting with a tangy yet sweet-tart flavor. To complete it all, I topped each slice with a blackberry lemon compote. Yes, friends, this is a killer pie!! And you need to try it soon.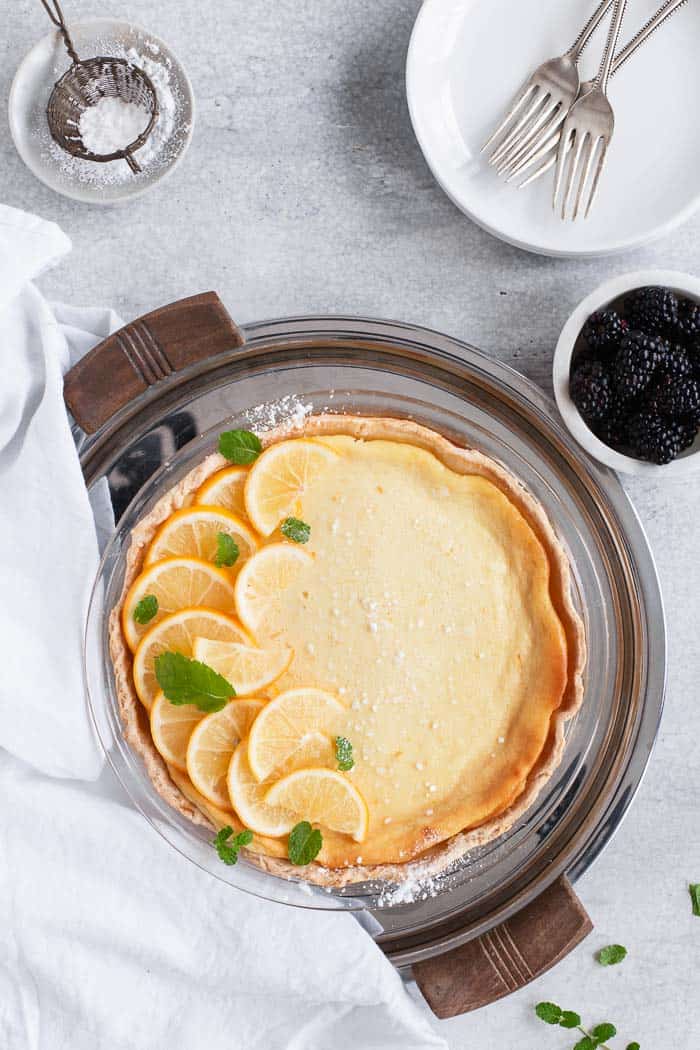 As we patiently wait for the arrival of Spring, this Meyer lemon buttermilk pie is a great way to enjoy some winter citrus and think of all that the Spring will bring.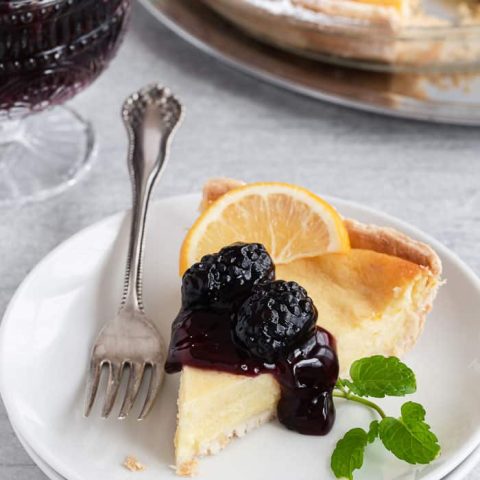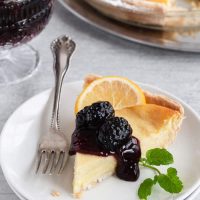 Yield: 1 9-inch pie
Meyer Lemon Buttermilk Pie with Blackberry Sauce
Total Time
2 hours
55 minutes
Ingredients
For Crust:
1 ¼ cups all-purpose flour
1 tablespoon granulated sugar
1/2 teaspoon salt
7 tablespoons cold unsalted butter, cut into cubes
Ice cold water
Filling:
1 cup granulated sugar
zest of 1 Meyer lemon
¼ cup all-purpose flour
½ teaspoon salt
2 cups buttermilk
4 large eggs, at room temperature
Juice of 1 Meyer lemon
1 teaspoon pure vanilla extract
For Blackberry Compote
2 cups fresh blackberries
¼ cup granulated sugar
1 teaspoon Meyer lemon zest
2 tablespoons Meyer lemon juice
1 teaspoon pure vanilla extract
Instructions
To make the crust: Prepare ¼ cup ice-cold water and keep it in the fridge. In a food processor, pulse flour, sugar, and salt. Scatter in the butter and pulse until the mixture looks like a coarse meal. Sprinkle about 2-3 tablespoons cold water over the mixture and pulse until the dough comes together in clumps. If dry, add a little bit more water (1 teaspoon at a time) until the dough comes together. Remove dough from processor and pat it into a disk. Chill for at least 2 hours or overnight. The dough can be made up to 3 days ahead. Keep refrigerated. Let stand at room temperature for a few minutes before rolling out.
Roll out dough on a lightly floured surface to a large circle ( about 12 inches). Fit into an ungreased 9-inch pie dish, trim the edges leaving an inch or two overhangs. Crimp edges. Refrigerate while you prepare to fill.
Preheat oven to 350 degrees F.
To make the filling: In a large bowl, combine the sugar and Meyer lemon zest. Using your fingers, work the zest into the sugar until fragrant and the sugar is moist. This brings out the lovely flavor of the lemon into the sugar. Whisk in the flour and salt into the sugar mixture.
In a separate medium bowl, first, whisk together the buttermilk and eggs. Then add in the juice of Meyer lemon and vanilla extract and whisk to combine. In one addition, add the wet ingredients into the dry ingredients. Whisk to combine making sure there are no flour lumps.
Pour the filling into the prepared crust. Place the pie dish on a baking sheet and bake pie until the center doesn't jiggle, about 45-55 minutes.
In the meantime, make the blackberry sauce. In a medium saucepan set over medium-low heat, combine all the ingredients with ¼ cup water. Cook, stirring occasionally until the blackberries begin to break down, about 3-4 minutes. Cook until the sauce thickens for about 10 minutes on low heat. Remove from heat and stir in vanilla extract. Let the sauce cool to room temperature.
Let pie cool completely before serving. Serve pie slices with blackberry sauce on top. Keep leftover pie, wrapped and refrigerated for at least 4 days.
Recommended Products
As an Amazon Associate and member of other affiliate programs, I earn from qualifying purchases.