Irish Cream Macarons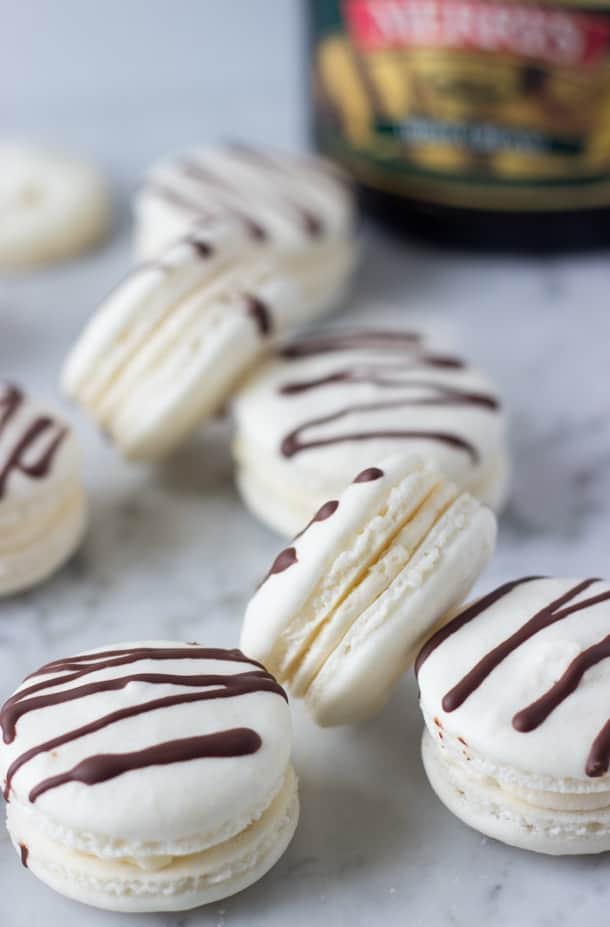 It's been a while since we did macarons around here folks. When I first started baking and had macarons on my baking bucket list, I was whipping up a batch almost every other week. But once I got comfortable with the techniques, I slacked a bit on these little delicious crunchies. Well not anymore!
The beauty about macarons (beyond their obvious adorable chic look) is that it is easy to experiment with flavors. Unlike making a giant cake and frosting it, it's easy to combine two or three flavors in a tiny bite. I decided to make these Irish Cream macarons in honor of the upcoming St Patrick's day celebrations which are in full swing in my city already.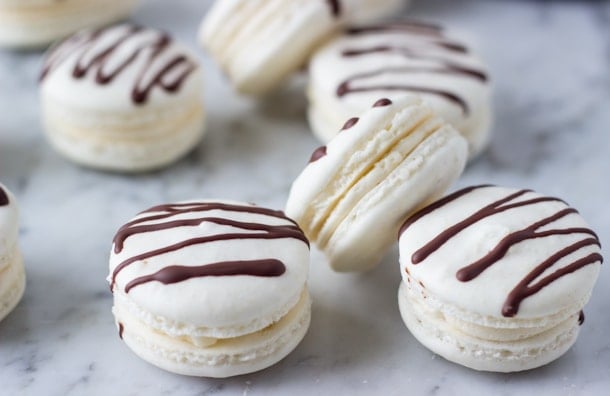 St Patrick's Day is a HUGE deal in Syracuse. For some reason there is a large community of Irish folks in this small city and they do NOT joke about St Patrick's Day. Celebrations start a full three weeks in advance with the arrival of the traditional green beer in a parade across the Irish neighborhood of Tipp Hill. This happened last weekend. Once the beer arrives at the local Irish Pubs, the celebrations officially start aka drinking of said beer until the St Patty's Day parade, the weekend before March 17th. And of course it all ends with throbs of parties on March 17th.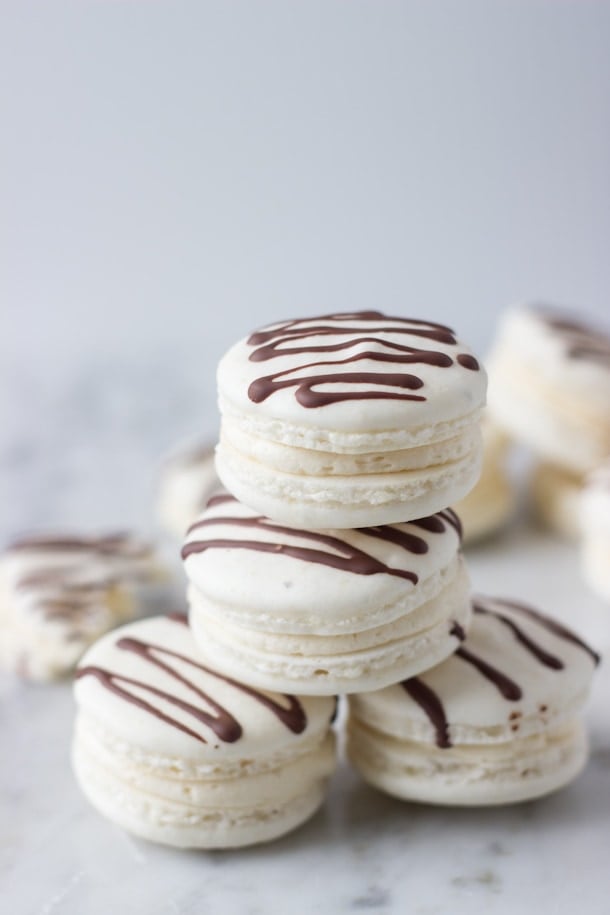 It's all too much excitement for me and I barely ever partake in these festivities. Instead, I do my due diligence and enjoy Ireland's finest alcoholic beverages during this time of the year. Plus it's still freezing cold here that a little irish cream in your coffee does some wonders. Even better, enjoy said coffee with these Irish Cream macarons.
We have a creamy irish cream filling that is sandwiched in a sweet crunchy macaron shell and topped with chocolate drizzles. A total delight!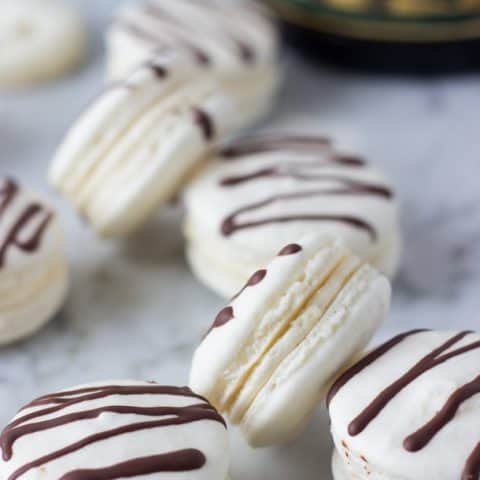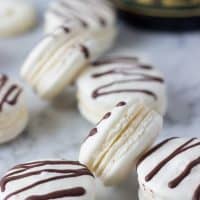 Yield: ~20 macarons
Irish Cream Macarons
Total Time
2 hours
33 minutes
Ingredients
For Macarons:
120 g fine almond meal/flour
200 g confectioner's sugar
90 g egg whites (~3 large egg whites), at room temperature
¼ teaspoon cream of tartar
pinch of salt
50 g granulated sugar
1 teaspoon Irish cream
Irish Cream Filling:
8 tablespoons (1 stick) unsalted butter, softened
1½ cups powdered sugar
2 tablespoons Irish Cream
1 teaspoon pure vanilla extract
Topping:
2 tablespoons melted chocolate
Instructions
Line two baking sheets with parchment paper. Create a template of circles on the parchment (I used a 1½-inch round cookie cutter to draw circles on the parchment paper and flipped over the paper (drawing side down). Prepare a pastry bag with a large round tip. I used Wilton 2A.
Using a food processor, pulse the powdered sugar and almond flour into a fine powder. Sift several times until there is less than 2 tablespoons of almond bits left.
In the bowl of an electric mixer with the whisk attachment, combine the egg whites, salt and cream of tartar. Beat until egg whites are foaming. With the mixer on medium high, sprinkle in the sugar about 1 tablespoon at a time. Continue beating until stiff peaks form, about 5-7 minutes. Add in the irish cream at this time and beat for an additional minute.
Sift the dry ingredients over the egg whites and gently fold with a rubber spatula. Gently deflate the meringue by pressing against the side of bowl and scooping from bottom until batter is smooth and shiny; about 20-25 folds. To check consistency, drop a spoonful of batter and it should have a peak that quickly relaxes back into the batter in about 20 seconds. Start checking the batter after 20 folds.
Transfer batter into pastry bag and pipe onto the pre-traced circles on the baking sheet. Tap baking sheet hard on counter to release any air bubbles trapped in the batter. Let shells sit on counter for 20-30 minutes to dry. Once a shell forms on the macarons, you are ready to bake (when you touch the top of the macarons, they should be dry).
Preheat oven to 300 degrees F. Bake for 12-13 minutes or until shells are hard, rotating cookie sheets halfway through baking time.
Cool completely on cookie sheets before peeling from the parchment.
For Filling:
Whip the butter until light and creamy. Add in the rest of the ingredients and mix on low until combined. Increase speed to medium and whip for additional 2-3 minutes.
Using a pastry bag fitted with a large round or star tip, fill macarons. Drizzle the top of each macaron with melted chocolate.
Store macarons in refrigerator until ready to serve. Allow to get to room temperature before enjoying!
Notes
Macaron shell adapted from Brave Tart