No Bake Irish Cream Cheesecake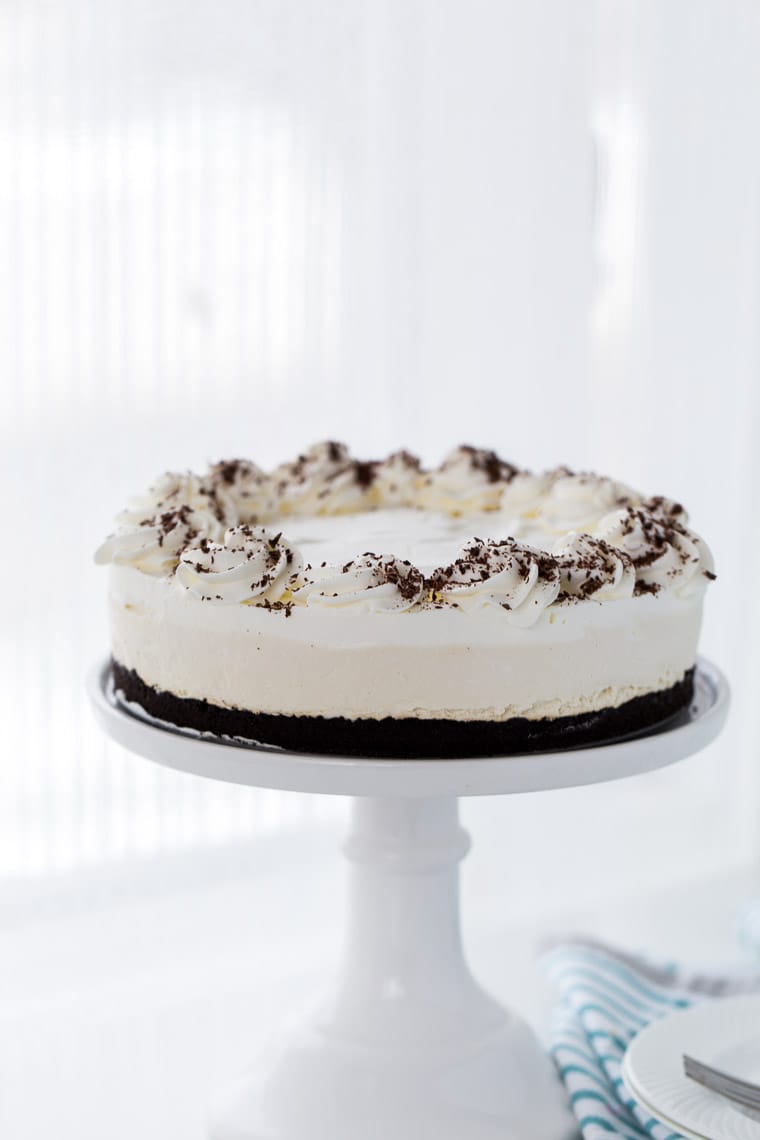 Happy Monday!! How was your weekend guys? Was it warm in your parts of the world?
It's still winter here in Upstate NY but it felt like spring this weekend with temperatures up to 60 degree!! 60!! It was amazing and we took advantage of it and spent some time walking outside. The rest of the weekend was relaxing and ended it with the Oscars last night. Did you watch it? Any favorite outfits? I had a few like Charlize Theron, Lady Gaga (that pants/dress combo!!!), my girl Kerry Washington and Brie Larson that I loved but I was in and out of the room with bath time and bed time that I missed some of the red carpet. I wish I had a slice of this Irish Cream Cheesecake but it was all gone since I made it a few weeks ago.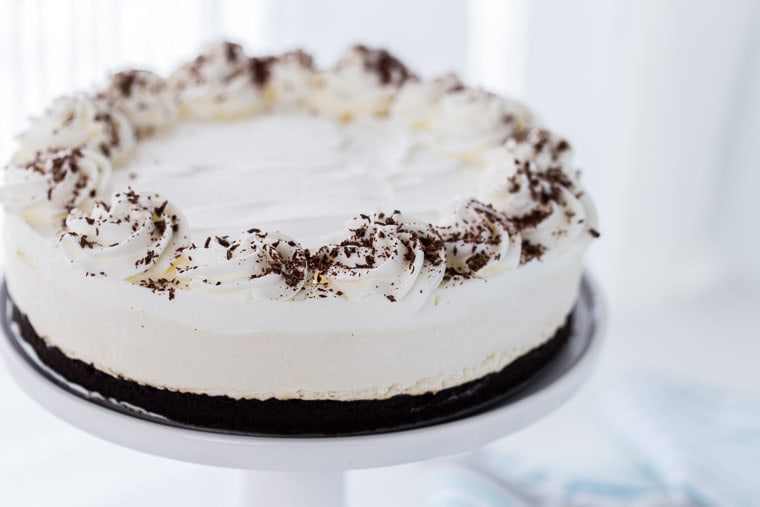 St Patrick's Day is just around the corner and for the non-Irish, it's just a day for us to enjoy Irish booze and not be judged. For me that involves adding some booze to baked goods starting with this Irish Cream Cheesecake. It's actually a no-bake mousse cheesecake sitting on a mint chocolate Oreo crust and topped with whipped cream and chocolate shavings. Yummy right? It's an amazing recipe that you won't want to me.
Because, you all love cheesecake so much, I tested this recipe on a few people (hubs, lab mates and friends) because I wanted to make sure the filling is creamy as possible. Modeled after my popular white chocolate cheesecake pie, I whisked together cream cheese and Irish cream. I love using Bailey's, the original irish cream but you can use your favorite here. To the cream cheese mixture, I folded in freshly whipped heavy cream that makes this no-bake dessert airy and mousse-like. All of this is set on top of a mint chocolate crust that is crunchy. I am in love with this cheesecake and I hope you get to try it soon.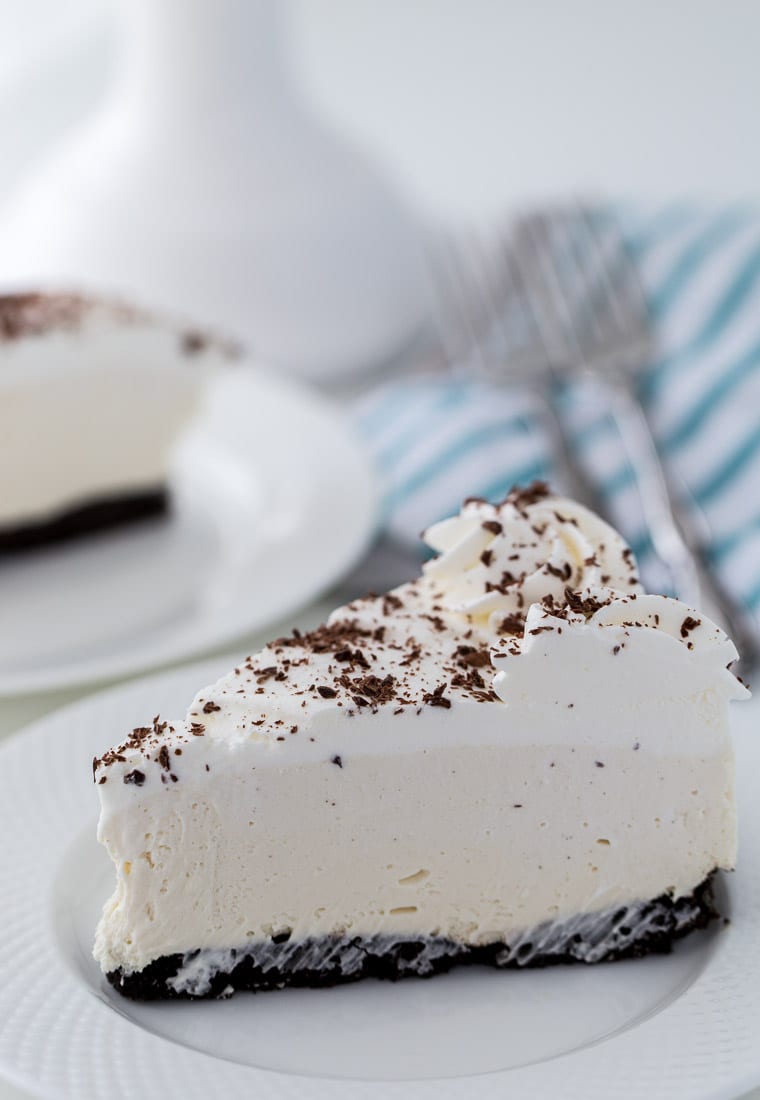 Here's to a great week!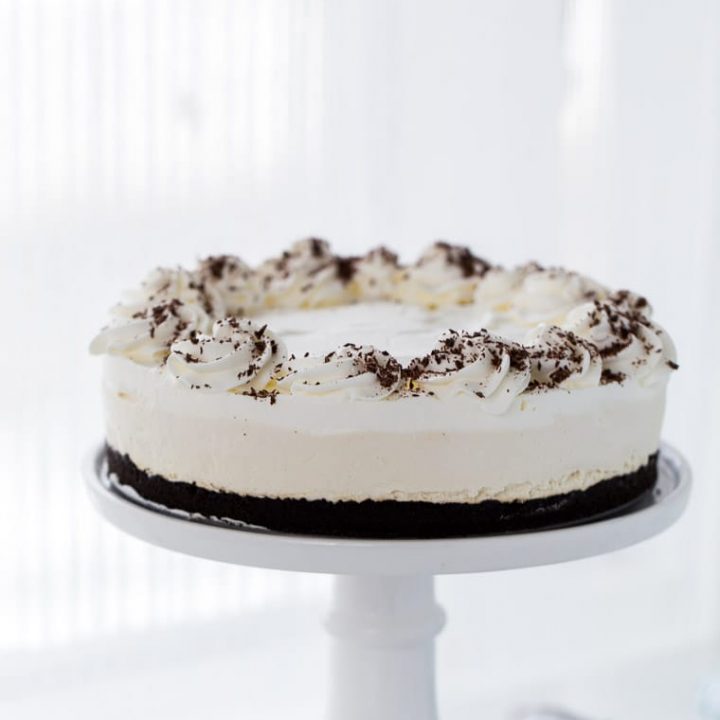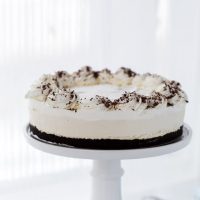 Yield: 1 9-inch cheesecake
No Bake Irish Cream Cheesecake
This Irish Cream Cheesecake recipe is a no-bake dessert with a cream cheese filling, mint chocolate crust and heavy cream. Perfect for St Patrick's Day. 
Total Time
3 hours
30 minutes
Ingredients
Crust:
30 mint Oreos
5 tablespoons butter, melted
Filling:
1 cup heavy whipping cream, cold
16 ounces cream cheese, softened
1/3 cup whole milk
2 teaspoons vanilla extract
¾ cup powdered sugar
¼ cup Irish Cream (I used Bailey's)
Topping:
½ cup whipped cream
Chocolate shavings
Instructions
For crust

Preheat your oven to 350 degrees F. Grease a KitchenAid® Nonstick 9″ Springform Pan and set aside. Combine the Oreos in the bowl of a food processor and pulse until finely ground. Drizzle the melted butter over the mixture and pulse until combined and the mixture looks like wet sand. Press into the bottom of the prepared Springform Pan. Bake the crust until set, about 10-12 minutes. Transfer to a rack and let cool completely.

For filling

Meanwhile, in the bowl of a KitchenAid® Stand Mixer, whisk the heavy cream on medium-high speed until soft peaks form. Transfer to a small bowl and refrigerate until ready to use. In a clean bowl, beat the cream cheese, milk and vanilla extract until smooth, about 2-3 minutes on medium speed. Reduce speed to low and add in the powdered sugar and Irish cream. Mix until combined. Using a rubber spatula, gently fold in half of the whipped cream until just incorporated. Continue to fold in the rest of the whipped cream. Spoon the filling onto the crust and smooth the top.

Cover with plastic wrap and chill until set, about six hours or overnight, in your KitchenAid® Multi-Door Freestanding Refrigerator.

To serve, top with whipped cream, chocolate shavings, or curls.
This post is sponsored by
KitchenAid
. All opinions are 100% mine as usual. Thank you for supporting the occasional sponsored posts that make it possible for me to continue to create quality content!