Samoa Cupcakes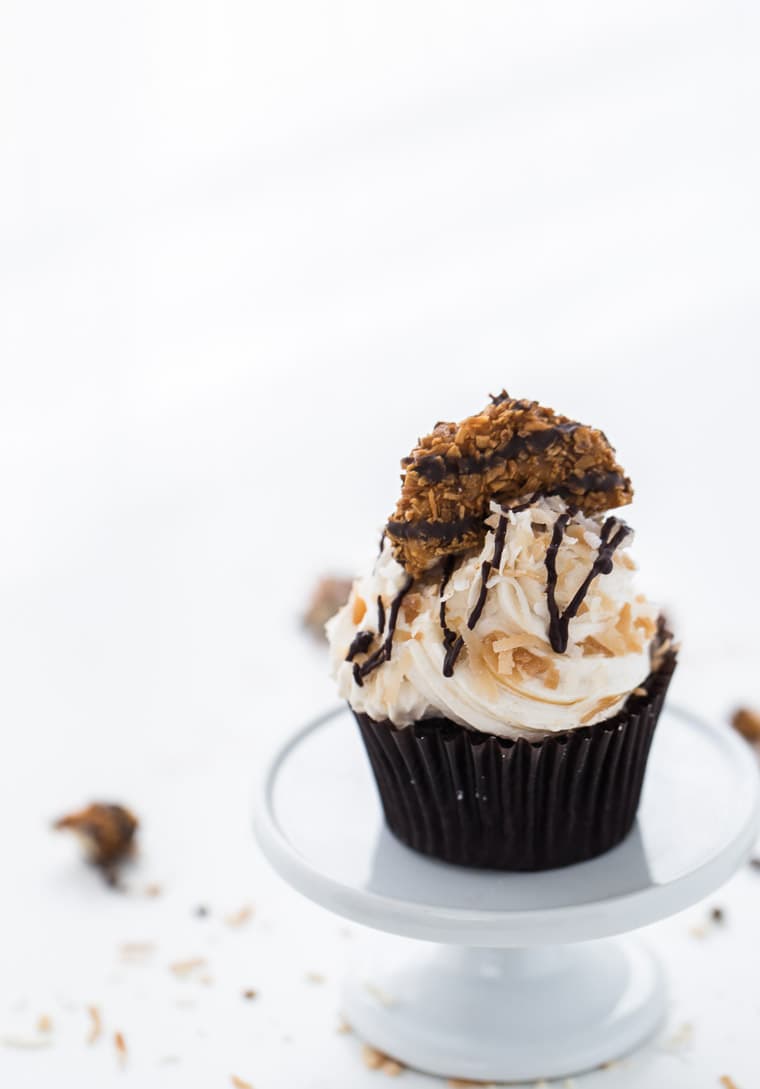 You guys, we have an EPIC cupcake today! Like epic in the way of chocolate coconut cupcakes with caramel coconut frosting garnished with coconut flakes and chocolate drizzles. aka SAMOA cupcakes!! My favorite Girl Scout Cookies in a cupcake form.
What is your favorite Girl Scout Cookie? My husband says there's no such thing as one favorite. Do you agree? For me it's clear, anything with coconut AND caramel is a winner so Samoas are my favorite, hands down. Every year, I get three packs (hey, it's helping the kids!!) and one pack is saved at the back of my baking drawer to use only in emergency situations which really are gone by Easter. This year, I used some of that to make these cupcakes. But you don't need Samoa cookies for this recipe. In fact, I suggest you make them after you finish your stash and wish you had some more Samoas in your life.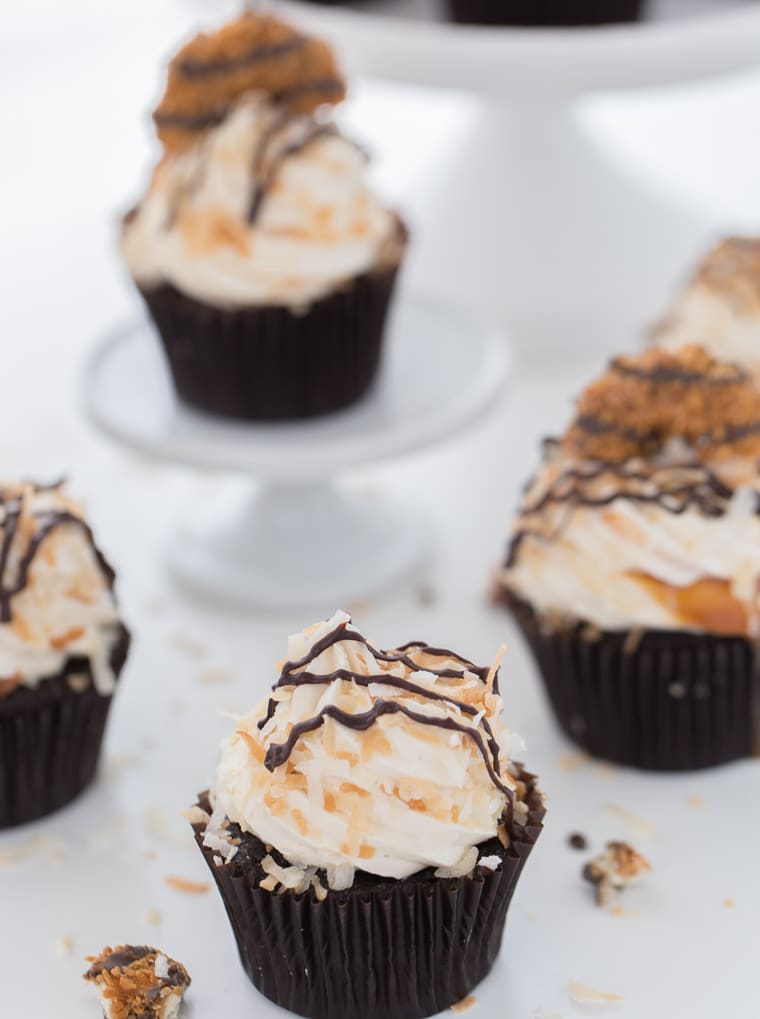 This recipe has been in my mind for while now. When thinking of it, I debated whether to make a salted caramel cupcake base or a chocolate cupcake but clearly chocolate won since I thought the caramel/coconut flavors will standout with a chocolate cupcake. And they sure do! The chocolate cupcake is decadent and amazing especially with the coconut flavors in it. The frosting is a sweet caramel and coconut whipped buttercream.
To finish off the cupcakes, drizzle more chocolate (and caramel!) along with some toasted coconut. If you happen to have some leftover cookies, then chop up some and throw them in the cupcake before baking but I know that is asking too much because really, who has leftover Girl Scout cookies?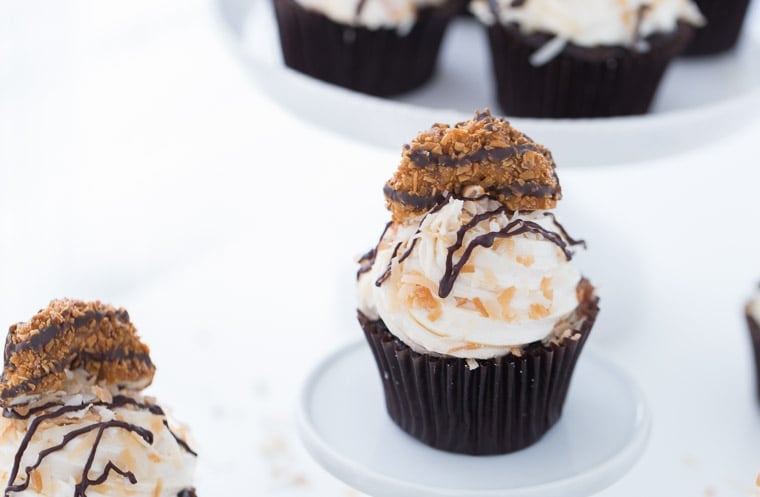 These Samoa cupcakes will become a favorite in no time! As long as you love chocolate, caramel and coconut, you are in for a treat.
Tell me, what is your favorite Girl Scout Cookie?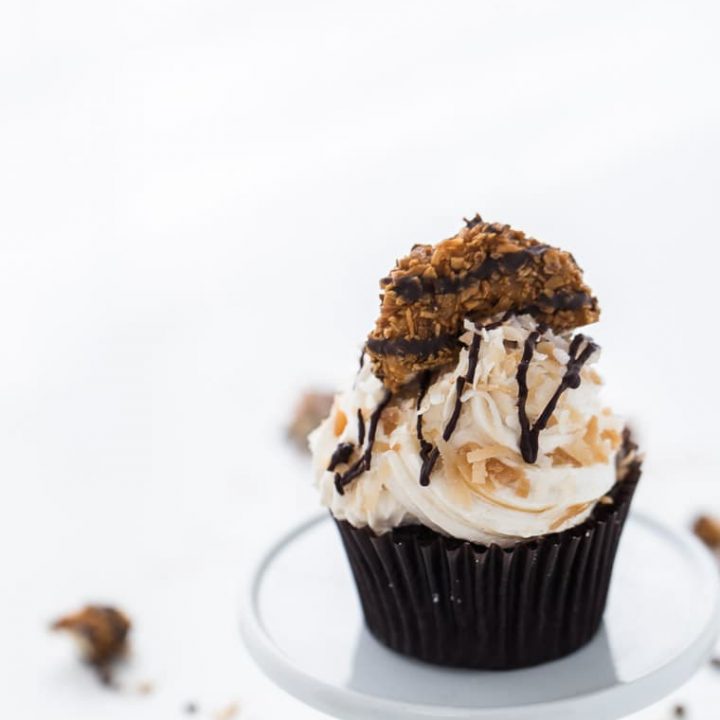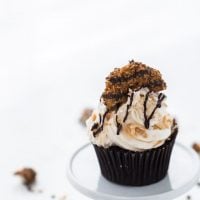 Yield: 12 cupcakes
Samoa Cupcakes
Ingredients
Chocolate Coconut Cupcakes:
1 cup all-purpose flour
1 cup sugar
⅓ cup unprocessed cocoa powder
1 teaspoon baking soda
½ teaspoon baking powder
½ teaspoon salt
1 egg, at room temperature
½ cup full fat canned coconut milk
½ cup hot coffee or hot water
¼ cup vegetable oil
1½ teaspoons vanilla extract
½ teaspoon coconut extract
4-6 Samoa cookies, chopped
Caramel Coconut Frosting:
1 cup (2 sticks) unsalted butter, at room temperature
3-4 cups powdered sugar
2 teaspoons pure vanilla extract
Pinch of salt
2-3 tablespoons coconut cream
¼ cup caramel sauce
Toppings:
Toasted coconut flakes
Chocolate drizzling's
Instructions
Preheat oven to 350 degrees F. Line muffin tins with cupcake liners. Sift together all the dry ingredients into a large bowl. In a medium bowl, combine all the wet ingredients, including egg, using a whisk. Be sure to whisk the egg in last into the wet ingredients to avoid scrambling with the hot coffee.
Using a mixer, mix the dry ingredients on low speed for 1 minute. Stop the mixer and add the wet ingredients. Mix for 2 minutes on medium speed and scrape down the sides and bottom of bowl. Mix for additional minute on medium speed.
The batter will be thin. Fold in the chopped Samoa cookies.
Divide evenly among the cupcake liners. Bake for 12-15 minutes or until a toothpick inserted in the center comes out almost clean. Cool cupcakes on wire racks completely. Meanwhile you could start on the frosting.
For Frosting:
Whip butter on medium speed for about 2-3 minutes in the bowl of a stand mixer fitted with the paddle attachment until light and creamy. Add the powdered sugar, vanilla extract, salt and coconut cream and mix on low for 1 minute until combined. Increase speed to medium-high and whip for 6 minutes. Add in the caramel sauce and mix until combined. Whip for an additional minute.
Use frosting immediately to frost cooled cupcakes. Top with coconut flakes and chocolate drizzling.
Store leftovers in an airtight container at room temperature for up to 3 days.