Passionfruit Paloma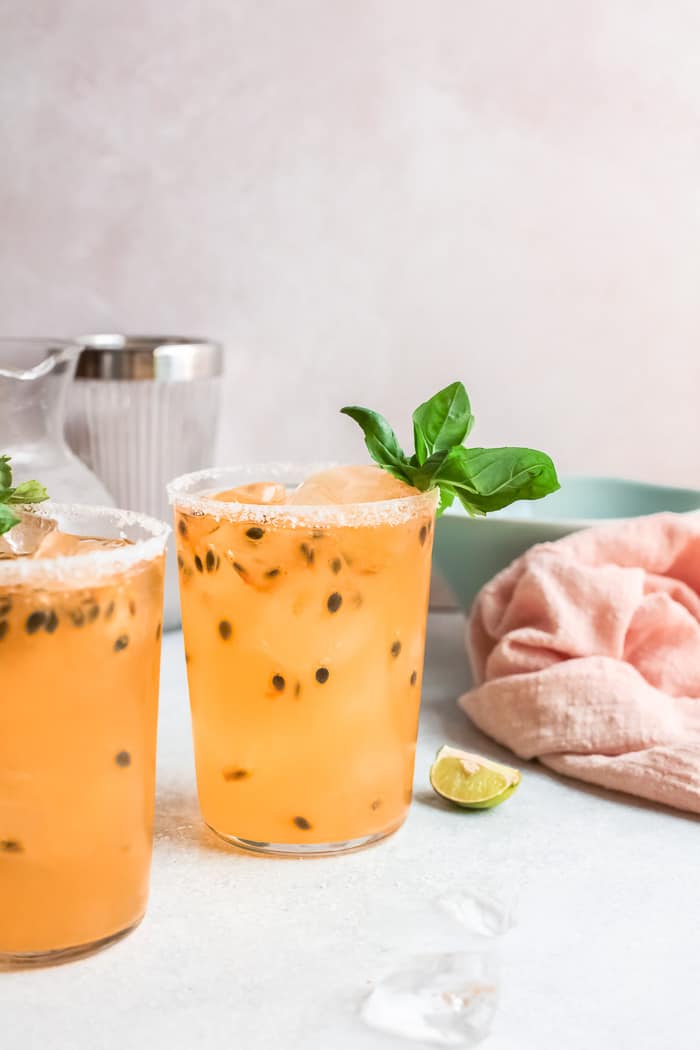 Hi friends! Happy Friday! I bring you one of my favorite cocktails to make at home after a long and stressful week, Passionfruit Paloma. What is a Paloma you ask? It is a tequila-based cocktail that is traditionally mixed with fresh lime juice, and a grapefruit-flavored soda. You all know by now I always add my personal twist to recipes and this one is no different. Instead of adding soda, I incorporated agave syrup, passionfruit pulp, and sparkling water.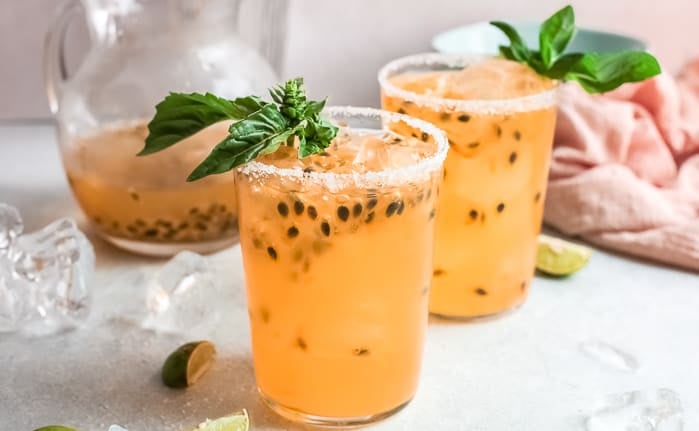 This cocktail has layers of flavor and texture like no other. I really like the texture of the passionfruit pulp but if you don't, you can simply just use passionfruit juice. The pulp actually refers to the seeds inside the passion fruit itself. They add a tartness to your drink which really compliments the tequila. The pulp is completely edible and so good for you! Feeding your body with necessary Vitamin A which is beneficial for your eyes, cell reproduction, and boosting your immune system. Who would have thought drinking could be beneficial? In moderation of course :-). Jokes aside, this Paloma is a refreshing one!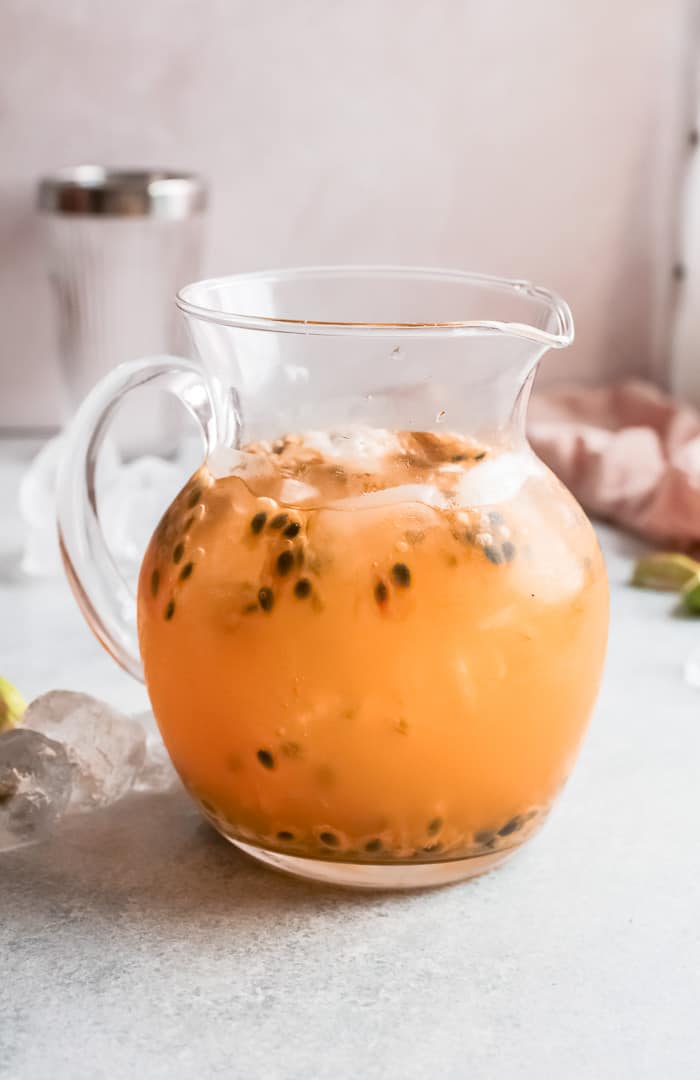 Once you become a mom vacation takes on a whole different meaning. It's no longer about sunbathing all day next to the tiki bar or going out all night dancing till your feet get sore. Everything revolves around snacks, beach toys, and naps. They also become way more expensive than if you just went on a weekend girls' trip. On top of that, we are in the middle of a global pandemic so the word vacation may not even be on my radar this year. You still deserve a vacation even if it's a mini one. Transcend yourself to that tiki bar on the beach under the tropical sun with a Passionfruit Paloma. Light and refreshing cocktail.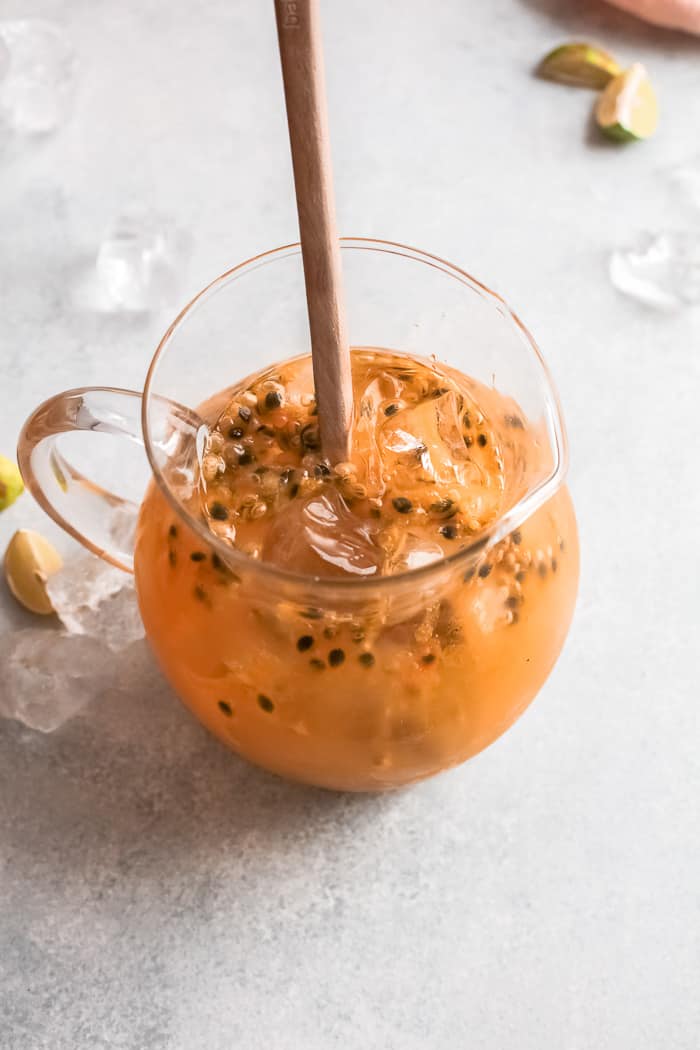 Instead of coming home to a crisp beer or glass of wine, recreate this amazing cocktail that looks like it came from a top-notch bar. Passionfruit has a very sweet taste with a hint of tartness like their citrus cousins. To offset the strong tequila and tart of passionfruit is where the agave syrup comes into play. Agave is sweeter than sugar but a consistency similar to honey. It is used in many drinks and foods as a natural sweetener.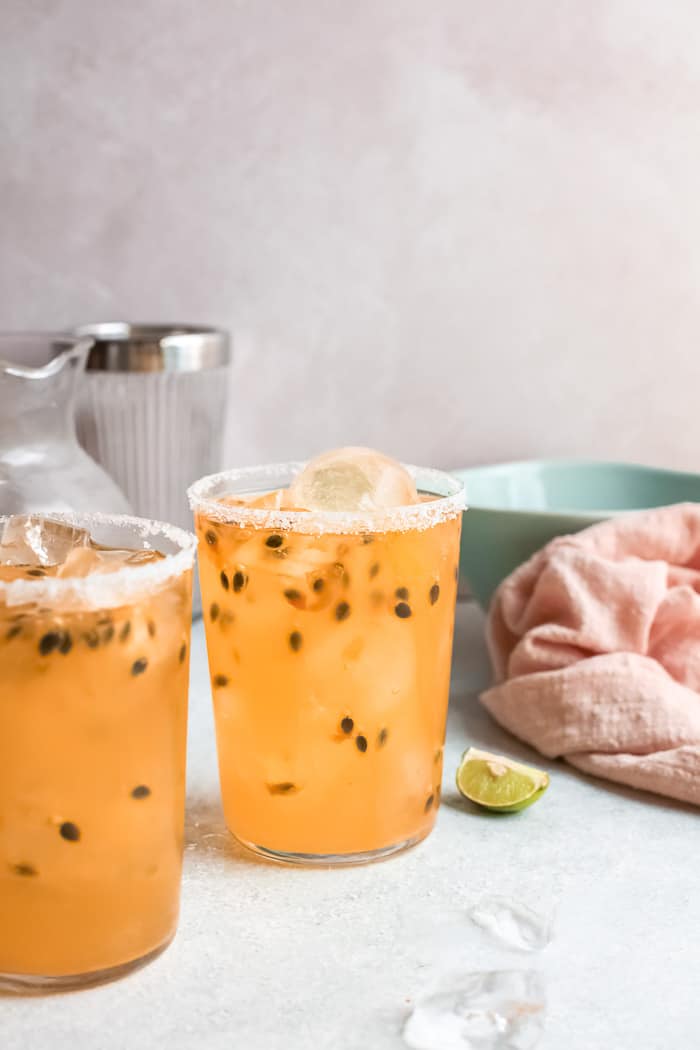 Sparkling water doesn't add any flavor but adds the crisp bubbly we all love. This Passionfruit Paloma pairs perfectly with tacos, grilled seafood, raw fish, chips, and guacamole to just name a few.
Whether you enjoy this amazing cocktail as an appetizer while preparing dinner or end your day after the kids go to sleep. I promise you will have a smile on your face after the first sip. It brings me to my happy place in the midst of chaos.
Let me know what you think and what tropical island you were transcended to!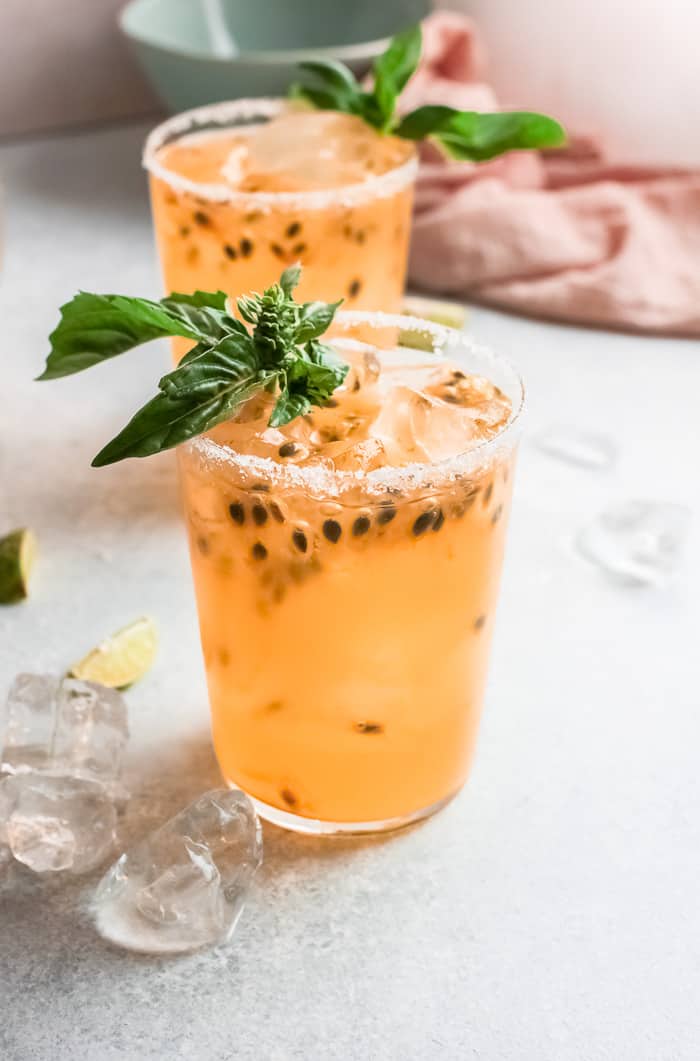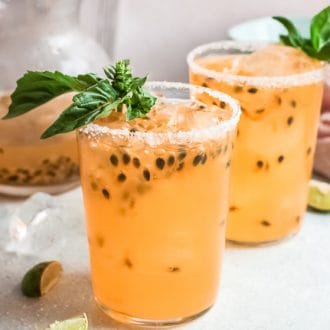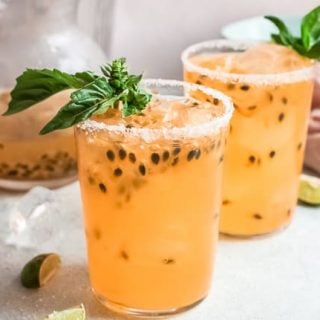 Yield: 4 drinks
Passionfruit Paloma
Ingredients
1 cup tequila of your choice
1 ⅓ cups passion fruit pulp
¼ cup lime juice
⅓ cup agave syrup (adjust to taste)
3 cups ice
1 cup sparkling water
Lime wedge and sea salt for rimming
Basil leaves as a garnish
Instructions
In a large pitcher combine tequila, passion fruit pulp, lime juice, and agave syrup. Stir until everything is well incorporated.
Once you are ready to serve add the ice and the sparkling water. Stir with a wooden spoon.
Rub a lime wedge around the edge of the glasses and dip them onto a plate filled with sea salt.
Pour the Paloma into the glasses and garnish with fresh basil leaves.
Enjoy!
Notes
You can use fresh or frozen passion fruit pulp. Both work.
You can also use lime-flavored sparkling water if you want to give it a zestier kick.
You can make it in advance up to the step of adding the ice and sparkling water. It lasts covered and refrigerated for up to 2 days.