Strawberry and Cream Popsicles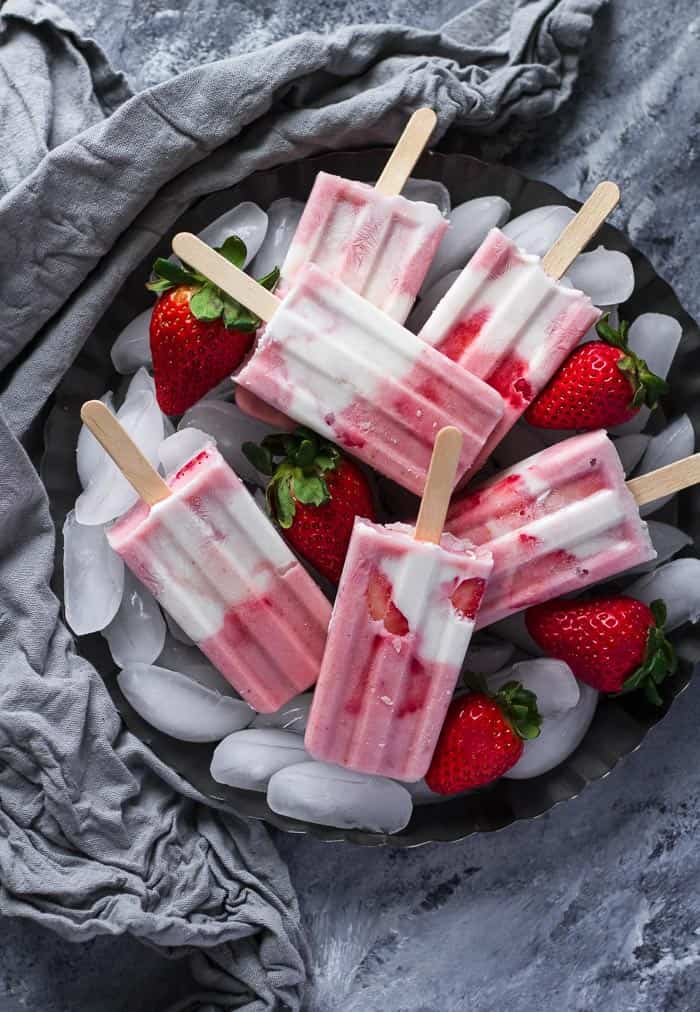 Happy Friday, friends! In the last few weeks, I've been working on plenty of fun, and tasty summer treats for you guys. Here we go getting ready for summer! These Strawberry and Cream Popsicles are one of my favorites for a scorching hot summer day. You can make these at home with such ease your kids will love the sweet and creamy flavor. Save yourself a dollar or two when the ice cream man comes around.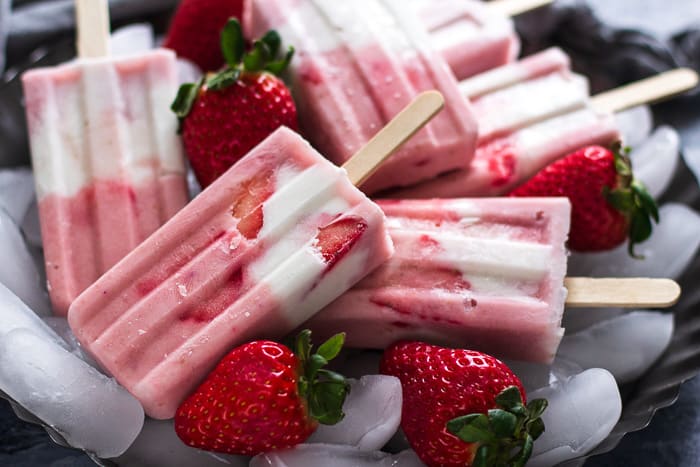 My kids love going anywhere that has water. Swimming in the pool, going to the beach, or even playing with the sprinkler in the backyard. If I let them, they would be out right now with the sprinkler, just loving life. This mom doesn't want sick babies with this bipolar Maryland weather.
I always try to pack some of my snacks wherever we go. It saves us money, and I also know what they are eating. If you have a little one, then you know how much their little bodies crave those sugary treats. Next time it's a swimming day, make sure to come prepared with your own homemade Strawberry and Cream Popsicles.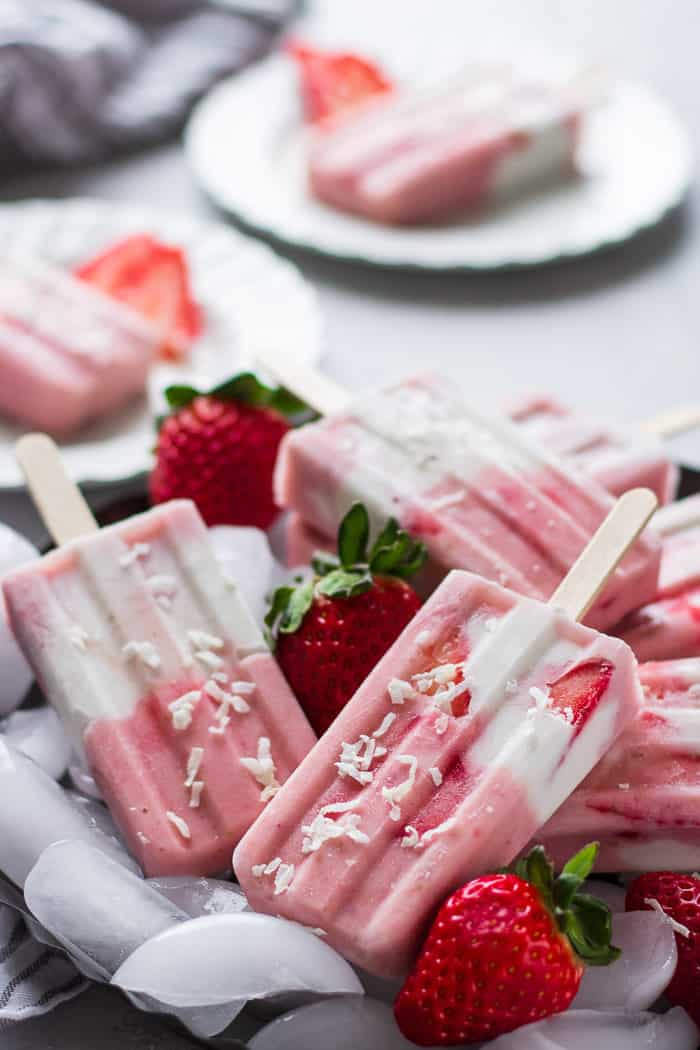 With just a few easy ingredients, you can have your very own popsicles like the ones pictured. They look so good, right?
My recipe has just four ingredients but full of flavor. Full-fat coconut cream is one of my all-time favorite substitutes for heavy whipping cream. First off, you know I will use coconut anytime I can. This ingredient has a high-fat content and a creamy texture which works perfectly with many desserts.
Fresh strawberries, pure maple syrup, and cornstarch make up the rest of what creates this treat. I like to use fresh strawberries over frozen ones. The flavor profile is so much more intense and crisp. If you only have frozen, no worries, they will work for this recipe since we are just refreezing, but I strongly recommend grabbing a pack of fresh strawberries from the store or farmers market.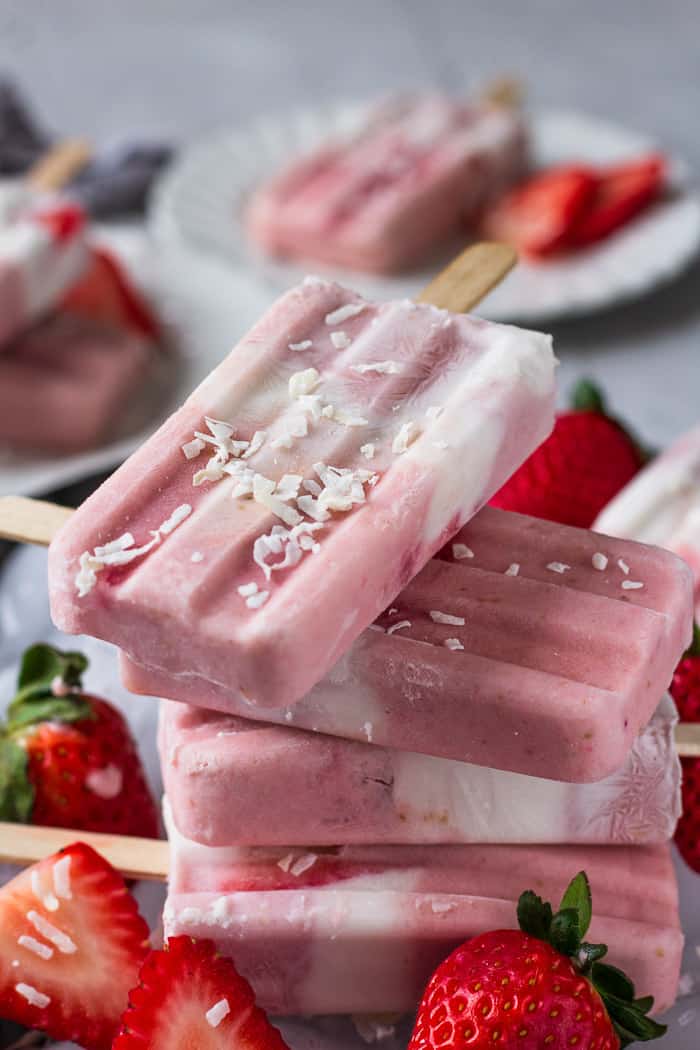 The pure maple syrup adds the perfect balance of sweetness that we all crave. Cornstarch is optional but will help form the popsicles.
We still don't know what summer will look like this year, but whatever happens, at least you can enjoy making these fun treats with your kiddos. The beach may not be an option for everyone, but you can enjoy a popsicle anywhere and anytime.
Do you have a summer birthday for one of your kids? Serve these Strawberry and Cream popsicles! No one will believe you created these icy treats in the comfort of your kitchen.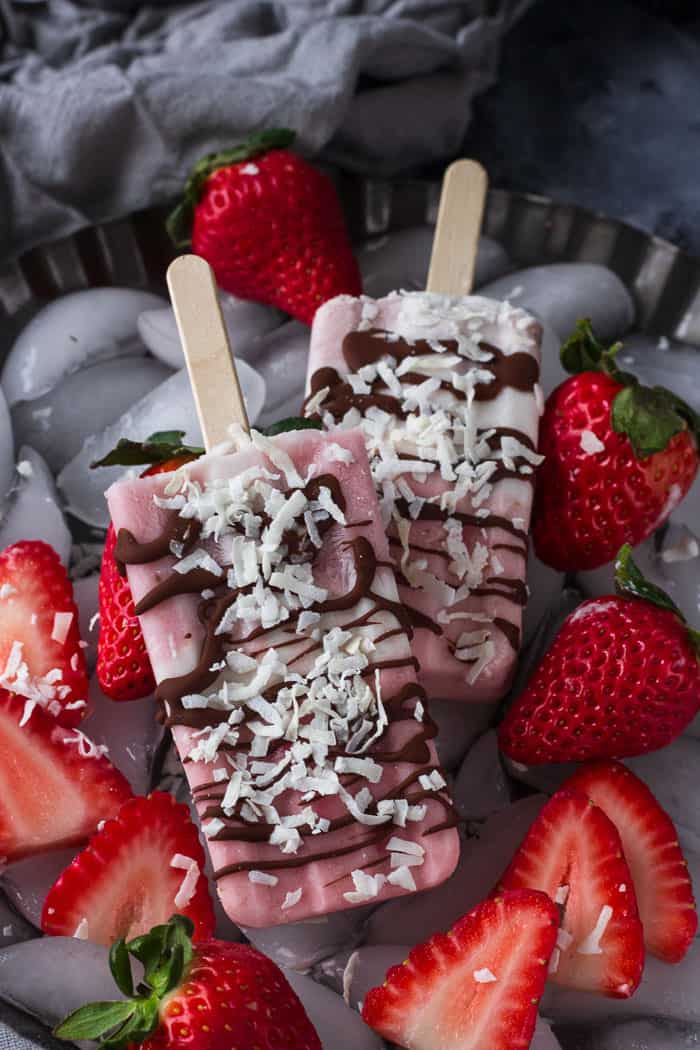 Commonly Asked Questions:
Q: What is the best popsicle mold to use?
A: I prefer to use a silicone popsicle mold. They are easy to clean and allow the frozen treats to come out smoothly. Here's the one I used for these https://amzn.to/2Q2Vzbw
Q: What if I don't have fresh strawberries, can I use frozen instead?
A: Absolutely! If you decide to use frozen fruit, make sure to fully thaw and drain before blending. This will reduce the amount of excess liquid.
Q: I don't have coconut cream, what can I replace it with?
A: You could easily sub whipped cream (if dairy isn't an issue) or greek yogurt for a lighter option.
Q: Do I have to use cornstarch?
A: The cornstarch helps to make your fruit mixture have a creamier texture once frozen. You can omit or substitute arrowroot powder for a soy-free option.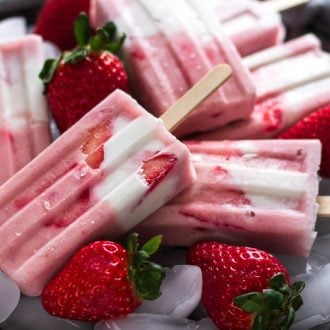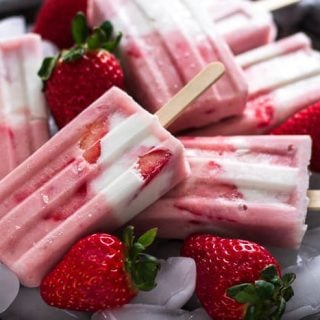 Yield: 10 frozen popsicles
Strawberry and Cream Popsicles
Ingredients
1 can (~13 ounces) full-fat coconut cream
3 cups fresh strawberries
4 tablespoons pure maple syrup
⅛ tsp cornstarch (optional)
Instructions
In a medium-sized bowl, add the coconut cream and stir until the separated liquid is mixed in. Set the bowl aside.
Place strawberries, maple syrup, and cornstarch in a blender or food processor. Blend until smooth.
Place your popsicle mold in the upright position. With a spoon, gently scoop 1 tablespoon of the blended strawberry mixture into the bottom of each popsicle mold slot.
Next, using a separate spoon, scoop 1 tablespoon of the coconut cream on top of each strawberry layer. Repeat alternating with layers of strawberry and cream until each mold is almost full. This will give you a beautiful pattern for your frozen treat. Make sure to leave about ¼" of space at the top of the mold to allow the popsicles to expand in the freezer.
Insert a wooden popsicle stick in the middle of each slot.
Place filled popsicle mold gently into the freezer. Freeze for about 6 hours or until completely solid.
When you are ready to enjoy. Run your frozen mold under cold water for a few seconds to help your frozen treats come out smoothly.
Recommended Products
As an Amazon Associate and member of other affiliate programs, I earn from qualifying purchases.