Orange Coffee Cake with Chocolate Chunks made with Florida Orange Juice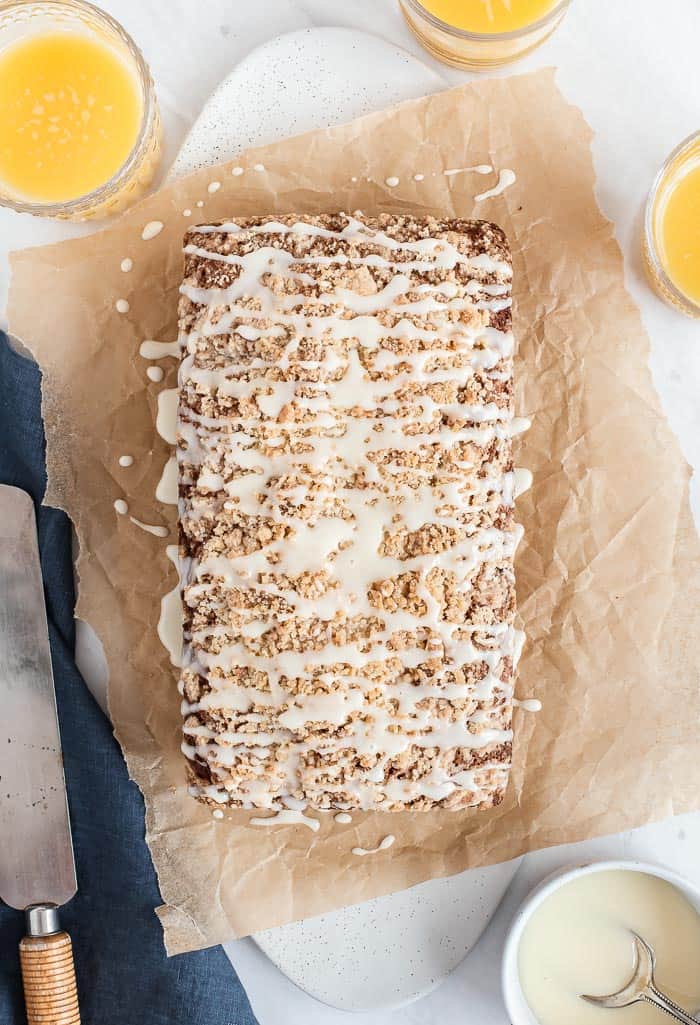 This Orange Coffee Cake recipe is sponsored by Florida Orange Juice. All opinions are 100% my own.
How have you been taking a break lately? I've been prioritizing carving out some time in my week to enjoy something that brings me joy. For me, that is baking and enjoying a new recipe. For my husband, it is hiking and being alone in nature. Regardless of what you do, I hope you are carving time out to take a break.
I am sharing a new recipe with you to encourage you to take some time for yourself as I am sure we are baking enthusiasts! This Orange Coffee Cake with chocolate chunks is inspired by Florida Orange Juice in celebration of National OJ Day, which is today! Bursting with orange flavors and dark chocolate, it is refreshing and yet indulgent.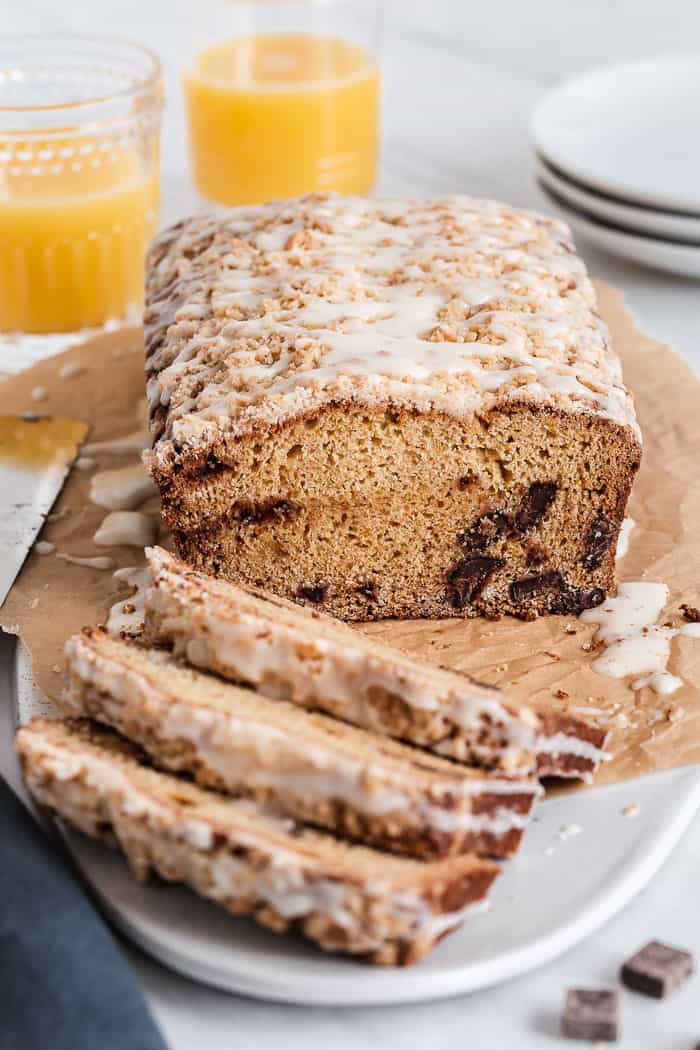 Florida Orange Juice is encouraging us all to take a break from our busy days to enjoy the benefits of Florida OJ. Orange juice is not just for breakfast, you can enjoy this nutrient-dense favorite any time of the day. Each 8 ounce serving of Florida OJ has no added sugar, is an excellent source of vitamin C and a good source of potassium, folate, and thiamin, and helps contribute to hydration. I love including OJ in my baking especially when I am making a quick recipe.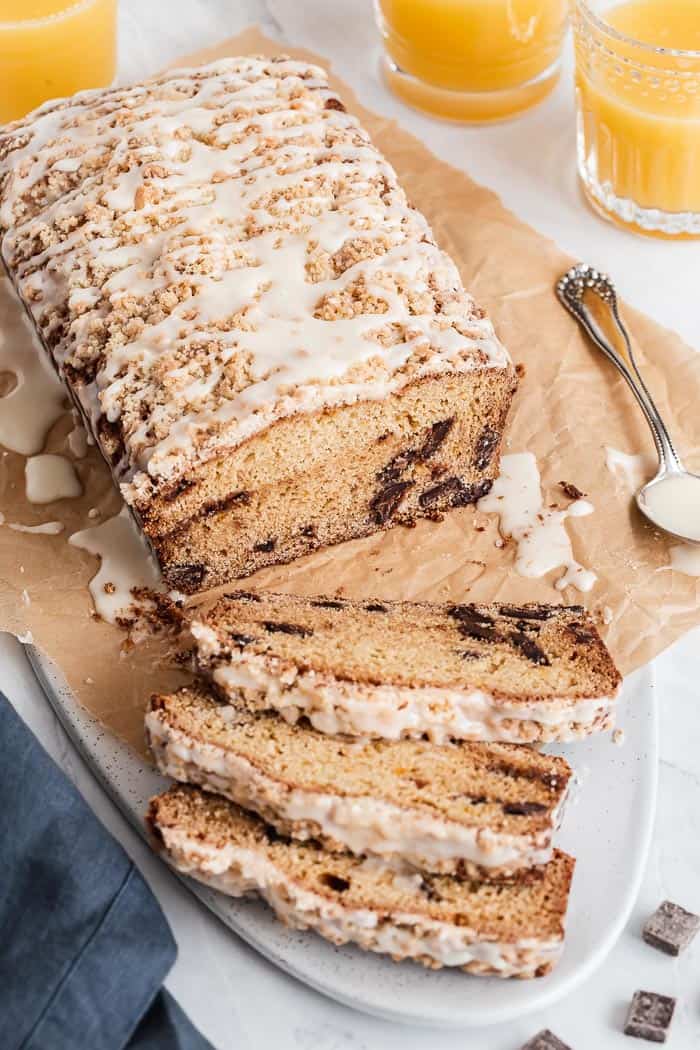 This orange coffee cake is an easy snack cake that is perfect for a quick afternoon snack break. Just what you need when you carve out time in your day to enjoy something sweet. It is also easy to whip it up! Let me walk you through the steps for that.
Gather up your ingredients for this orange coffee cake. I am sure you have everything in your pantry or fridge already.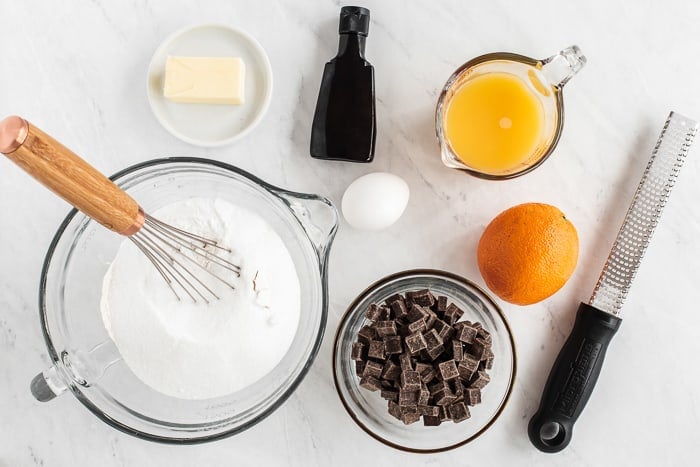 Combine the dry ingredients together with the butter to form a nice crumb. Then whisk together the liquids including a ¾ cup of Florida OJ and some fresh orange zest. Combine the dry and wet ingredients. Once the batter is ready, fold in dark chocolate chunks. We then top the whole thing with a simple crumb topping that adds a layer of flavor and crunch to this cake.
I love serving this coffee cake with a drizzle of sweet orange juice icing! Made with Florida OJ for an additional taste of citrus to highlight the orange coffee cake.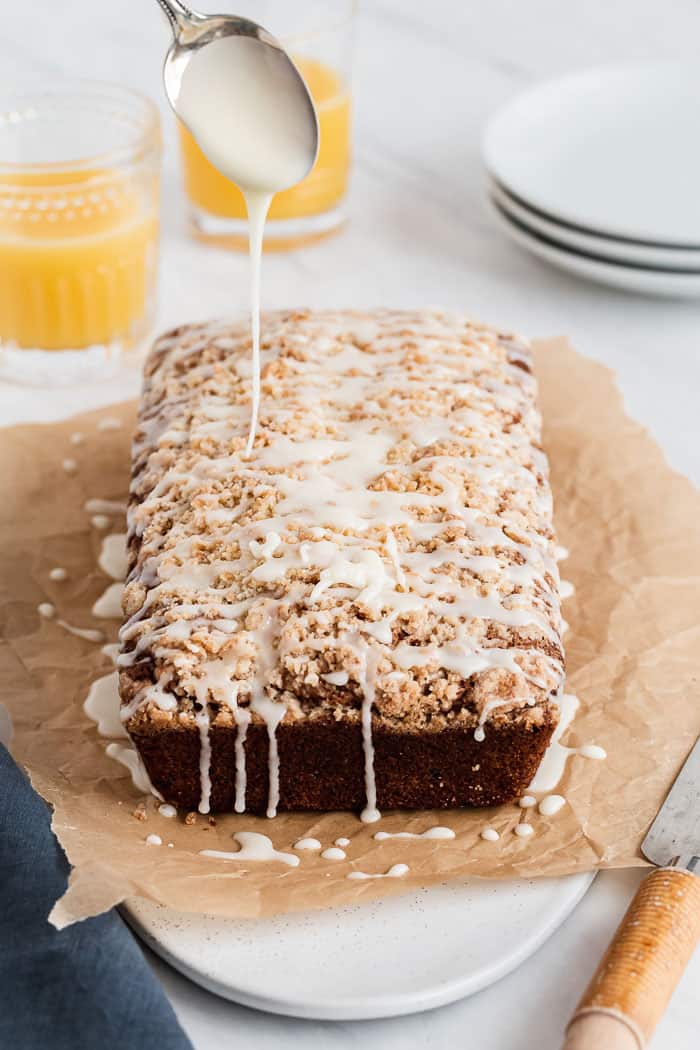 Chocolate and orange are two flavors that go very well together, and they bring that pairing to this coffee cake. Each slice is a sweet delight that when paired with OJ is the perfect way to enjoy a break in the middle of your day.
I hope you try this recipe and find ways to enjoy the benefits of Florida OJ. For more recipes with Florida Orange Juice, visit their website, Instagram, or Facebook pages.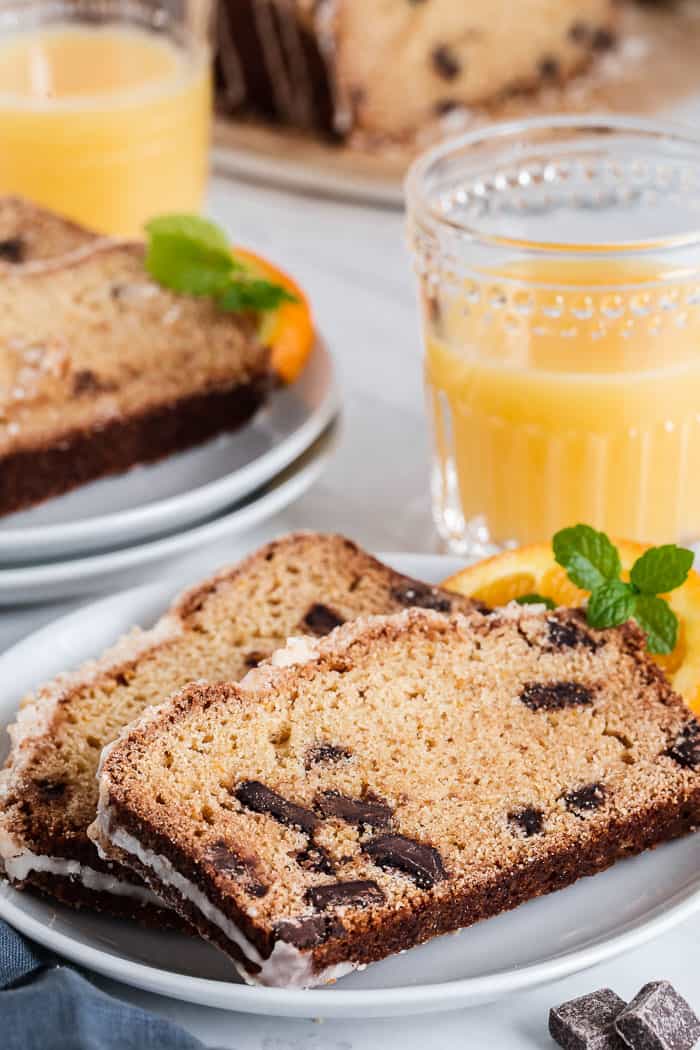 More coffee cake recipes for you to try: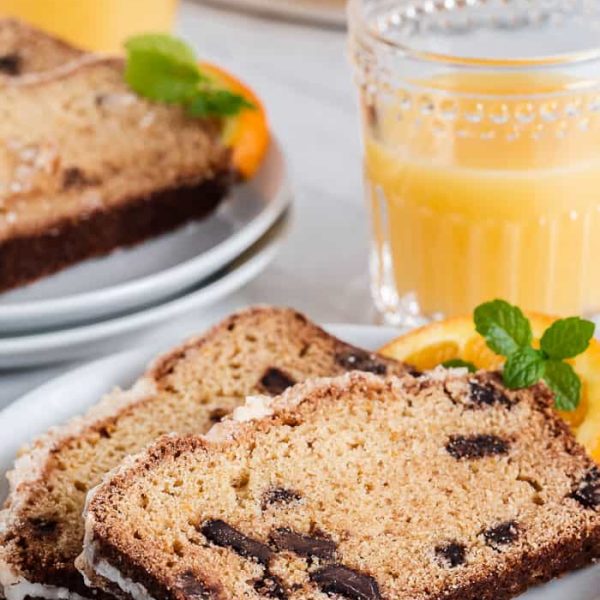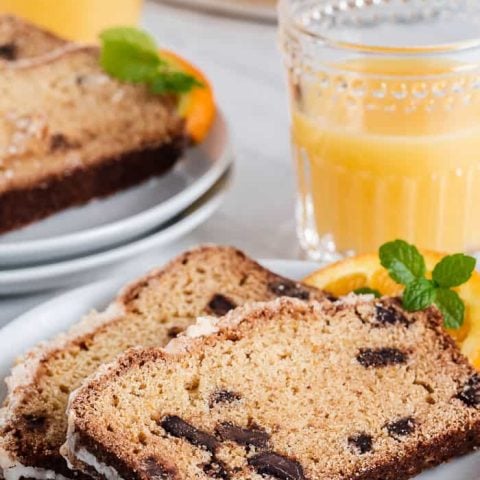 Yield: 1 large loaf
Orange Coffee Cake with Chocolate Chunks
An easy sweet and citrus-filled orange coffee cake!!
Total Time
1 hour
20 minutes
Ingredients
FOR THE COFFEE CAKE:
2 cups all-purpose flour
1 cup granulated sugar
1 ½ teaspoons baking powder
½ teaspoon baking soda
½ teaspoon kosher salt
¼ cup unsalted butter, at room temperature
1 large egg, at room temperature
¾ cup Florida Orange Juice
1 tablespoon fresh orange zest
2 teaspoons pure vanilla extract
6 ounces dark chocolate, chopped into chunks
FOR THE TOPPING:
2 tablespoons unsalted butter, cold
¼ cup all-purpose flour
1½ tablespoons granulated sugar
A pinch of salt
1 tablespoon cacao nibs (optional)
FOR THE GLAZE:
1-2 tablespoons Florida Orange Juice
1 cup powdered sugar
Instructions
Preheat oven to 350 degrees F. Grease a 9 x 5-inch loaf pan and line with parchment. Grease parchment, leaving overhang.
In a large bowl, whisk together flour, sugar, baking powder, baking soda, and salt. Add in butter and using your fingertips, work into flour mixture until it looks like coarse meal.
In another bowl, whisk together the egg, Florida Orange Juice, orange zest, and vanilla extract. Add the wet ingredients into the flour mixture and stir until everything is incorporated. Add in chocolate chunks and fold into batter.
Pour batter into prepared pan.
Make the topping by mixing all the ingredients in a bowl. Using your fingers, rub together until crumbly. Sprinkle the batter with the topping.
Bake until the cake is golden brown and a toothpick inserted into the center comes out clean, about 50-60 minutes. Let cool in the pan for 15 minutes before removing and cooling on a wire rack.
Make the glaze: whisk together the powdered sugar and 1 tablespoon Florida OJ. Add more Florida OJ to desired consistency. Drizzle over coffee cake. Enjoy!
Recommended Products
As an Amazon Associate and member of other affiliate programs, I earn from qualifying purchases.