Blueberry Coffee Cake Muffins
Today, Ashley from Spoonful of Flavor is here to change our breakfast lives. I mean look at these blueberry coffee cake muffins? Their purpose in life is to rock our worlds!!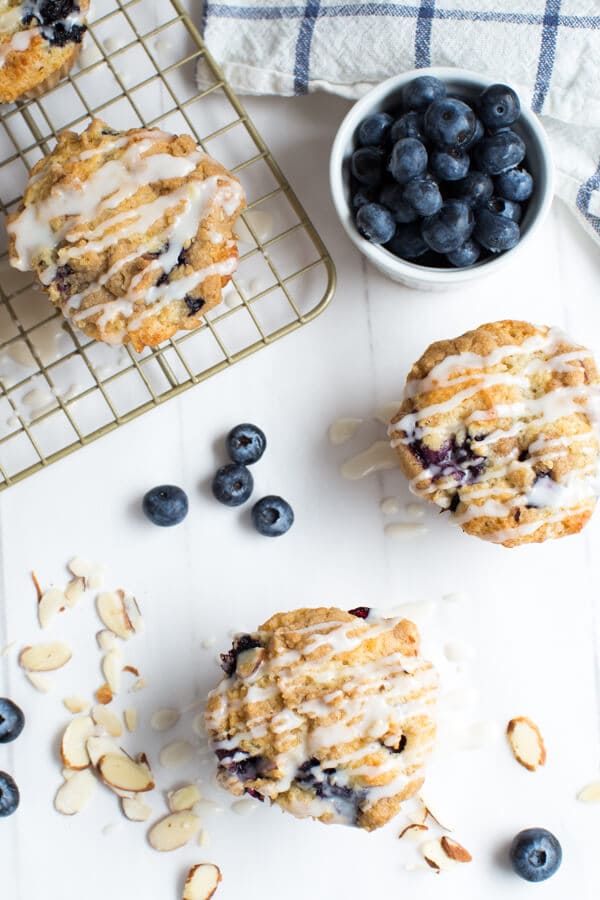 Hi everyone! I'm Ashley from Spoonful of Flavor and I'm here to share one of my favorite muffin recipes. While Zainab is enjoying the time with her new sweet baby boy, I am thankful for the opportunity to share these Blueberry Almond Coffee Cake Muffins with you today. Muffins are the ultimate breakfast comfort food and they make your house smell amazing. I try to bake muffins as often as possible because the options are endless for creating a combination of flavors that everyone will love.
I love coffee cake but I love coffee cake filled with fresh fruit even better. Coffee cake muffins are a delicious treat for weekend brunch or on-the-go snacking during the week. I like to bake a batch on Sunday mornings and enjoy leftovers during the week. These muffins would also make a nice treat to bring to a new mom. Bake a batch of these warm, comforting and delicious muffins to share with your family and friends and they will be begging you for more.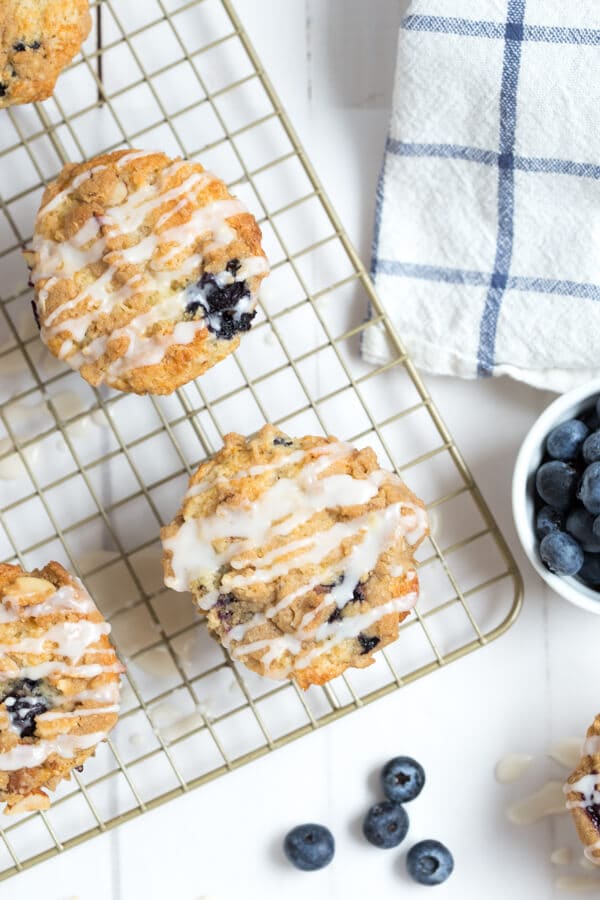 For these muffins, I started with a standard coffee cake muffin recipe, added fresh blueberries and topped them with almond crumble before baking in the oven. The crumble topping adds the perfect amount of texture and flavor. Don't forget the sweet glaze too. The result is a fresh bakery style muffin that everyone will love.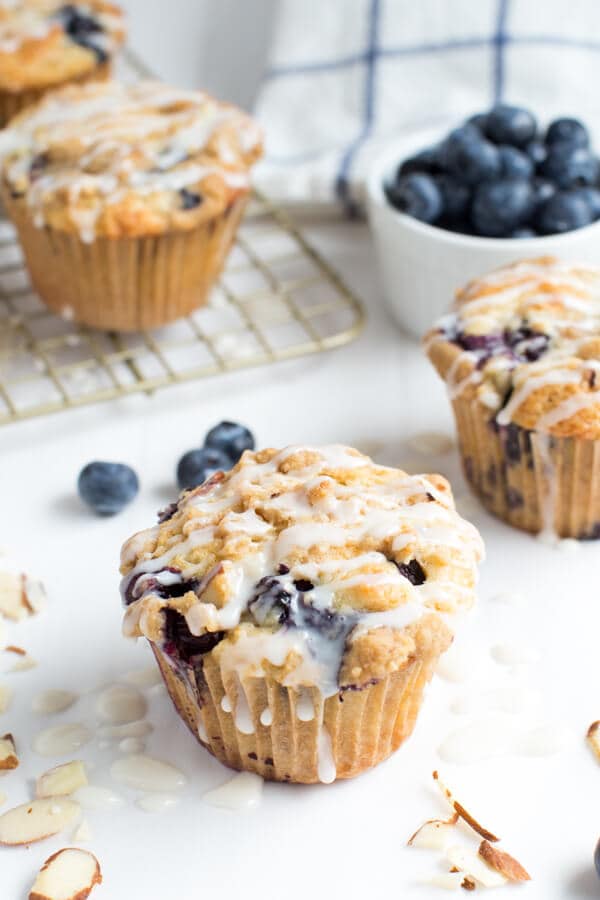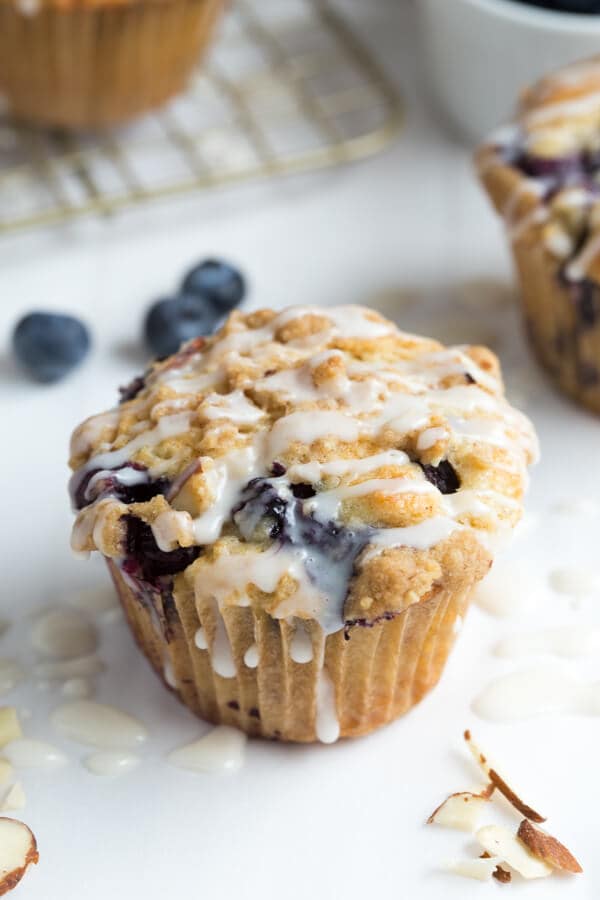 Go ahead, bake a batch of these muffins and enjoy the sweet flavors of blueberry and coffee cake!
More coffee cake recipes for you to try: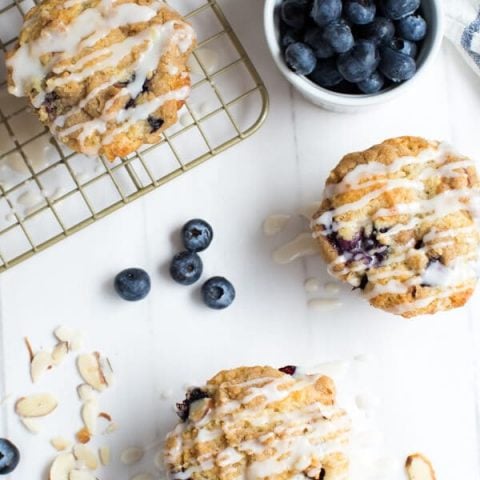 Yield: ~12 standard muffins
Blueberry Coffee Cake Muffins
Ingredients
¼ cup sliced almonds, finely chopped
¼ cup packed dark brown sugar
1 teaspoon ground cinnamon
2 cups all-purpose flour
1 cup granulated sugar
1 teaspoon salt
10 tablespoons unsalted butter, softened, divided
1 ½ teaspoons baking powder
½ teaspoon baking soda
¾ cup sour cream
1 large egg, whisked
1 teaspoon vanilla extract
1 ¼ cup fresh blueberries
1 cup confectioners' sugar
3 tablespoons milk
1/2 teaspoon pure vanilla extract
Instructions
Preheat the oven to 350 degrees. Line a standard 12-cup muffin-tin with paper liners.
In a medium bowl, combine chopped almonds, brown sugar, and cinnamon. Mix well and set aside.
In a large bowl, combine flour, sugar, and salt. Cut 8 tablespoons of butter into ½ inch pieces and sprinkle evenly over flour mixture. Using a pastry blender, cut the butter into the flour mixture until butter is oat-sized.
Remove 1 cup of the flour-butter mixture and stir it into the brown sugar mixture until combined to make streusel; set aside.
Add baking powder and baking soda to the remaining flour mixture and stir to combine.
Add in the sour cream, egg, and vanilla. Stir until just combined. Add 3/4 cup of streusel mixture to flour mixture and stir until streusel is just distributed throughout the batter. Gently fold blueberries into the batter.
Stir in remaining 2 tablespoon butter into the streusel mixture, until streusel resembles a crumble.
Divide batter among 12 muffin cups and sprinkle generously with streusel topping, crumbling with your hands to make some big chunks. Bake 22 to 24 minutes, or until a toothpick inserted in the center of a muffin comes out clean.
Allow to cool in the pan for 10 minutes, then transfer to a wire rack to cool completely.
To make the glaze, whisk the confectioners' sugar, milk and vanilla extract together. Drizzle over muffins. Store in a sealed container for up to 2 days.
Recommended Products
As an Amazon Associate and member of other affiliate programs, I earn from qualifying purchases.
Disclaimer: Ashley sent this recipe over two weeks ago and I couldn't help but try them. Gosh!! They were AMAZING to say the least and just perfect breakfast when you have a newborn in one hand. Please go make these now!!!