Cinnamon Coffee Cake with M&Ms
This cinnamon coffee cake with M&Ms is a light and fluffy crumb cake with a cinnamon sugar topping and sprinkled with M&Ms.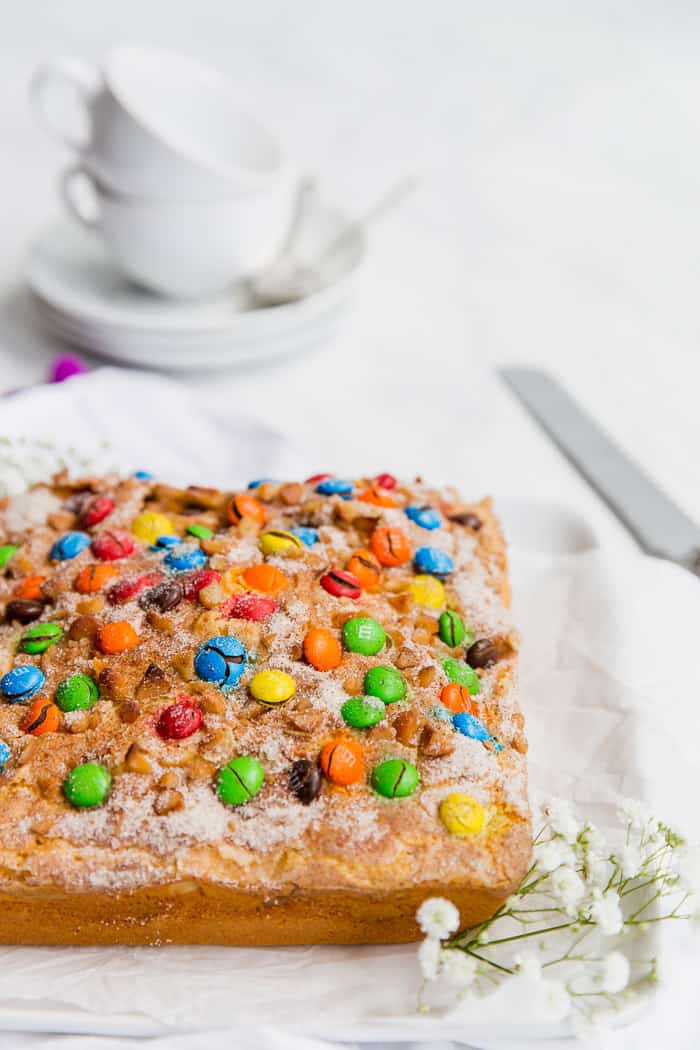 Does it seem like holiday parties are happening earlier this year? I went to one on Tuesday and today I have our departmental party. Since there are so many holiday parties going on now and with each holiday desserts like peppermint chocolate roll cakes or vanilla pomegranate oatmeal cookies. I am sharing with you something different you can bring along to your next holiday gathering. This cinnamon coffee cake will be perfect to add to a dessert table filled with peppermint and cranberries.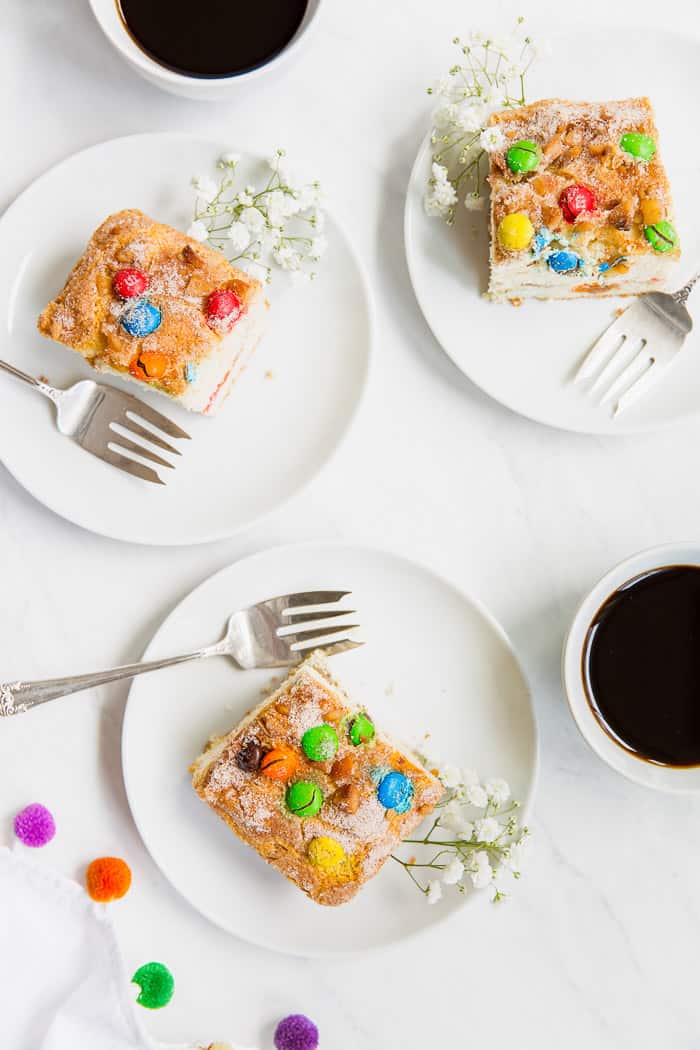 I actually made this coffee cake for the first time two months ago, and it has quickly become a favorite snack cake around here. My husband loved how different it was with the M&Ms and I loved how easy it is to put together. The cake itself is light and fluffy, lightly spiced with cinnamon. As if that is not enough, this delicious cake is topped with a crunchy crumb layer made with toasted hazelnuts and crunchy M&Ms.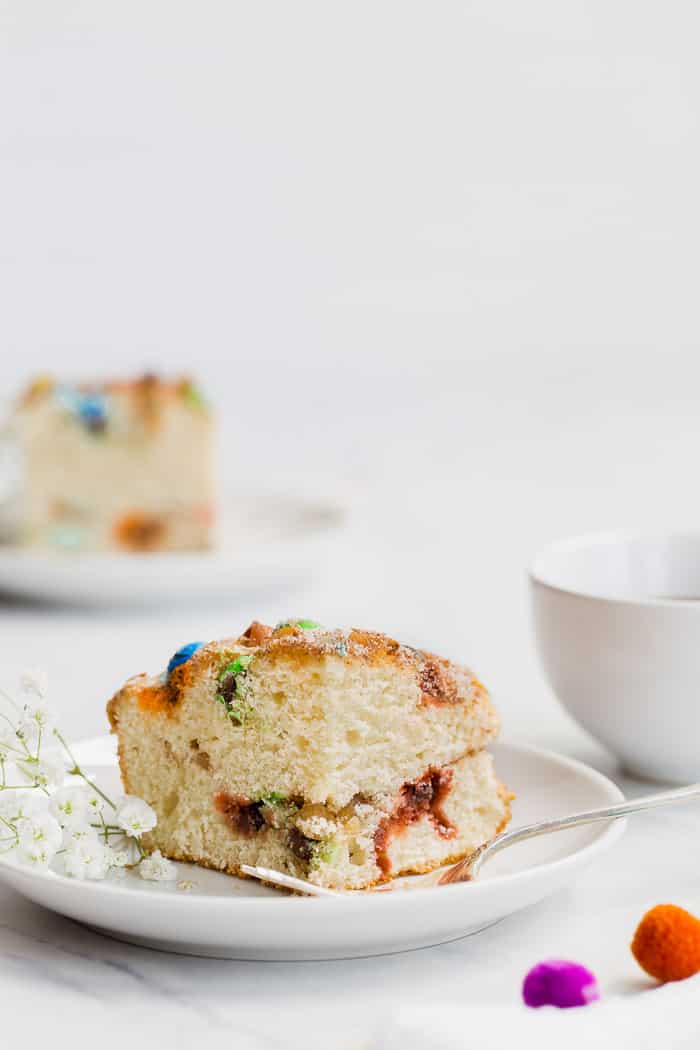 Now I know the M&Ms addition sounds strange in a cinnamon cake but trust me it works. It's the slightest addition of chocolate that brings a true flavor kick. Although you could also just do chocolate chips if you'd like or skip the M&Ms all together. You will still be left with a crazy good cinnamon coffee cake you will love.
I don't think any of my weekend brunches will be complete without this cinnamon coffee cake in my future. Make this holiday season special by baking something different to bring to your holiday gatherings. I will definitely enjoy a slice (or two) of this snack cake as I tackle the end of this busy week, before hitting the holiday party!! I hope you have a great weekend.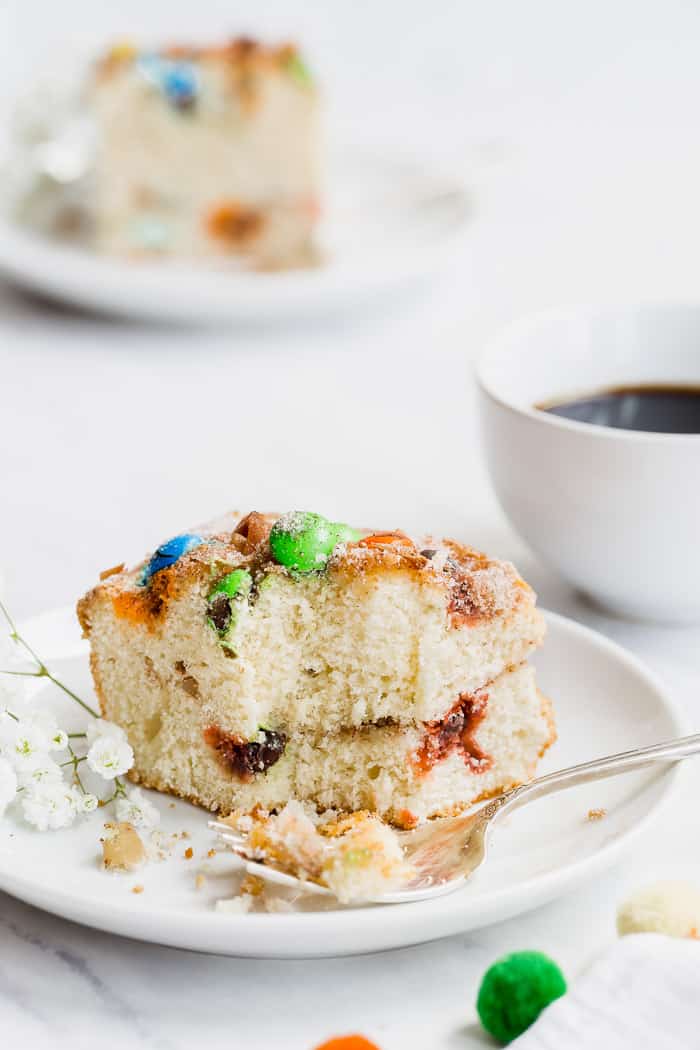 More coffee cake recipes for you to try:
Enjoy this chocolate cinnamon coffee cake!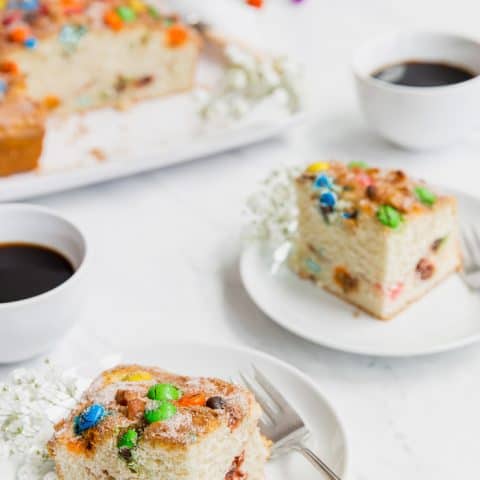 Yield: 1 8-inch square
Cinnamon Coffee Cake
This Cinnamon coffee cake is light and fluffy with a cinnamon crunchy crumb thanks to the M&Ms.
Total Time
1 hour
5 minutes
Ingredients
½ cup (1 stick) unsalted butter, at room temperature
½ cup blanched hazelnuts, chopped
½ cup plain M&Ms
¾ teaspoon ground cinnamon
1 cup granulated sugar, divided
2 cups all-purpose flour
¾ teaspoon baking powder
½ teaspoon baking soda
¼ teaspoon kosher salt
1 teaspoon pure vanilla extract
2 large eggs, room temperature
1 cup plain whole Greek yogurt or sour cream
Instructions
Preheat oven to 350 degrees F. Grease an 8-inch square baking pan. In a small bowl, toss together the hazelnuts, chocolate M&Ms, cinnamon, and ¼ cup of sugar.
In a medium bowl, whisk together flour, baking powder, baking soda, and salt. With an electric mixer on high speed, beat butter and remaining ¾ cup until fluffy, about 3 minutes. Beat in vanilla extract. Reduce speed to medium-low and add eggs one at a time, beating to blend between additions. Scrape down the sides of the bowl as needed. Reduce mixer to low speed and add in dry ingredients in 3 additions, alternating with the yogurt in two additions. Mix until just combined.
Spoon half of the batter into the prepared pan and smooth the top with a spatula; Sprinkle the top with half of the hazelnut mixture. Pour the rest of the batter and smooth top again. Top with remaining hazelnut mixture.
Bake cake until a cake tester inserted into the center comes out clean and the top is golden about 40-45 minutes.
Transfer to a wire rack and let cake cool in pan before turning out.
Notes
Skip the M&Ms or substitute with chocolate chips
Recommended Products
As an Amazon Associate and member of other affiliate programs, I earn from qualifying purchases.