White Chocolate Vanilla Cake
This white chocolate vanilla cake is a moist, fluffy vanilla cake filled with white chocolate buttercream and topped with festive pomegranate seeds.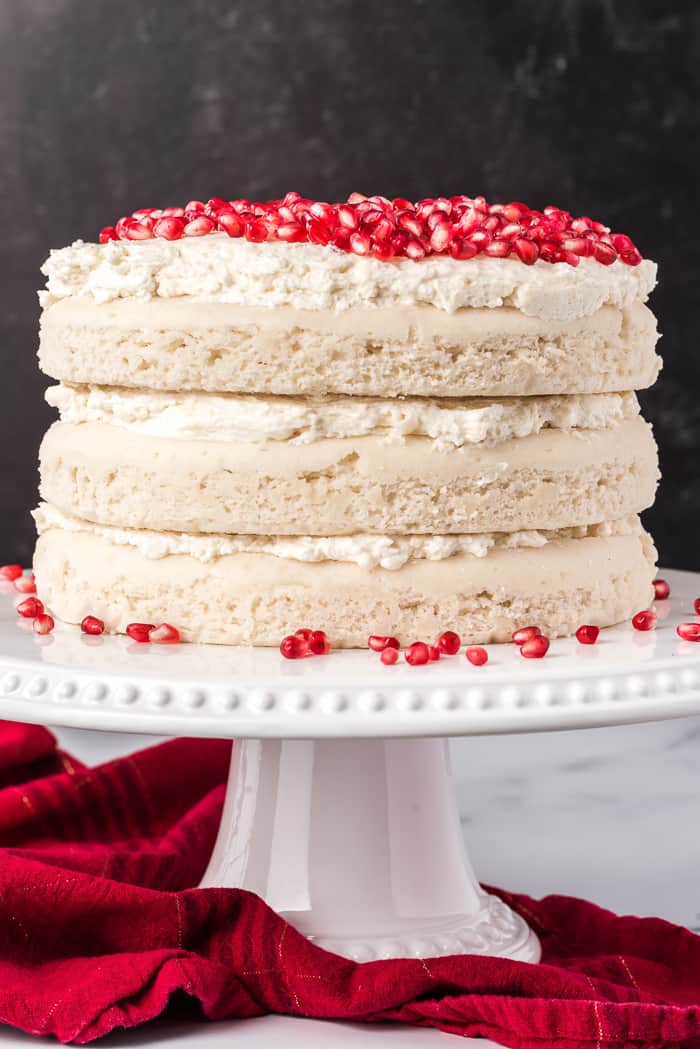 Hi friends! Happy Monday, let's have cake! A slice of this white chocolate vanilla cake to be exact. It's a simple cake with wonderful flavors that can be festive and a table show stopper.
This holiday season is my first year of baking and blogging, and in the next two weeks, I will be sharing some of my favorite holiday recipes with you. These are the classic recipes I make for our holiday gatherings and comfort eating.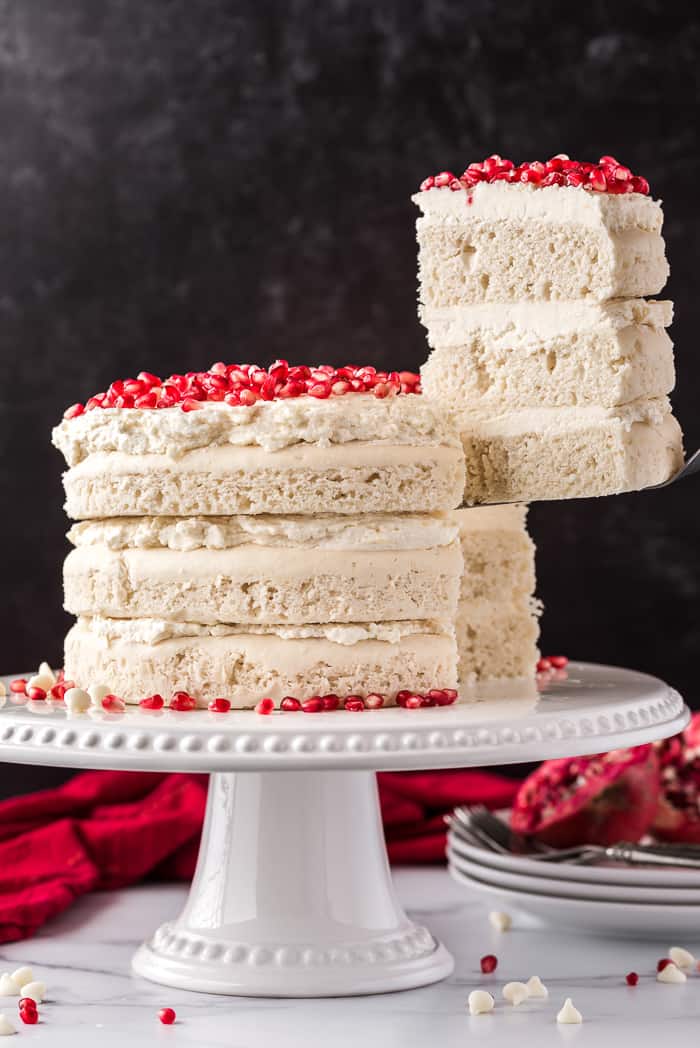 This vanilla white cake with white chocolate frosting is one I make every year and I usually decorate it with blue and white snowflakes (using chocolate molds) for a wintry cake. However this year, I deviated a little on my decor (not the recipe) leaving the cake naked, but with some lovely pop of color to give it a different festive decoration.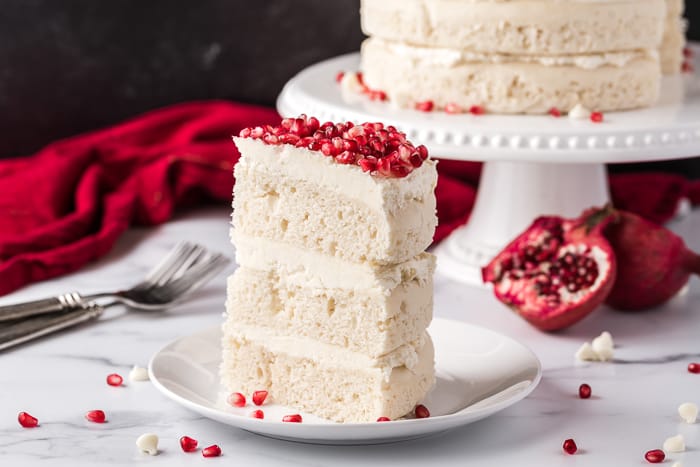 Seriously, I am loving pomegranates these days. After these vanilla pomegranate oatmeal cookies, I wanted to enjoy these crunchies in some more baked goods. Oh don't get me wrong, I discovered they are amazing in Greek yogurt as well (Thanks Julie for that!) but my new favorite combination so far is white chocolate.
This white chocolate vanilla cake recipe is a classic that you should have in your repertoire.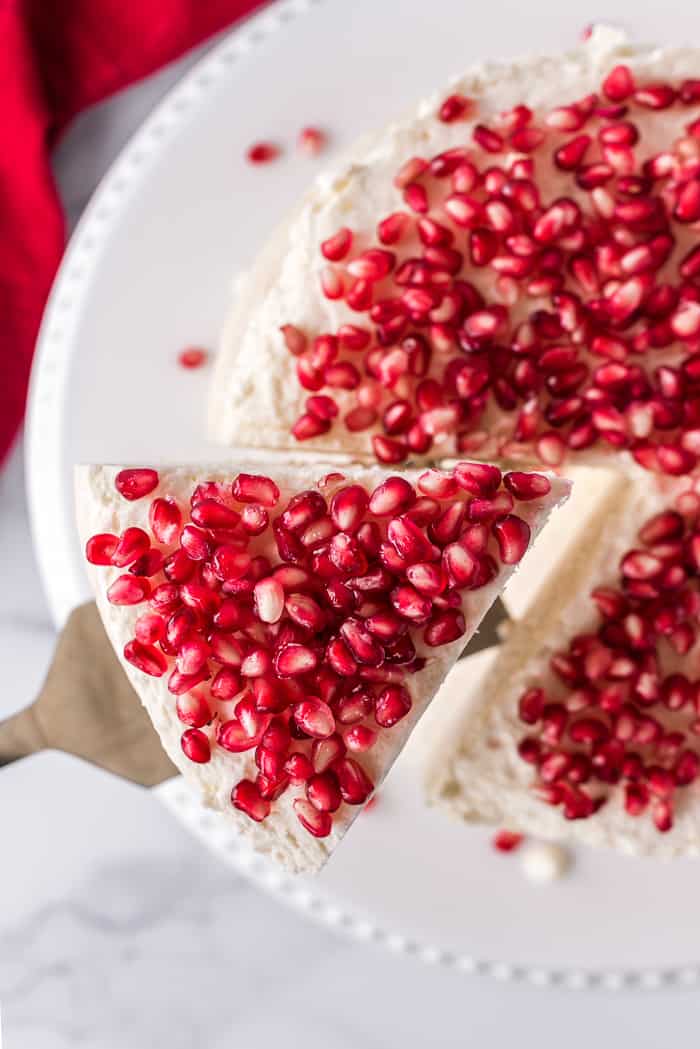 It's a moist and fluffy white vanilla cake. I used my favorite gourmet pure vanilla extract and it gave this cake a great flavor and aroma. You guys, I cannot say how much I love using that extract. If you don't have a good vanilla extract, you can use vanilla bean paste for the cake for a robust vanilla cake.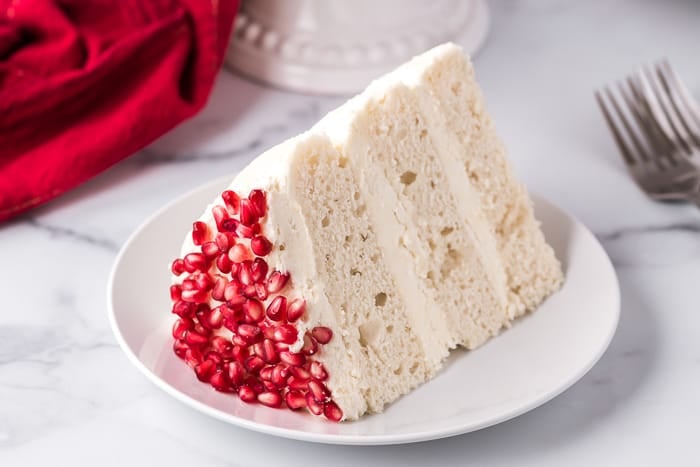 I filled the cake with a creamy white chocolate Swiss meringue buttercream and topped it with fresh pomegranate seeds. You know how I love a silky creamy swiss buttercream. These two together are perfect and make this cake extra delicious. But don't take my word for it, you have to try it.
Whether you make this a winter wonderland cake or a festive galore, you will love the combination of white chocolate, vanilla, and pomegranates. It is the perfect holiday season cake.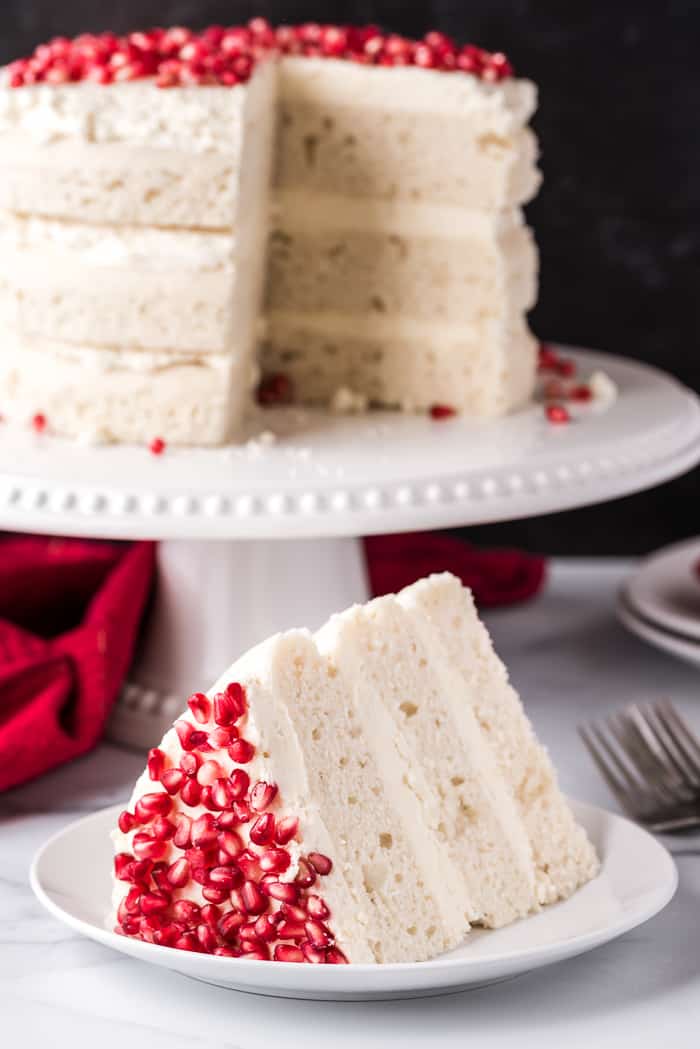 What are some of your favorite classic holiday recipes?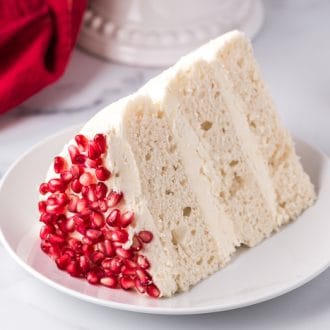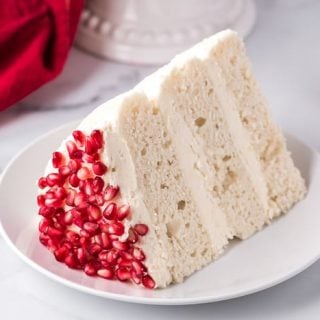 Yield: 1 8-inch layered cake
White Chocolate Vanilla Cake
White chocolate vanilla cake is moist, fluffy vanilla cake filled with white chocolate buttercream and topped with festive pomegranate seeds.
Total Time
1 hour
15 minutes
Ingredients
Vanilla Cake:
3⅓ cups cake flour, sifted
1 tablespoon plus 1 ½ teaspoons baking powder
½ teaspoon salt
2 teaspoons pure vanilla extract
1 ¼ cups milk, room temperature
¾ cup plus 2 tablespoons (1 ¾ sticks) unsalted butter, room temperature
1 ½ cups granulated sugar
5 large egg whites, room temperature
White Chocolate Swiss Meringue Buttercream:
5 large egg whites, room temperature
1 ¼ cup granulated sugar
1 ½ cup (3 sticks) unsalted butter, room temperature
½ cup white chocolate chips, melted and cooled
1 teaspoon vanilla extract
1 cup pomegranate seeds for topping (optional)
Instructions
For Cake:
Preheat oven to 350 degrees F. Grease three 8-inch (or two 9-inch round) cake pans and line with a parchment circle. Grease parchment and set aside.
In a medium bowl, whisk together the flour, baking powder, and salt. Stir vanilla extract into the milk.
In the bowl of an electric mixer fitted with the paddle attachment, beat the butter until very smooth on medium speed, about 2 minutes. With the mixer running, add sugar gradually and beat until pale and fluffy, about 3-5 minutes.
Reduce speed to low and add flour in 3 batches, alternating with 2 batches of the milk mixture. Beat until just combined. Do not overmix.
In another mixing bowl, beat the egg whites on medium speed until stiff peaks form, about 3 minutes. Fold the egg whites into the batter in 3 additions.
Pour equal amounts of batter into prepared pans and smooth the tops with an offset spatula. Bake cakes until tops spring back when pressed and a cake tester inserted into the center comes out clean, about 25 minutes (25-30 minutes for a 9-inch round)
Transfer cake pans to wire racks and allow to cool for 15 minutes. Invert cakes onto racks to completely cool.
For White Chocolate Swiss Meringue buttercream:
Whisk together sugar and egg whites in a heatproof mixing bowl set over (not in) a pan of simmering water. Whisk until warm and sugar is dissolved (mixture should feel completely smooth when rubbed between your fingers), about 3 minutes. Remove from heat.
With an electric mixer on medium speed, whisk egg white mixture for 5 minutes. Increase speed to medium-high, and whisk until stiff, glossy peaks form and meringue has cooled (test by feeling the bottom of the bowl), about 6 minutes.
Switch to the paddle attachment and reduce speed to medium. Add butter, one piece at a time, beating well after each addition. Beat in vanilla. The frosting might look separated at first but keep beating until it comes together. Add the white chocolate and beat until combined.
Assembly:
Place one layer of cake on a cake stand or serving platter. Spread about ¾ cup frosting over the top using an offset spatula. Top with another layer and repeat with the other two layers.
Top with pomegranate seeds if desired. If not, continue frosting the entire cake and decorate desired.
Recommended Products
As an Amazon Associate and member of other affiliate programs, I earn from qualifying purchases.