Butterscotch Gingersnap Molasses Cookies
Butterscotch gingersnap molasses cookies are soft and chewy, with the perfect holiday flavor combination. They are easy to make and will be great for your holiday cookie exchange!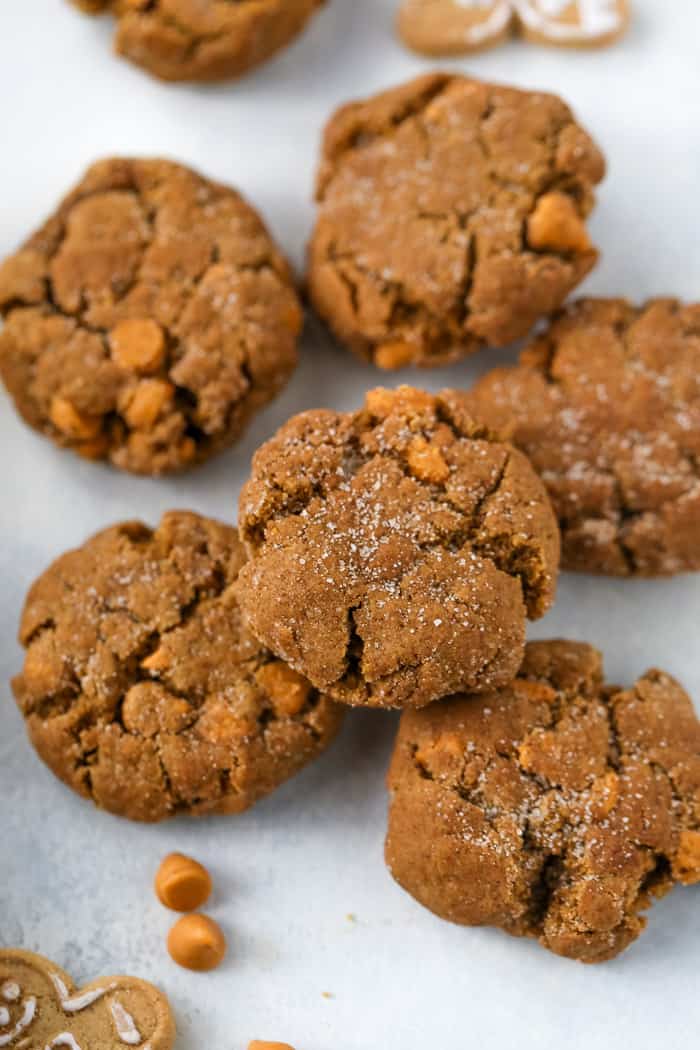 This is my first year participating in the 3rd Annual Great Food Blogger Cookie Swap hosted by Lindsay (Love & Olive Oil) and Julie (The Little Kitchen)!!
If you are not familiar with this particular cookie exchange, let me spell it out for you. Lindsay and Julie bring together fellow food bloggers to celebrate all things cookies and friendships while making a difference. To participate, you sign up, pay a nominal fee, and you receive the addresses of three food bloggers. You send each of them a dozen cookies. In return, you receive three different boxes of cookies to enjoy solo!! Sweet right?? Well, that's not all, because the fees that all of us (622 to be exact) paid to sign up are donated to a non-profit organization. This year, they partnered with Cookies for Kid's Cancer, an organization funding new therapies in the fight against pediatric cancer. Awesome!!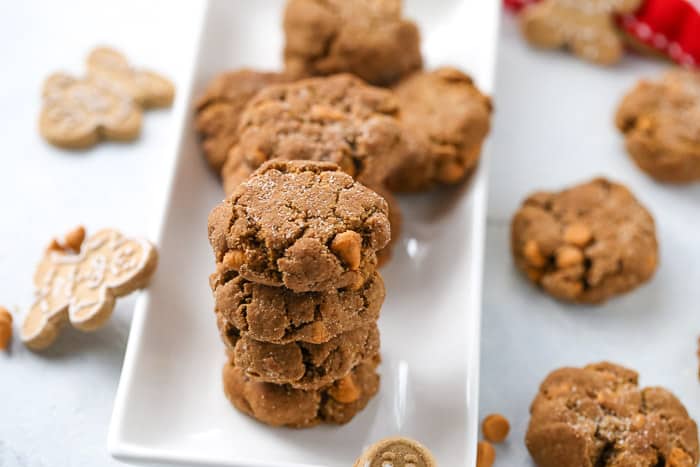 But wait it doesn't end there, the super awesome brand partners of this year's cookie exchange matched the group's donation to Cookies for Kid's Cancer, dollar for dollar!! Together, we raised $13,778.40 for Cookies for Kid's Cancer!!! These generous brand partners made this possible: Gold Medal Flour, OXO, Grandma's Molasses and Dixie Crystals. I can't thank them enough!!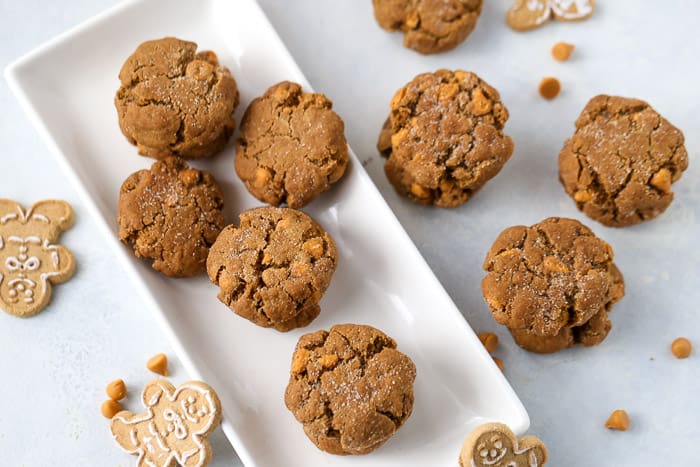 I made butterscotch gingersnap molasses cookies to send to my designated cookie receivers.
In our family, my husband's grandmother and I are the only two crazy about butterscotch (and macarons!) so I am always looking for new recipes for our continued indulgences. These cookies did not fail and I knew they will be perfect for a holiday cookie exchange. They are soft, chewy and full of everything a holiday cookie should have aka fresh ginger, nutmeg, cinnamon, and molasses. Oh and add to that 'studded with butterscotch chips'. These will become a holiday classic in my kitchen. I hope Allison, Jenny, and Kristin enjoyed them as much as we did.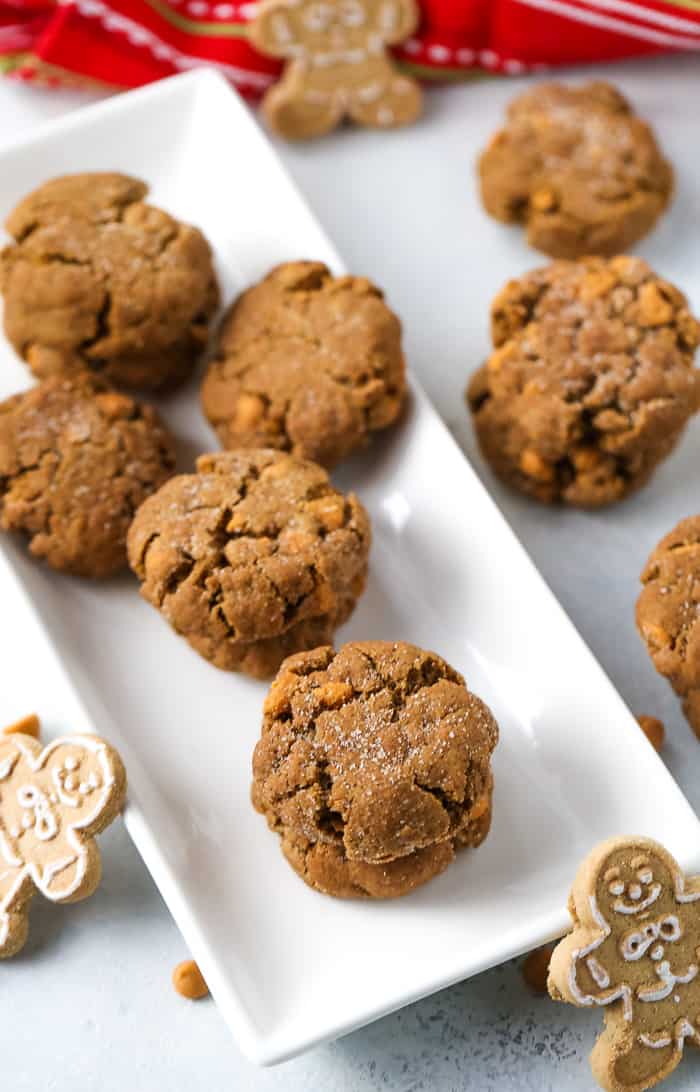 In return, I received fabulous cookies in exchange. Three dozen that I successfully managed to hog for myself, except maybe one or two for the mister to try.
The first box I received was from Lindsay from Love & Olive Oil and she sent the most delicious brown butter vanilla shortbread cookies I have ever tried. So so soft and melts in your mouth. My next box arrived from Melissa of Treats with a Twist and her white chocolate cranberry coconut macaroons were out of this world. Just amazing with many surprises inside!!! She really does make treats with a twist ;). My final cookie dozen arrived in a cute jar from Monique of Ambitious Kitchen and her white chocolate cherry macadamia nut oatmeal cookies are the best oatmeal cookies I've had…hands down. So delicious.
Thank you very much, Lindsay, Melissa, and Monique for the amazing cookies!!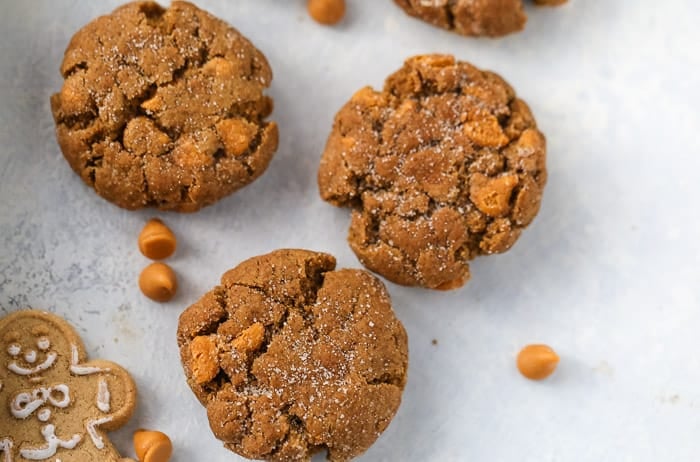 Enjoy the recipe for my butterscotch gingersnap molasses cookies!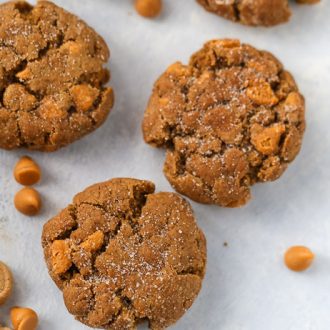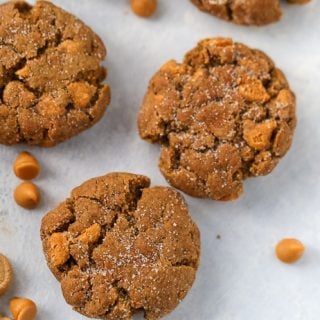 Yield: ~30 cookies
Butterscotch Gingersnap Molasses Cookies
Butterscotch gingersnap molasses cookies are soft and chewy, with the perfect holiday flavor combination. They are easy to make and will be great for your holiday cookie exchange!
Ingredients
3 cups all-purpose flour
1 teaspoon baking soda
2 teaspoons ground ginger
1 ¼ teaspoons ground cinnamon
¼ teaspoon ground cloves
¼ teaspoon freshly ground nutmeg
¼ teaspoons coarse (kosher) salt
¾ cup unsalted butter, room temperature
¾ cups dark brown sugar
⅓ cup dark molasses
1 large egg, room temperature
2 teaspoons pure vanilla extract
1 cup butterscotch chips
⅓ cup granulated sugar, for rolling
¼ teaspoon cinnamon
Instructions
In a medium bowl, sift together the flour, baking soda, spices, and salt.
In the bowl of an electric mixer, cream the butter and sugar until very light, about 5 minutes on medium speed. Scrape down the bowl as needed.
Add molasses, egg, and vanilla extract, beat until well combined. Reduce the speed to low and add dry ingredients. Mix until just combined, 5-10 seconds. Using a spatula, fold in butterscotch chips. Press plastic wrap against dough and chill for at least 1 hour or more.
Preheat oven to 350 degrees F. Line a baking sheet with parchment paper. In a small bowl, combine the granulated sugar and cinnamon for rolling.
Scoop 2 tablespoon-sized mounds of dough and roll into a ball. Roll in cinnamon sugar.
Bake cookies for 8-9 minutes. Remove from oven and using the flat back of a utensil (I used a spatula) or your fingers, press the top of the cookie down. Place back in the oven and bake for an additional minute. They will be puffy and still soft in the middle. Remove from the oven and let cool on cookie sheet for two minutes.
Transfer to a wire rack and let cool completely (if you can wait that long!). Store leftovers in an airtight container at room temperature.
Thank you very much, Lindsay and Julie, for putting this together. It was an honor to be a part of something so big and meet so many people. Most of all, it was amazing to bake cookies for a great cause. A very BIG thank you as well to the wonderful sponsors for making this donation exceed the goal!