Eggnog Macarons
Eggnog macarons are perfectly spiced holiday cookies, with hints of cinnamon, cloves and nutmeg, filled with creamy eggnog buttercream.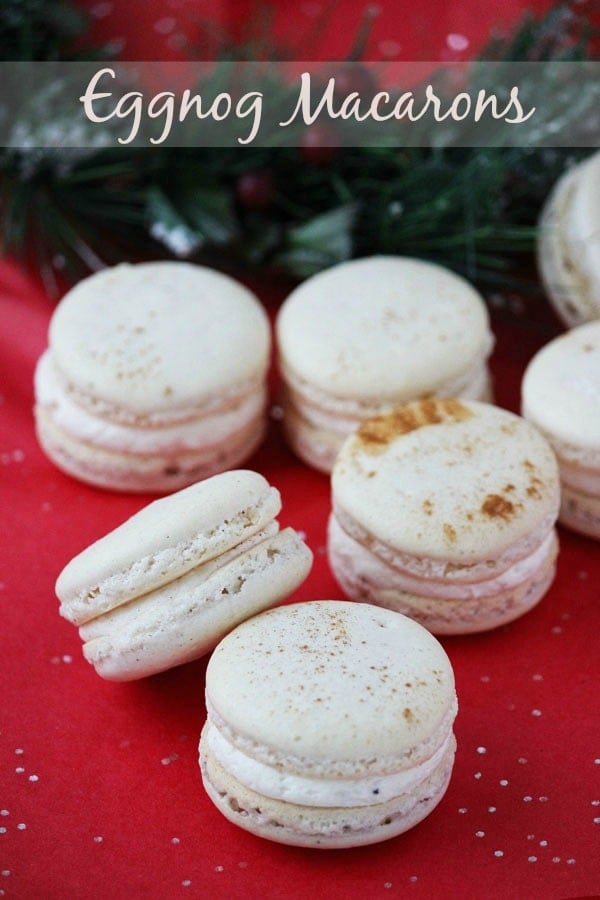 Well hello friends!
I have a few too many holiday recipes I want (and have) to share with you guys. Pardon my scheduling lapses and seemingly saving all for last minute. Apparently Christmas is upon us already. But these are all awesome recipes I know you will love so stay tuned the next few days. Like these eggnog macarons! They will be perfect on any holiday dessert table and would also make for great party gifts.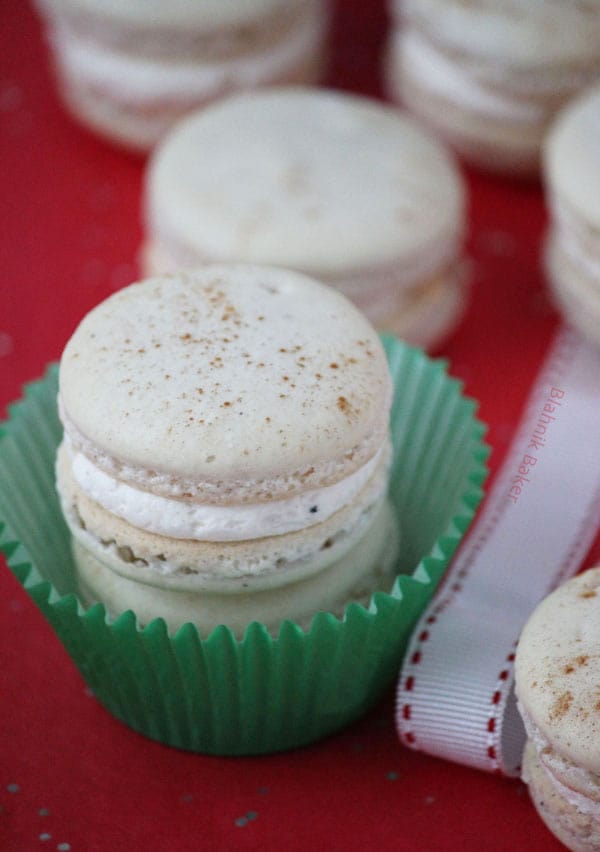 Is anyone else baking up a storm this week? I am making batch after batch of cookies and sending out holiday treat boxes with our Christmas cards this week. So much fun and I am trying so many different recipes including a few new favorites. I seriously LOVE the holidays and I have no idea what I will do with myself, mixer and oven come January. There will be no gingerbread, eggnog, cranberries or peppermint. Oh the travesty of the in between months before the start of spring 🙁
But for now, let's talk eggnog macarons.
If you are a regular around here, you know by now how much I love/hate these fascinating fellas. Every now and then I venture out to try a new flavor and the challenge of getting a perfect batch drives me crazy most times. But you see, they are worth every ounce of the trouble. They are the perfect cookie. So crunchy and flaky on the outside and chewy on the inside with a great buttercream filling. Each bite is a dream and having two or three with your afternoon or midnight coffee is a great treat.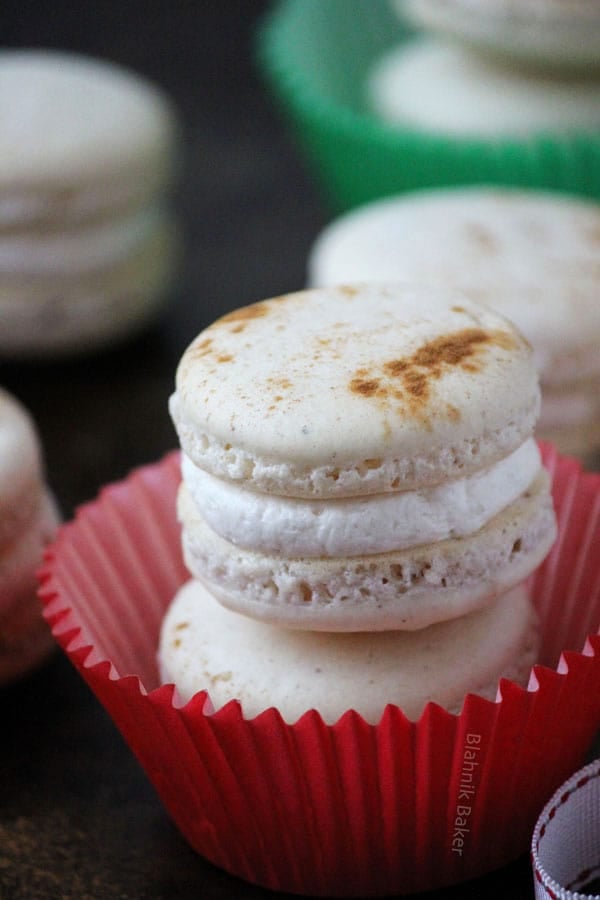 These particular eggnog macarons were made for my husband's Grandma who was in the hospital for a few days last week. I know she is the only one in our family that gets how awesome macarons are. So to cheer her up, I snuck a dozen of these into her hospital room :). She enjoyed the perfectly spiced shells with hints of cinnamon, cloves and nutmeg that were filled with creamy eggnog buttercream.
If you are still in search of a beautiful dessert to add to your display, consider these eggnog macarons! Your guests will love them and thank you plenty.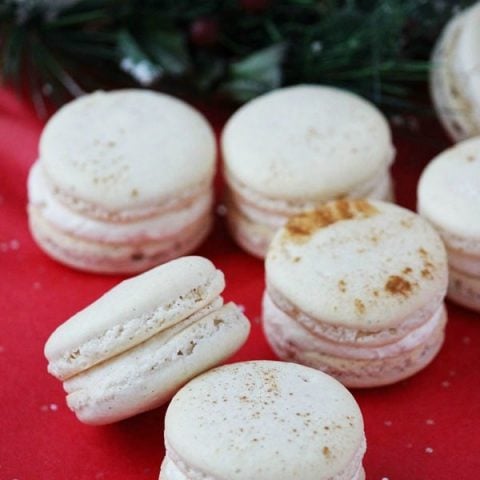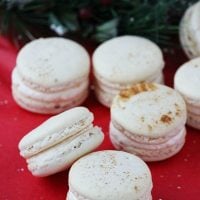 Yield: ~30 macarons
Eggnog Macarons
Eggnog macarons are perfectly spiced  holiday cookies, with hints of cinnamon, cloves and nutmeg, filled with creamy eggnog buttercream.
Total Time
2 hours
50 minutes
Ingredients
For the Macaron shells:
4 ounces (115g) almond flour
8 ounces (230g) powdered sugar
1 teaspoon ground cinnamon
¼ teaspoon freshly grated nutmeg
a pinch of cloves
5 ounces (144g) egg whites, room temperature
2 ½ ounces (72g) granulated sugar
½ teaspoon salt
2 teaspoons pure vanilla extract
For the Filling:
½ cup sugar
2 egg whites
¾ cup (1 ½ stick) unsalted butter
½ teaspoon cinnamon
¼ teaspoon freshly grated nutmeg
1-2 tablespoons eggnog
Instructions
Line two sheet pans with parchment paper. I used a 1½-inch round cookie cutter to draw circles on the parchment paper and flipped the paper (drawing side down).
Preheat oven to 300 degrees and prepare a pastry bag with a round tip. I used Wilton 2A.
Using a food processor, pulse the powdered sugar, almond flour and spices into fine powder. Sift several times until there is less than 2 tablespoons of almond bits left. Add the bits to the sifted dry ingredients.
In the bowl of an electric mixer with the whisk attachment, combine the egg whites, sugar and salt. Whip on medium-high speed until stiff peaks form, about 5-7 minutes. Add the vanilla extract and whip for another minute.
Add the dry ingredients to the meringue and fold with a rubber spatula. Gently fold to deflate the meringue by pressing against the side of bowl and scooping from bottom until batter is smooth and shiny; about 20-25 folds. To check consistency, drop a spoonful of batter and it should have a peak that quickly relaxes back into the batter. Start checking the batter after 20 folds.
Transfer batter into pastry bag and pipe the batter into the pre-traced circles on the baking sheet. Tap baking sheet hard on counter to release any air bubbles trapped in the batter.
Bake for 15-20 minutes until hard and slightly golden, rotating cookie sheets halfway through baking time. You should be able to peel off the macaron from the parchment.
Cool completely on cookie sheets before peeling from the parchment.
For Filling:
Whisk together sugar and egg whites in a heatproof mixing bowl set over (not in) a pan of simmering water. Whisk until warm and sugar is dissolved (mixture should feel completely smooth when rubbed between your fingers), 2 to 3 minutes. Remove from heat.
With an electric mixer on medium speed, whisk egg white mixture for about 5 minutes (using the whisk attachment). Increase speed to medium-high, and whisk until stiff, glossy peaks form and meringue has cooled (test by feeling bottom of bowl), about 6 minutes.
Reduce speed to medium and switch to the paddle attachment. Add butter, one piece at a time, beating well after each addition. Beat in cinnamon, nutmeg and eggnog until well blended.
Match similar sized cookies together and pipe or spread filling on one flat side and top with another. Sprinkle with nutmeg.