Eggnog Coffee Cake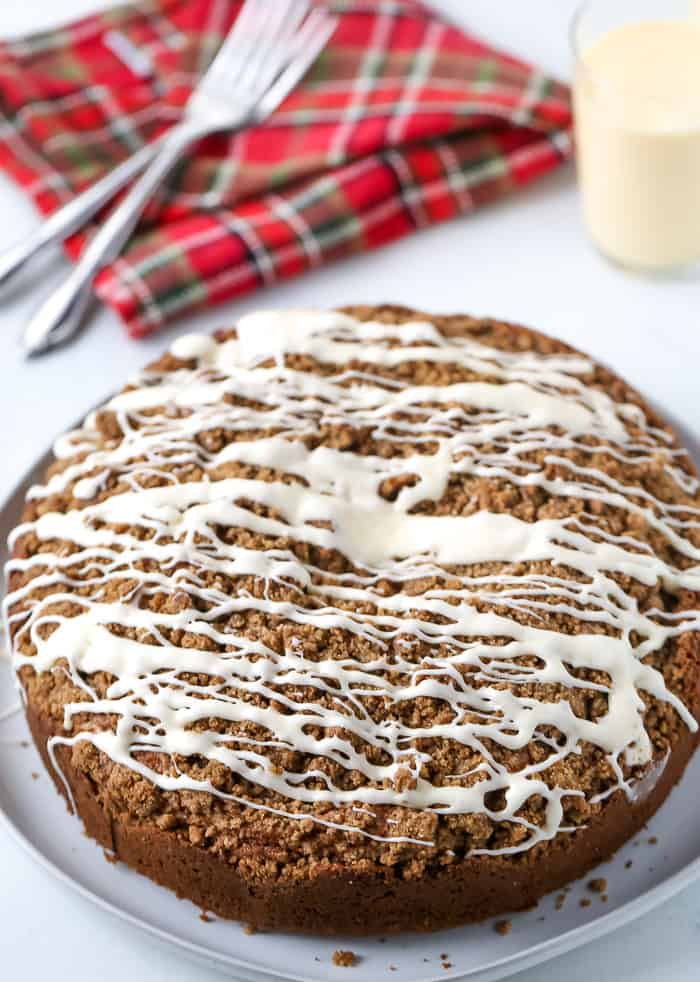 Hi friends! Today's recipe is a special one and I am very excited to share it with you. Having a good coffee cake is a real treat and one that takes ordinary mornings to extraordinary. Let me introduce you to this eggnog coffee cake that I think should be on your weekend breakfast plans for the rest of the winter.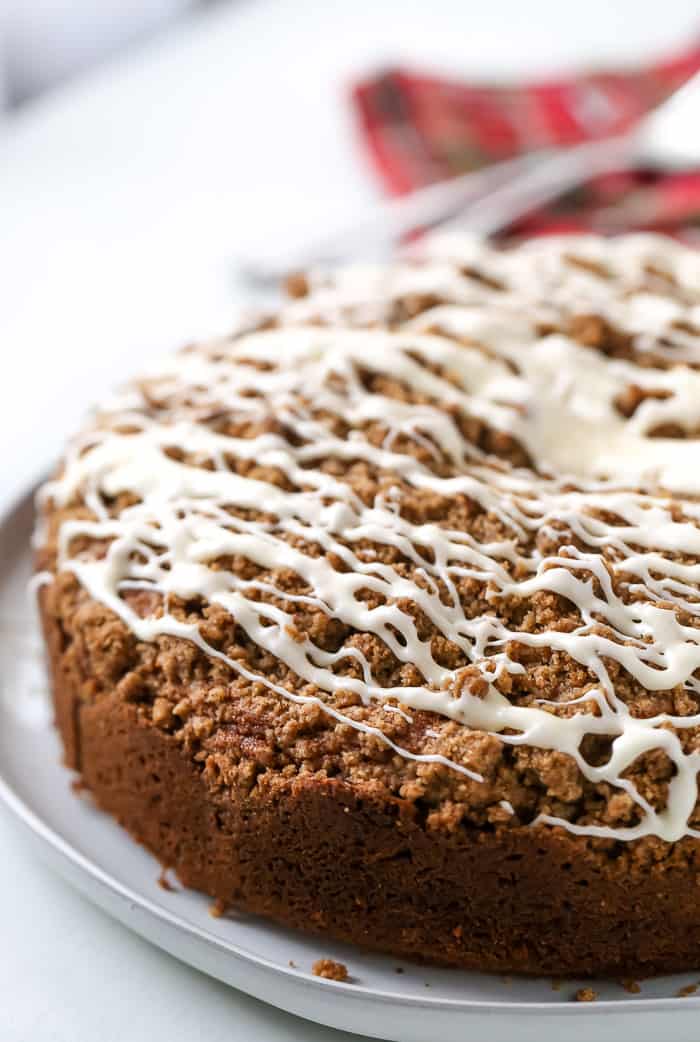 Here's why. A perfectly spiced cake batter is infused with eggnog as well as sour cream for moistness. The cake in return is sweet, filled with nutmeg and crumbly. That cake is topped with a buttery cinnamon crumble that adds a crunchy texture to an already moist cake. Finally, you drizzle a sweet eggnog icing over the cake for the final touch.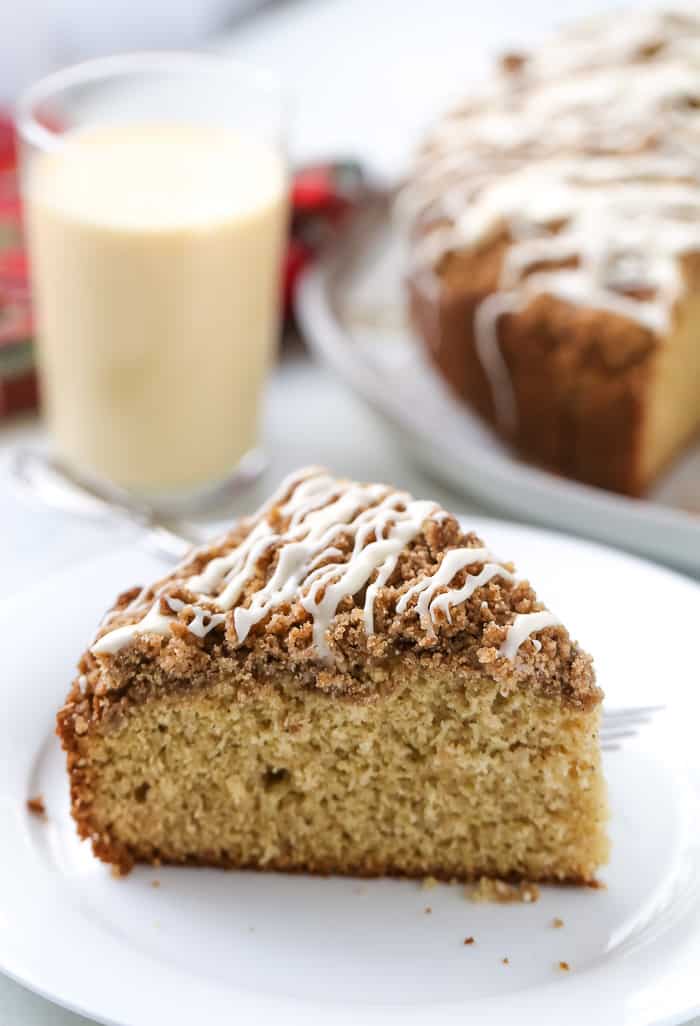 All in all, this eggnog coffee cake is one of my favorites ever. It reminds me of this cranberry orange coffee cake recipe however it is more spiced and perfect for a cozy winter morning. If you are a fan of coffee cakes, you will love my blueberry coffee cake muffins.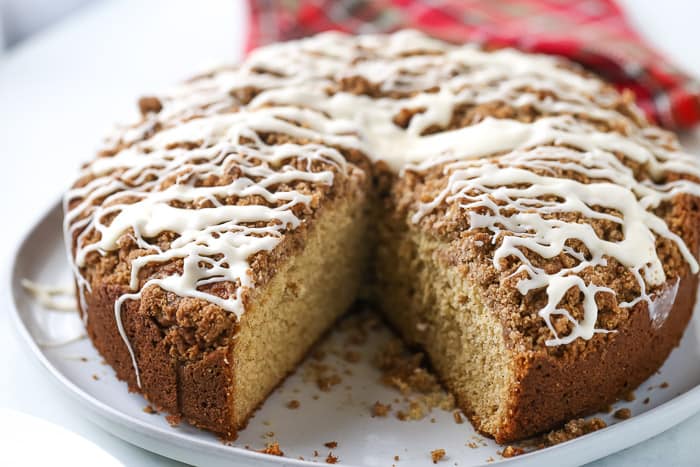 This is the last week before Christmas and the chaos is setting in. I am working up until the day before Christmas and having family coming into town. So this lady needs to get a lot done in little but no time.
How are you all doing with the chaos? I hope much better than me. I'll stop back in later this week with another recipe you will WANT for Christmas morning. Hint: it involves lots of cinnamon and rolls! Until then, I am keeping this short.
Add this coffee cake to your baking list. You won't regret it.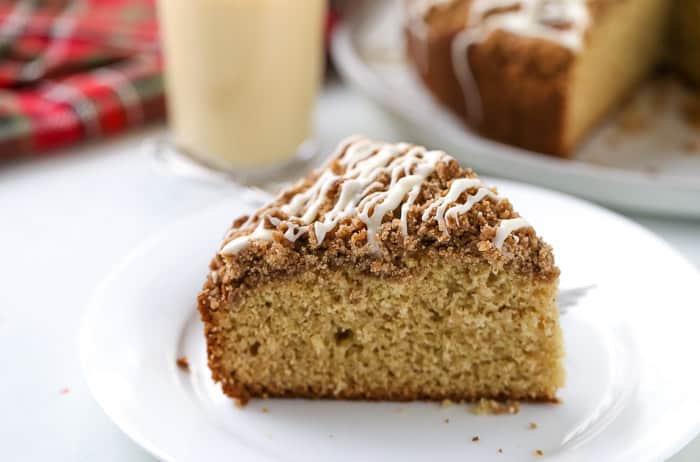 More coffee cake recipes for you to try: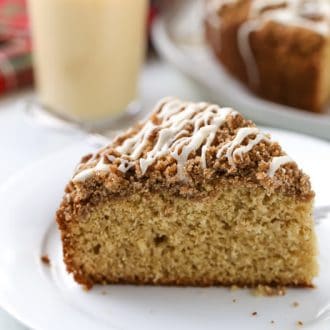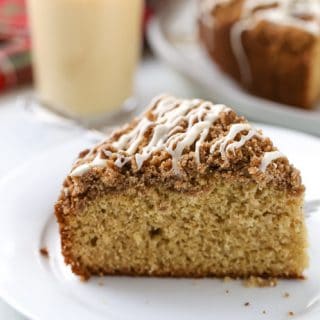 Yield: 1 9-inch Cake
Eggnog Coffee Cake
Enjoy the moist eggnog coffee cake with a drizzle of icing and a cup of coffee
Cook Time
1 hour
10 minutes
Total Time
1 hour
40 minutes
Ingredients
For the Cake
2 cups all-purpose flour
1 teaspoon baking powder
1 teaspoon nutmeg
½ teaspoon ground cinnamon
½ teaspoon baking soda
½ teaspoon salt
10 tablespoons unsalted butter, softened at room temperature
1 cup granulated sugar
2 large eggs plus 1 egg yolk
1 tablespoon pure vanilla extract
2/3 cup sour cream, at room temperature
1/3 cup eggnog
For the topping and glaze:
¾ cup all-purpose flour
2/3 cup light brown sugar
½ teaspoon ground cinnamon
¼ teaspoon ground nutmeg
Pinch of salt
5 tablespoons unsalted butter, cold, cut in small pieces
1 ½ cups confectioner's sugar
3 to 4 tablespoons eggnog
Instructions
Preheat the oven to 350 degrees. Grease a 9-inch round
springform pan with baking spray.
In a medium bowl, whisk together the flour, baking powder,
nutmeg, cinnamon, baking soda, and salt.
In the bowl of a mixer, cream the butter and sugar with an
electric mixer on medium speed until light and fluffy, about 3 minutes. Add in the egg and egg yolk, one at a time and beating to incorporate after each addition. Beat in the vanilla until combined.
Reduce speed to low and add in the dry ingredients in three
batches, alternating with the sour cream and mixing until just combined after each addition. Add in the eggnog and mix until combined. After the final addition, increase mixer speed to medium and beat until well combined, about 30 seconds.
Spoon batter into prepared pan and evenly smooth the top. Set
aside while you make the topping.
In a separate bowl, combine the flour, sugar, cinnamon,
nutmeg, and salt. Using your fingers, work in the cold butter into the flour mixture until clumpy.
Scatter the topping over the batter.
Bake until golden brown and toothpick inserted in center
comes out clean, about 70 minutes.
Transfer to a cooling rack and let cake cool in the pan for
20 minutes before removing and letting cool completely.
Make the glaze: in a medium bowl, whisk the confectioner's
sugar with 3 tablespoons eggnog until smooth. Add more eggnog to desired
consistency.
Drizzle the glaze over the cake before serving.

Notes
Adapted from Food Network Magazine