Cranberry Orange Coffee Cake
This cranberry orange coffee cake is a festive holiday season breakfast or snack cake that is bursting with cranberries and crunchy with pecans. (Recipe and post originally published in January 2013. Recipe and pictures updated December 2017)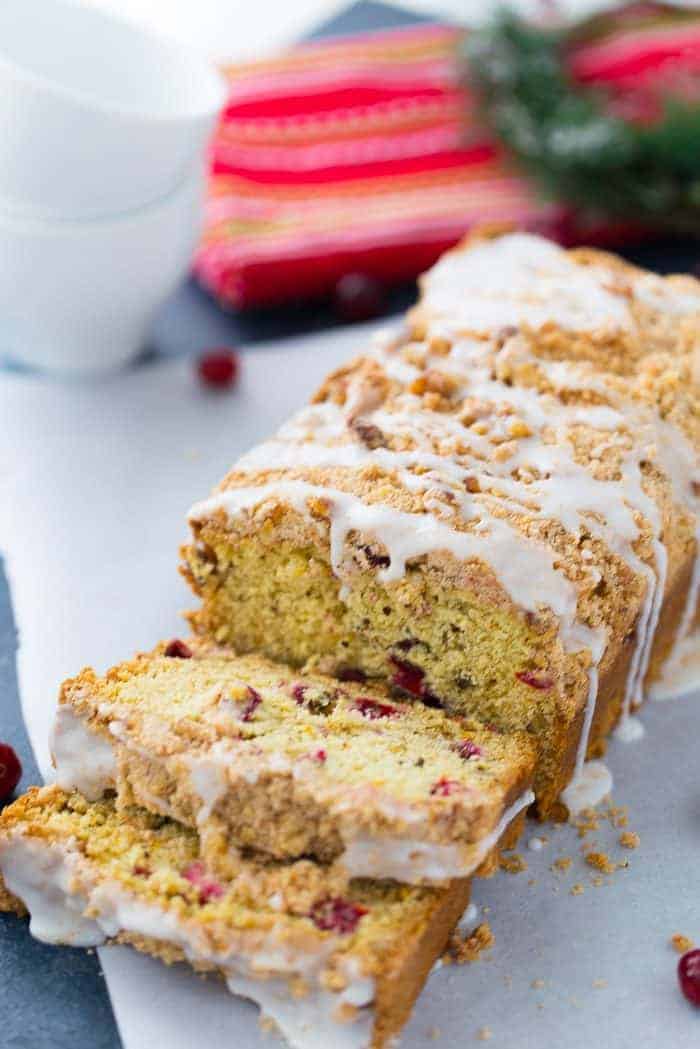 This cranberry orange coffee cake is simply an easy pleasure in the middle of winter. For those cold and dreary days, making this coffee cake is the best way to keep warm and satisfied with winter flavors. This coffee cake is an oldie AND a goodie that I wanted to re-make to update the images on the blog. I originally made this recipe in Jan 2013, when I just started the blog and it was a delight back then and even more so now with bold flavors of cranberry and orange in a sweet holiday season coffee cake.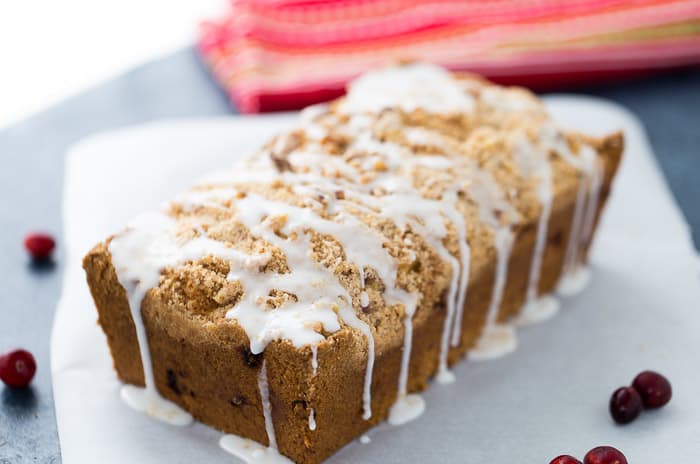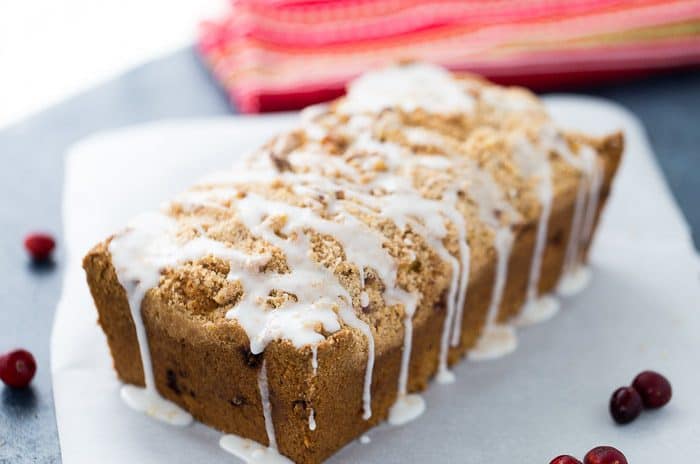 One of my favorite things about baking with fresh citrus is the wonderful smell that fills your kitchen and home. This cake uses fresh orange juice and loads of orange zest. Do not skim on these two, they bring out the flavors of the cranberries and make the coffee cake even more delightful.
This cranberry orange coffee cake is extremely simple to make and you need no mixer. Just a bowl and love for a good cake. One thing I love about this recipe is that you break the butter into the flour and dry ingredients with your hands until coarse. It allows for some pockets of butter in your batter which make the cake very moist and oh so crumbling.
I want to say the best part of this cranberry coffee cake is the crumble topping. It's spiced, buttery and packed with toasted pecans. Adds just the right amount of crunch for a showstopper cake.
A cup of tea in one hand and a slice of this coffee cake in the other makes any morning/afternoon a relaxing one.
I can't wait for you to try this recipe, it's been a holiday favorite for a few years and I know you will love it!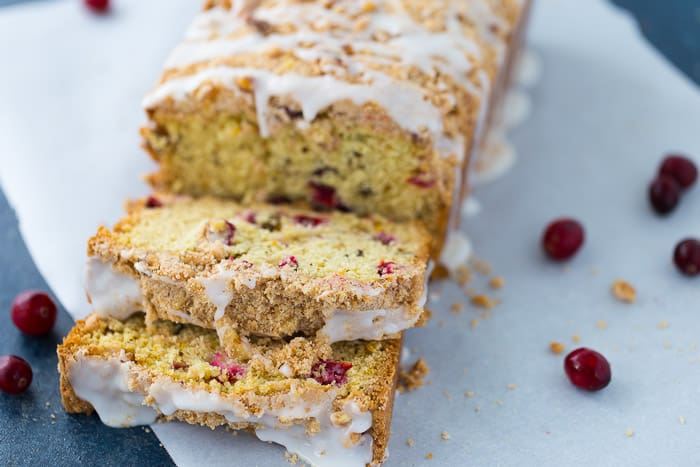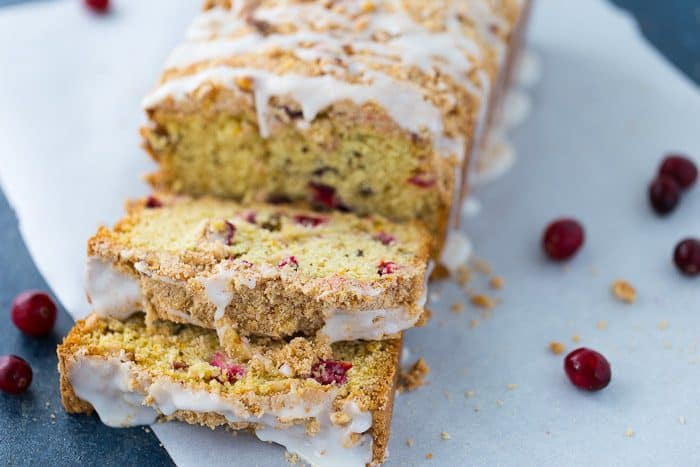 I'm holding on to this cranberry orange coffee cake recipe for another five years and you should too.
More coffee cake recipes for you to try: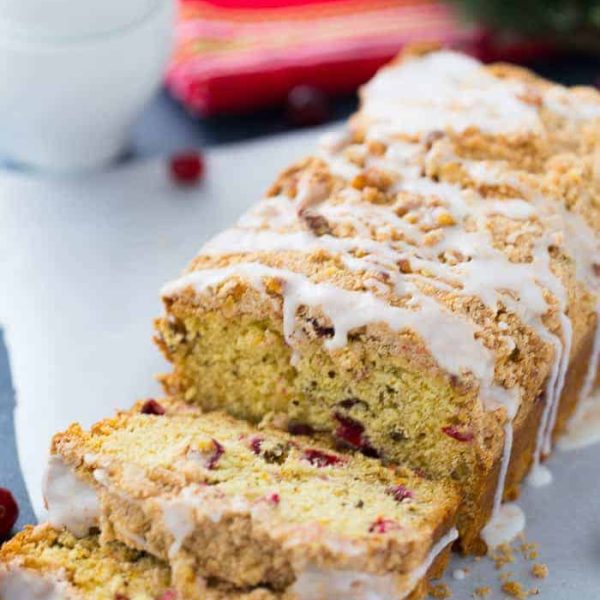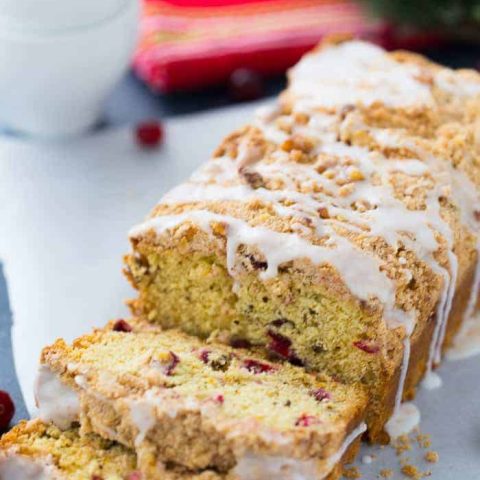 Yield: 1 large loaf cake
Cranberry Orange Coffee Cake
This cranberry orange coffee cake is a festive holiday season breakfast or snack cake that is bursting with cranberries and crunchy with pecans.
Additional Time
15 minutes
Total Time
1 hour
35 minutes
Ingredients
For the Cake:
2 cups all-purpose flour
1 cup granulated sugar
1 ½ teaspoons baking powder
½ teaspoon baking soda
½ teaspoon salt
¼ cup unsalted butter, at room temperature
1 egg, beaten
¾ cup fresh-squeezed orange juice
1 tablespoon orange zest
2 teaspoons pure vanilla extract
1 cup coarsely chopped fresh cranberries
½ cup coarsely chopped pecans
For the Topping:
2 tablespoons unsalted butter, cold
¼ cup all-purpose flour
1½ tablespoons granulated sugar
¼ teaspoon ground cinnamon
A pinch of salt
¼ cup coarsely chopped pecans
For the Glaze:
1 cup powdered sugar
1-2 tablespoon milk
Instructions
Preheat oven to 350 degrees F. Grease a 9 x 5 inch loaf pan and line with parchment. Grease parchment, leaving overhang.
In a large bowl, whish together flour, sugar, baking powder, baking soda and salt. Add in butter and using your finger tips, work into flour mixture until it looks like coarse meal. In another bowl, whisk together the egg, orange juice, orange zest and vanilla extract. Add the wet ingredients into the flour mixture and stir until everything is incorporated. Add in cranberries and pecans and fold into batter.
Pour batter into prepared pan.
Make the topping by mixing all the ingredients in a bowl. Using your fingers, rub together until crumbly. Sprinkle the batter with the topping.
Bake until cake is golden brown and a toothpick inserted into the center comes out clean, about 50-60 minutes. Let cool in pan for 15 minutes before removing and cooling on a wire rack.
Make glaze: whisk together the powdered sugar and 1 tablespoon milk. Drizzle over coffee cake
Recommended Products
As an Amazon Associate and member of other affiliate programs, I earn from qualifying purchases.