Peppermint Mocha Cocktail
I created this Peppermint Mocha Cocktail recipe in partnership with Jackson Morgan Southern Cream. All opinions are, as usual, 100% mine. Thank you for supporting the brands I love.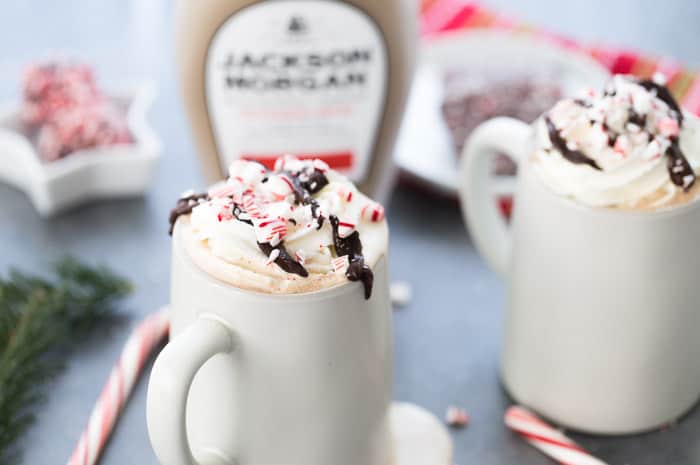 T'is the season for family gatherings and winter cocktails and I have a cozy new favorite cocktail for you. This peppermint mocha cocktail has the season's best flavor all wrapped up with indulgent chocolate, espresso and sweet peppermint mocha cream from Jackson Morgan Southern Cream for the kick we all need to stay warm and ring in the new year.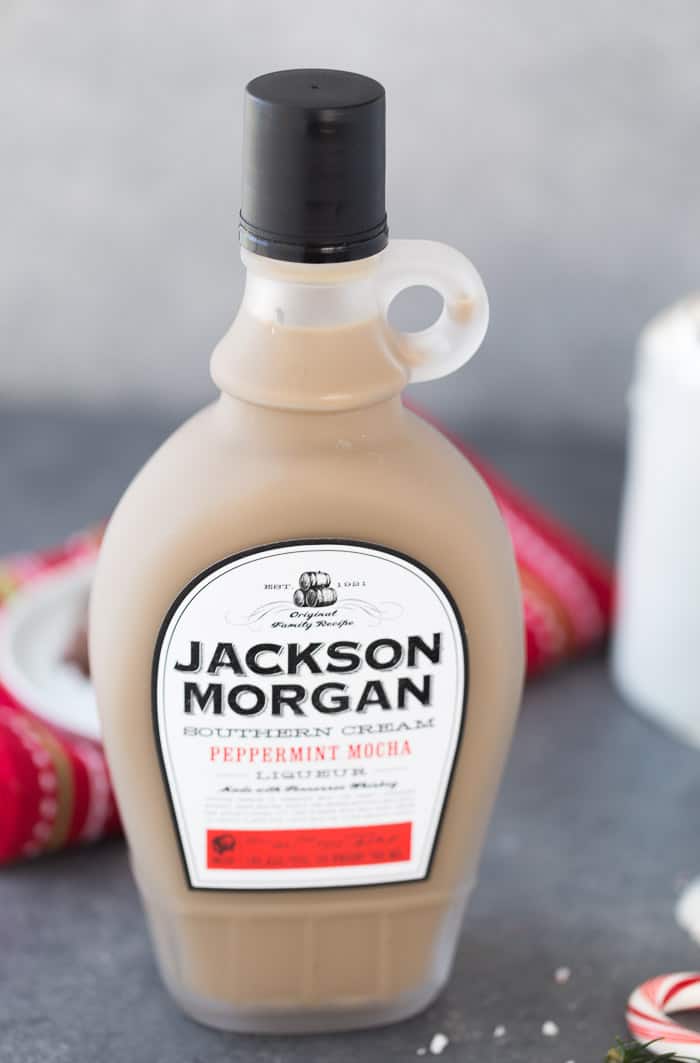 Jackson Morgan Southern Cream is a new-to-me holiday season secret ingredient. I've been adding this sweet cream to everything from eggnog to whipped cream for topping dessert and of course in this peppermint mocha cocktail. Their creams are handcrafted with Tennessee whiskey with playful southern flavors including salted caramel, orange whip, and brown cinnamon sugar to create a fun flair. If you haven't tried it yet, you will love it. Check out their website to see where you can buy it. I can't wait to try the rest of the fun flavors but for this holiday cocktail, I experimented with the peppermint mocha cream.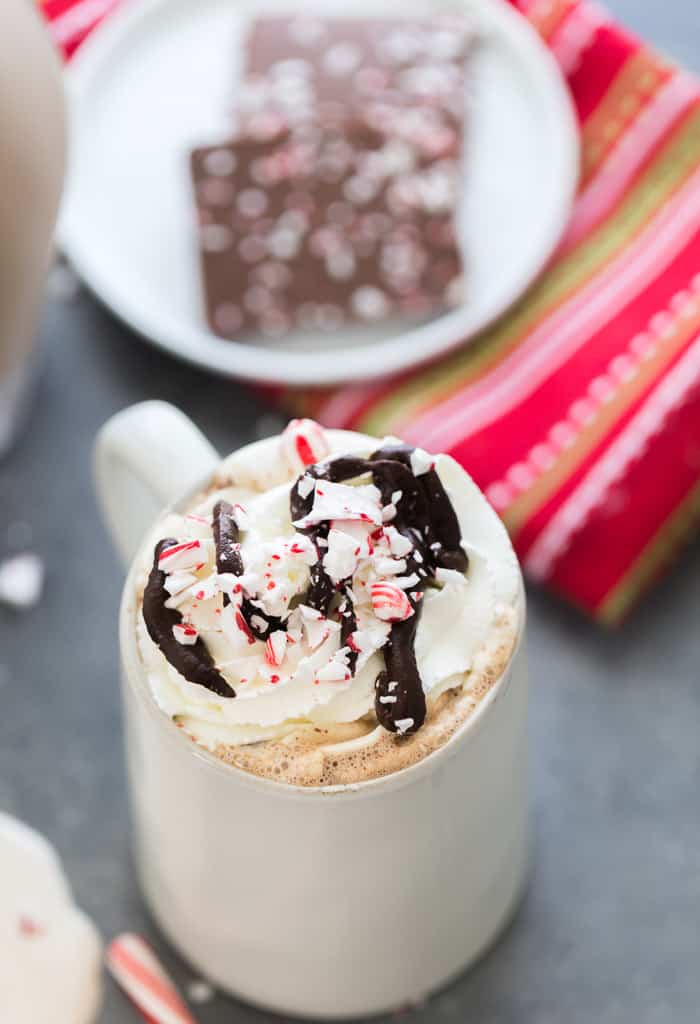 I think this cocktail is going to be my go-to this winter and it would be perfect to ring in the new year whether you are laying low or throwing a party. They will be great with these double chocolate peppermint cookies.
It's also incredibly easy to make and serves a crowd easily. You start by heating up the milk and cream, then add that the chocolate, espresso and Jackson Morgan Southern Cream. Whisk all together in a large bowl and serve in mugs with fresh homemade whipped cream, chocolate drizzles and crushed candy cane. It's such a cozy drink that it's perfect for a cold winter night by the fire.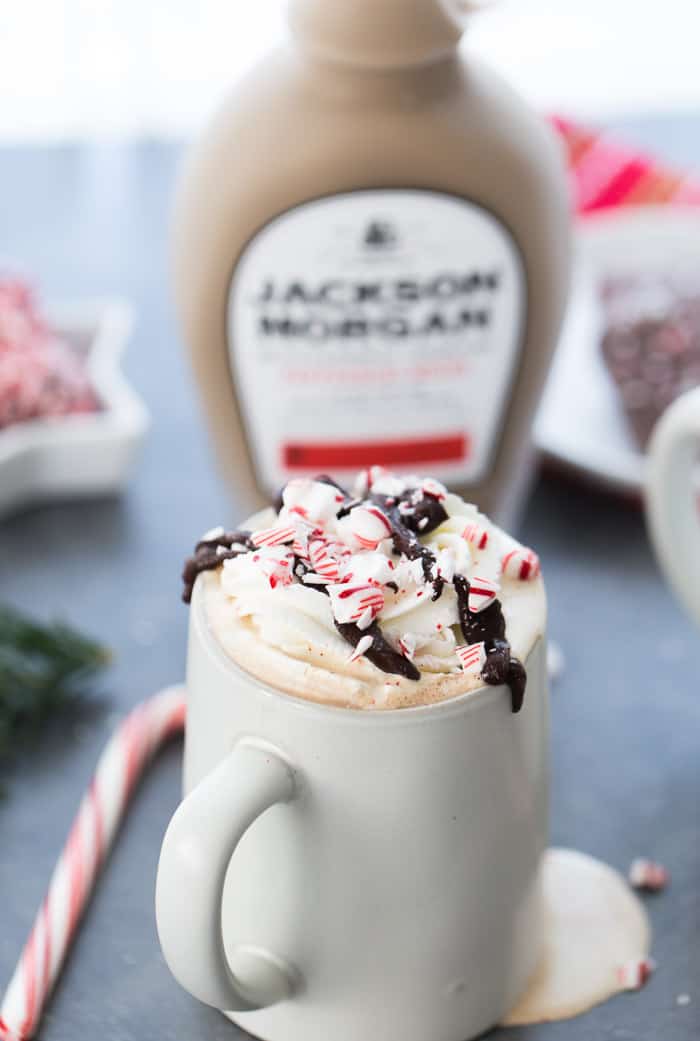 Grab the peppermint mocha Jackson Morgan Southern Cream now to have on hand for all your entertaining this holiday season. Please sip responsibly.
If you love peppermint mocha treats try my peppermint mocha cupcakes.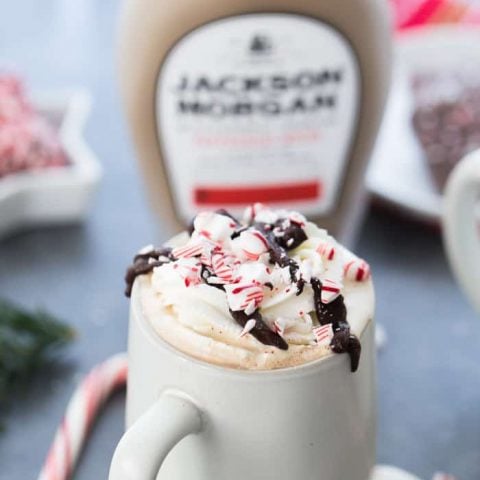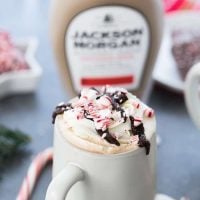 Yield: serves 3-4
Peppermint Mocha Cocktail
A warm and cozy peppermint mocha cocktail.
Ingredients
2 cups milk (any kind)
¼ cup heavy cream
4 ounces semisweet chocolate, chopped
1 cup brewed espresso
½ teaspoon peppermint extract
¼ cup Jackson Morgan Peppermint Mocha cream liqueur
2 tablespoons simple syrup (optional)
For the topping: whipped cream, crushed peppermint candy cane, chocolate drizzle
Instructions
In a medium saucepan set over medium heat, bring the milk and cream to a gentle simmer.
Place the chocolate in a medium heat-proof bowl. Pour the heated milk and cream mixture over the chocolate and let sit for 2-3 minutes. Stir until chocolate is smooth and incorporated.
Add in the espresso, peppermint extract, and Jackson Morgan Peppermint Mocha cream liqueur.
Serve mixture into mugs. Top with whipped cream, chocolate drizzle, and crushed candy cane.