Double Chocolate Peppermint Cookies
These chewy and indulgent double chocolate peppermint cookies are perfect for your holiday cookie platter!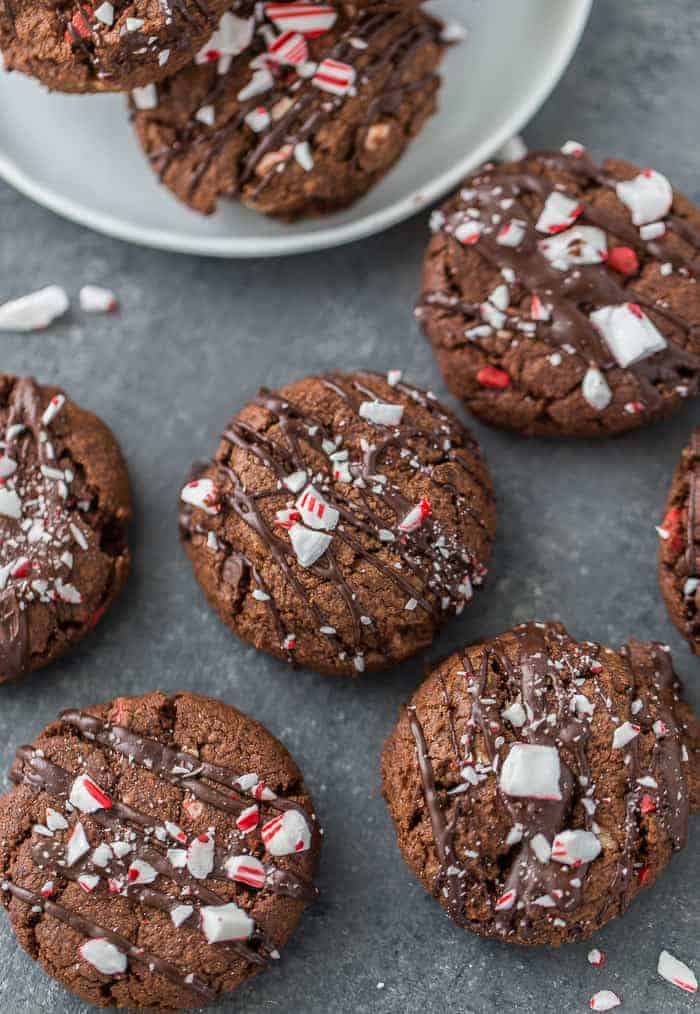 Happy Monday friends!! I am starting the next leg of holiday baking today with these double chocolate peppermint cookies while celebrating one of my favorite and long time blogging friends. A few of us are hosting a surprise virtual baby shower for Kayle of The Cooking Actress. SURPRISE!!
Kayle and Michael are expecting their first baby! We are very happy for the new parents that we are showering them in cookies and well wishes.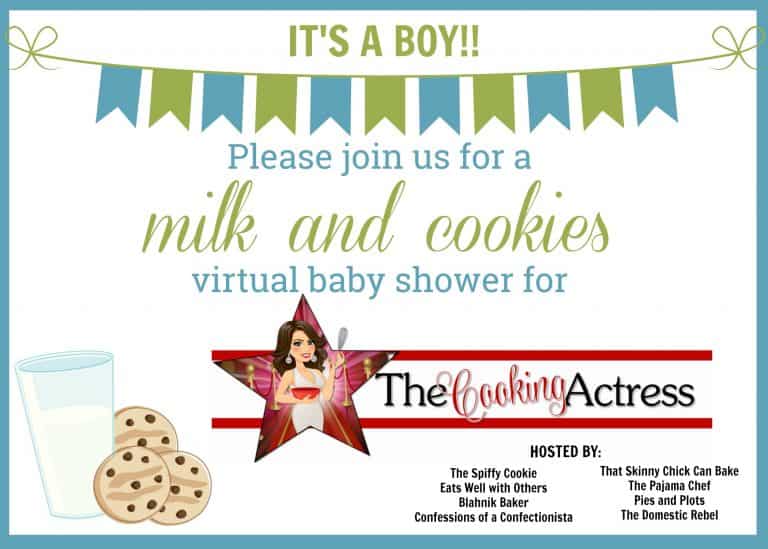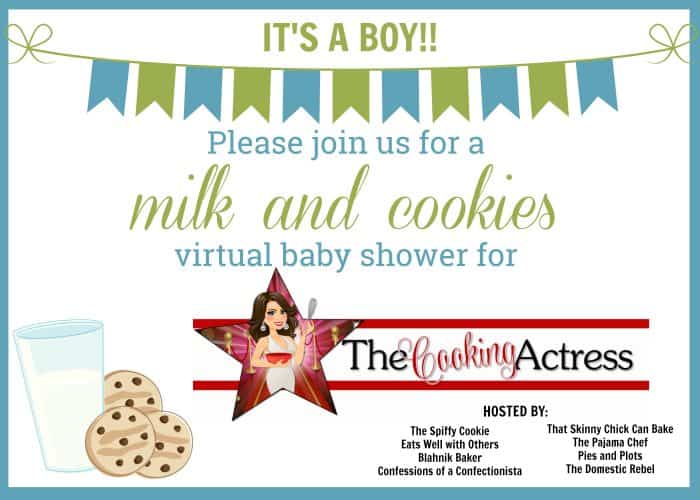 Kayle is one of the first bloggers I connected with almost 5 years ago when I started blogging. I loved her passion for cookies and friendliness of her blog posts that I came back week after week.  She's an incredible baker with an addiction to brown butter and cookie dough – uhmmm yeah, she's one after the heart. But most importantly, she's a great friend, wife and soon-to-be the best mommy to her little one. I'm very excited for her and Michael and know that little boy is already the luckiest.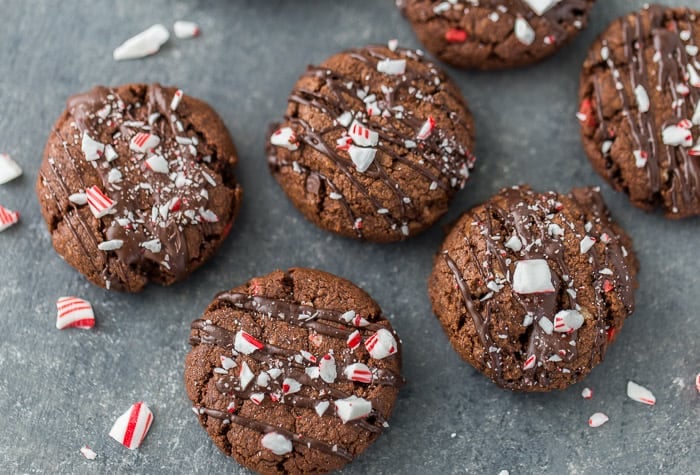 To celebrate the cookie queen, we decided to have a cookie-themed shower sharing our favorite cookies with her. Be sure to check out the other cookie recipes at the end of this post. The only way this could have been better would have been if we could have celebrated with Kayle in person.
Since we are kicking off the holiday season, I decided to make these double chocolate peppermint cookies. I realized besides these peppermint white chocolate cookies, we don't have other peppermint cookies on the blog. These double chocolate cookies are here to fill that gap and are everything holiday cookies should be. Double the dose of chocolate and cooling peppermint flavor in every bite of this chewy cookie. They are incredibly indulgent and will be perfect with a cozy mug of hot chocolate. You need to add them to your holiday cookie platter or cookie exchange boxes.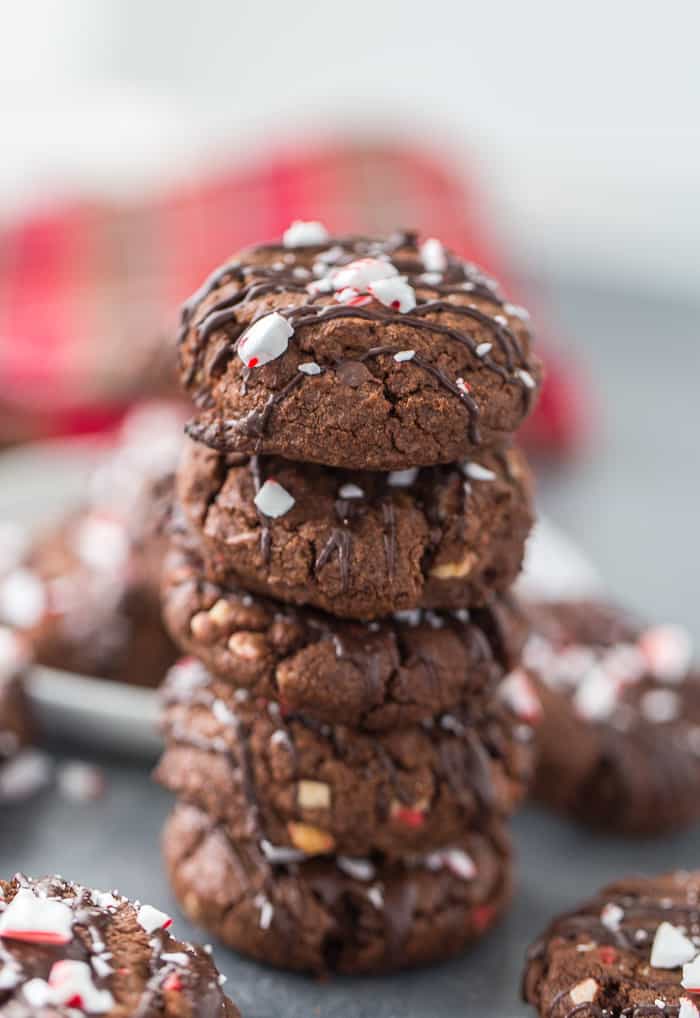 Kayle – as you prepare to welcome your little man, I wanted to share a few words with you. First and foremost, be kind to yourself! Being a first time mom is an incredible experience but also one of the hardest. Know that and go easy on you 🙂 One way to do that is to accept all the help offered! Not only will you get much deserved break, the baby gets to bond with other family members. You need to sleep when the baby sleeps (the simplest yet hardest thing to do but so necessary so you are all well rested!!). Finally, enjoy all the baby cuddles as before you know it, he will not want to cuddle with you. Congratulations love!
Make sure you head over to The Cooking Actress and congratulate Kayle and Michael on their new baby!
Also, check out the rest of the baby shower recipes made by my fellow hosts!
Turtle Thumbprint Cookies – by Confessions of a Confectionista
Cookie Dough Billionaire Bars – by That Skinny Chick Can Bake
Derby Pie – by The Spiffy Cookie
Chocolate Chip Rice Krispies Treat Cookies – by Pies and Plots
Eggnog Crinkle Cookies – by The Domestic Rebel
Cookie Dough Cups – by The Pajama Chef
Homemade Salted Caramel Oreos – by Eats with With Others
Double Chocolate Peppermint Cookies – by Blahnik Baker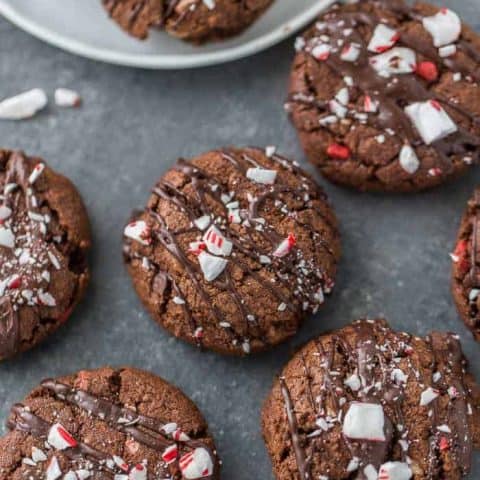 Yield: ~3 dozen cookies
Double Chocolate Peppermint Cookies
Ingredients
2 cups bittersweet chocolate chips
1 1/2 cups all-purpose flour
1/4 cup unsweetened cocoa powder
1 teaspoon baking powder
1 teaspoon instant espresso powder
1/2 teaspoon salt
1/2 cup (1 stick) unsalted butter, softened to room temperature
1 cup granulated sugar
1 teaspoon peppermint extract
1 teaspoon vanilla extract
2 large eggs
1/4 cup mini chocolate chips
1/2 cup Andes peppermint crunch baking chips
2 candy canes or peppermint candies, crushed for topping
Instructions
Preheat oven to 350 degrees F. Line two baking sheets with parchment paper.
Set a medium bowl with the 2 cups chocolate chips over a saucepan of simmering water, stirring until melted and smooth. Measure out 2/3 cup of melted chocolate and save the rest fo the melted chocolate for drizzling.
In another medium bowl, whisk together the flour, cocoa powder, baking powder, espresso powder and salt.
In the bowl of a stand mixer or another large bowl, cream together the butter and sugar until pale, about 2-3 minutes on medium high. Beat in the vanilla and peppermint extract until combined. Add in the eggs, one at a time, until combined. Beat in the 2/3 cup melted chocolate from above. Add the dry ingredients and mix until just combined. Fold in the mini chocolate chips and peppermint crunch baking chips.
Using a 1 tablespoon cookie scoop, roll out doughs into balls and place on baking sheet.
Bake cookies until cracked all over, about 8-9 minutes. Cool cookies on baking sheet for 5 minutes before transferring to a wire rack to cool completely.
Drizzle the reserved melted chocolate over the cookies and sprinkle with crushed peppermint candies. Let chocolate set, about 20 mins before serving. Store remaining cookies airtight in freezer.