Eggnog Bundt Cake with Rum Glaze
This eggnog bundt cake is moist and lightly spiced with cinnamon and nutmeg and topped with a rum glaze. A simple holiday cake recipe! (This post was originally published Dec 2013. The recipe and pictures were updated Dec 2017 but the text remains the same.)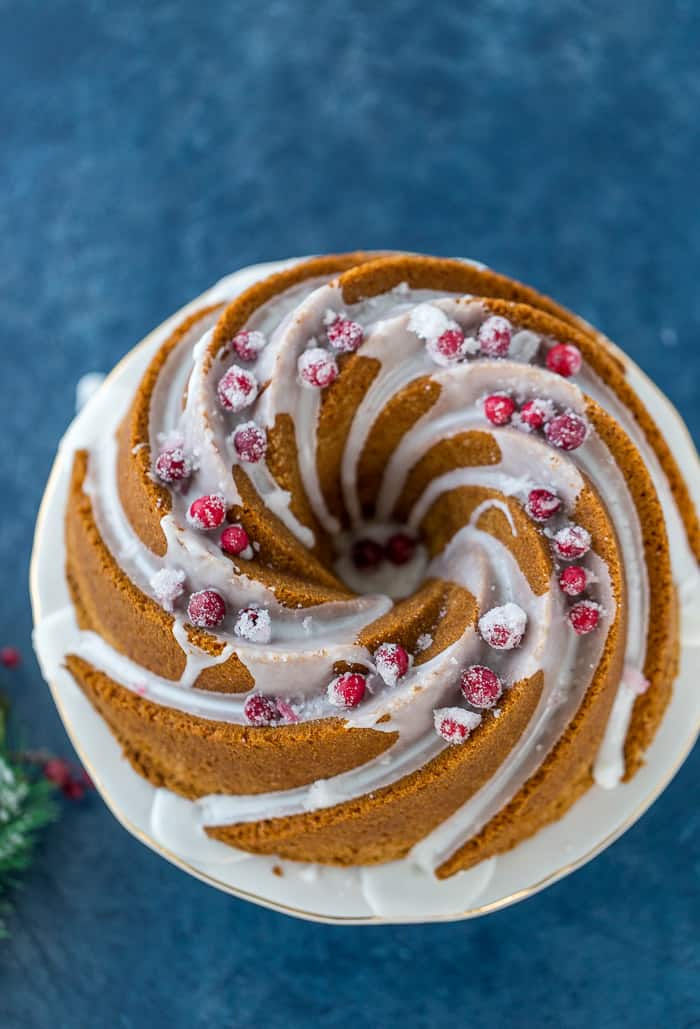 Happy December! For my US friends, I hope you all had a wonderful Thanksgiving, filled with tryptophan, fun family times and lots of shopping. Mine was all that without the shopping…insert baking! We also jumped head on into the holiday season as I made this eggnog bundt cake over the weekend before we put up our Christmas tree.
Is your tree up yet?? We always decorate our tree the first weekend in December, and this year is the first time we have a fireplace!! I am in love and doubt I will get anything accomplished this month other than staring
at the tree
by the fireplace with a
hot peppermint chocolate
!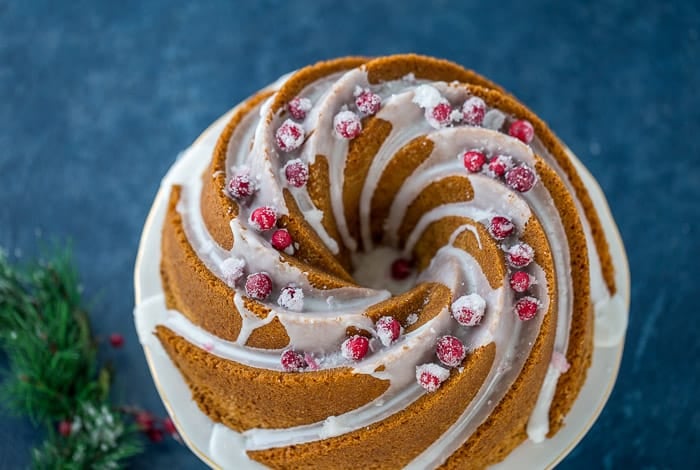 With the holiday season upon us, the amount of baking, cooking and cleaning up is on the rise. But who wants to spend hours in the kitchen cleaning pans or skillet? Well, you don't have to! That's where
PAM Cooking Spray
comes in. The new formula is 99% residue free and has zero calories. But that's not only why I love it. For me, it's best quality is the superior non-stick results I see when I invert my cakes onto a cooling rack.
Like this eggnog bundt cake, released effortlessly from the bundt pan.
When I was asked by PAM to write about their cooking spray lines, I was like "Uhmmm, you mean share with folks my best kept secret?". Using PAM Baking Spray to grease my cake pans was the first baking tip I learned from my friend Chrissa in her little studio apartment kitchen. The baking spray includes both butter and flour and it's easy application makes 'buttering' your pan a less messier business.
I say less messier because the first time I used this spray a little mishap happened and up to this day, the clumsy white foam all over my face story comes up over dinner. But I have not baked a single day without it since. It's my smart tip and with all the holiday baking and cooking coming up, you need some quick tricks and tools to spend less time in the kitchen and more time with your family. No one has time for mishaps or sticky situations. Look how easily my bundt released with little or no residues in the pan!!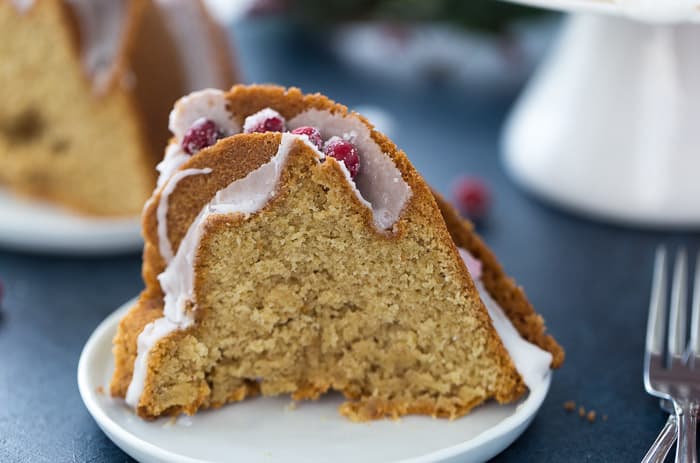 This eggnog bundt cake is the perfect way to start the holiday season.
I am one of those weird people who don't like to drink eggnog straight up. But I am fine with it in cakes and spiked lattes but the husband loves it and it's always in the holiday grocery cart. This cake here is lightly spiced with cinnamon and nutmeg and infused with dark rum and leftover cranberry sauce to create a beautiful ribbon. The end result is a super moist cake that is then topped with a rum glaze. A simple perfectly spiced holiday cake that should grace your dessert menu ASAP!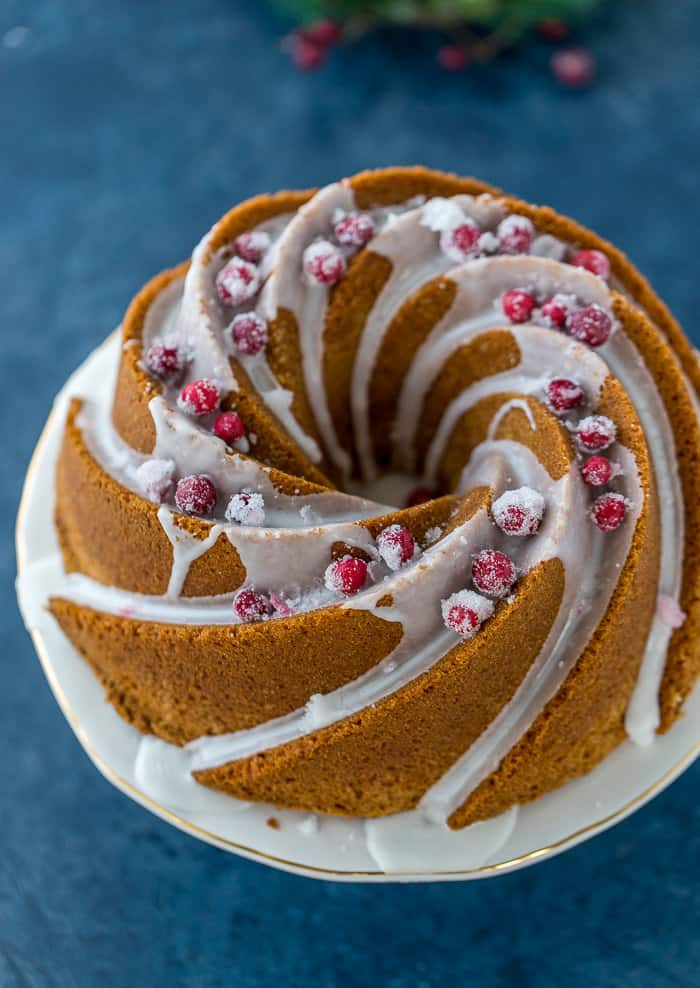 Enjoy this eggnog bundt cake!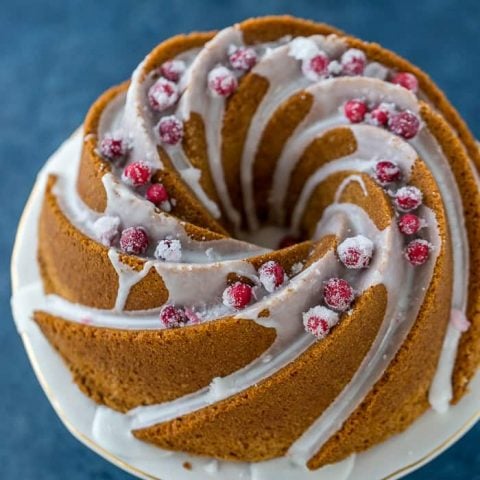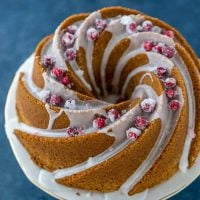 Yield: 1 large bundt cake
Eggnog Bundt Cake
This eggnog bundt cake is moist and lightly spiced with cinnamon and nutmeg and topped with a rum glaze. A simple holiday cake recipe!
Total Time
1 hour
40 minutes
Ingredients
3 cups all-purpose flour
1 teaspoon salt
1 teaspoon baking powder
½ teaspoon baking soda
1 teaspoon ground nutmeg
¼ teaspoon ground cinnamon
½ cup buttermilk, room temperature
¼ cup eggnog, room temperature
1 tablespoon pure vanilla extract
18 tablespoons (2 sticks plus 2 tablespoons) unsalted butter, softened
2 cups granulated sugar
3 large eggs plus 1 large egg yolk, room temperature
2 tablespoons dark rum
For glaze:
1 ½ cups confectioner's sugar
2 tablespoons dark rum
Instructions
Preheat oven to 350 degrees F. Grease a 12-cup bundt pan with a baking spray.
In a medium bowl combine the flour, salt, baking powder, baking soda, nutmeg and cinnamon. In a small bowl, whisk together the buttermilk, eggnog, and vanilla extract.
To the bowl of an electric mixer fitted with the paddle attachment, beat the butter and sugar on medium-high speed until light and fluffy, about 3 minutes.
Add the eggs and egg yolk one at a time and beat until combined. Scrape the bowl as needed. Reduce the speed to low and add the flour in 3 additions alternating with the buttermilk + eggnog mixture in 2 additions. Scrape down the bowl as needed. Beat until just combined.
Spoon the batter into in an even layer into the prepared pan. Bake cake until a toothpick inserted into the center comes out clean, about 50 minutes to 1 hour.
Let cake cool in pan for 25 minutes before inverting onto a cooling rack. Cool completely, about 3 hours.
In a small bowl, whisk together confectioner's sugar with the rum until smooth. Drizzle glaze over the cake. Let the glaze set about 25 minutes before serving.