Cranberry Cinnamon Star Bread with Pistachios and Brie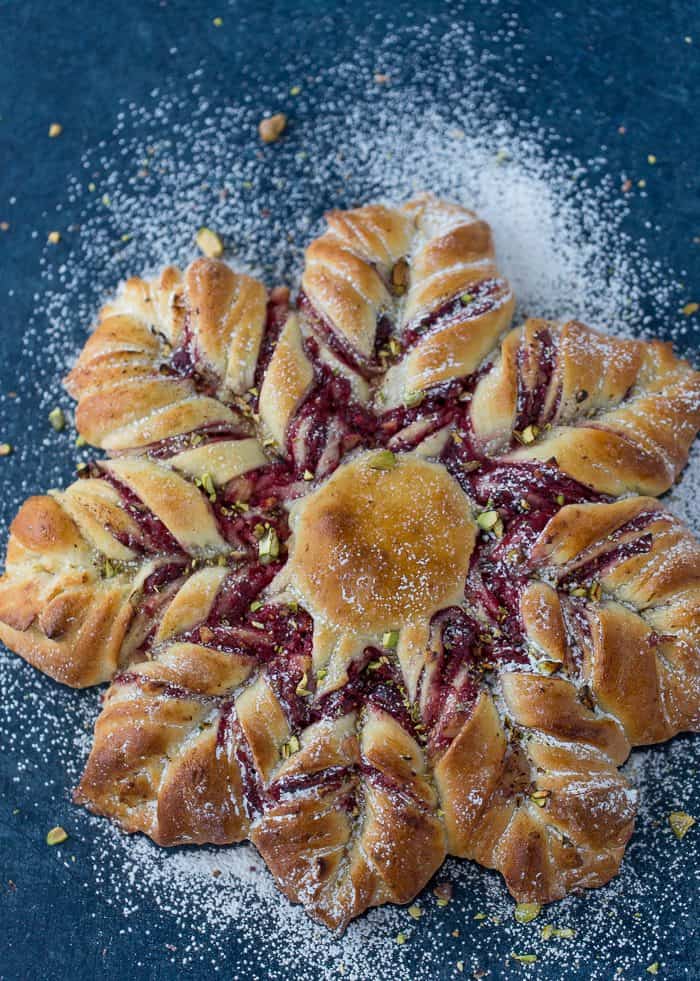 Happy Friday friends! I have a weekend baking project for you. This cranberry cinnamon star bread is a great cold Sunday morning project which I embarked on a few weekends ago. The recipe for the bread is from King Arthur's monthly bakealong challenges. This month's challenge definitely caught my eye with the beautifully delicious star shaped bread and I had to give it a go.
I'm not a big baking with yeast expert so I hesitate every time I have to use yeast. As you can tell, I only have one or two cinnamon roll or bread recipes here (salted caramel apple cinnamon rolls, rosemary olive oil bread). In general, I stay away from yeast but a bread this beautiful had me forget that fear and I am glad I did. This bread is worth every bite and with my two major changes, it is even better than the original. I used browned butter and added a cranberry-brie-pistachio mixture.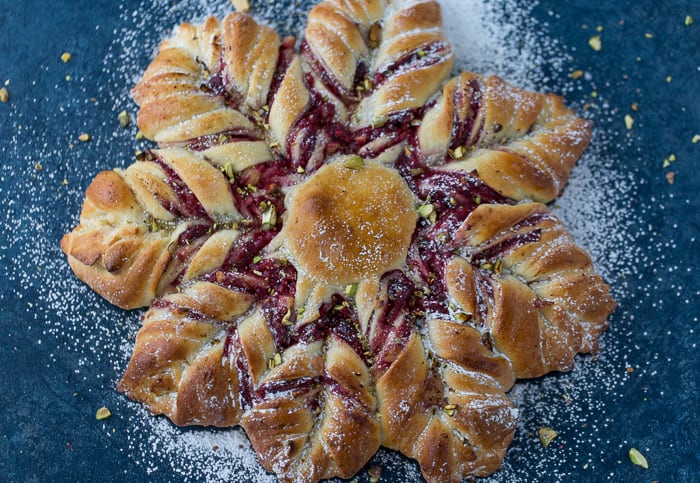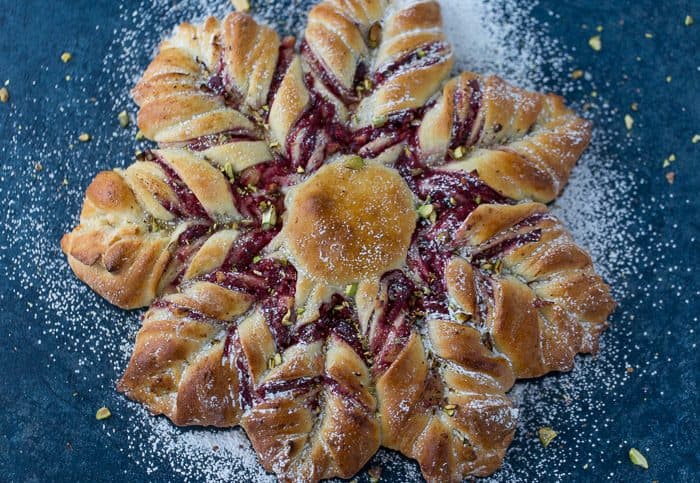 Making the dough is as simple as combining a few ingredients and kneading either by hand or mixer. I used my mixer dough hook attachment and kneaded for 5-7 minutes to make a soft, smooth dough. Then let the dough rest and rise for about an hour or until doubled in size. This is crucial – so make sure you are using good yeast and not the year-old one in the back of your pantry.
Once the dough is ready, divide into 4 equal circles and let rest again for a little bit. Creating the star shape is next but first let's make the filling. The original filling of the recipe is butter and cinnamon sugar – just like in a cinnamon roll. However, I was feeling extra festive and had leftover cranberry sauce and brie in the fridge so I decided to jazz up my bread a little bit. I mixed cranberry sauce, diced brie and chopped pistachios in a small bowl. Be sure to chopped everything finely as a smooth paste is best here.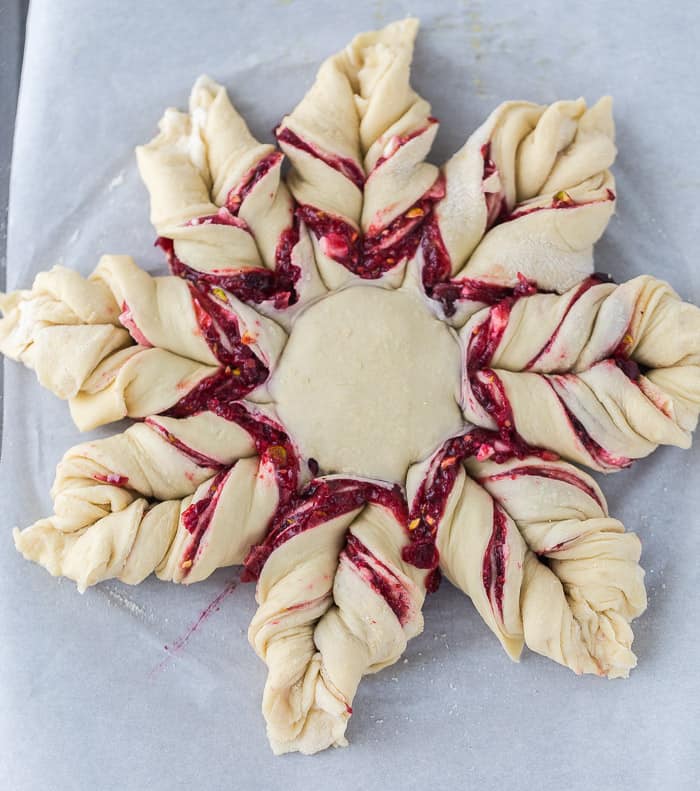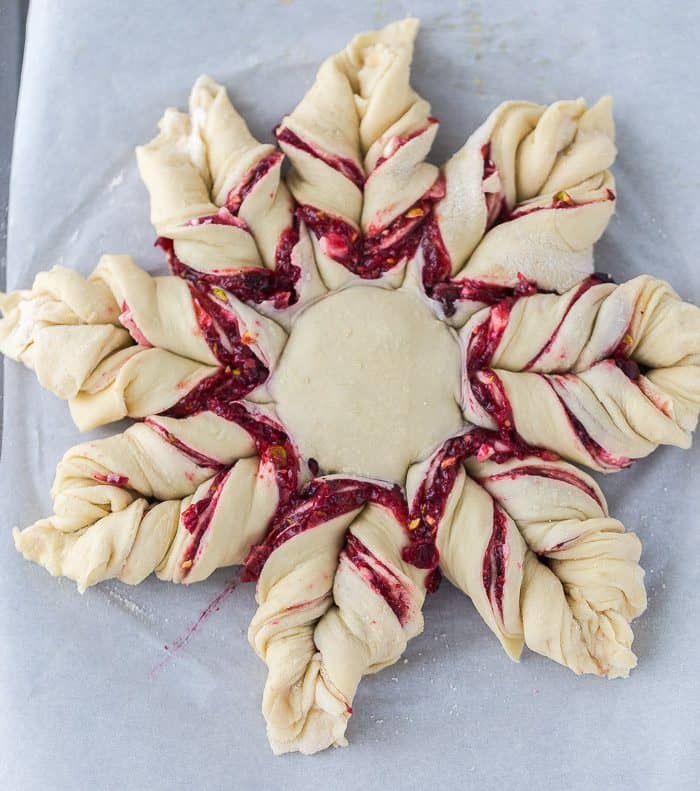 Now to make the star shape. Each of the four dough is rolled into a circle, about 10-inch wide. The first circle is placed on parchment for easy transfer to oven. Brush the first circle with melted butter (pro tip: brown that butter!!) and sprinkle with a mixture of cinnamon sugar. Then spread evenly a thin layer of your cranberry mixture. Add the next circle on top and repeat until the last circle which you will leave bare.
The fun part of creating the twists happens next. You will place 3-inch biscuit cutter in the middle of the circle to act as a guide and also prevent you from cutting all the way to the center. With that in the center, use a sharp knife or bench scraper to cut 16 equal strips, from the cutter to the edge and through the four layers. The next step is to twist adjacent two strips in opposite direction, pinching the two strips together to for a star-like. Repeat with the rest of the strips so you have eight total. And viola! You have created a star-shaped bread.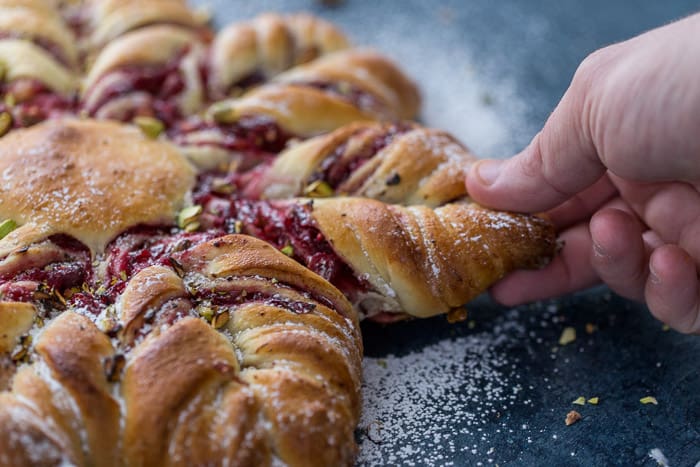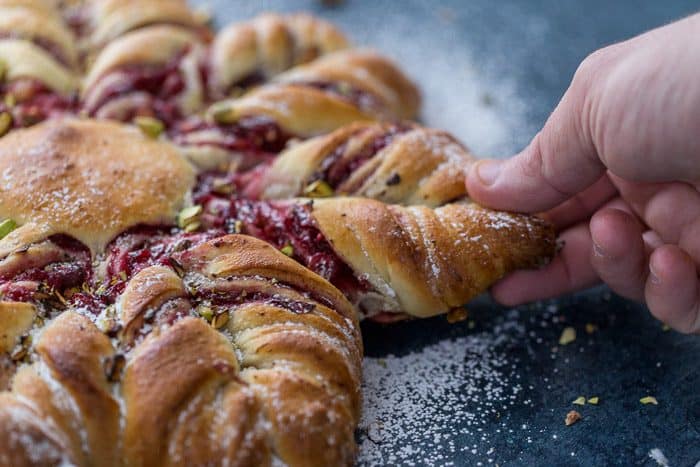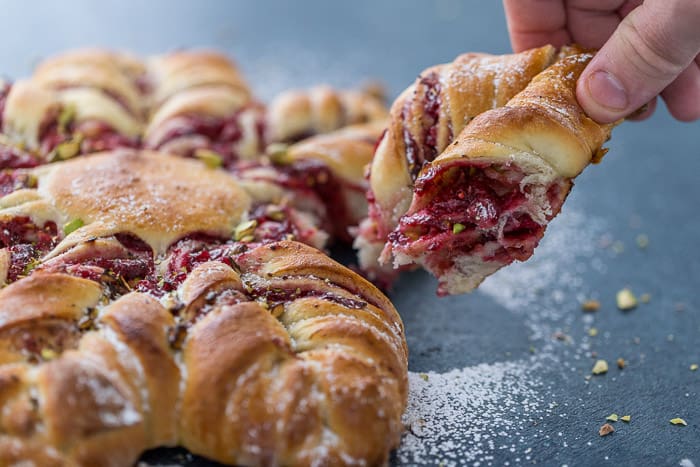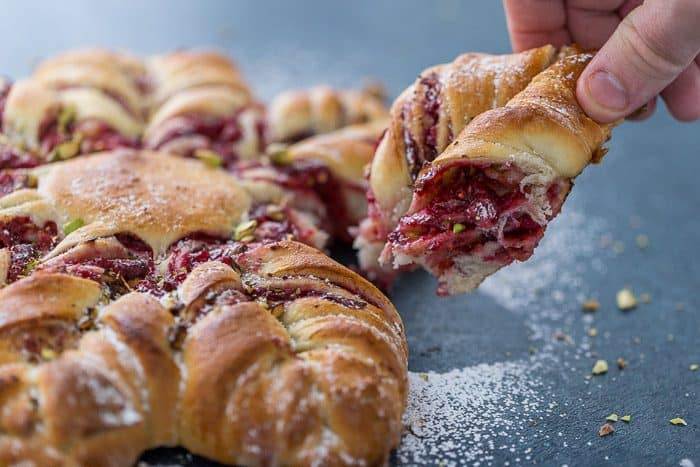 This cranberry cinnamon star bread bakes up beautifully and you will LOVE the smell as it bakes. It fills your house and it is just the best. It's best to enjoy it while it's warm as the brie is perfect then. Enjoy!
For a picture step-to-step process, check out the King Arthur blog. And of course, let me know in the comments below if you have any questions.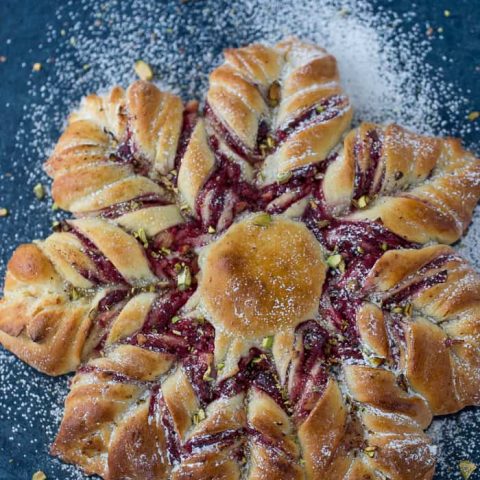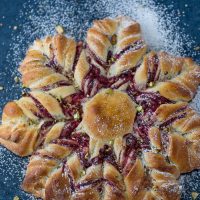 Cranberry Cinnamon Star Bread
Ingredients
For the dough:
2 cups all-purpose flour
1/4 cup potato flour or 1/2 cup instant mashed potato flakes
1/4 cup nonfat dry milk
3/4 cup + 2 to 4 tablespoons lukewarm water, as needed
1/4 cup unsalted butter, at room temperature, diced
1 teaspoon pure vanilla extract
2 teaspoons instant yeast
2 tablespoons granulated sugar
1 teaspoon salt
For the filling:
¼ cup cranberry sauce
¼ cup chopped brie
2 tablespoon finely chopped pistachios
1/4 cup granulated sugar
2 teaspoons ground cinnamon
4 tablespoons unsalted butter, melted and browned
1 large egg, beaten
Instructions
In the bowl of stand mixer or a large bowl, sift together the all-purpose flour, potato flour and nonfat dry milk. Add in the ¾ cup water and the rest of the dough ingredients. Stir and knead with the dough attachment (or by hand) until a soft, smooth dough forms. You may need to add in 1-2 tablespoons of water.
Transfer the dough to a lightly greased bowl and cover. Let rise until dough is nearly doubled, about 60 minutes.
On a lightly floured surface, divide the dough into four equal parts. Shape each into a ball and cover for 15-20 minutes to rest.
Meanwhile, assemble the filling. In a small bowl, mix together the cranberry sauce, brie and chopped pistachios. In another small bowl, whisk together the sugar and cinnamon to make a cinnamon sugar mixture.
Roll out the first piece of dough onto a lightly floured surfaced into a 10-inch circle. It doesn't have to be exact. Transfer to a piece of parchment and brush a thin coat of the melted butter on the surface. Sprinkle 1/3 of the cinnamon sugar, leaving ¼ -inch around the perimeter. Top with a thin layer of the cranberry-brie-pistachio mixture.
Roll out the second dough into a circle that's the exact size as the first and place it on top of the filling of the first circle. Repeat the process- brush the butter, cinnamon sugar, cranberry mixture and next dough circle- leaving the top circle bare.
Place a 3-inch round cutter in the center of the dough as a guide. Using a sharp knife or a bench knife, cut the circle into 16 equal strips, from the cutter to the edge and through all the layers. It's easier to cut into 4 equal strips and cut each of those into 4.
Using both hands, twist two adjacent strips away from each other ending with the top side facing up again. Repeat with the remaining strips of dough so you end up with eight pairs of strips.
Pinch each pair together to create a star-like shape with eight points. Remove the center cutter.
Transfer the shaped bread onto a baking sheet. Cover and let rise until puffy, about 45 minutes.
Preheat oven to 400 degrees F.
Before baking, brush a thin coat of the beaten egg over the star. Bake for 12-15 minutes or until it's golden brown and the cranberry filling oozes out.
Remove from oven and let cool slightly for 10 minutes before serving. Dust with confectioner's sugar and enjoy warm!