Hot Chocolate with Cardamom Marshmallows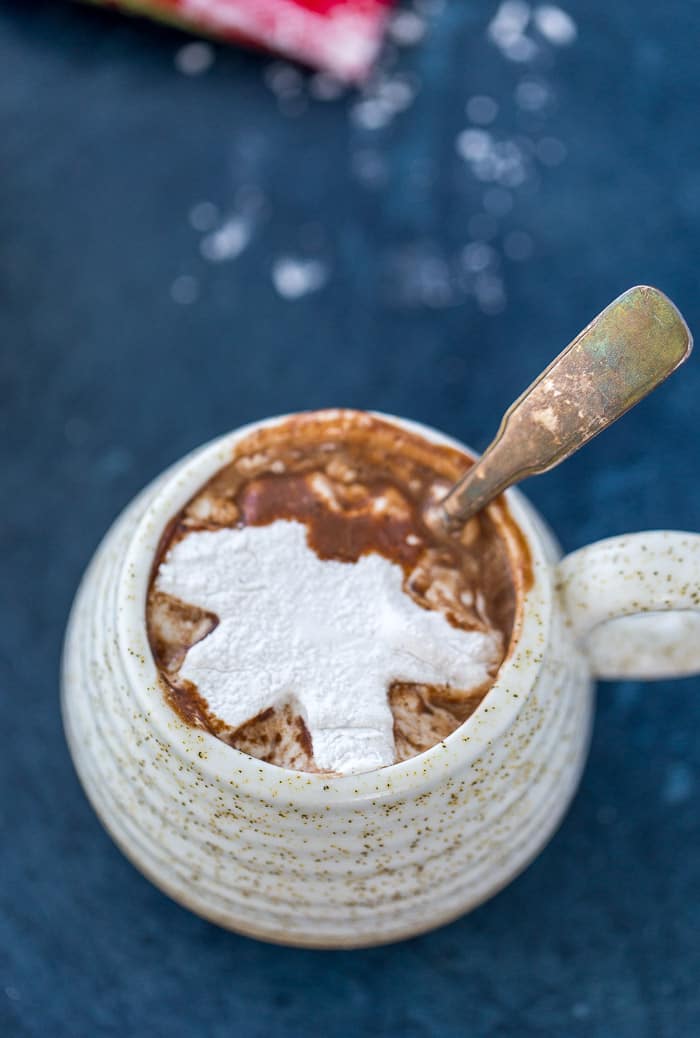 Happy Monday friends! It's going to be a short and sweet week with Thanksgiving just right around the corner. Good thing it's cold and we can stay in with cozy hot drinks like this homemade hot chocolate with cardamom marshmallows. Everything about this indulgent mug puts the holiday spirit in the heart and air. You need to make it as you get together with family this weekend.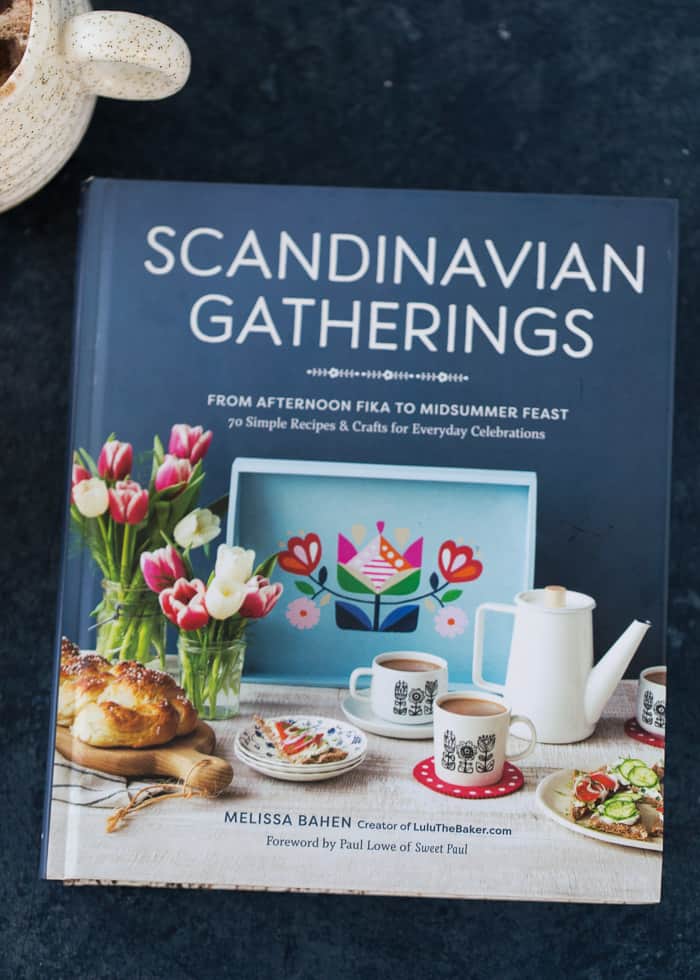 Every year, I make marshmallows to add to my holiday cookie boxes. Past holiday boxes have been filled with favorites such as homemade peppermint marshmallows, honey lavender marshmallows or blood orange coconut marshmallows  (Can you tell I love homemade marshmallows?). However, this year, I am adding these light spiced cardamom marshmallows to the boxes thanks to Melissa's cookbook, Scandinavian Gatherings. I've known Melissa from Lulu the Baker for a few years in the baking world and was very excited to get her book.
The book is beyond beautiful with over 70 simple recipes and crafts for everyday celebrations. I had a lot of recipes and projects bookmarked but since we were starting the cold winter months, I started with her homemade hot chocolate recipe and cardamom marshmallows. I have a soft spot for cardamom as it is undervalued in the spice world. The subtle warmth it brings to baked goods is always incredible (as in this spiced cardamom apple crisp) and these marshmallows did not disappoint.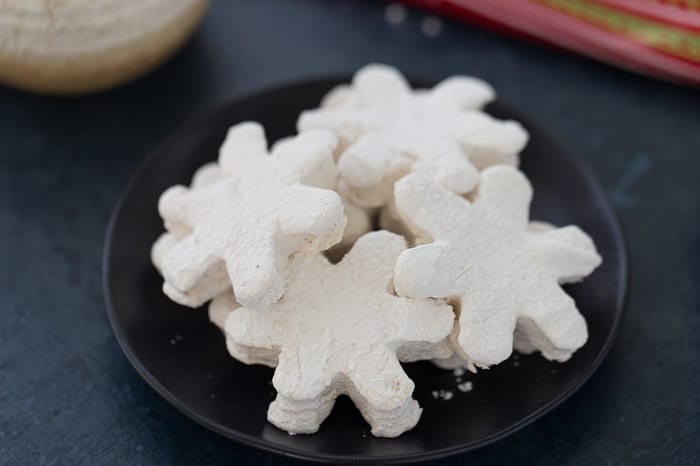 The lightly spiced marshmallows go incredibly well with the rich, smooth hot chocolate. If you haven't made hot chocolate at home before, you NEED to. It is incredibly easy and SO MUCH better than the packet ones you buy. My advice would be to use good quality chocolate to enjoy the mug of deliciousness. I used a mix of  bittersweet and special dark chocolate for this batch but you can do any combination you enjoy.
This holiday season, as you gather with your loved one, make this hot chocolate with cardamom marshmallows for them. It's going to be well appreciated and go well with holiday movie watching.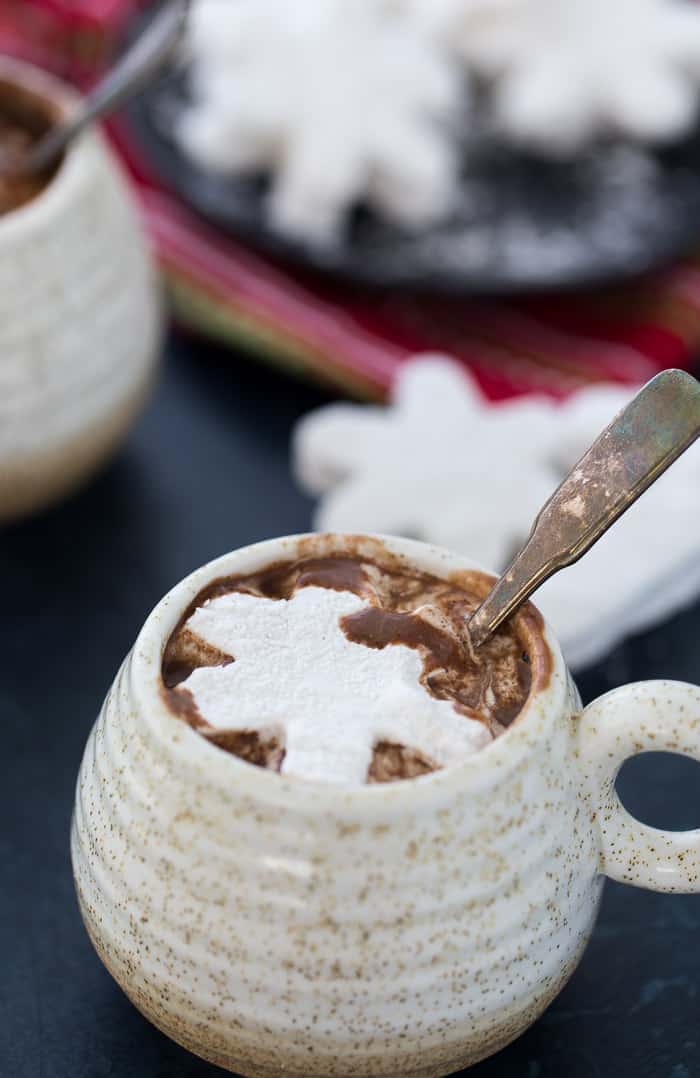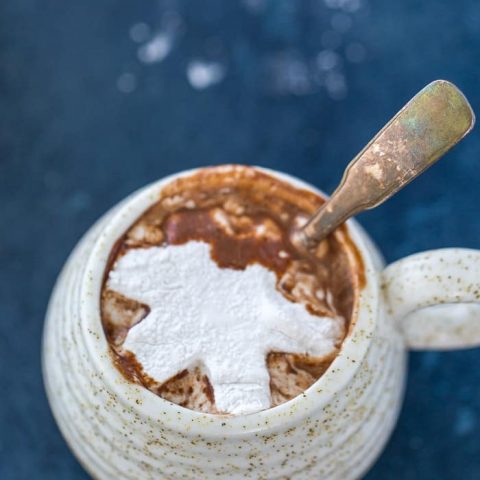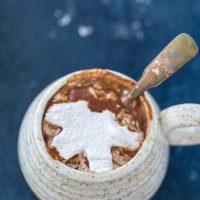 Yield: ~2 cups marshmallows
Hot Chocolate with Cardamom Marshmallows
An indulgent cup of this homemade hot chocolate with cardamom marshmallows is all you need to enjoy a cold winter day. Perfect for the holiday season.
Total Time
4 hours
45 minutes
Ingredients
For the Cardamom Marshmallows:
3 packets unflavored gelatin
1 cup cold water, divided
2 cups granulated sugar
½ cup light corn syrup
¼ teaspoon table salt
2 teaspoons vanilla extract
½ teaspoon ground cinnamon
¼ teaspoon ground cardamom
¼ cup confectioner's sugar
¼ cup cornstarch
For the Hot Chocolate:
4 cups milk
3 ounces dark chocolate, chopped
3 ounces milk chocolate, chopped
¼ cup sweetened condensed milk
pinch of salt
Cardamom hot chocolate (recipe above)
Instructions
For the Marshmallows:
In the bowl of a stand mixer fitted with the whisk attachment or a large bowl an electric mixer, sprinkle the gelatin over ½ cup cold water. Let stand until all the gelatin is fully dissolved.
Meanwhile, in a medium saucepan over medium heat, combine the remaining ½ cup water with the sugar, corn syrup and salt. Whisk until sugar is dissolved, then increase the heat to medium-high and allow the mixture to boil undisturbed until it reaches 240 degrees F on a candy thermometer.
With the mixer on low, mix the gelatin mixture for 1 minute. Slowly pour the hot sugar syrup into the gelatin mixture. Turn the mixer to high speed and whip the mixture until it is thick and white and has increased in volume, about 12 minutes.
Turn off the mixer and add in the vanilla extract, cinnamon, and cardamom. Whip for 1 minute until incorporated.
Combine the confectioner's sugar and cornstarch in a small bowl.
Lightly spray a 9 x 13 –inch baking pan with cooking spray. Dust the pan with the confectioner's sugar mixture coating the bottom and sides.
Spread the marshmallow mixture evenly into the pan and sprinkle with more confectioners sugar mixture.
Let marshmallows sit uncovered at room temperature for at least three hours or overnight.
Cut into 1-inch squares and roll in remaining confectioners sugar mixture.
Store in an airtight container.
For the hot chocolate:
In a medium saucepan set over medium-low heat, combine the milk, chocolates, condensed milk, and salt. Stir occasionally until the chocolate is melted and the beverage is hot about 25-30 mins.
Divide hot chocolate into four mugs and serve with the marshmallows.
Affiliate links included above.