Homemade Peppermint Marshmallows with Peppermint Hot Cocoa
Homemade peppermint marshmallows go hand in hand with homemade peppermint hot cocoa! All that is missing is a crackling fireplace 🙂
Thank you National Dairy Council for sponsoring this post! All opinions are 100% my own.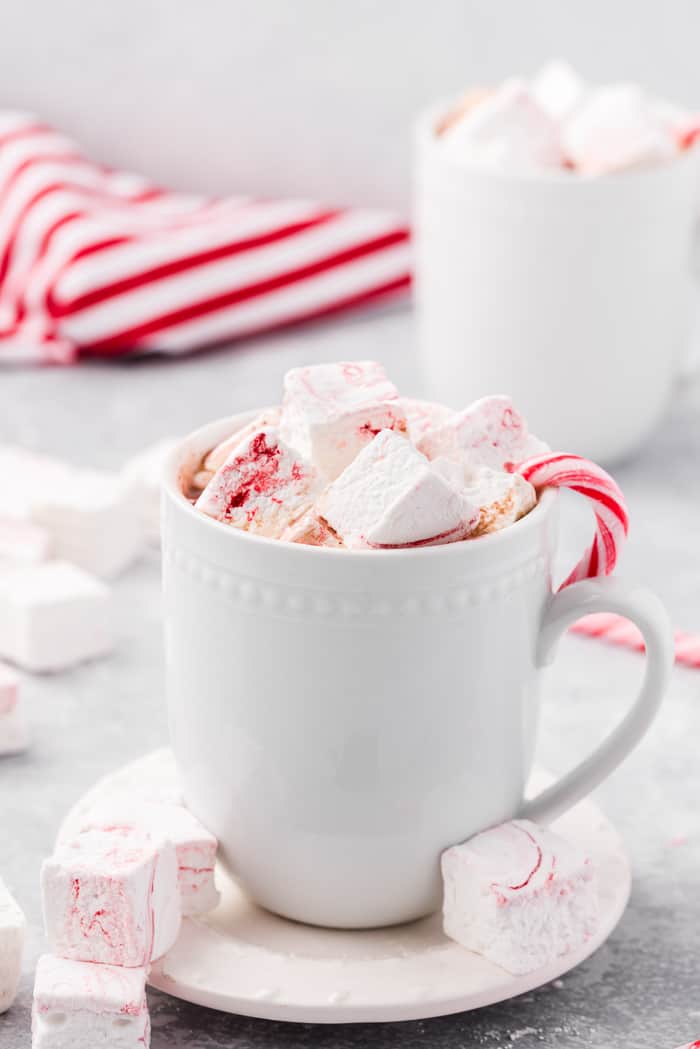 Nothing says "the holidays" quite like getting together with friends and family and enjoying a hot beverage as you catch up and spend quality time together. I mean let's face it, it's cold and some of us have snow already! 'Tis the season for hot cocoa and marshmallows and PEPPERMINT! Yes, I am breaking out the peppermint now. Get ready for a whole lot of it (#sorrybutnotsorry)!! But let's start first with some homemade hot cocoa and marshmallows; a holiday staple (and classic).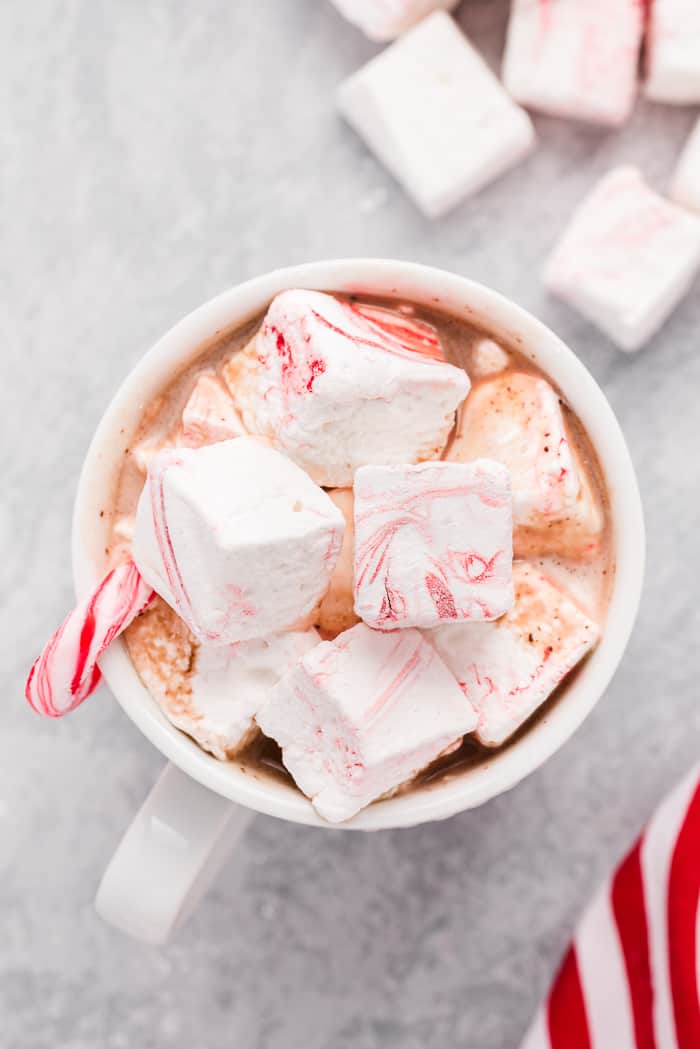 Let's start with this rich and chocolatey homemade peppermint hot cocoa. It's extremely easy to make your own real deal hot cocoa.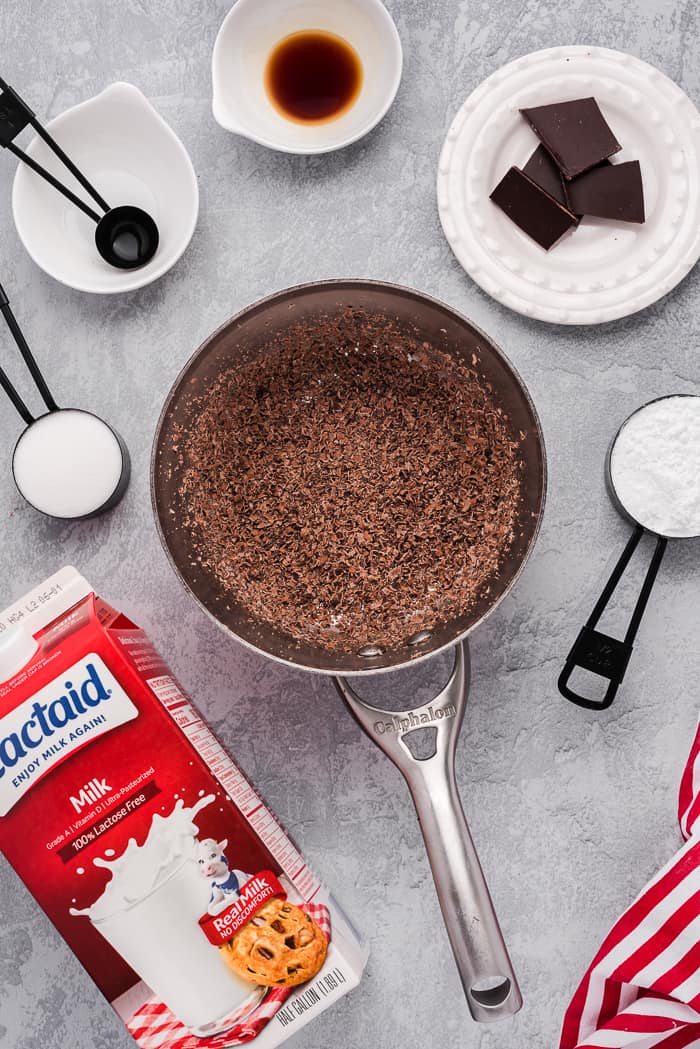 It's just a matter of combining pure 100% chocolate with milk, a hint of vanilla (to balance the flavors), and peppermint extract.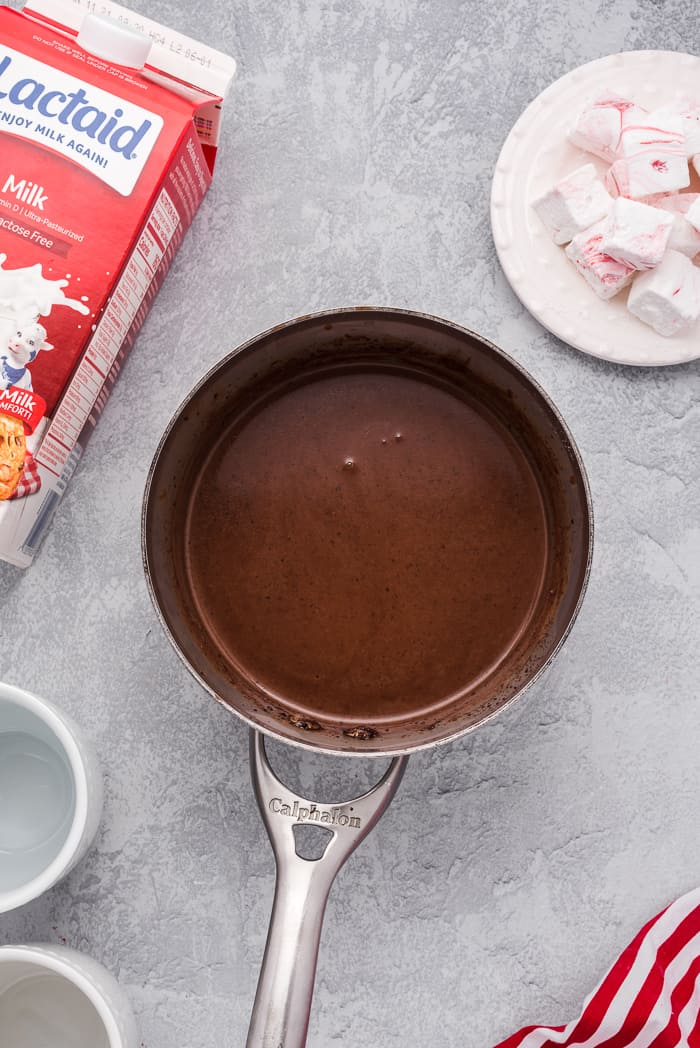 Simmer all together until chocolate melts and you have a thick, rich mixture. To make sure everyone in our family can enjoy this goodness, I used Lactaid to make a big batch of hot cocoa. With different food sensitivities, it's important to create meals and treats that everyone will enjoy, including those with lactose intolerance.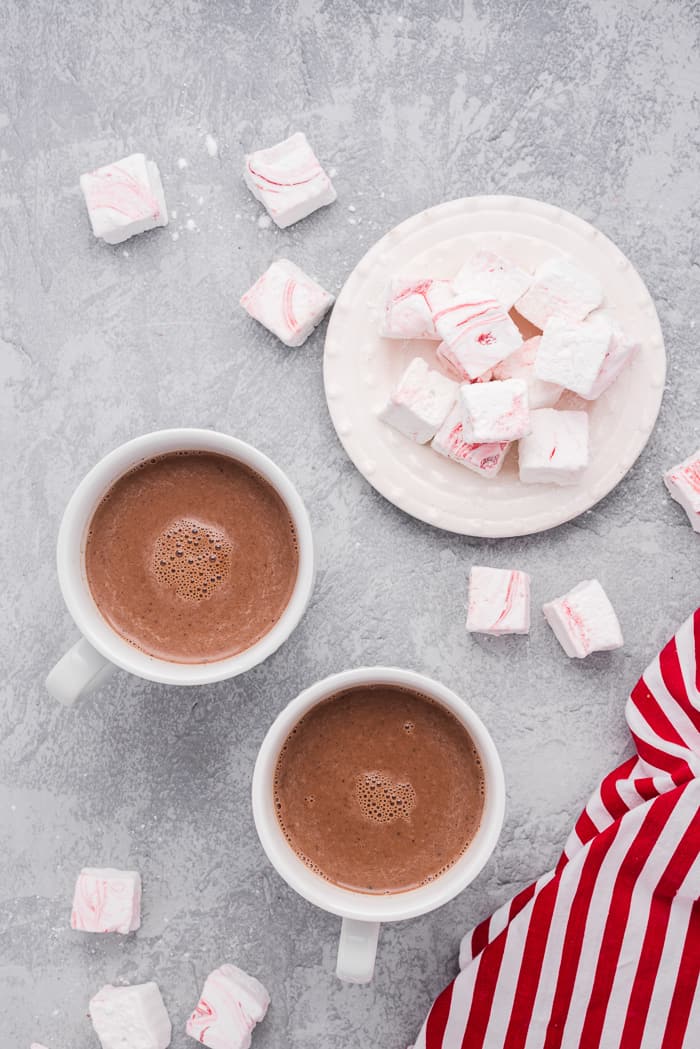 Of course, a cup of hot cocoa is not complete without marshmallows!!
Homemade marshmallows have been on my bucket list for years!! I finally got to make them this past weekend and my goodness they are good!! Nothing like the store-bought ones in a GOOD way.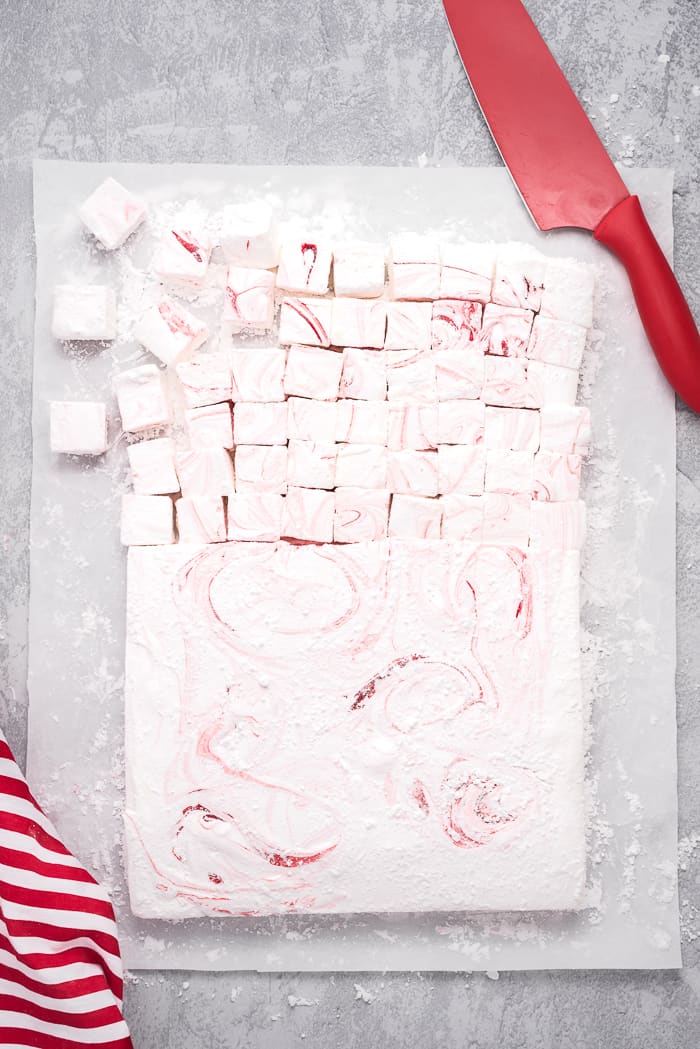 And they are not difficult to make as I had imagined and would be a great project this long holiday weekend with family in town. I can see the little ones enjoying playing with the powdered sugar and getting creative with the flavor possibilities. You can go crazy with the add-ins seriously! I went with peppermint because… well I am a HUGE fan!!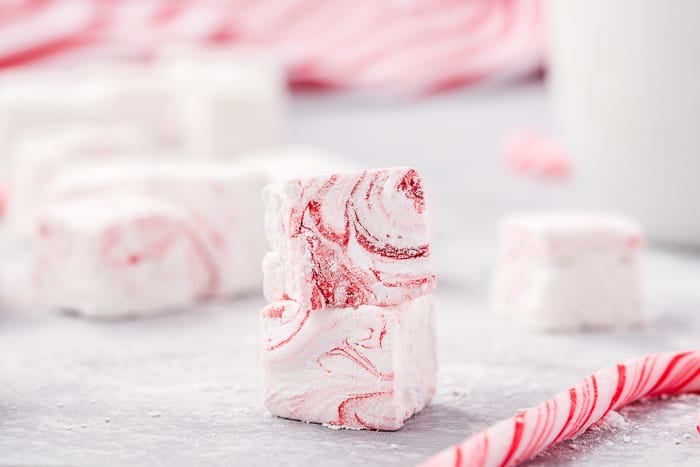 Please agree with me that there is nothing better than homemade rich and chocolatey peppermint hot cocoa with some marshmallows. Or maybe some hot cocoa with a serving of whole-grain oatmeal cookies!
If you are looking for more lactose-free recipes, be sure to visit the National Dairy Council for more recipes.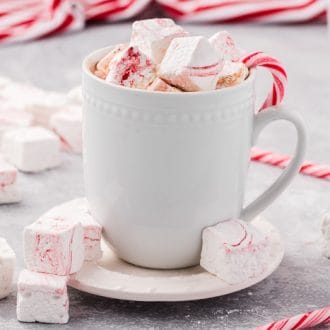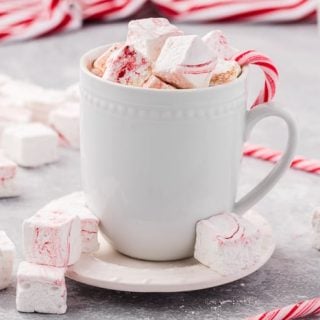 Yield: 3 servings
Homemade Peppermint Hot Cocoa
Ingredients
4 ounces 100% dark chocolate
2 cups Lactaid Milk (lowfat or fat-free)
¼ cup granulated sugar (or more to taste)
1 teaspoon vanilla extract
1 teaspoon peppermint extract
Instructions
In a medium saucepan set over medium-low heat, grate the chocolate bar. Add in milk, sugar, vanilla extract, and peppermint extract.
Bring mixture to simmer (do not boil) until thick and chocolate is melted.
Serve into mugs and top with marshmallows.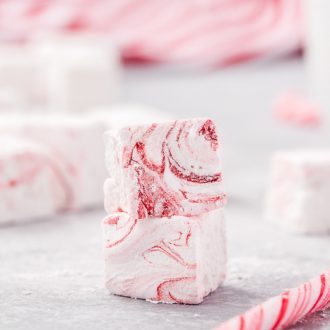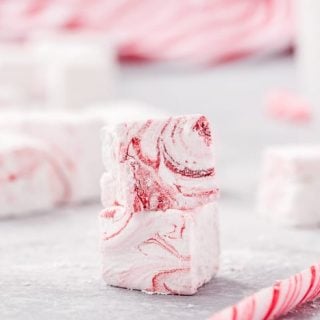 Homemade Peppermint Marshmallows
Ingredients
1½ cups water, divided
4 packets unflavored gelatin (each envelope is ¼ oz.)
2 ½ cups granulated sugar
1 ¼ cup light corn syrup
1/8 teaspoon salt
1 teaspoon vanilla extract
1 teaspoon peppermint extract
Few drops of red food coloring (optional)
½ cup powdered sugar
Instructions
Grease a 9 x 13-inch baking pan with cooking spray. Line with parchment and grease parchment.
In a large bowl, add ¾ cup water. Sprinkle the gelatin on water and let sit for a few minutes to soften.
In a medium saucepan, combine the rest of the water, sugar, and corn syrup. Bring to boil over high heat. Once boiling, use a candy thermometer and cook until the mixture reaches 240 degrees. Remove it from heat.
Using a mixer on low speed and using the whisk attachment, mix the gelatin mixture. With the mixer on, pour the hot sugar mixture into the gelatin mixture. Pour down the side of the bowl to avoid splashes. Gradually increase the speed of the mixer to high and beat the mixture until stiff peaks form about 10-12 minutes. Add in vanilla and peppermint extract. Mix for an additional minute. The mixture should be cool.
Pour the mixture into the prepared pan using a silicone spatula. Smooth the top with an offset spatula. Add a few drops of red food coloring and using a butter knife, swirl the coloring on top. Let cool and firm up at room temperature, uncovered, for at least three hours or better yet overnight.
When ready to cut up, sift the confectioner's sugar onto a working space. Turn over the marshmallow onto the sugar. Using a greased sharp knife, cut the marshmallows into squares. Roll in powdered sugar and serve with hot cocoa.
Store leftovers in an airtight container for up to a week.
Recommended Products
As an Amazon Associate and member of other affiliate programs, I earn from qualifying purchases.