Eggnog Cupcakes with Whipped Bourbon Buttercream
Get into the holiday season with these moist eggnog cupcakes with whipped bourbon buttercream!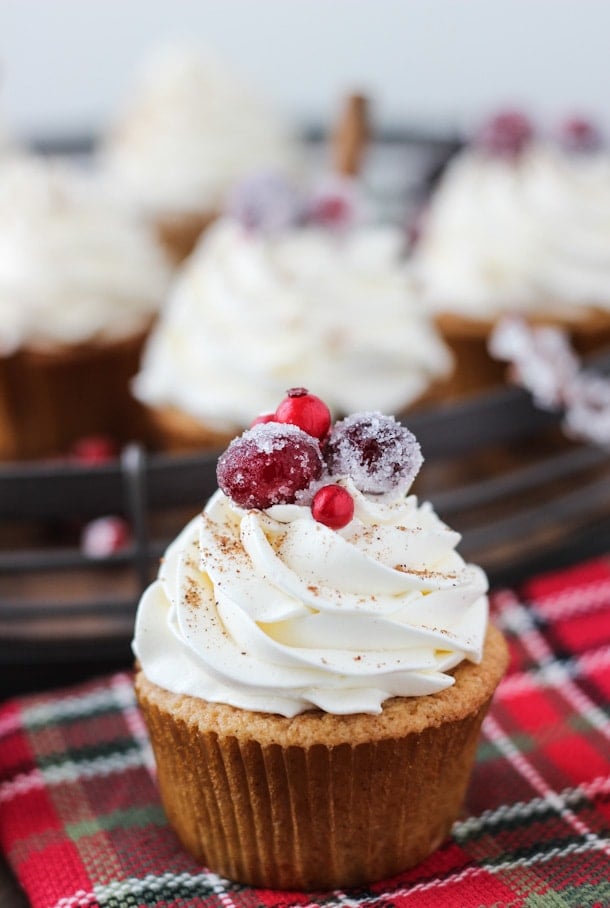 Yes I went there and started holiday baking a whole month in advance!! Say what? It's the best time of the year and I have so many recipes to test and share with you guys so let's get started with the season!! (FYI: The universal holiday declarer started their holiday menu almost two weeks ago).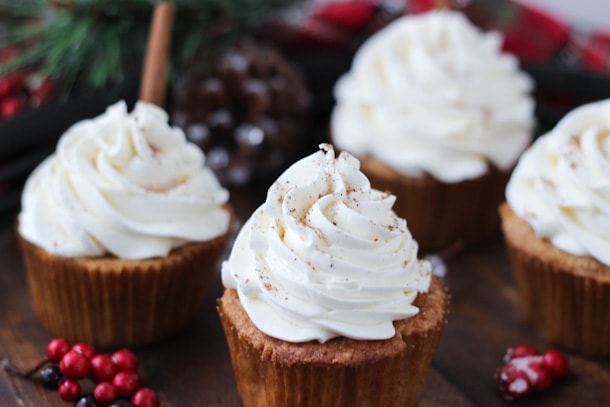 It is always a debate as to when to start baking holiday sweets, listening to Christmas music and oh gosh, when the tree goes up. Those who just want more time to enjoy Christmas everything and those who are in the "It's too soon, geez loiuse" camp. I kinda fall in the latter but only for shopping and music. When it comes to baking, the sooner the better for me because 4 weeks is just not enough time to bake all the things I want to. There are way too many peppermint mocha things, eggnog this and gingerbread that to keep to 4 weeks!!
When we spotted eggnog at the grocery store two weeks ago and we quickly grabbed a carton. The hubs loves it and he has been enjoying it every night! I, on the other hand, can't stand the viscosity of eggnog. Yuck! But put it in baked goods like these eggnog macarons or spiced eggnog cupcakes then I'm all over it.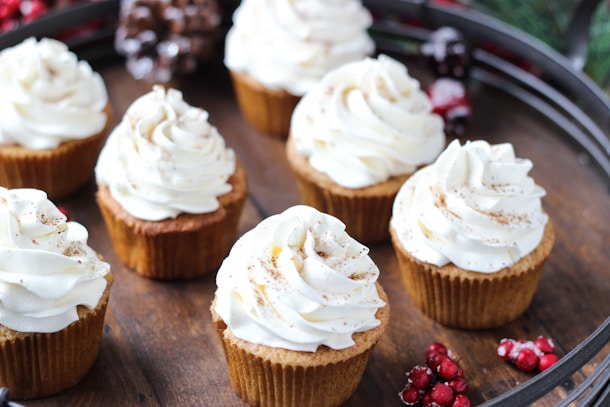 I couldn't wait to share these with you. Adapting my absolute favorite vanilla cupcake recipe, I infused eggnog and bourbon (because uhmmm it's cold and we need warmth) into the moist cupcakes. The result is a crumbly soft cupcake topped with whipped eggnog buttercream (with more bourbon). Just plain good!!!
And it's a simple and delicious way to start the holiday season. And oh it's upon us!!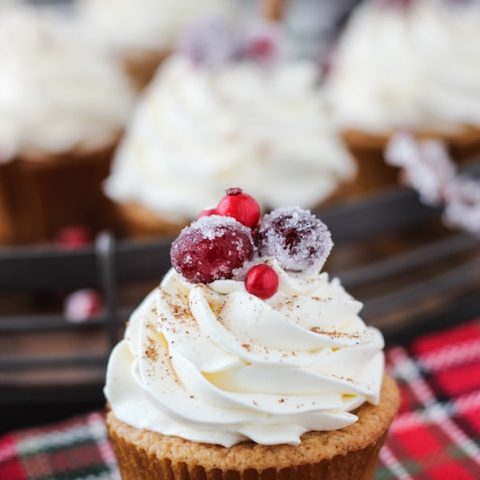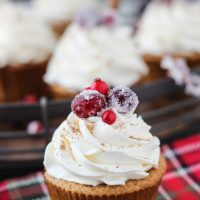 Yield: 24 cupcakes
Eggnog Cupcakes with Whipped Bourbon Buttercream
Get into the holiday season with these moist eggnog cupcakes with whipped bourbon buttercream! 
Ingredients
For Spiced Eggnog Cupcakes
2½ cups all-purpose flour
¾ teaspoon salt
1½ teaspoon baking powder
¼ teaspoon baking soda
1 teaspoon cinnamon
¼ teaspoon nutmeg
1 cup (2 sticks) unsalted butter, room temperature
2 cups granulated sugar
3 large eggs, room temperature
2 teaspoons pure vanilla extract
¼ teaspoon bourbon flavoring or 1-2 teaspoons of bourbon
½ cup milk, room temperature
½ cup eggnog, room temperature
For Whipped Bourbon Frosting:
3 ½ sticks unsalted butter, softened
3-4 cups sifted confectioners' sugar
¼ teaspoon ground nutmeg
3 tablespoons eggnog
1 teaspoon vanilla extract
½ teaspoon bourbon emulsion or 2-3 teaspoons bourbon
Pinch of salt
Instructions
Preheat oven to 350 degrees F. Line two muffin pans with cupcake liners or silicone baking cups.
In a medium bowl sift together flour, salt, baking powder, baking soda, cinnamon, and nutmeg.
In the bowl of an electric mixer, cream butter and sugar until pale and fluffy, about 5 minutes on medium speed. Add eggs one at a time, beating until combined after each addition. Beat in vanilla extract and bourbon. In a medium mixing cup, combine the eggnog and milk.
Reduce mixer speed to low and slowly add about a third of the flour mixture. Add half of the milk mixture, another third of the flour, and the rest of the milk and ending with the rest of the flour, mixing after each addition. Beat until just combined. Scrape down the side of the bowl as needed.
Pour batter into prepared pans. Fill liners about ⅔ full. Bake cupcakes until lightly golden or a toothpick inserted into the center come out clean, about 12-14 minutes.
Cool in pan 1-2 minutes, then remove cupcakes from pan and finish cooling on a wire rack.
For the Whipped Bourbon Frosting:
Whip butter for 8 minutes on medium speed using the paddle attachment of an electric mixer. The butter will become pale and creamy.
Add the rest of the ingredients and mix on low speed for 1 minute. Then increase speed to medium and mix for 6 minutes until the frosting is very light, creamy, and fluffy.
Frost cooled cupcakes with frosting and garnish with sugared cranberries if desired.
Notes
This recipe can be baked as a two layer 8-inch round cake. Bake for 30-35 mins and let cool 10 mins in the pan before inverting onto a cooling rack.
What's your take on eggnog? Love it or hate it??