Apple Cardamom Crisp
Warm spiced Apple Cardamom Crisp is topped with a nutty oat streusel and a scoop of ice cream for the perfect fall comfort dessert.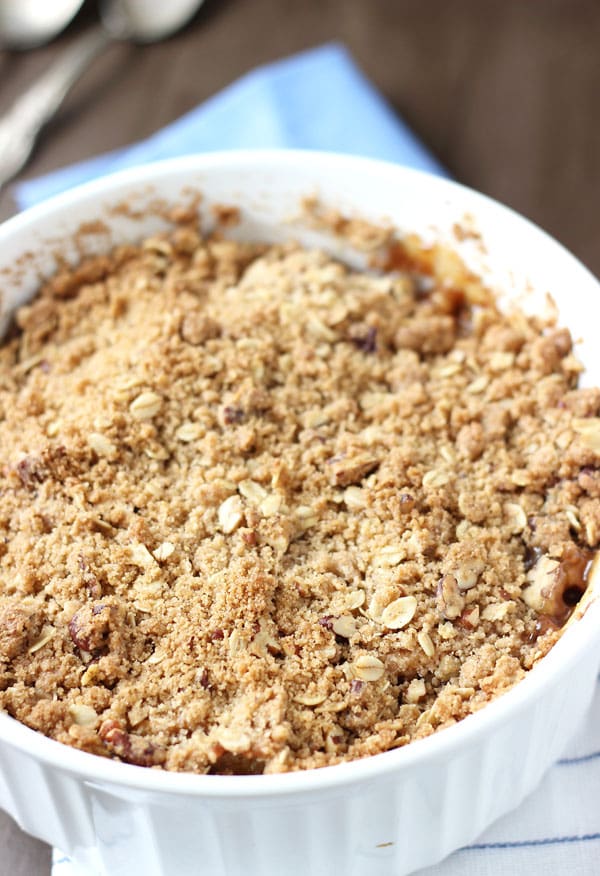 I have another honest-to-goodness recipe for you today!! There are some recipes that are just so simple, classic and ridiculously perfect that no other word can describe them other than honest-to-goodness good. This apple cardamom crisp belongs to that group and it's our new fall favorite dessert. You will have to forgive it's not-so-pretty nature but trust me, that is the last thing you will be thinking about when you take your first spoonful. Warm baked apples spiced with cardamom and nutmeg are topped with a nutty oat streusel that is as addicting as the scoop of ice cream that goes with it all.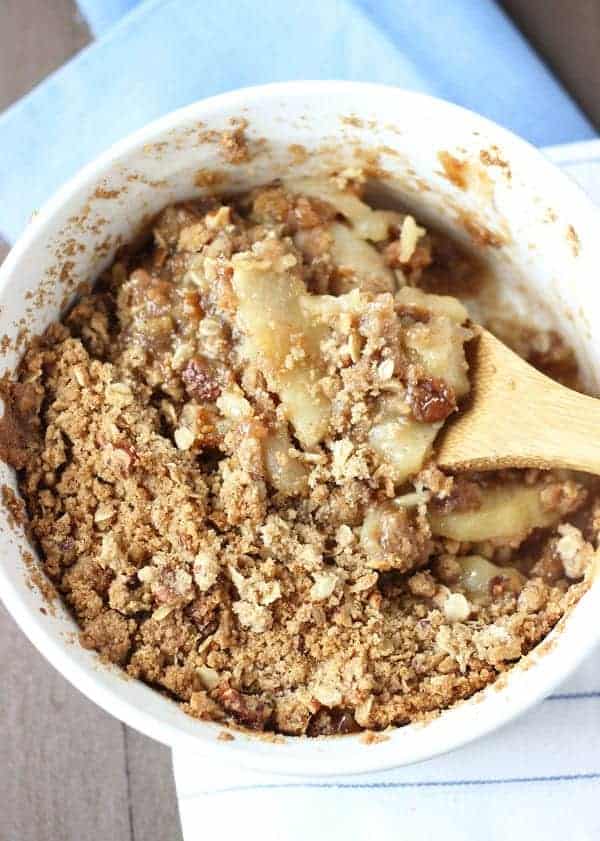 I had to make something extra special for Mystery Dish this month because I am hosting! This means I not only get to choose our box of secret ingredients to cook with but I also get to invite a guest to join us for the month. I invited the lovely and talented Mary Frances of The Sweet Tooth Life and if you have not yet been acquainted with her blog, I suggest you do!! You will love her delicious healthy desserts.
Here are the ingredients I selected and challenged the group to use at least three ingredients in their dishes: sesame seeds, green chiles, green tea or matcha powder, cardamom, ginger, feta cheese, lamb, pinto beans, white wine, prickly pear cactus, apples.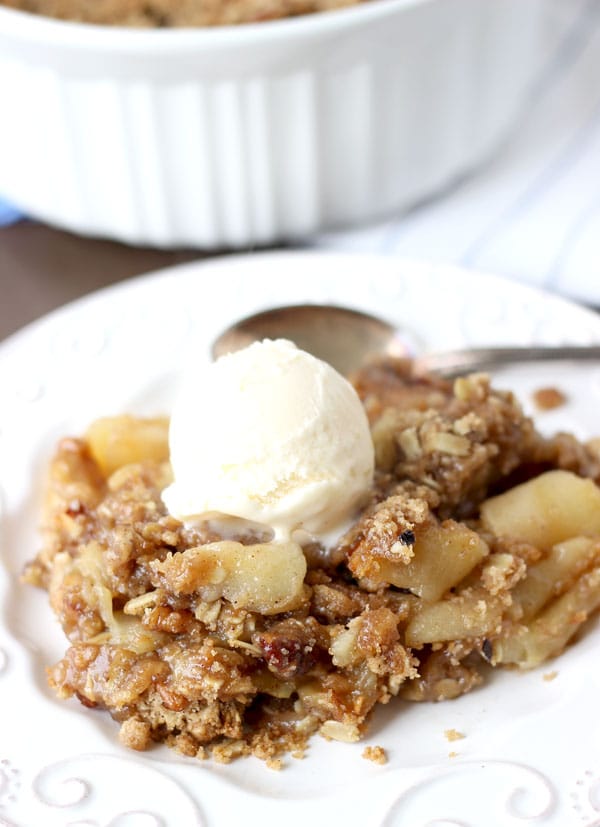 Despite my intentions of trying to share a recipe with prickly pear cactus (was so excited after this tutorial from Autumn), I failed to have one that was decent looking. Instead, I went with the comfort of warm spices and baked apples that is this apple cardamom crisp. Mr J has been asking for a crisp for a long time and this was just the perfect time to indulge. Nothing beats a serving of warm apple crisp with toasty crunch toppings and a scoop of ice cream on a cool fall evening. Enjoy this!!

Apple Cardamom Crisp
Author: Blahnik Baker
Recipe type: Dessert
INGREDIENTS
Filling:
5-6 medium sized apples (I used Fuji)
3 tablespoons brown sugar
1 teaspoon cardamom
½ teaspoon freshly grated ginger
zest and juice of one lemon
1 tablespoon cornstarch (optional)
Topping:
1⅓ cups all-purpose flour (or gluten free flour mix)
1 cup brown sugar
½ teaspoon cinnamon
½ cup pecans, chopped ⅓ cup oats
½ cup (1 stick) unsalted butter, softened
DIRECTIONS
Preheat oven to 350 degrees. Position oven rack in the center. Grease a 9 x 13-inch pan or large round ramekin.
Peel and core apples. Slice into think ¼-inch slices and place in a medium bowl. Toss apples with brown sugar, cardamon, lemon zest and juice and cornstarch. Set aside.
In a medium bowl, whisk together all the topping ingredients except the butter. Using your fingertips, work the butter into the topping and break until the mixture resembles wet sand.
Toss the apples with a cup of the topping and place in prepared pan. Scatter the rest of the topping on top of the apples evenly.
Bake until topping is toasted and filling is bubbling, 50-55 minutes. Let cool before serving with a scoop of vanilla ice cream.

Here are the delicious recipes from our group. Be sure to check them all out!