Cranberry Apple Crisp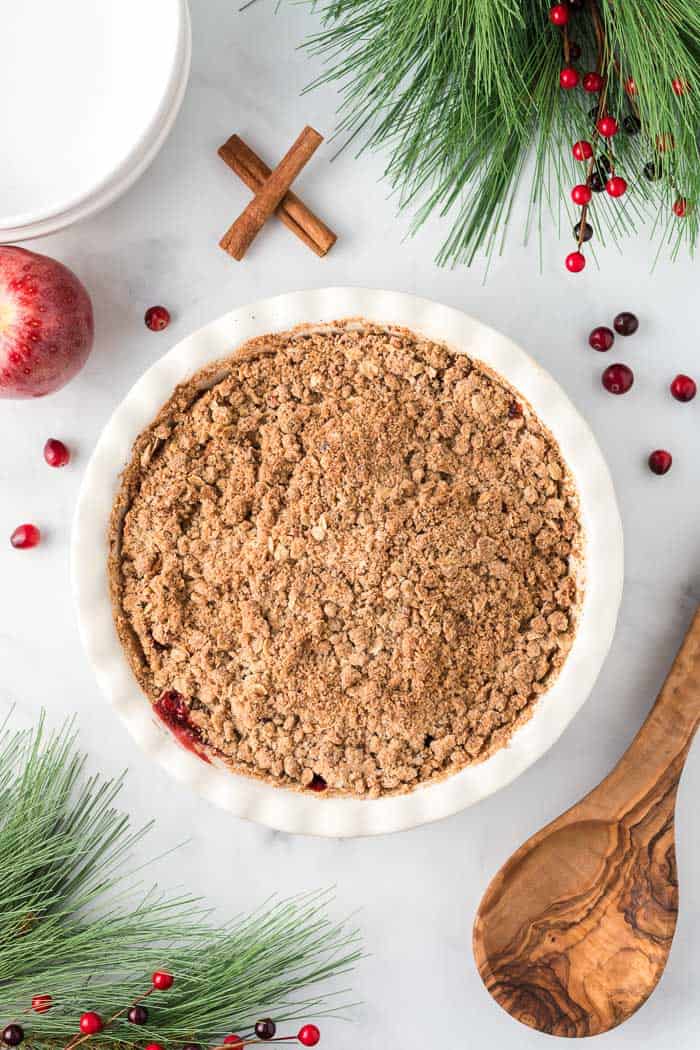 Hi, there friends! When you think of holiday desserts, the first ones that come to mind are probably decorated cookies or a fresh seasonal pie with the perfect lattice topping. Pies are definitely a necessity for your seasonal get-togethers and one of my favorites, but what if you just want all the flavors from your favorite pie without all that work? One that you can enjoy on a brisk winter day without worrying about wasting half of it? Not to worry because this Cranberry Apple Crisp is just what you are looking for.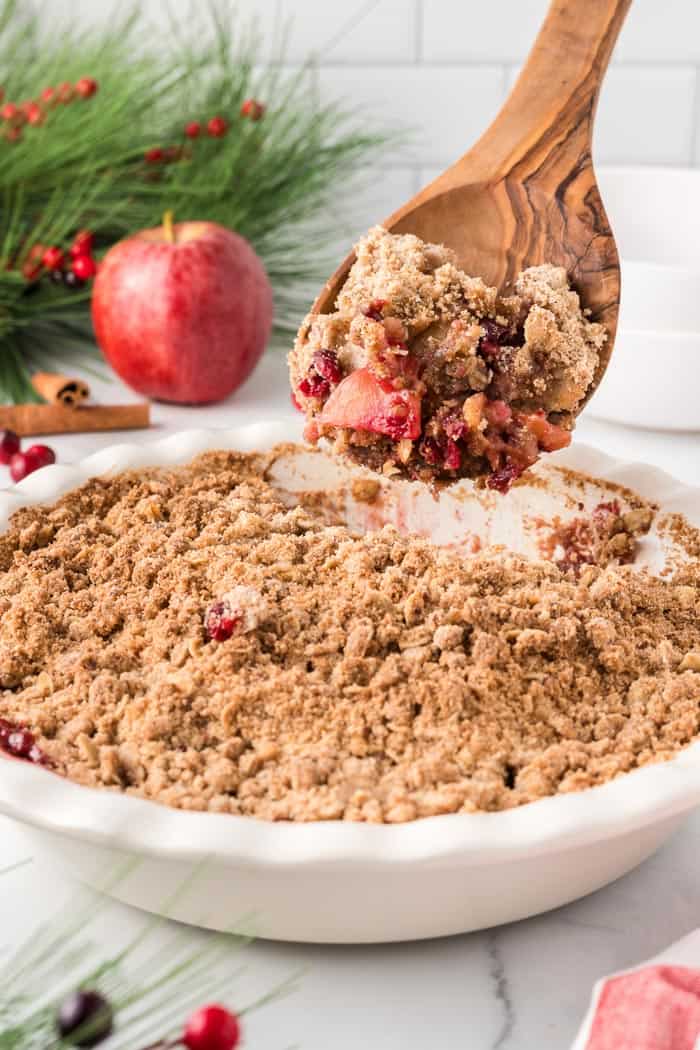 I have baked many pies over my baking career and from time to time I have experienced a mushy center, or if it is not eaten quick enough the crust can become soft. That's why I love crisps and crumbles which are basically deconstructed pies that hold up against time and still give you all the flavor you expect from your traditional pie. There is no bottom crust or fancy lattice top so it's super easy to make. The topping in this cranberry crisp is made of a hearty oat streusel filled with cardamon and nutmeg while the filling is packed with apples, tart cranberries, and the perfect blend of spices.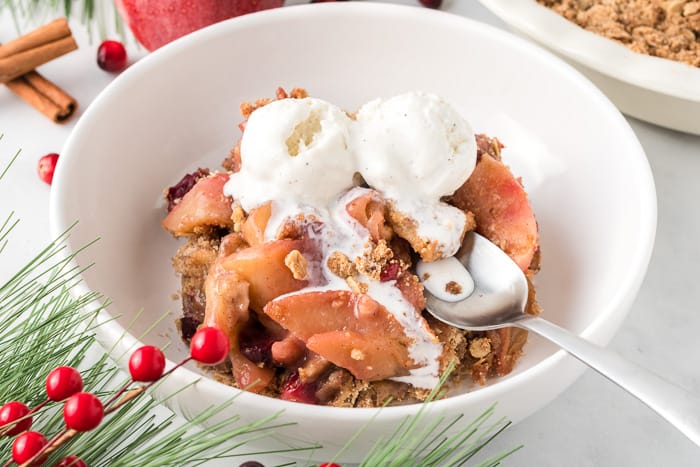 Let's walk through how easy it is for you to bake this at home. If you don't want to see the step-by-step now then you can simply scroll down to find the full recipe.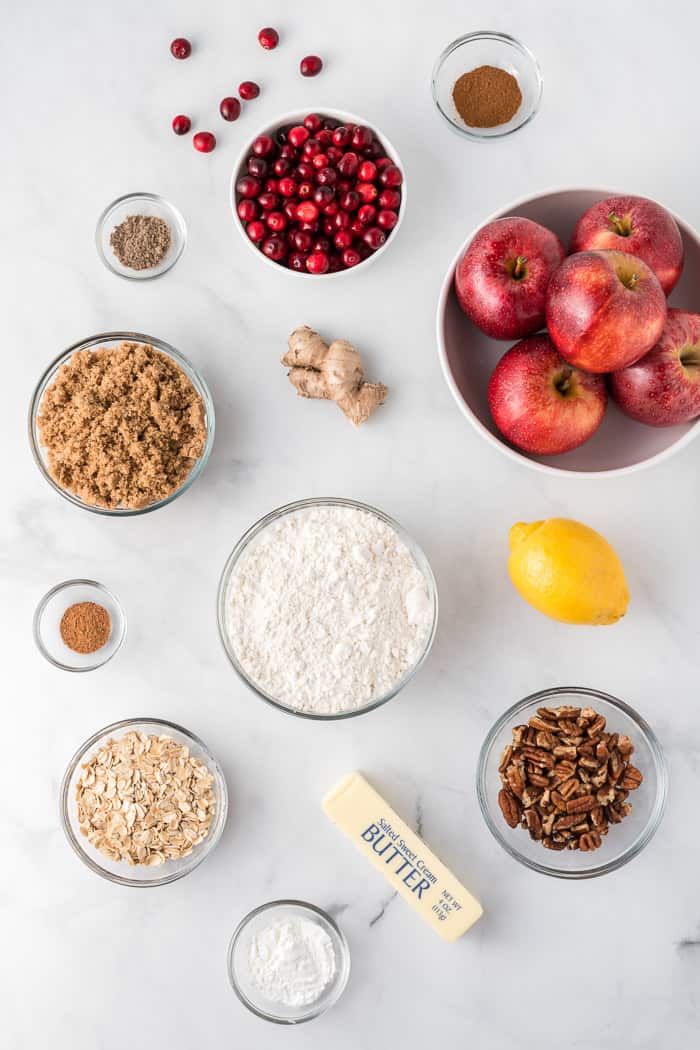 Peel and core your apples. Combine all the filling ingredients together until fully combined and the apples and cranberries are fully coated with the spices.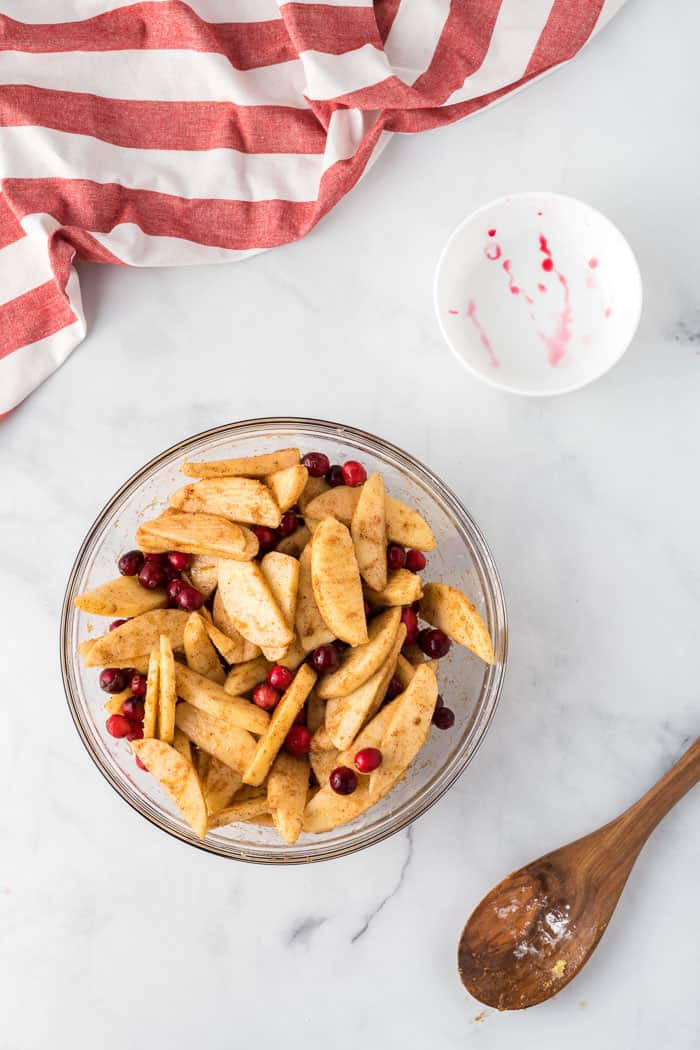 Mix all the streusel ingredients together except the butter. Drizzle the melted butter on top of the streusel until it looks like sand.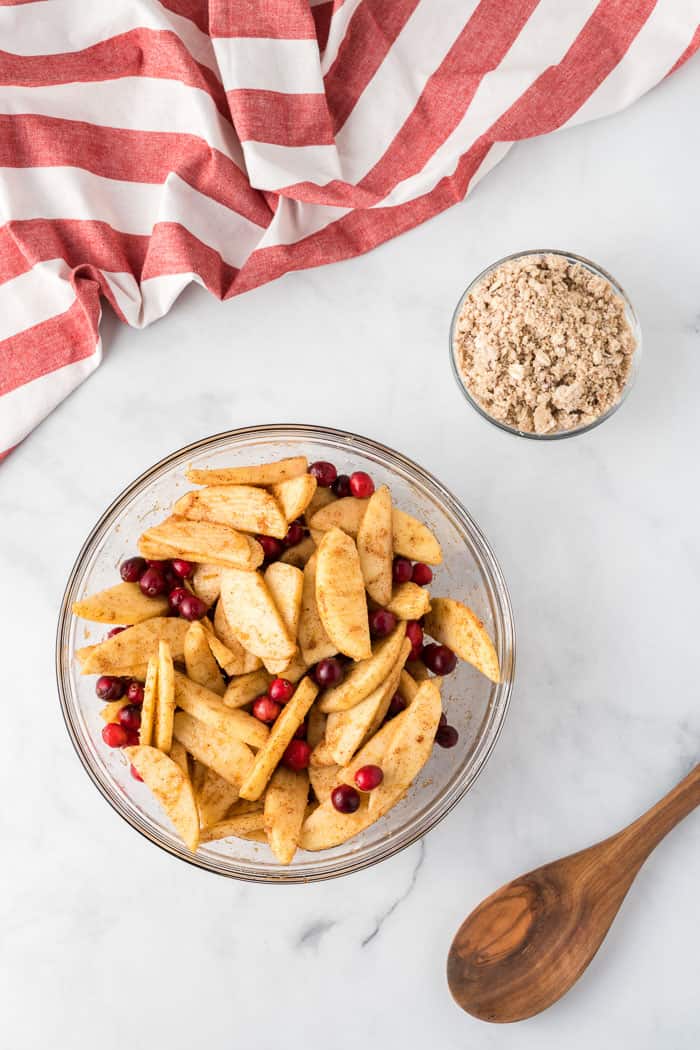 Combine the filling with ½ cup of the streusel and pour into your pan.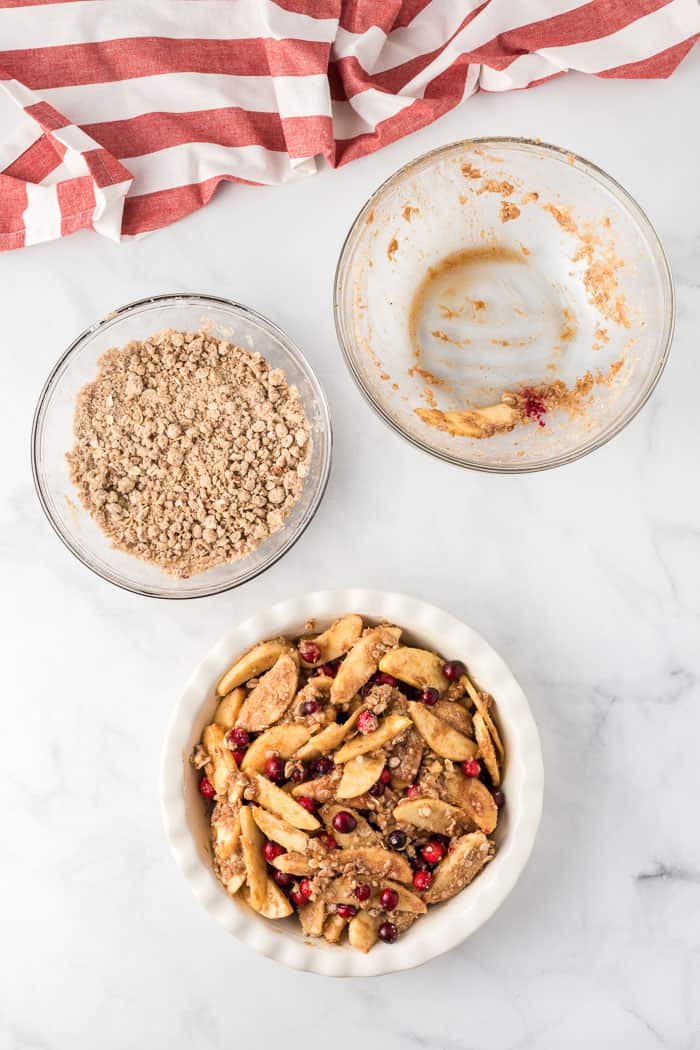 Pour the rest of the streusel topping evenly over your apple mixture.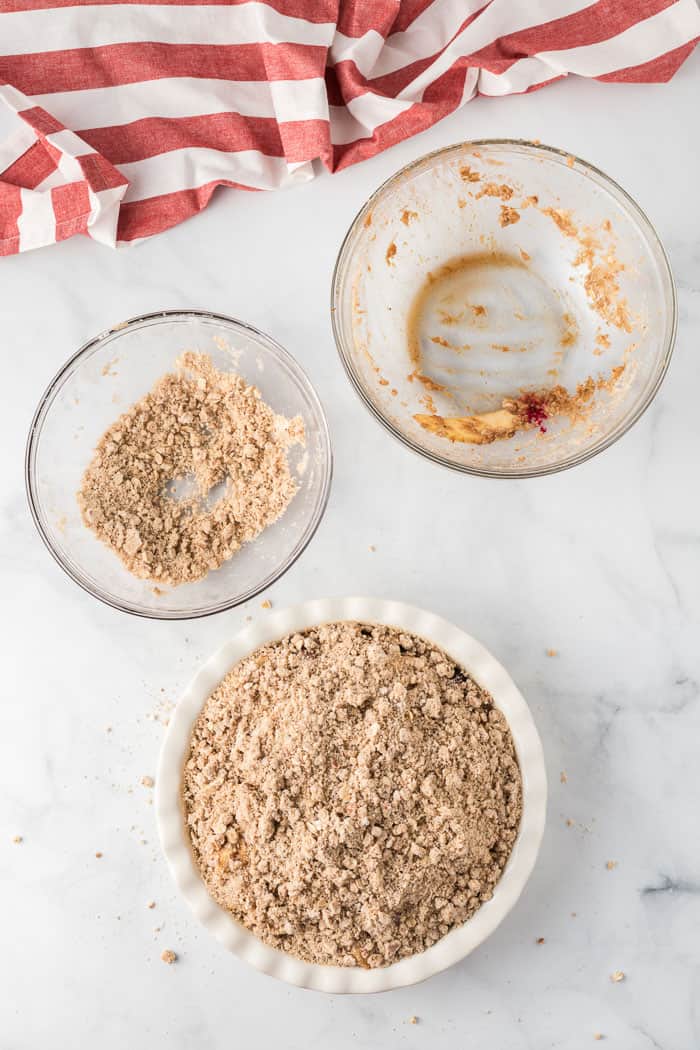 Bake until golden brown and bubbly.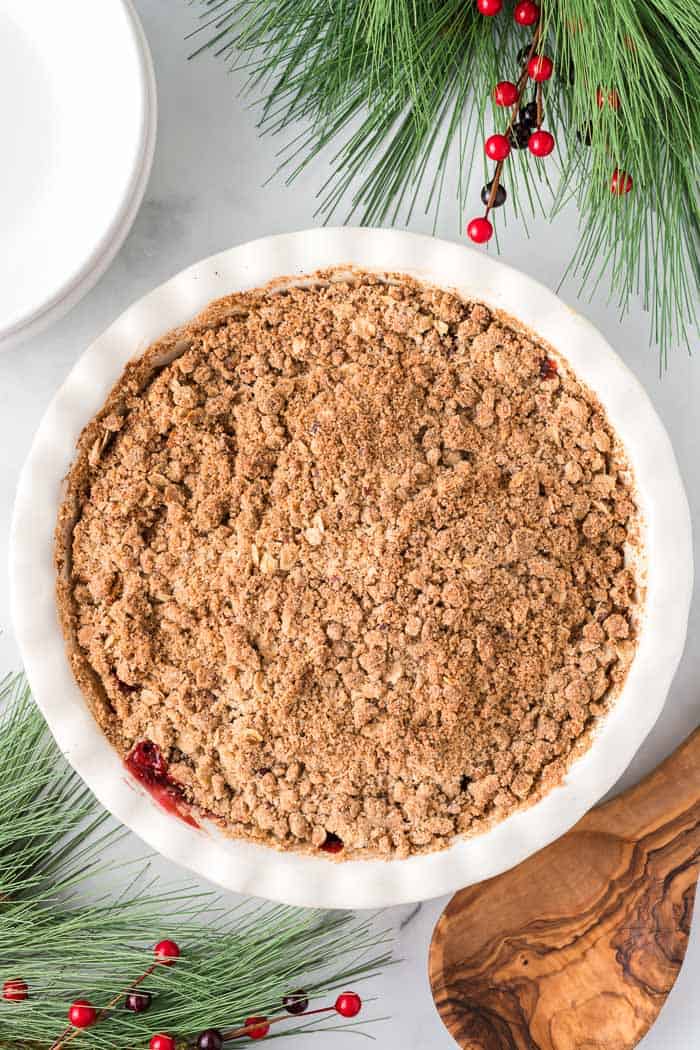 Serve immediately by itself or if you want the extra sweetness of the ice cream wait till your streusel cools a bit.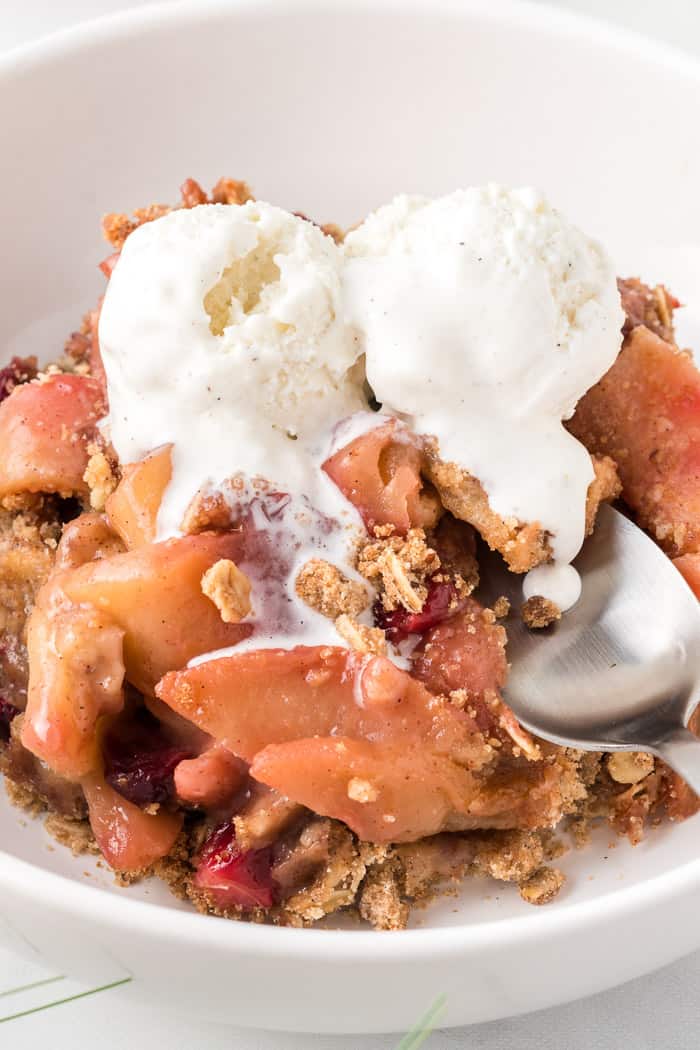 What you have is a beautiful deconstructed pie that is super crispy on top with a melt-in-your-mouth filling. Another reason why this Cranberry Apple Crisp should be on your radar this holiday season is with the oat topping it can very easily be served as a breakfast option as well. Forget those instant oatmeal bags that lack any flavor or nutrients and serve this crisp with or without the ice cream. Some days you just need a little dessert to start your day off right.
If you are looking for other crisp recipes to try then look no further than my Caramel Apple Crisp, or this Pear Crisp with Oat Crumb Topping.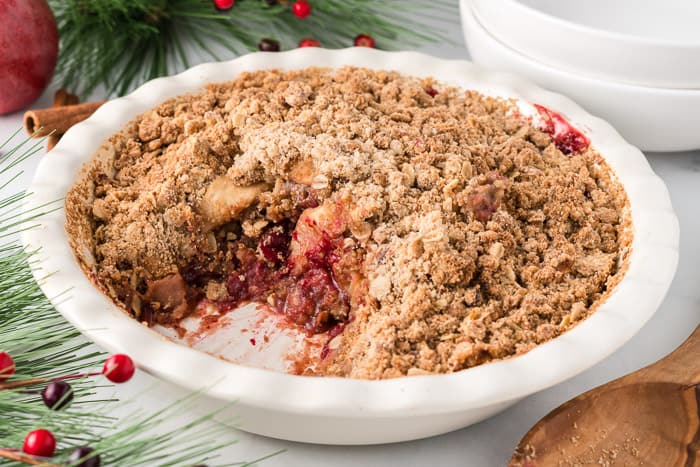 How would you serve this sensational snack? Let me know in the comment section below what you thought of this recipe. Is it making it to your holiday spread?
If you share your gorgeous dessert on social media, make sure to tag #aclassictwist so I can see this recipe come to life. Nothing makes me happier than seeing you adding my recipes to your special occasions.
Until next time, have a wonderful week.
More Pies to try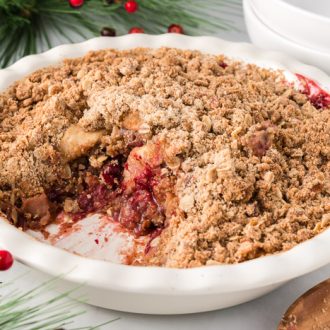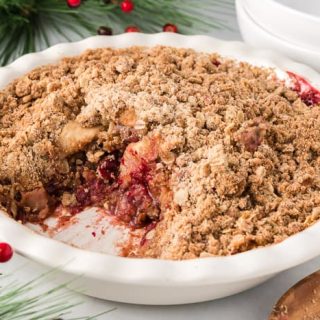 Yield: 8-10 servings
Cranberry Apple Crisp
Warm spiced apple crisp spiced with cardamom and filled with tart cranberries is topped with an oat streusel and a scoop of ice cream for the perfect winter comfort dessert. 
Total Time
1 hour
10 minutes
Ingredients
4-5 medium-sized apples, you can use a mix of apples
1/2 cup brown sugar
1 teaspoon apple pie spice
½ teaspoon freshly grated ginger
zest of one lemon
1 tablespoon lemon juice
1 tablespoon cornstarch
1 cup fresh cranberries
For the Topping:
1⅓ cups all-purpose flour (or gluten-free flour mix)
⅓ cup old fashioned rolled oats
1/2 cup brown sugar
½ teaspoon cardamom
1/4 teaspoon nutmeg
½ cup pecans, chopped
½ cup (1 stick) unsalted butter, melted and browned
Instructions
Preheat oven to 350 degrees. Position the oven rack in the center. Grease a 9-inch pie pan or large round ramekin.
Peel and core apples. Slice into thick ¼-inch slices and place in a medium bowl. Toss apples with brown sugar, apple pie spice, ginger, lemon zest and juice, and cornstarch. Mix in cranberries. Set aside.
In a medium bowl, whisk together all the topping ingredients except the butter. Drizzle the butter over the topping and mix until the mixture resembles wet sand.
Toss the apples with a 1/2 cup of the topping and place in a prepared pan. Scatter the rest of the topping on top of the apples evenly.
Bake until topping is toasted and filling is bubbling about 50-55 minutes.
Let cool before serving with a scoop of vanilla ice cream.
Recommended Products
As an Amazon Associate and member of other affiliate programs, I earn from qualifying purchases.