Cranberry Lime Pie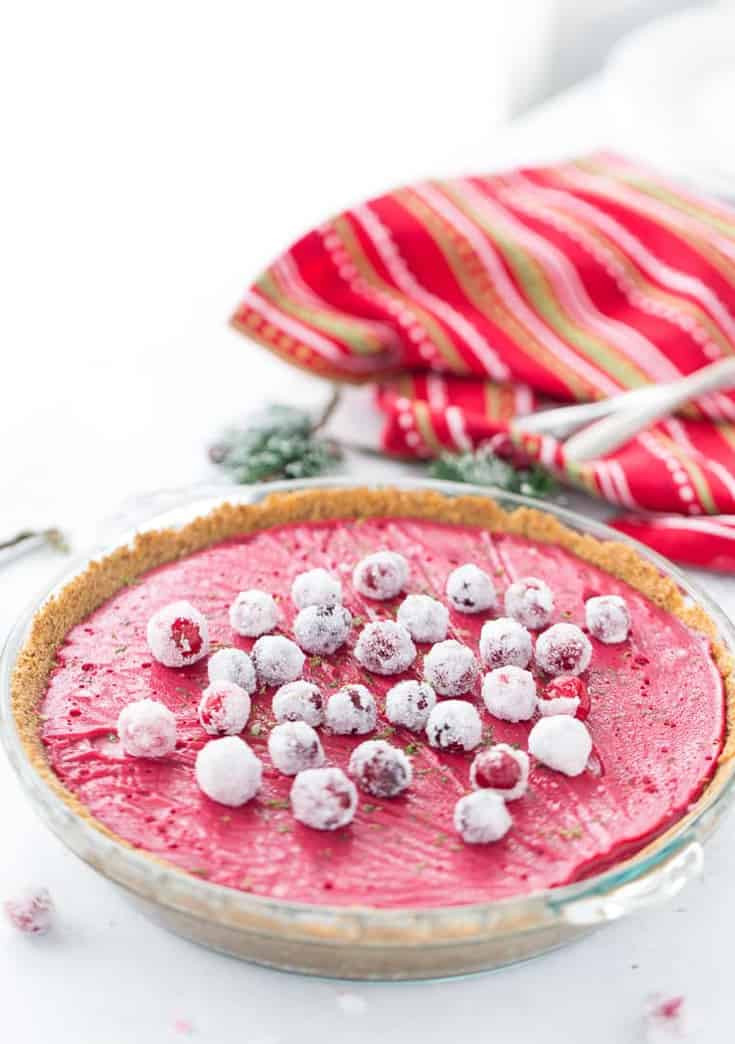 Hello guys! To those who celebrated, I hope you all had a great Thanksgiving week with friends and family. It was a nice relaxing weekend for us with some out of town relatives. The holiday season is the best time to slow down and spend more time with loved ones. Which of course means a lot of baking ahead for these gatherings!! This cranberry lime pie is a fabulous holiday season pie that I think will be loved by any cranberry lip-puckering lover.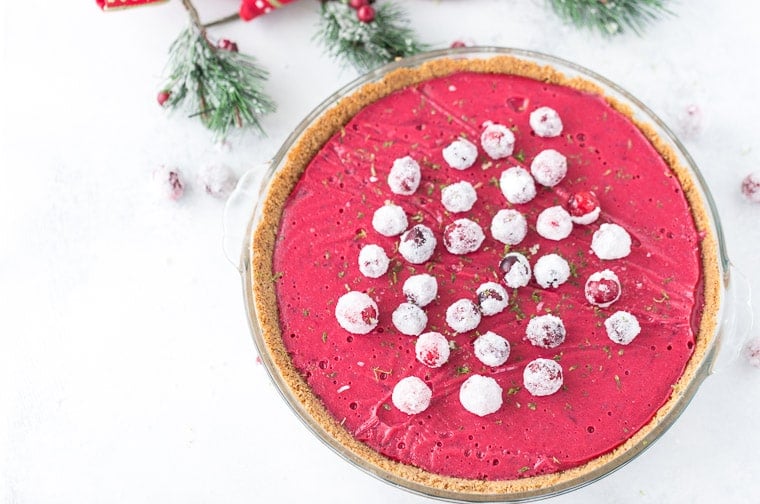 Fresh cranberry season is one of my favorite times of the year. I just can't get enough cranberry before they go out of season. From cranberry eggnog bundt cake to cranberry thyme sparklers, I find ways to include cranberries in all my holiday festivities. That's why I was excited about this cranberry lime pie when I saw it in the recent issue of bon appetit.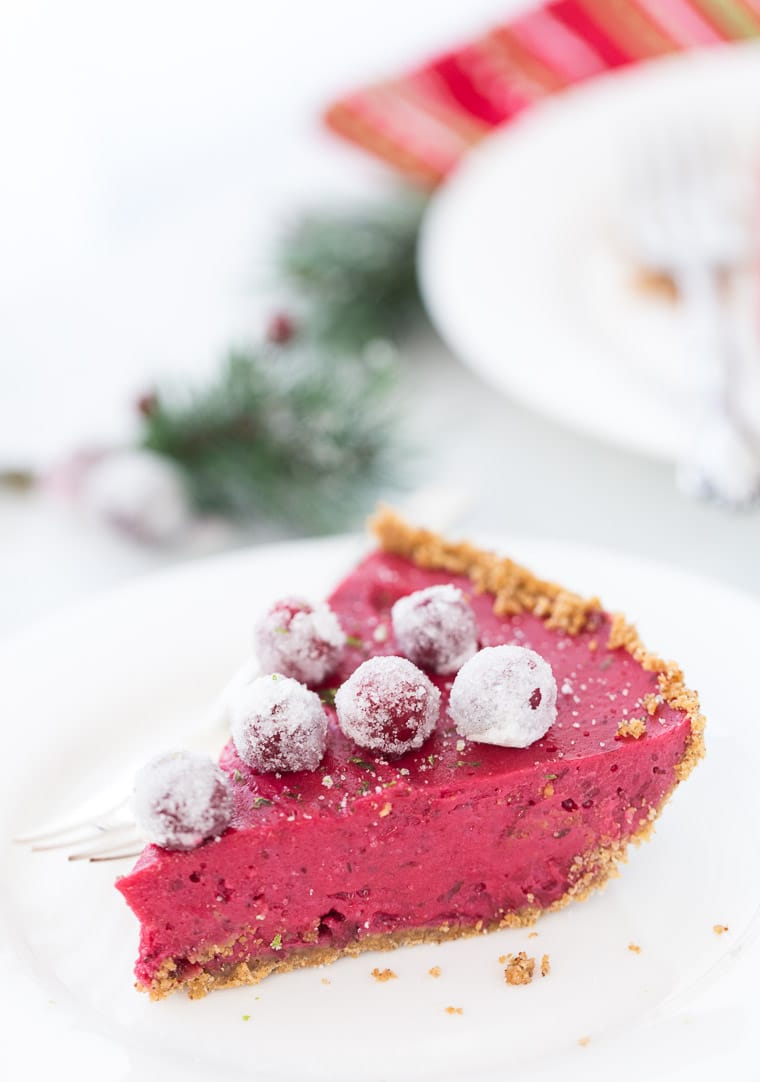 To be honest, I thought the combination of cranberry and lime will be too tart. But it wasn't. It's just like a key lime pie, sweet and tart but with a luscious cranberry curd filling instead. It's all sitting on top of a spiced gingerbread cookie crust which is just the crunch and sweetness you need for a custard pie like this.
This holiday season, as you deck the halls, add this cranberry lime pie to your holiday baking list. It's even the perfect color to match the decorations.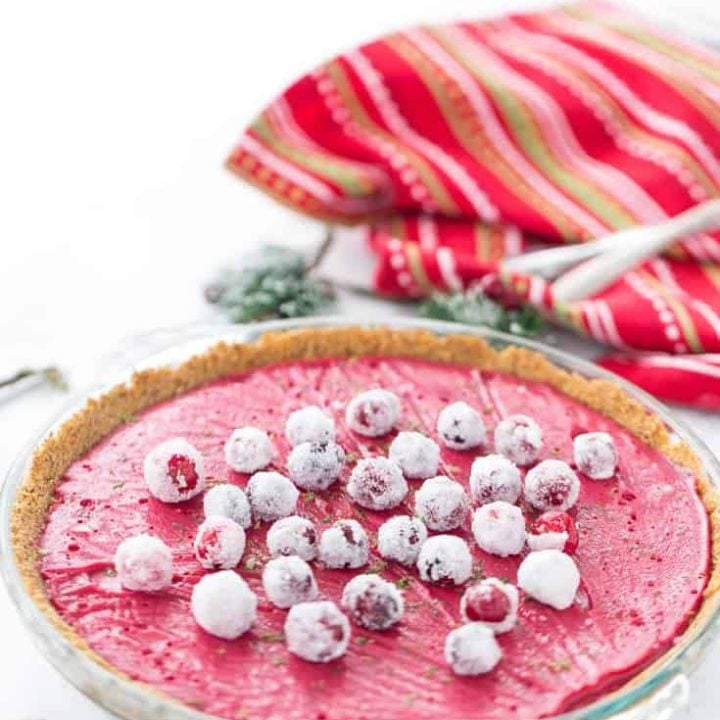 Yield: 1 9-inch pie
Cranberry Lime Pie
Total Time
7 hours
20 minutes
Ingredients
For the Crust:
4 ounces gingersnap cookies (or 1 cup graham cracker crumbs)
1 cup pecans
4 tablespoons unsalted butter, melted
3 tablespoons light brown sugar
For the Filling:
1 12-ounce package fresh cranberries
1 1/2 cups granulated sugar, divided
3 large eggs, 2 large egg yolks
1 teaspoon finely grated lime zest
½ cup fresh lime juice
Pinch of kosher salt
¾ cup (1½ sticks) unsalted butter, room temperature, cut into pieces
Sugared cranberries, lime zest and whipped cream (for topping)
Instructions
For the Crust:
Preheat oven to 350 degrees F. In the bowl of a food processor, pulse the cookies until they are finely ground. Add in the pecans and pulse until finely group. Drizzle in the melted butter and add in the brown sugar, pulse to combine.
Transfer crust to a 9-inch pie dish and press firmly onto the bottom and sides of the dish. Bake crust, until form and golden brown, about 10-15 minutes. Let cool while you prepare filling.
For the Filling:
In a large saucepan, combine the cranberries, sugar and 1/4 cup water. Bring to a boil over medium heat. Reduce heat and simmer until the cranberries burst and mixture thickens, 12-15 minutes. Let cool. Puree the cranberry sauce in a blender until very smooth.
Bring a small saucepan of water to bowl. In a heat proof bowl, cook the puree, eggs, egg yolks, lime zest, lime juice, salt and remaining sugar over the saucepan of simmering water, stirring, until the curd thickens and coats the spoon, about 8-10 minutes. Let cool.
Using an electric mixer, beat the curd, adding butter one piece at a time until the curd looks lighter in color, about 5 minutes. Pour the curd into the cooled crust and chill until firm, for at least 2 hours or overnight.
Top pie with cranberries, lime zest; serve with whipped cream.
Recommended Products
As an Amazon Associate and member of other affiliate programs, I earn from qualifying purchases.