Eggnog Dutch Baby Pancake with Cranberry Compote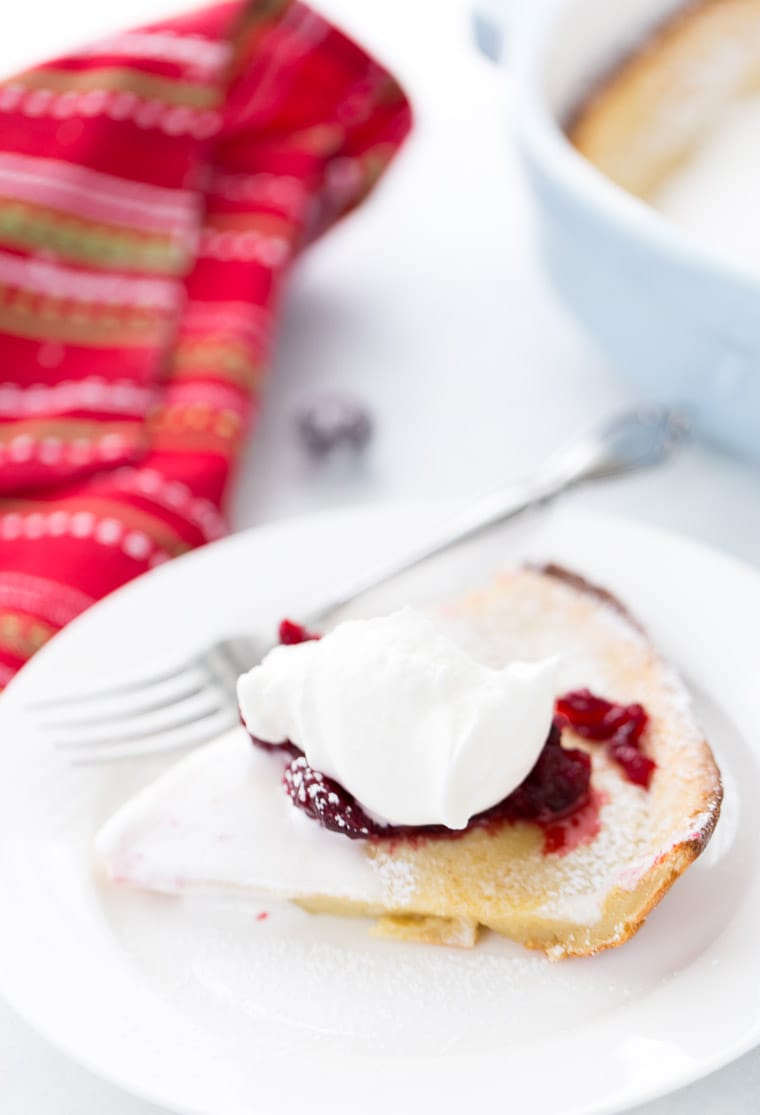 Hello guys!! I wanted to catch you before you headed out of town or get ready for the long Thanksgiving weekend. This eggnog dutch baby is a great brunch recipe as folks gather this weekend. It feeds a crowd and very easy to pull together.
Do you love eggnog?? I have a love-hate relationship with eggnog and every year it comes around I avoid drinking it and instead infuse it into delicious baked treats. Whether it's in these eggnog cupcakes with bourbon whipped buttercream or this eggnog pudding cake, I love baking with it. This year, I will be serving up this eggnog dutch baby pancake with cranberry compote for brunch.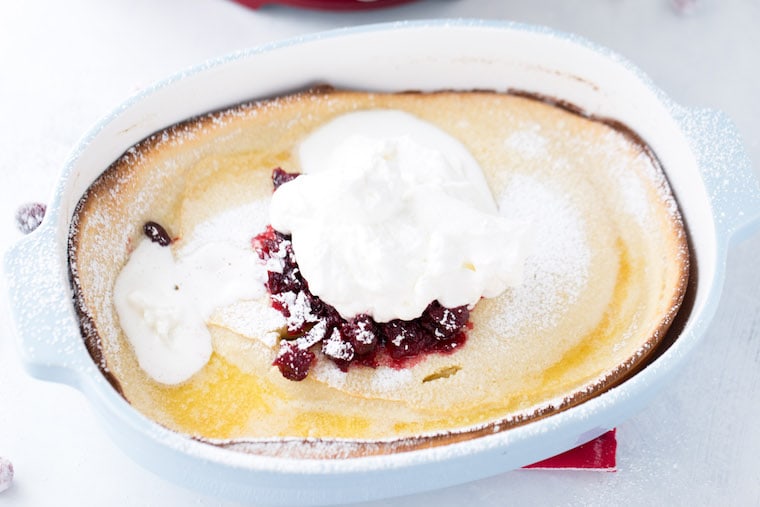 Have you ever had dutch baby pancake? If not, they are a crossover of crepes, a popover and a pancake all in one. I started making them last year after they became a thing on Pinterest and Mr J is now in love with them. Every other weekend we make one on a lazy Sunday. I love the simplicity of this puffy pancake and how easy it is to make different kinds of flavors.
This eggnog dutch baby was perfect with the change in season and especially when you top it with a sweet cranberry compote. The pancake batter itself is thin, perfectly spiced and infused with eggnog. Once baked in a hot casserole dish (or cast iron skillet), the pancake puffs up and becomes a pillowy soft haven. Feel free to top with anything you have around. Fruit compotes are my favorite but just a dusting of powdered sugar will do.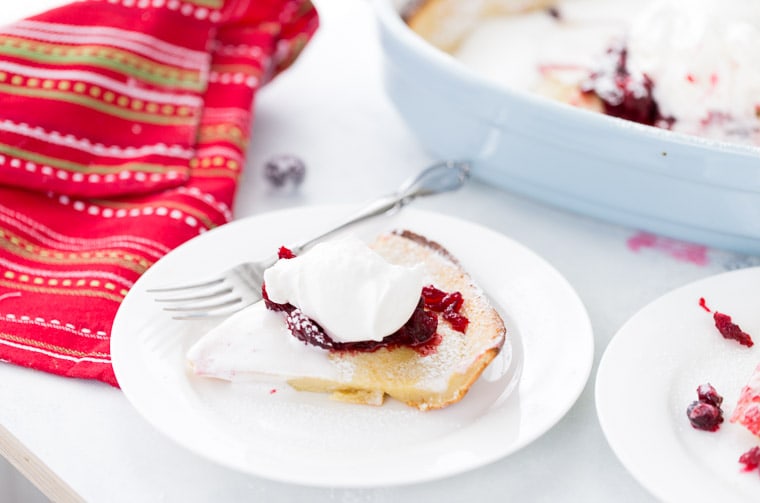 I hope you get to try this pancake this long holiday weekend. To my american friends, Happy Thanksgiving. Have a safe and wonderful holiday.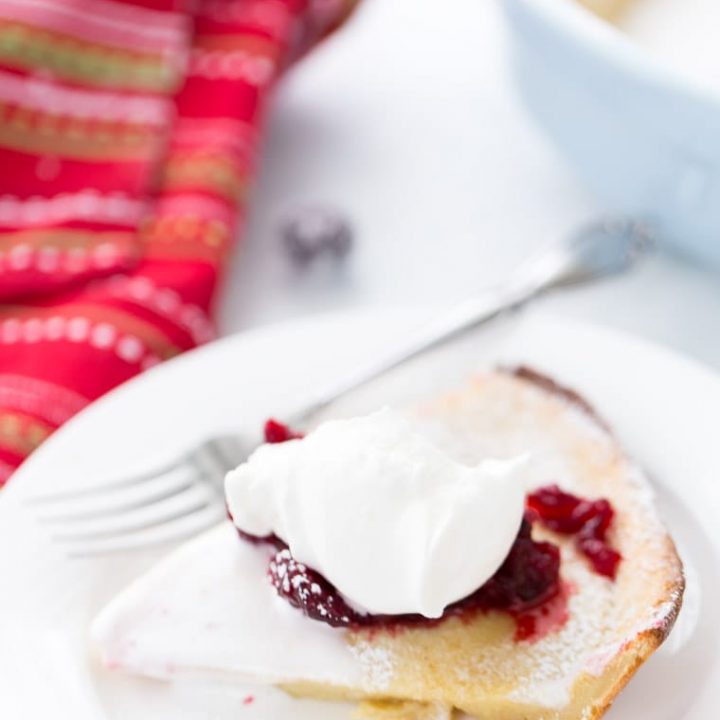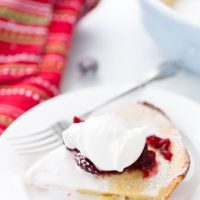 Eggnog Dutch Baby with Cranberry Compote
Ingredients
For pancake:
1/2 cup all-purpose flour
¼ teaspoon ground nutmeg
¼ teaspoon ground cinnamon
1/2 cup eggnog
2 large eggs
1 teaspoon pure vanilla extract
2 tablespoons granulated sugar
2 tablespoons unsalted butter, cut into small pieces
For Cranberry Compote:
1 cup fresh cranberries
1/3 cup granulated sugar
zest of one orange
2 tablespoon fresh orange juice
Topping:
½ cup whipped cream
¼ cup powdered sugar
Instructions
Preheat oven to 425° F.
In the bowl of a food processor or blender combine all the ingredients for the pancake, except the butter. Pulse the ingredients until they are well combined and smooth.
Let batter sit in the food processor for at least 20 minutes.
During this time, make the cranberry compote. Combine all the ingredients for the compote in a small saucepan and cook over medium heat, stirring occasionally, until cranberries are softened and the sauce starts to thicken about 3-4 minutes.
Remove from heat and let cool.
When you're ready to make the pancakes, place the butter in a large casserole dish or large cast-iron skillet and heat in the preheated oven. Let it melt completely and as soon as it does melt pour the batter into the dish.
Bake the pancake for 15-20 minutes or until puffy. Lower oven temperature to 300 degrees and bake additional 5 minutes.
Remove from the oven and top immediately with cranberry compote, whipped cream, and powdered sugar.
Serve immediately.