Whole Wheat Pumpkin Chocolate Chip Bread
A hearty whole wheat pumpkin chocolate chip bread that is lightened with yogurt. A slightly decadent treat perfect for the holiday season!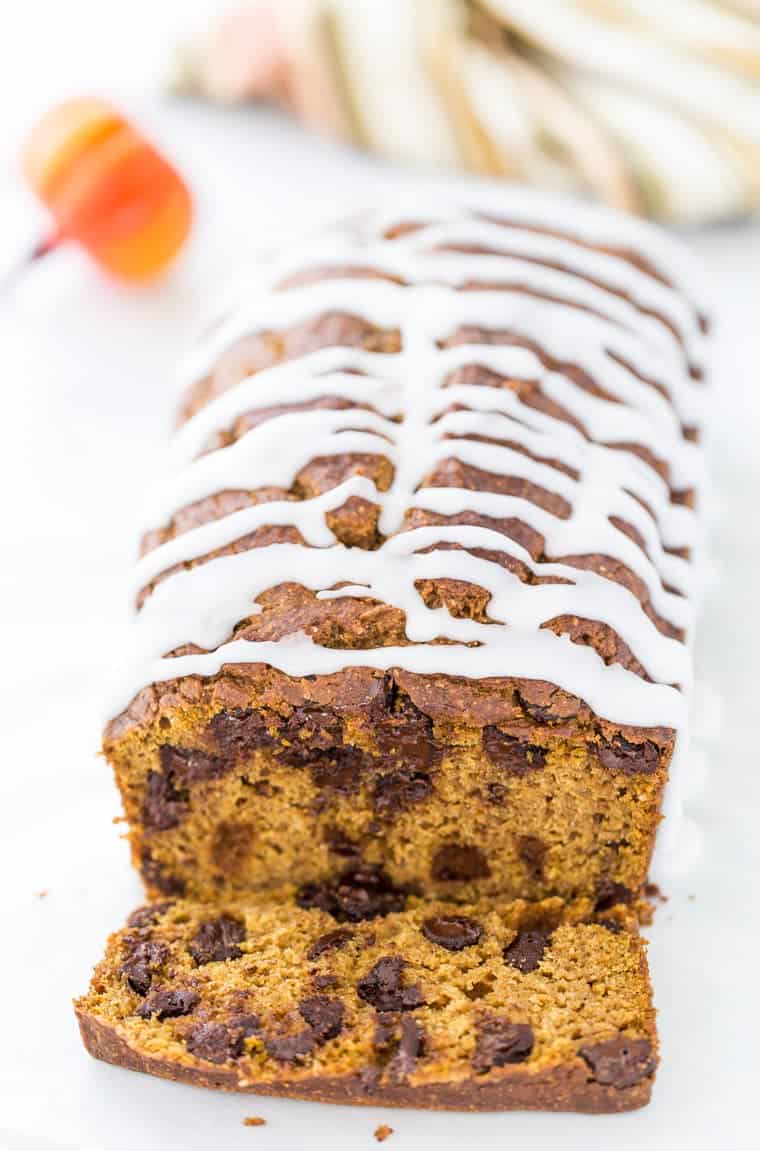 Hi Friends!! How is it Thanksgiving already?? I know we all say this every year but this year has raced by so fast. Just so much going on that we get lost in time and the hustle. But I am glad the holiday season is here and we can slow down a bit to enjoy quality time with family. As you travel this weekend or prepare to host your loved ones, this whole wheat pumpkin chocolate chip bread will be great to have on hand. It's hearty, lightened with yogurt and has melty dark chocolate chips for a bit of indulgence.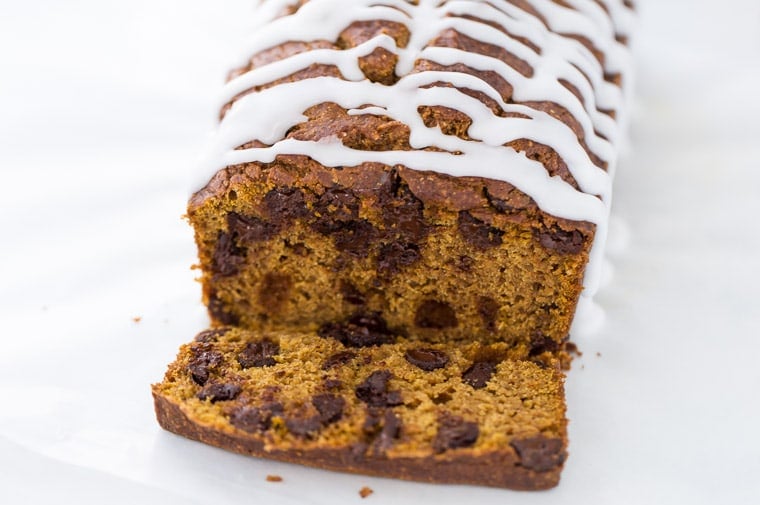 I've made this bread a few times already and each time I do it is amazing. It uses low-fat yogurt to lighten the recipes and oil as well. The recipe below uses vegetable oil but you can use coconut oil instead. I loved the hints of coconut too but I know its not for everyone. The glaze on top is also optional but I think it adds an extra layer of delight especially if you make it spiced. A cup of coffee and a slice of this on any cold holiday day will be perfect.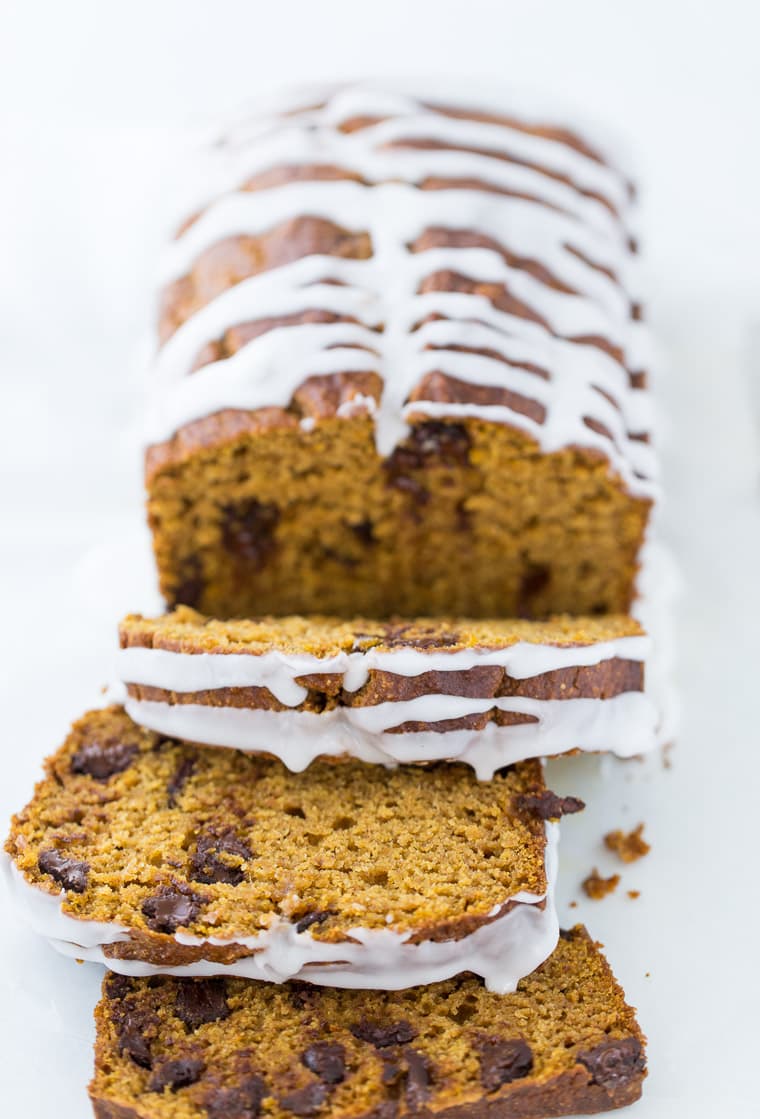 In light of keeping things short today with Thanksgiving right around the corner, get the recipe for this pumpkin bread HERE, on Delish Dish.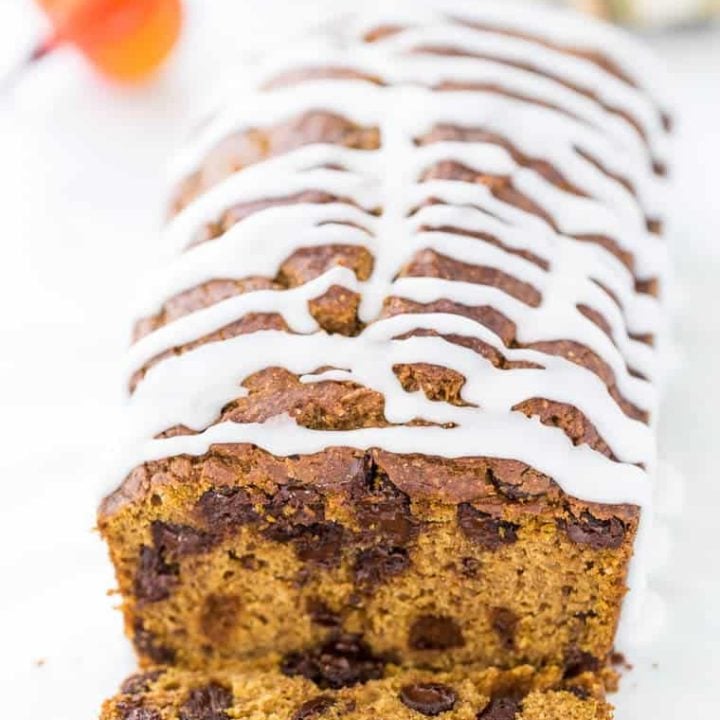 Yield: 2-4 loaves
Whole Wheat Pumpkin Chocolate Chip Bread
Prep Time 25 minutes

Cook Time 45 minutes

Total Time 1 hour 10 minutes
Ingredients
3/4 cup granulated sugar
3/4 cup packed brown sugar
1 6 ounce carton plain low-fat yogurt
1/4 cup vegetable oil
4 eggs
2 1/3 cups whole wheat pastry flour or white whole wheat flour
1 cup all-purpose flour
2 teaspoons baking soda
1 1/2 teaspoons salt
1 1/2 teaspoons ground cinnamon
1 teaspoon ground nutmeg
2/3 cup water
1 15 ounce can pumpkin
1 cup chocolate chips
For Glaze:
1 cup powdered sugar
2 tablespoons milk
A dash of cinnanom
Instructions
Get the full directions on BHG.com


Remember to grab the recipe over on Delish Dish where I am sharing it with their readers too!
MAKING THIS RECIPE? Share it with us on Instagram using #aclassictwist so we can see what you are baking up in your kitchen!