Whole Wheat Pumpkin Chocolate Chip Bread
This pumpkin chocolate chip bread is made with whole wheat flour and yogurt for a decadent treat perfect for the holiday season!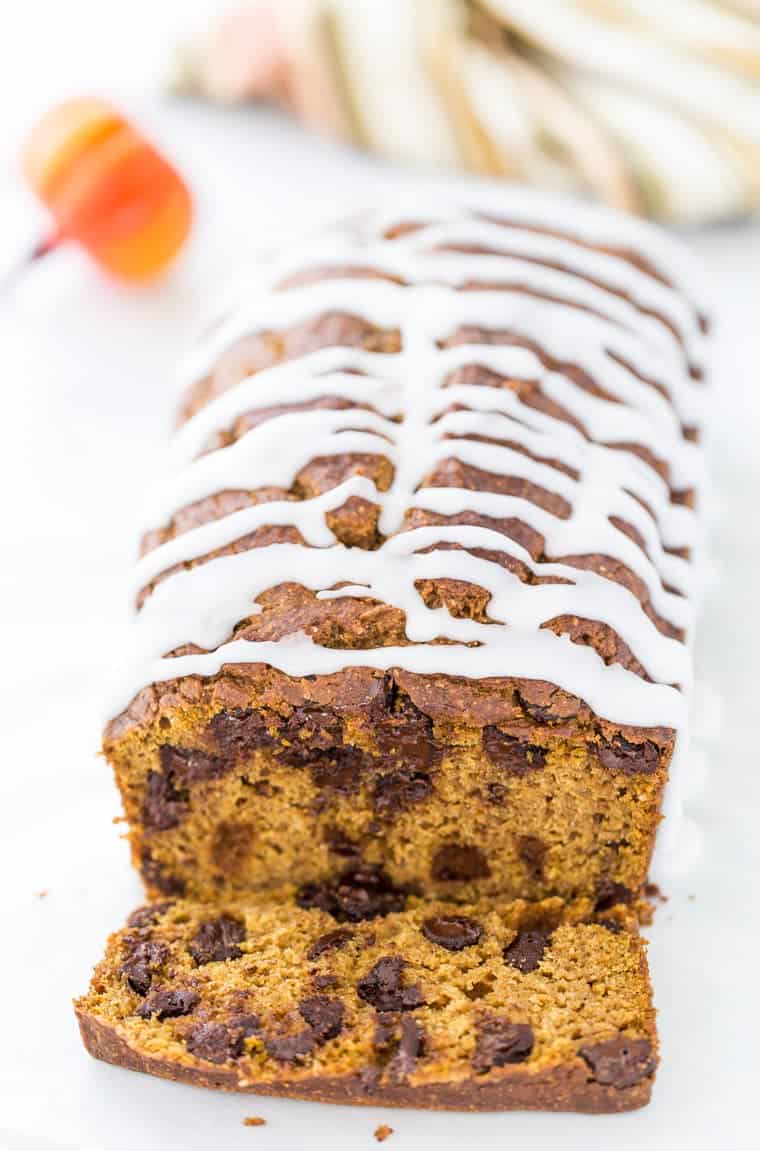 Hi, friends!! How is it Thanksgiving already?? I know we all say this every year but this year has raced by so fast. Just so much going on that we get lost in time and the hustle. But I am glad the holiday season is here and we can slow down a bit to enjoy quality time with family which for me includes baking up a storm.
As you travel this weekend or prepare to host your loved ones, this whole wheat pumpkin chocolate chip bread will be great to have on hand. It's hearty, lightened with yogurt, and has melty dark chocolate chips for a bit of indulgence. It is perfect for a quick snack or a lazy Sunday morning brunch.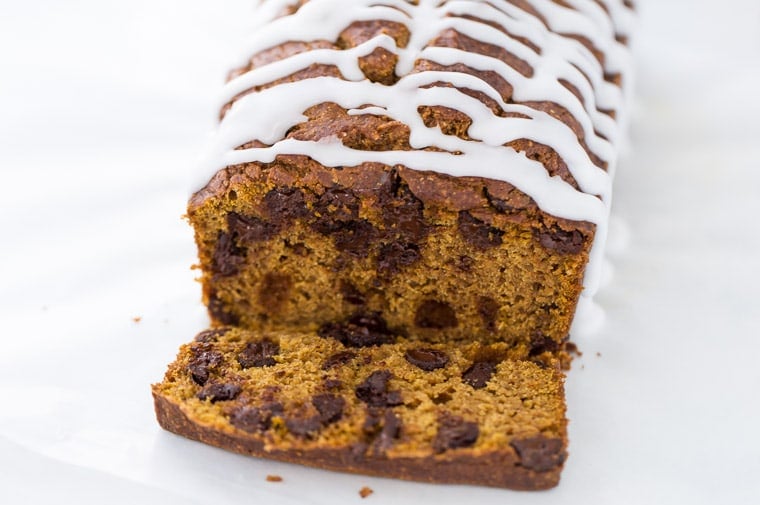 I've made this pumpkin chocolate chip bread a few times already and each time I do it is a hit with my friends and family. I love using low-fat yogurt or Greek yogurt to lighten the recipe as well as sneak in some protein for the kids and adults alike.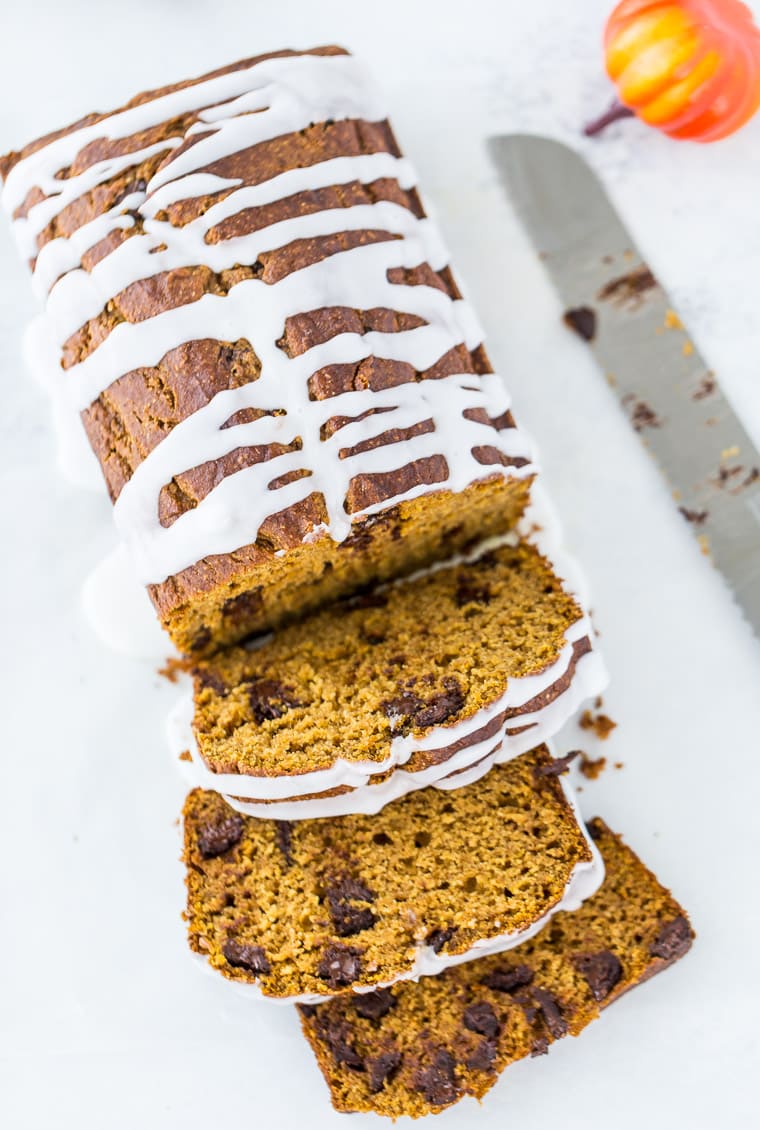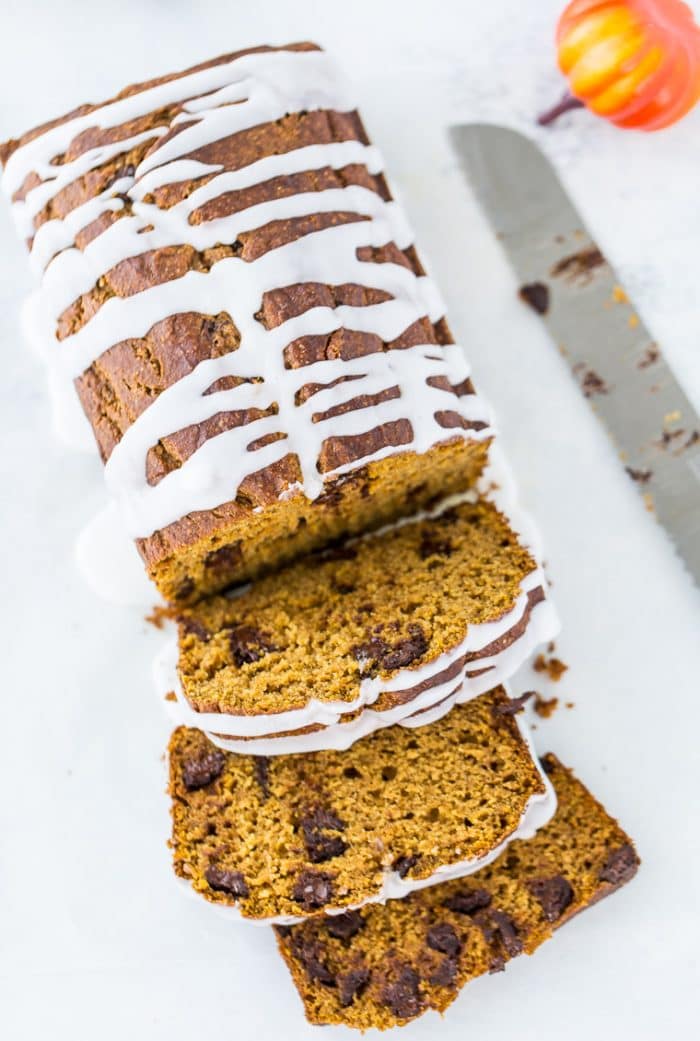 The recipe below uses vegetable oil but you can use coconut oil instead. I loved the hints of coconut flavor in that version but I know coconut is not for everyone. The glaze on top is also optional but I think it adds an extra layer of delight especially if you make it spiced. A cup of coffee and a slice of this pumpkin bread on any cold fall or winter day will be perfect.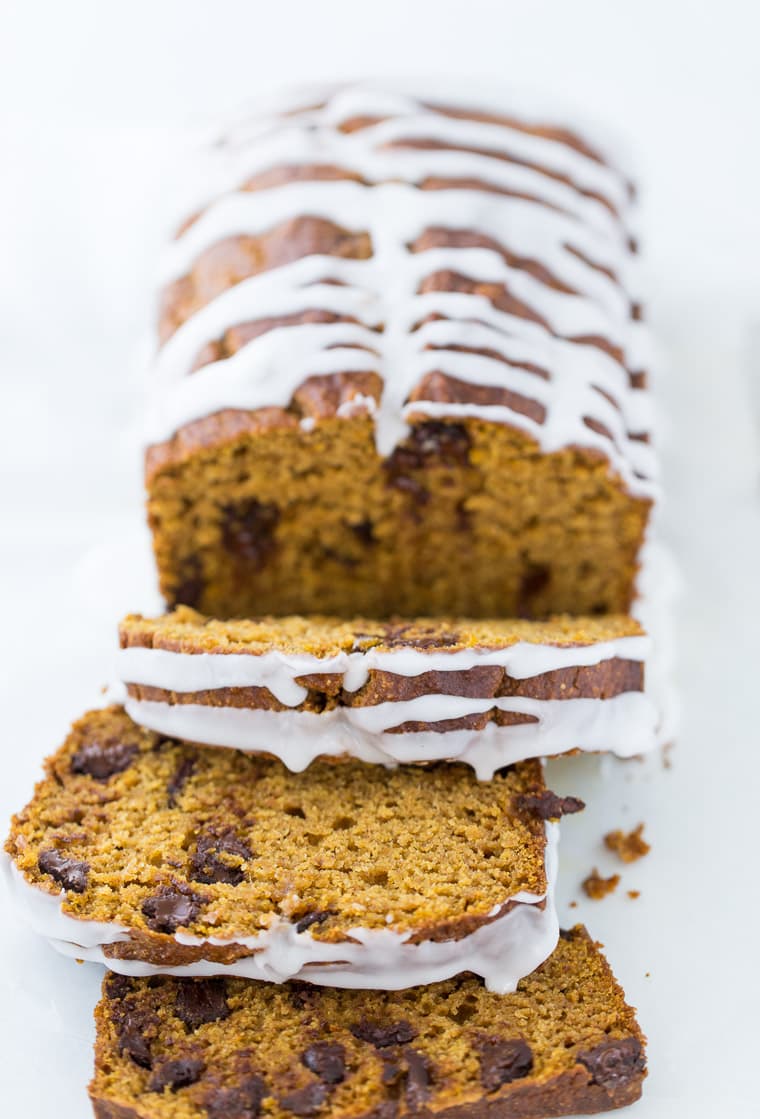 In light of keeping things short today with Thanksgiving right around the corner, get the recipe for this pumpkin bread below.
Have a great holiday weekend!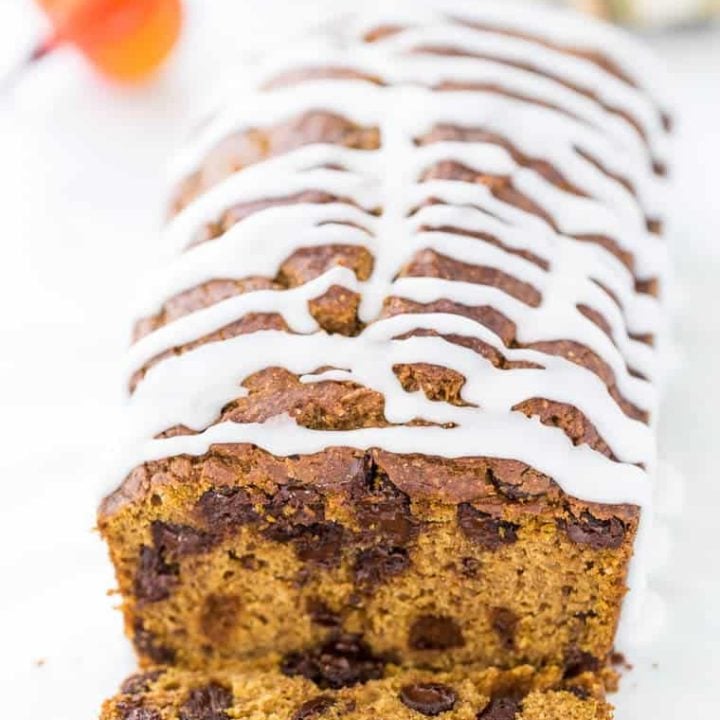 Yield: 1 loaf
Whole Wheat Pumpkin Chocolate Chip Bread
Total Time
1 hour
10 minutes
Ingredients
3/4 cup granulated sugar
3/4 cup packed brown sugar
3/4 cup plain low-fat yogurt
1/4 cup vegetable oil
4 large eggs, at room temperature
2/3 cup water
1 -15 ounce can pumpkin
2 1/3 cups whole wheat pastry flour or white whole wheat flour
1 cup all-purpose flour
2 teaspoons baking soda
1 1/2 teaspoons salt
1 1/2 teaspoons ground cinnamon
1 teaspoon ground nutmeg
1 cup chocolate chips
For Glaze:
1 cup powdered sugar
2 tablespoons milk
A dash of cinnamon
Instructions
Preheat oven to 350 degrees F. Grease a large loaf pan with baking spray, line with parchment with an overhang, and grease the parchment.
In a large mixing bowl, whisk together the sugars, yogurt, oil, and eggs until well combined.
Add in the canned pumpkin puree and water. Mix until combined.
In a separate bowl, whisk together the flours, baking soda, salt, cinnamon, and nutmeg.
Add the dry ingredients into the wet ingredients. Stir until combined. Fold in the chocolate chips.
Pour the batter into the prepared pan and smooth the top.
Bake pumpkin bread until a cake tester or toothpick inserted into the middle comes out clean, about 40-55 minutes.
Remove from the oven and let cool in the pan for at least 10 minutes before transferring to a cooling rack.
While the bread cools, prepare the icing by combing all the ingredients in a small bowl. Stir until combined.
Recommended Products
As an Amazon Associate and member of other affiliate programs, I earn from qualifying purchases.