Cranberry Thyme Sparklers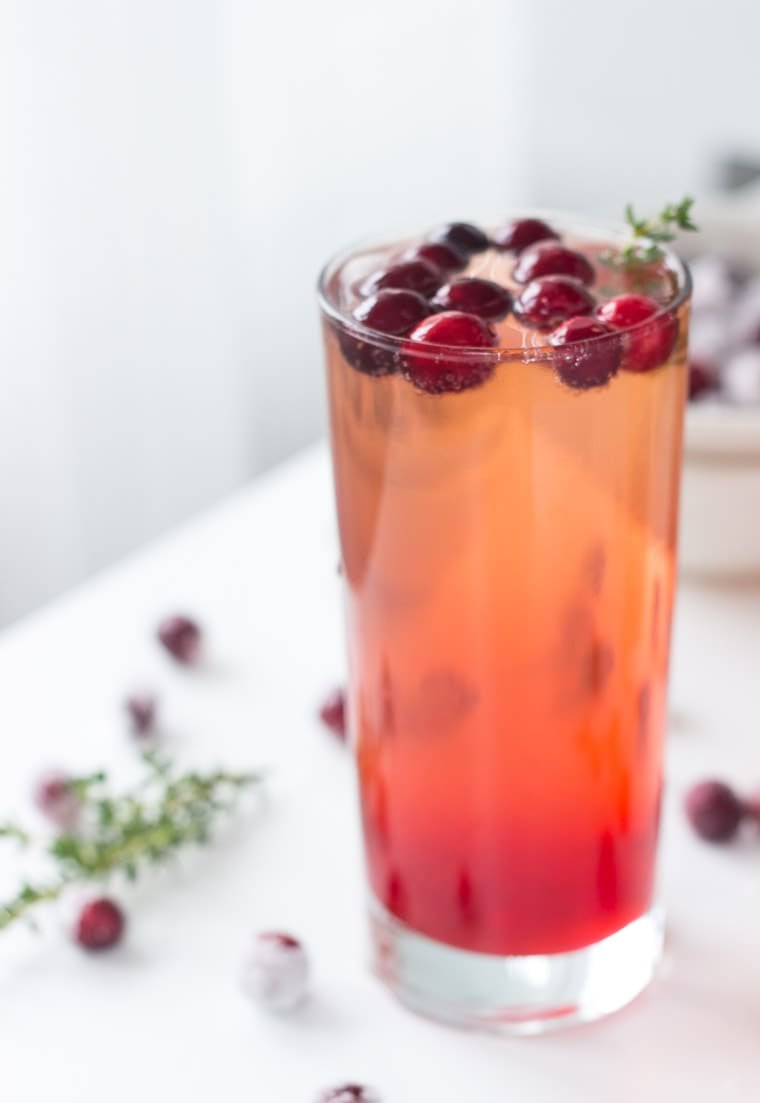 The perfect holiday moment in my mind is a lazy Saturday evening, post dinner, where everyone is chatting over beverages. Given it's usually cold around here, we always have a pot of coffee going.  But I am always looking for something refreshing, festive and girly to keep my holiday spirits up. This year, these cranberry thyme sparklers will be my cocktail of choice and will be available around the clock for any guests.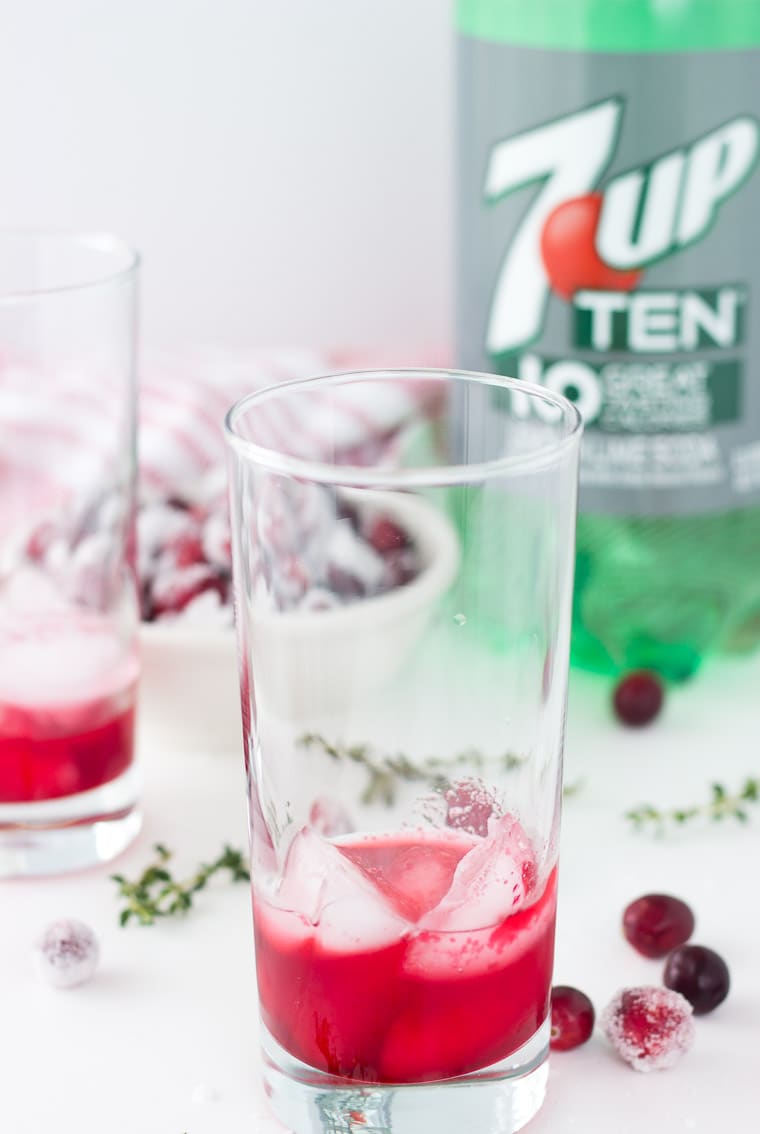 With a sweet cranberry thyme syrup, these sparklers are made bubbly with 7UP TEN, the 10 calorie 7UP® soda which I found at my local Target (along with 5478 other things I didn't need but picked up anyway because it is Target). Using 7UP or Canada Dry is a simple way to introduce bubbly into your cocktail and also a splash of lemon or ginger in your drink. I added some fresh lemon zest to the tart cranberry thyme syrup but if you are using Canada Dry, I suggest you use some fresh grated ginger to amp up the cocktail.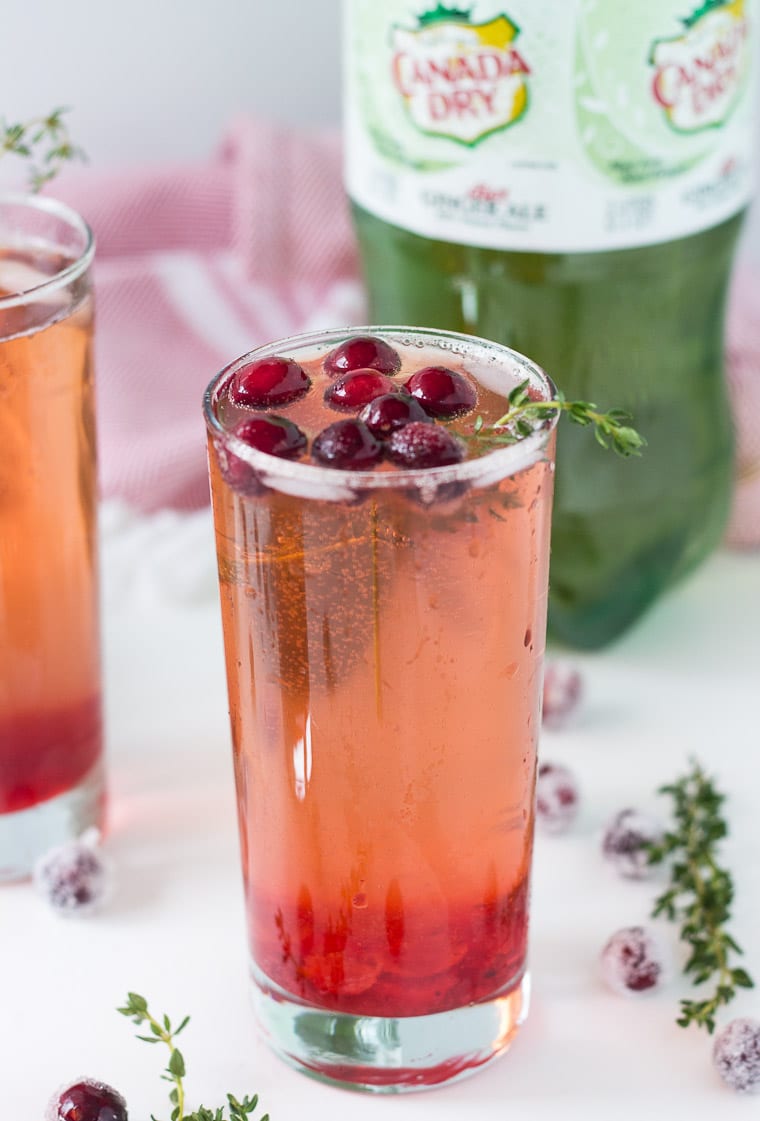 For these cranberry thyme sparklers, you can skip the alcohol altogether but adding a little vodka is a great idea. Since they come together so quickly, you can even have the ingredients set up for your guests to make their own. It will be fun for them to mix-and-match the flavors. Just make sure you let people know not to add the bubblies before shaking in a cocktail shaker. Not that I would know what kind of mess that causes (ahem!).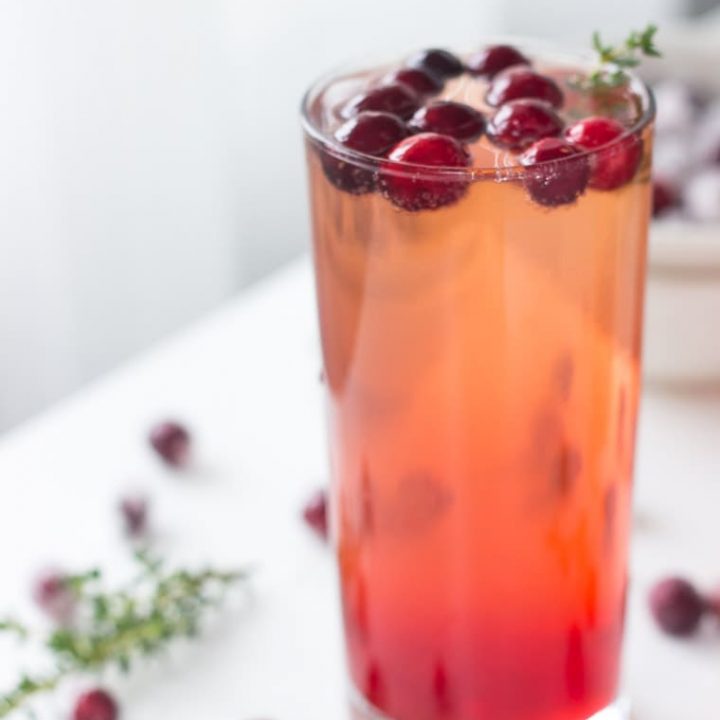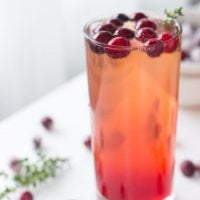 Yield: 3
Cranberry Thyme Sparkler
Ingredients
For Cranberry-Thyme Syrup:
½ cup sugar
½ cup water
½ cup fresh cranberries
2-3 sprigs of fresh thyme
For Sparklers:
2 ounces Cranberry-Thyme Syrup (or more to taste)
1 teaspoon fresh lemon zest or grated ginger
2 ounces vodka (or more to taste, optional)
3 ounces 7UP TEN® or Canada Dry®
Ice cubes
Sugared Cranberries and fresh thyme sprigs for garnish
Instructions
To make Cranberry-Thyme Syrup:
In a small saucepan set over medium heat, bring the sugar, water and cranberries to a boil. Once the cranberries start to pop, stir occasionally and cook for about 2-3 minutes. You don't want the cranberries to get mushy but at the same time you want their flavor in the syrup. Remove from heat and add in the sprigs of thyme. Let steep until completely cool. Pass syrup through a sieve and collect in a small bowl.
For Sparklers:
In cocktail shaker or large pitcher, combine the syrup, lemon zest (or ginger), vodka and ice. Shake well. Divide mixture into serving glasses. Add ice cubes to each glass and top off with 7UP® or Canada Dry®.
Stir and adjust taste with syrup. Enjoy!