Peppermint Red Velvet Cupcakes
These Peppermint Red Velvet Cupcakes were made in partnership with Ghirardelli to celebrate the upcoming Holiday Baking Day on December 10th.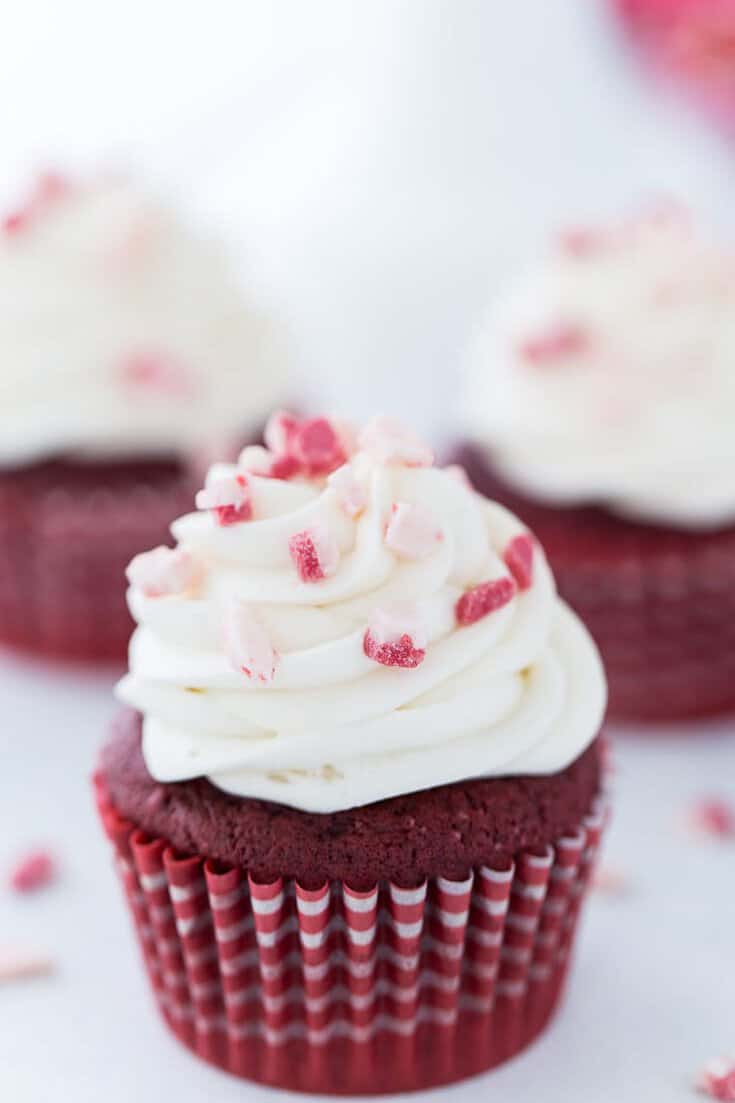 Happy December!! It is officially time to dust off your baking pans if you haven't already. Take out the gingerbread cookie cutters, the reindeer antlers decorations for cupcakes, and the PEPPERMINT.
If you have been around Blahnik Baker for a recipe or two during the holidays, you know peppermint rules my holiday baking. From my classic peppermint mocha cupcake to this peppermint white chocolate creme brûlée, I always indulge in a decadent peppermint treat to get in the holiday spirit. And this year is no exception, these Ghirardelli Red Velvet Peppermint Bark cupcakes are perfect to ring in the holiday baking season.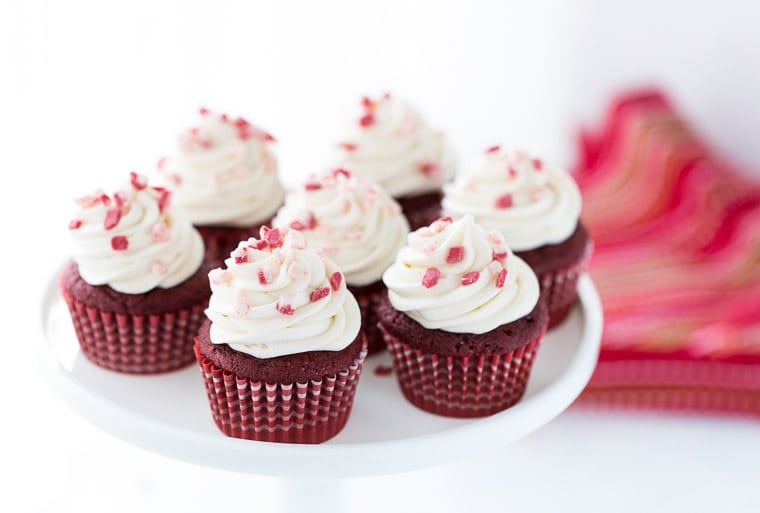 'Tis the Baking SEASON!
I don't think it gets more exciting than baking in December. I usually have two or three whole days reserved for baking holiday treats. From decorating cookies with my niece to making my annual batch of peppermint marshmallows for holiday gifts, I look forward to baking days and why I am so excited to celebrate Ghirardelli's Holiday Baking day on December 10th, to kick off the holiday season.
Saturday, Dec 10th is Baking Day, and to celebrate the day, I teamed up with Ghirardelli to give you a chance to win a Baking Day gift basket and my favorite kitchen tool, the KitchenAid Hand Mixer. But more on that later…let's talk about these red velvet peppermint cupcakes.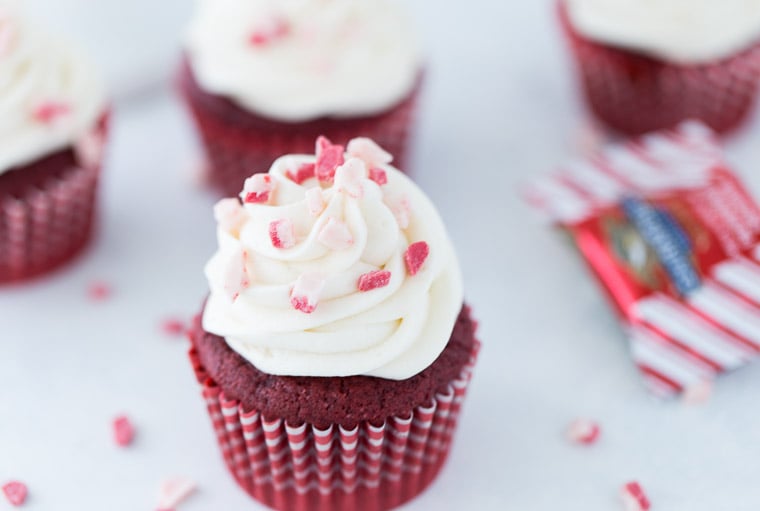 In addition to five new recipes for Baking Day, Ghirardelli has a LOT of delicious chocolate recipes on their website. These red velvet peppermint bark ones caught my eye recently and I had to make them in preparation for the holidays. It is a great combination of moist fluffy cupcakes with hints of chocolate AND peppermint.
I decided to add peppermint extract to the cupcake batter for an added flavor and topped off with chopped peppermint bark. The seasonal Ghirardelli Peppermint Bark is one of my favorite stocking stuffers that I get from the hubs. These cupcakes were a hit and I will be remaking them this month for a few holiday parties.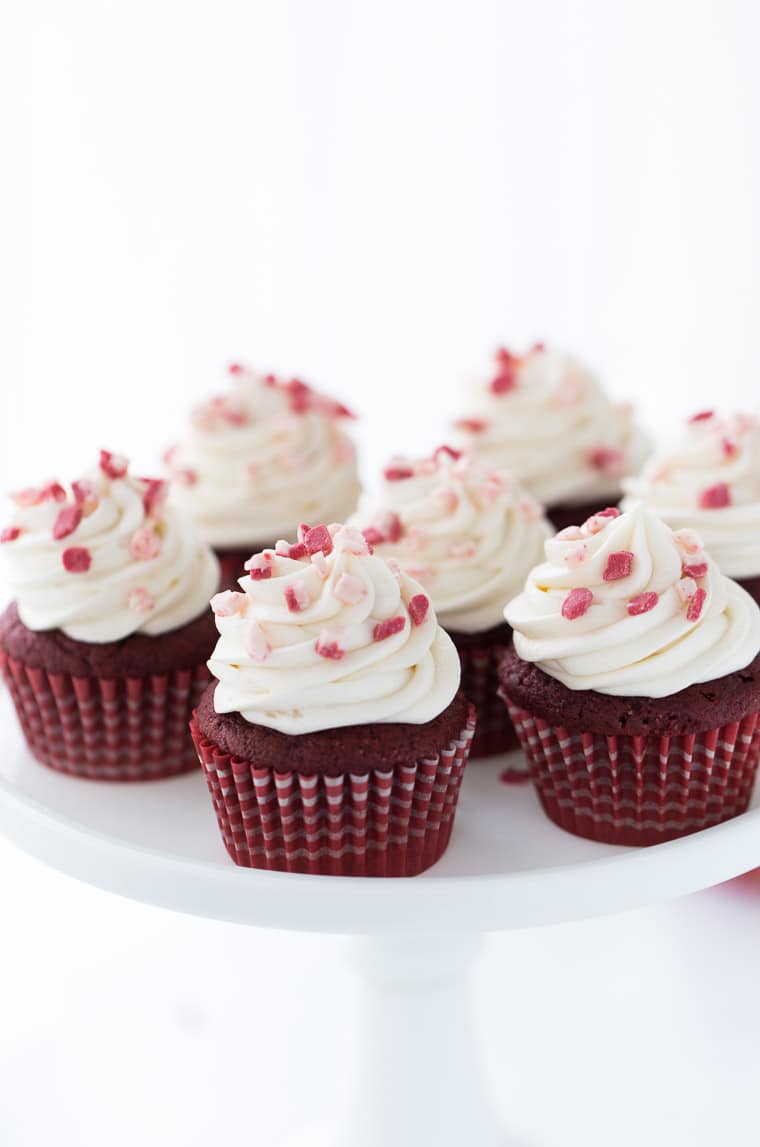 Do you spend a whole day baking in the holiday season? If you do (and even if you don't), make sure you join Ghirardelli and me on December 10th to celebrate Holiday Baking Day. To help make your baking day a sweet success, enter below for a chance to win a Baking Day gift basket and a KitchenAid Hand Mixer.
TO ENTER: Leave me a comment below with your favorite chocolate recipe for the holiday season. (Be sure to comment with an email you would like to be reached at if you win)
For more Ghirardelli Holiday Baking Day recipes, check out these 5 exclusive recipes created in partnership with Food52:
Soft Pumpkin Chocolate Chip Cookies
No Bake Dark Chocolate Almond Butter Bon Bons
Chocolate Holiday Sables Cookies
HAPPY BAKING DAY!!!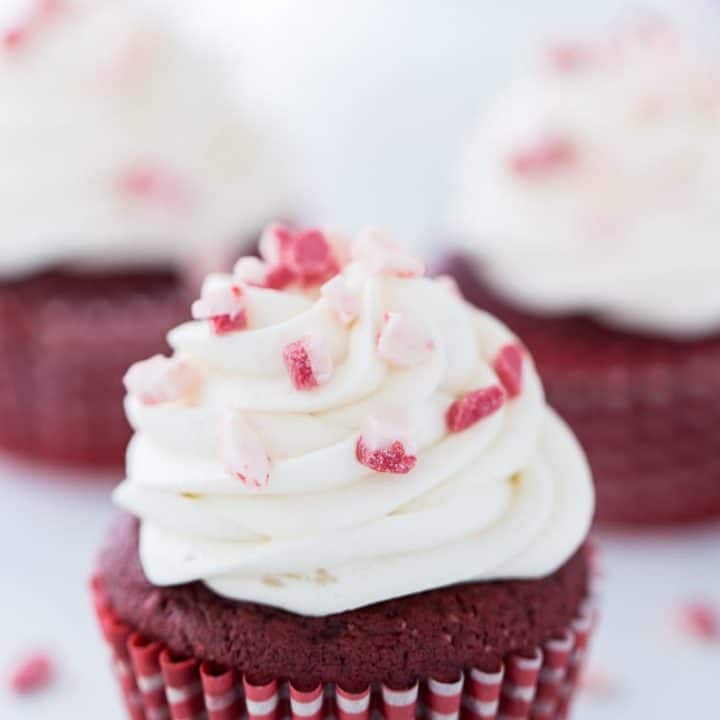 Yield: ~24 cupcakes
Peppermint Red Velvet Cupcakes
Decadent red velvet cupcakes topped with sweet peppermint icing.
Ingredients
For the Cupcakes:
2 cups all-purpose flour
2 tablespoons Ghirardelli Unsweetened Cocoa
½ teaspoon salt
½ cup unsalted butter, softened
1 ½ cup granulated sugar
2 large eggs, at room temperature
1 teaspoon vanilla extract
1 teaspoon peppermint extract
1 tablespoon red food coloring
1 cup buttermilk, at room temperature
1 teaspoon baking soda
1 teaspoon apple cider vinegar
For the Cream Cheese Frosting:
2 8-ounces packages cream cheese, softened
1/2 cup (1 stick) unsalted butter, softened
3 cups sifted confectioners' sugar
1 teaspoon peppermint extract
2-3 tablespoons milk
Instructions
Preheat oven to 350 degrees. Line a regular muffin tin with cupcake liners.
In a medium bowl, sift flour, cocoa powder, and salt together, set aside. In the bowl of an electric mixer fitted with the paddle attachment (or using a hand mixer), cream the butter and sugar until light and fluffy, about 3-5 minutes.
Add the eggs one at a time and mix well. Mix in the vanilla and peppermint extract and red food coloring. Alternate the flour mixture with the buttermilk, beginning and ending with flour mixture.
In a small bowl, mix together the baking soda and cider vinegar. It will foam. Add to the batter immediately and mix until well combined in the batter.
Divide the batter evenly into the prepared liners, filling about ⅔ full. Bake for 12-14 minutes, or until a toothpick inserted into the center comes out clean. Remove cupcakes from pan and let cool completely on wire racks.
In a large mixing bowl, beat the cream cheese and butter until smooth. Add the powdered sugar, peppermint extract, and milk. Mix on low speed for a minute and then increase to medium-high speed to beat until well combined.
Frost cupcakes with buttercream. Top with peppermint crushed candies.
Notes
Recipe Adapted from Ghirardelli
Recommended Products
As an Amazon Associate and member of other affiliate programs, I earn from qualifying purchases.
Disclosure: This post is sponsored by Ghirardelli. All opinions are 100% mine. The giveaway is open until Wednesday, December 7th at midnight. One winner will be selected randomly and emailed to claim the prize within 24 hours. The holiday baking basket prize is sponsored by Ghirardelli and Hand Mixer prize is sponsored by Blahnik Baker.