Peppermint White Chocolate Creme Brulee
This peppermint white chocolate creme brulee is sweet, silky smooth and just decadent for an extra special holiday dessert.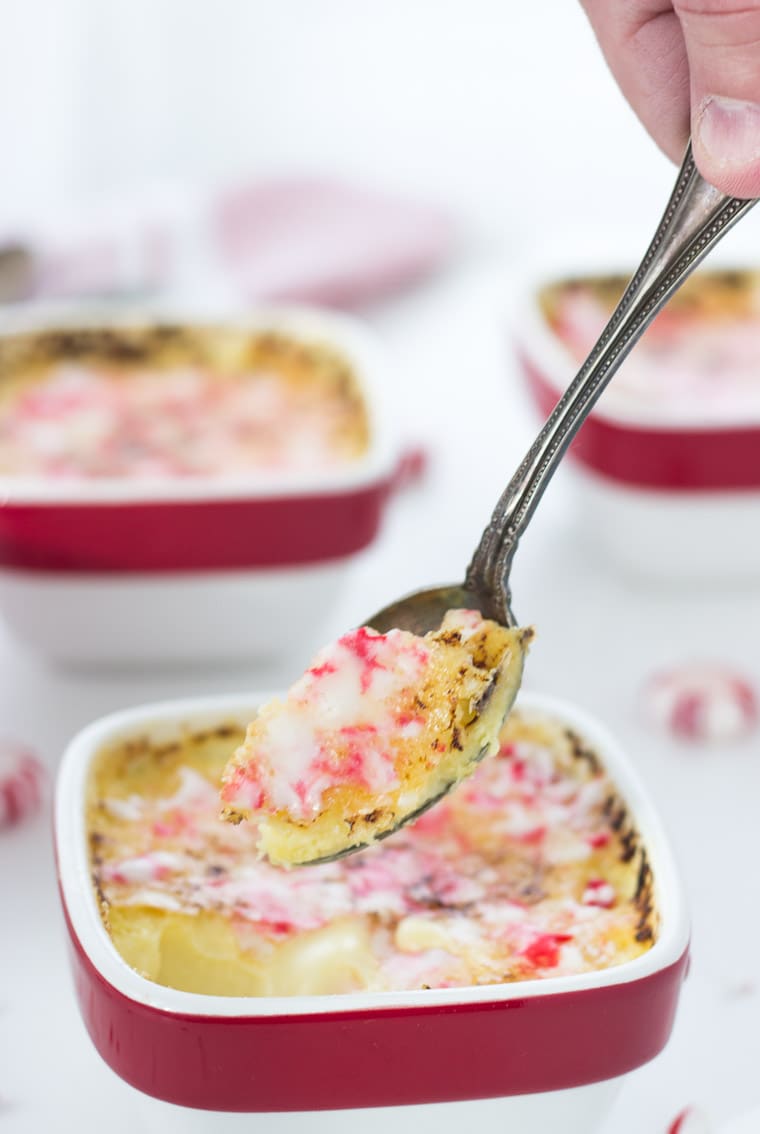 Hello Peppermint! Hello holiday season officially! It's December and even though it is one of the craziest times of the year, it is one of my favorites. For good reasons of course; it's peppermint, gingerbread and eggnog season. I am starting the season off with this peppermint white chocolate creme brulee to usher in all things PEPPERMINT!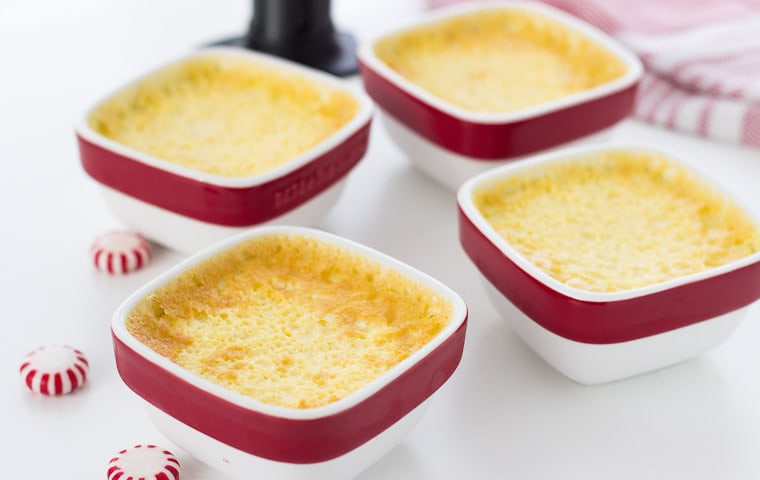 It is also 'game-on' time for entertaining, which can get expensive to bring the A-game with a show-stopping dessert. That's why I am using some smart shopping tricks this year that I learned from Chef Brigitte (Cooking Channel Host) at a recent visit to the ALDI Test Kitchen. She advises us to save on the basics and yet make extraordinary meals and splurge on those special items that will wow our guests.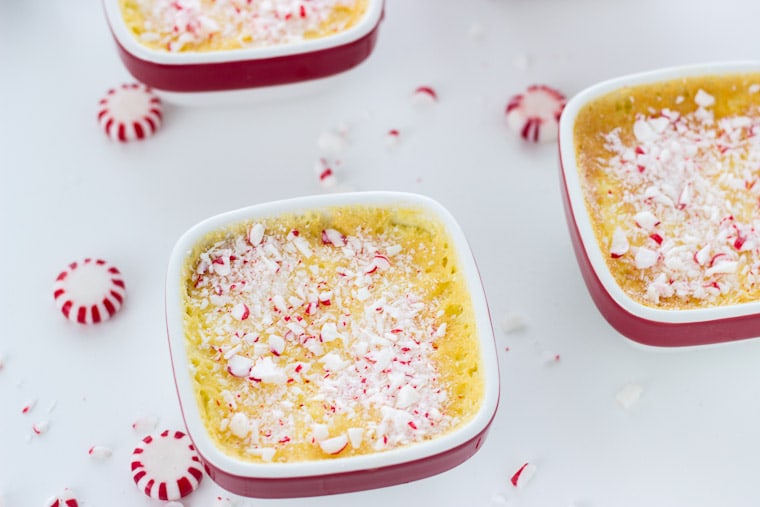 This peppermint white chocolate crème brûlée is an extraordinary dessert that is made with basic, affordable ingredients. Doesn't crème brûlée sound so fancy? In reality, it's just the mixing of eggs, cream and sugar. Yup! Simple three ingredients that do not involve breaking the bank yet can wow your guests for that special holiday dessert.
Using my favorite vanilla bean creme brulee recipe, I added in some peppermint extract and melted white chocolate. Peppermint and white chocolate are always so good together, and even though I am a huge fan of the peppermint mocha combo, white chocolate wins my heart any day. This peppermint white chocolate creme brulee is sweet, silky smooth and just decadent for an extra special holiday dessert.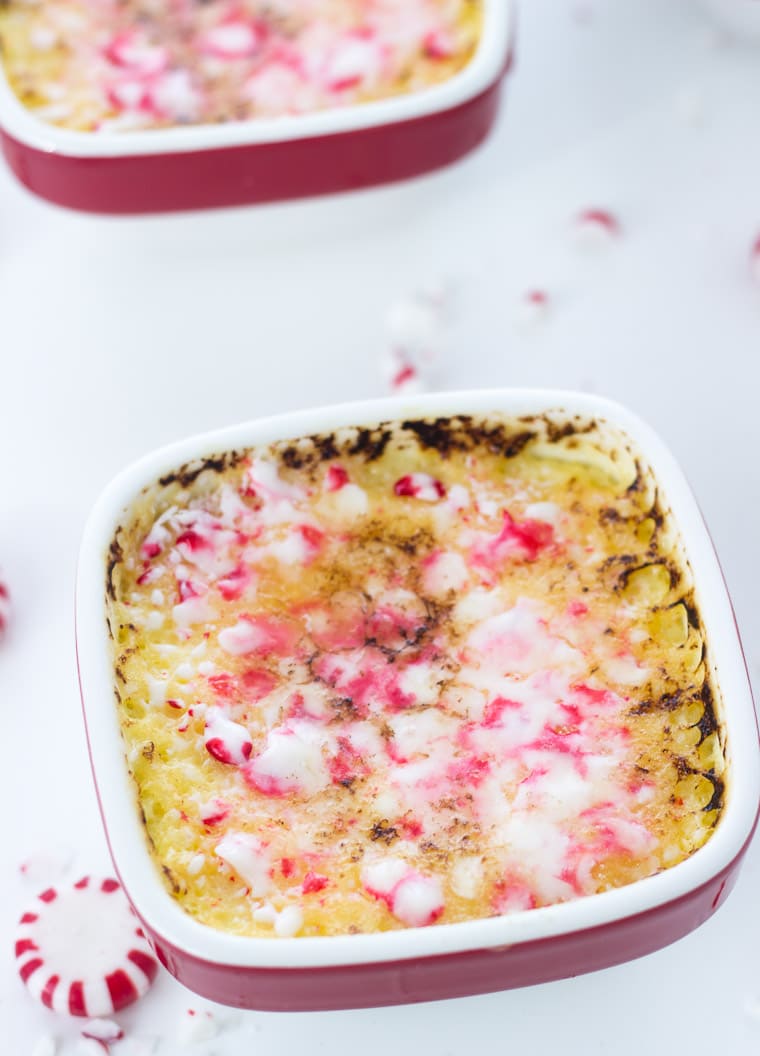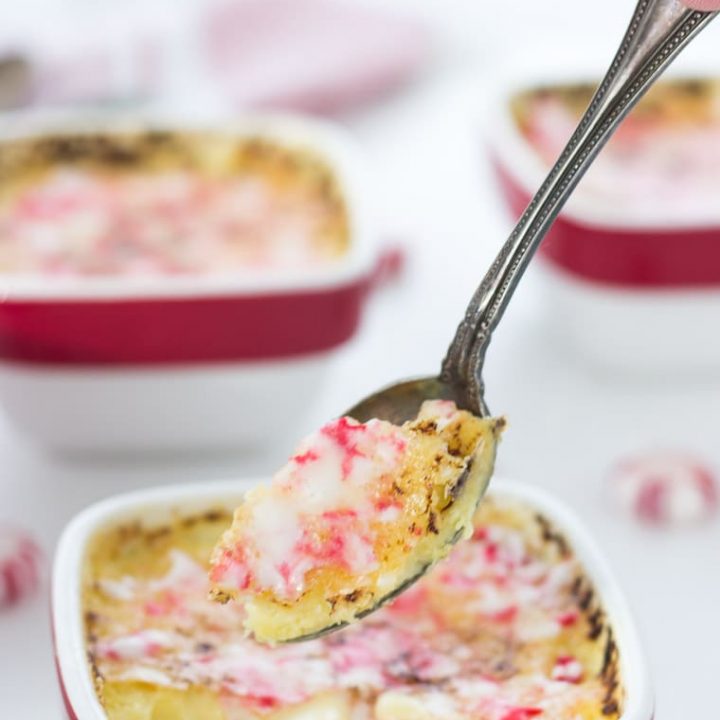 Yield: 4 8-ounce ramekins
Peppermint White Chocolate Creme Brulee
Ingredients
2½ cups heavy cream
4 ounces white chocolate bar, finely chopped
2 teaspoons vanilla extract
1 teaspoon peppermint extract
8 egg yolks
3 tablespoons granulated sugar
Topping: ¼ cup crushed candy canes
Instructions
Preheat oven to 300 degrees F.
Heat the heavy cream in a medium saucepan over medium heat until cream starts foaming around the edges. Do not boil. Remove from heat and mix in the white chocolate. Let cool undisturbed for about 10 minutes. Mix until white chocolate is smooth. Add in vanilla and peppermint extracts. Strain mixture.
In a large bowl, whip the egg yolks and sugar until pale yellow in color and slightly thicken. While stirring constantly, gradually add the hot cream mixture into the eggs mixture. Add the cream slowly to avoid cooking the eggs. Mix until combined.
Pour equal amounts into 4 ramekins (8 ounces each). Transfer ramekins to baking pans (9-inch or bigger) and fill baking pans with hot water about halfway up the sides of ramekins.
Bake custards until set but still jiggly in the center, about 35-40 minutes. Remove from oven and let cool on cooling rack. Cover with plastic wrap and refrigerate for at least 4 hours or overnight.
When ready to serve, sprinkle the crushed candy canes over the top of each ramekin. Use a kitchen torch to caramelize/melt the candy cane. Enjoy immediately.
Thank you ALDI for sponsoring this recipe. As usual, all my opinions are 100% mine and I love sharing with you products/companies I use and enjoy in my kitchen. For more recipe ideas, visit ALDI on Facebook, Twitter and Pinterest.