Pumpkin Eggnog with Bourbon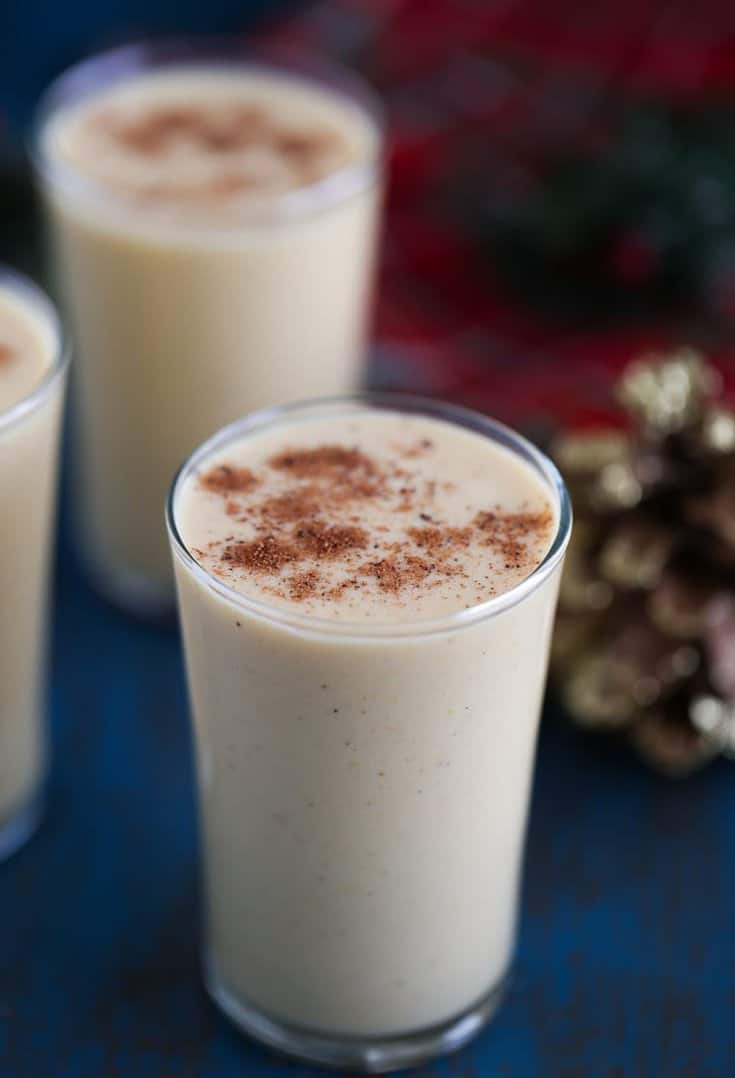 Happy Monday friends! How is it week two of December already? The stress and rush of the season seems to be everywhere I look. HELLO?? It was just Thanksgiving. Aieee, I need to not only get my act together and start my holiday shopping, but also get baking!! There are so many things I want to make for the season and as usual I'm running out of time. But we are starting this lovely week with a holiday drink. This pumpkin eggnog with a splash of bourbon brings together the best of fall flavors into classic holiday drink and will help us all chill, slow down and just enjoy the season.
Eggnog is one of my least favorite holiday flavors (peppermint is right up there!!) but the hubs loves his eggnog. So every year, I get requests for eggnog treats. Last year, I made him these stunning eggnog cupcakes for his work holiday party but this year, he gets his own homemade eggnog! No more buying it from the store. And I can't believe how easy it is to make your own.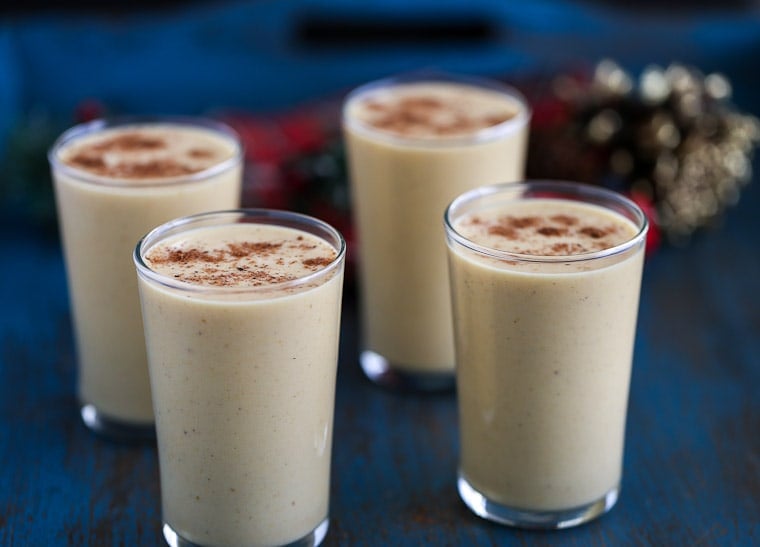 A few weeks ago, I tried homemade eggnog for the first time and it was made by the lovely Top Chef Brooke Williamson at a recent Egg Mixer event hosted by Davidson's Safest Choice Eggs. Her pumpkin eggnog was so delicious I knew I had to recreate it for my eggnog-loving husband. And thanks to the kind folks over at Safe Eggs, I can share the recipe with you too!
I love using Davidson's Safest Choice eggs because they are pasteurized… meaning it eliminates the risks of Salmonella in eggs before they get to your kitchen and you don't have to worry about getting sick from eggs that might not be fully cooked as in eggnog. I love using them to bake as well especially when I was pregnant and wanted to make sure tasting that cookie dough will not make me or the baby sick. If you haven't yet, you need to try them!
And if you are an eggnog lover, you will love this pumpkin eggnog. It's a great way to continue enjoying pumpkin season and welcome the winter and holiday season. Cheers!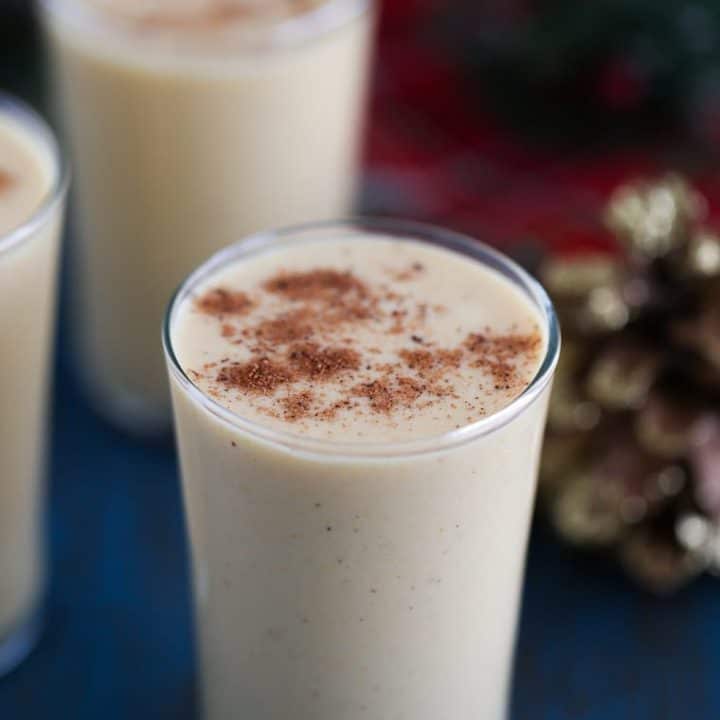 Yield: 4 6-oz servings
Pumpkin Eggnog with Bourbon
Total Time
2 hours
5 minutes
Ingredients
8 Safest Choice™ egg yolks
1½ cups whole milk
1½ cups cream
1 cup granulated sugar
A pinch of salt
2 teaspoons vanilla extract
¼ cup bourbon or dark rum
¼ cup + 1 tablespoon pumpkin puree
½ teaspoon ground cinnamon
¼ teaspoon ground ginger
A pinch of ground cloves
¼ teaspoon grated nutmeg, plus more to garnish
Instructions
Place the yolks into a blender.
In a medium heavy bottomed saucepan, bring the milk, cream, sugar and salt to a simmer over medium heat. Do not let boil.
Give the eggs a quick pulse in the blender to combine. With the blender on, slowly add half of the hot milk mixture to the egg yolks. Once combined, pour the egg-milk mixture back into the saucepan set over medium heat. Whisk mixture constantly and cook until it starts to thicken and mixture reaches 160F on a thermometer (about 3-5 minutes).
Remove from heat and which in the vanilla extract, bourbon, pumpkin, cinnamon, ginger cloves and nutmeg.
Strain through a fine mesh sifter and chill for 2-3 hours before serving. Serve chilled with additional nutmeg.
Notes
Recipe adapted from Safe Eggs(published with permisiion)
PS: I was not compensated in anyway by Safe Eggs, I just love using their eggs in my kitchen 🙂