Pomegranate Orange Scones
Thank you ALDI for sponsoring this recipe. As usual, all my opinions are 100% mine and I love sharing with you products/companies I use and enjoy in my kitchen.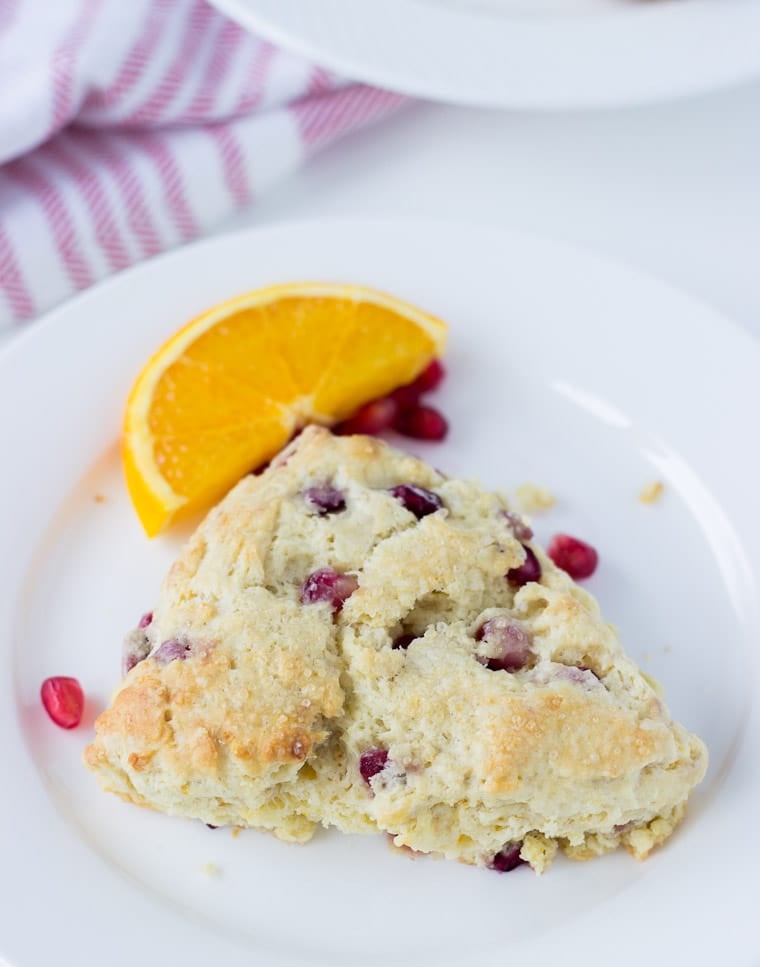 You guys, I crossed off another thing on my culinary baking bucket list – SCONES!! These pomegranate orange scones are the first scones I've ever baked and they definitely will NOT be the last because they are so good and also so easy. Like most things coming off my bucket list (Macarons, Soufflés and Crème Brule), they are not as hard as I made them seem in my head.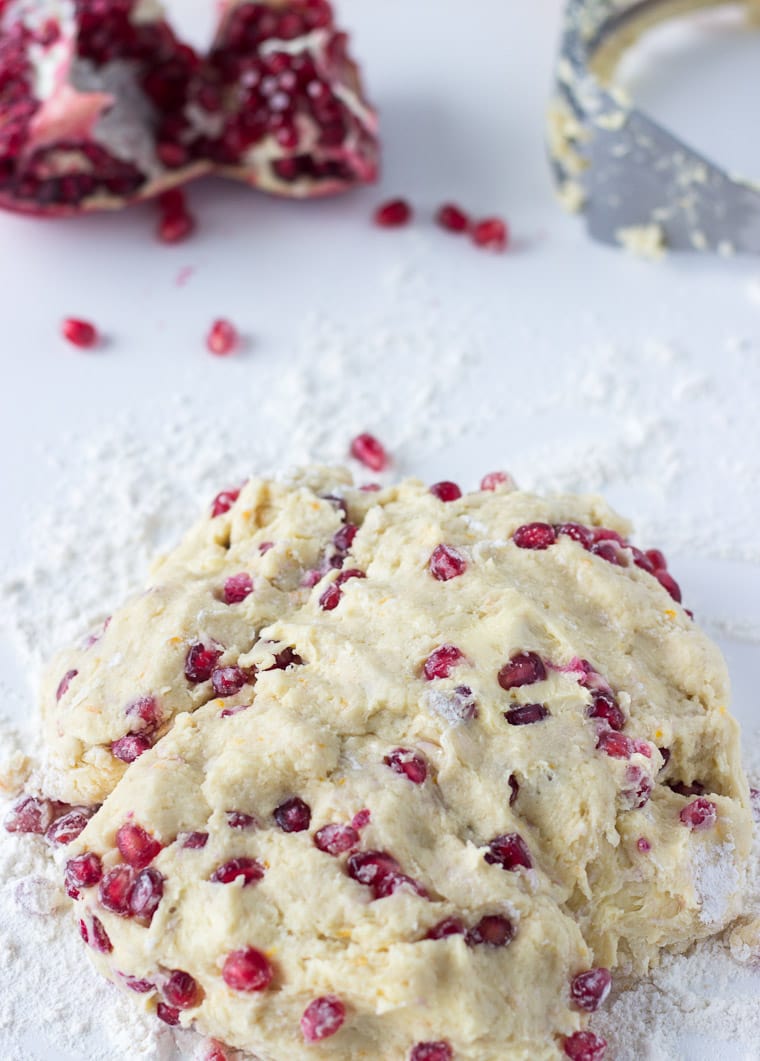 Scones are one of my favorite afternoon snacks with a cup of tea. My inner English always requires a soft, flaky and buttery scone and since the perfect one is hard to find, I assumed it was generally hard to accomplish the task. But it was time to break that streak and make myself a good ole fashioned scone. Who am I kidding? I don't do good ole fashioned; instead I always have to toss in some fruits or spice with my creations. These pomegranate scones are no exception and they were inspired by a recent trip to an ALDI store were I spotted some big and plump pomegranates for $0.99. I almost jumped to grab a few but I was visiting the ALDI Test Kitchen and had to pretend I was civilized. But only until I made it back home. I may have bought a few too many poms at my local ALDI store and now I am using them in everything.
To say these scones were inspired by my lack of self-control around pretty red fruits would be … accurate! I am happy they did though because I LOVE making scones. Yes… just after one recipe J These scones are buttery, flaky and orange-y good!! Bursting with orange zest and crunchy pomegranates, they make for the perfect afternoon snack with your cup of tea or heck whom am I kidding, breakfast too!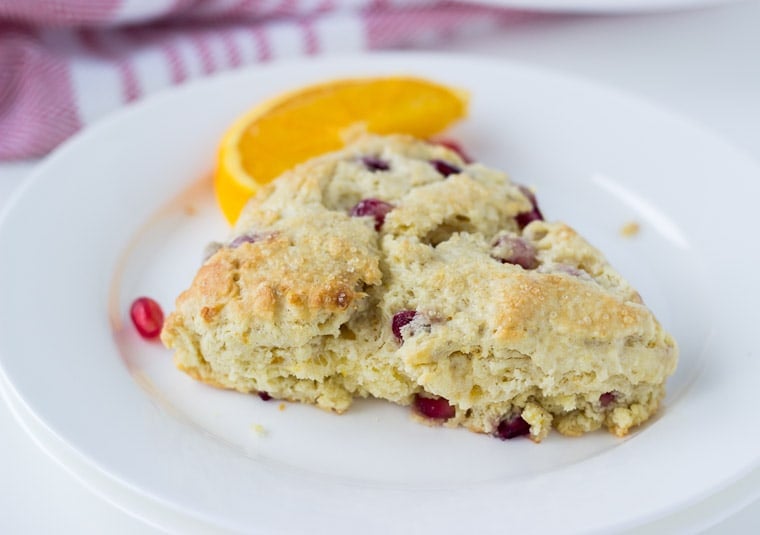 Now that you have heard all about these scones (MAKE THEM), let me tell you about my visit to the ALDI headquarters I mentioned earlier. A few other bloggers and I met the wonderful team that taste tests all the products in the stores and we were immersed in a Switch & Save session where we blind-tasted ALDI store brands vs. national brand products. This included orange juice, yogurt, cheese, chips etc. and the exercise was to determine which one you preferred and if we could tell which one was the ALDI store brand. Of course, I couldn't tell the difference but it's probably because I've been shopping at ALDI for a while now. As a graduate student on a steep stipend, saving any cha-ching on groceries comes in handy and why I love doing most of my grocery shopping at ALDI. Knowing now first hand that they are committed to stocking their stores with quality and healthy foods for every diet, I am more than excited to keep shopping there.
And as long as they keep bringing in fresh, GIANT, pomegranates for $0.99, I am in and will be bringing you some more recipes using my recent haul. Stay tuned!!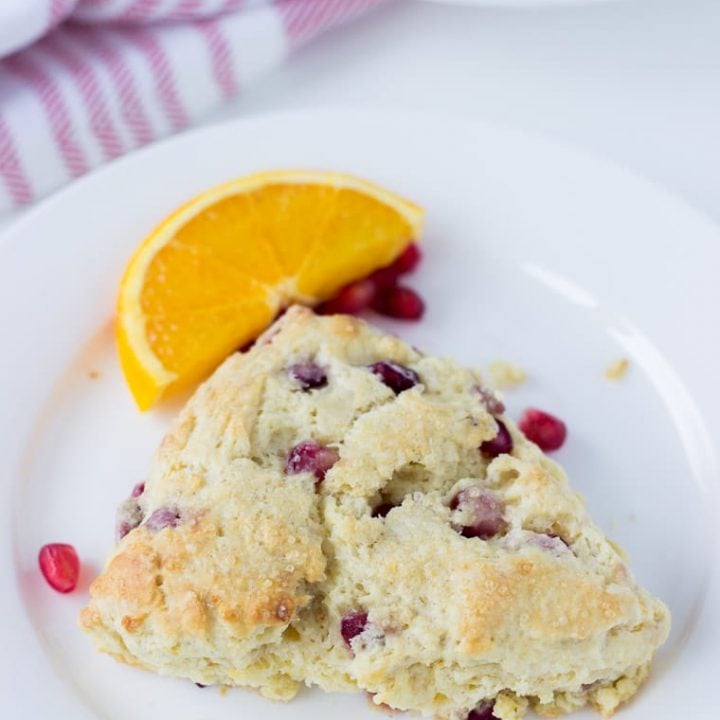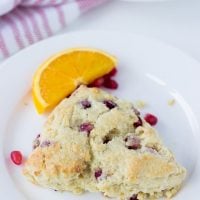 Yield: 8 scones
Pomegranate Orange Scones
Ingredients
2 cups all-purpose flour
¼ cup almond meal/flour
¼ teaspoon kosher salt
¼ cup granulated sugar (you can reduce to 3 tablespoons if you prefer)
2½ teaspoons baking powder
½ cup unsalted butter, cold and cut into cubes
½ cup pomegranate seeds
1 large egg
¾ cup heavy cream, cold
2 tablespoons orange juice
zest of one orange (~2 teaspoons)
1 teaspoon pure vanilla extract
Topping:
1 tablespoon milk for brushing
Generous amount of turbinado sugar
Instructions
Line a baking sheet with parchment paper and set aside.
In a large bowl, whisk together the flour, almond meal, salt, sugar and baking powder. Using a pastry cutter, mix in the butter into the dry ingredients until pea-sized. Do not over mix as you want pockets of butter in your dough for a flaky scone. Mix in the pomegranate seeds
In a separate medium bowl, whisk together the egg, heavy cream, orange juice, zest and vanilla extract.
Make a well in the dry ingredients and pour the wet ingredients into it. Gently mix until a dough starts to form.
Turn the dough onto a lightly floured surface and work it gently into a circle. Pat into an 8-inch circle, about 1-inch high. Use more flour if the dough is sticky to work with.
Using a sharp knife, slice the dough into 8 equal triangles. Transfer each to the prepared sheet. Chill the triangles for 15 minutes in the freezer.
Meanwhile, Heat oven to 400 degrees F.
Brush triangles lightly with milk. Generously sprinkle turbinado sugar over the scones.
Bake scones until golden brown, about 25-30 minutes.
Remove from oven and let cool. Enjoy scones immediately, while warm.
For more information and recipe ideas, visit ALDI on Facebook, Twitter and Pinterest.