Cinnamon Angel Food Cake with Caramelized Apples
A very light and fluffy cinnamon angel food cake is topped with sweet caramelized apples for a stunning holiday dessert!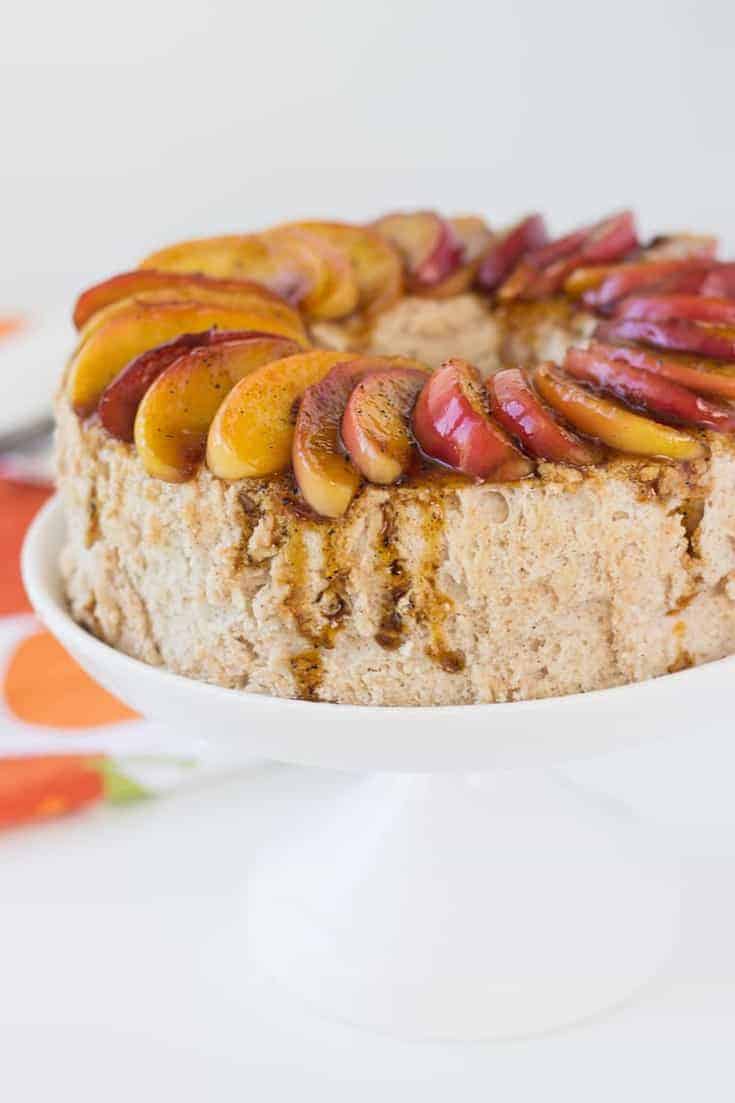 How is it that we are already a week away from Thanksgiving?? Time is flying by too fast. I need to decide on what sides to bring to our Thanksgiving dinner at the in-laws. I try to do some sort of veggie side (NOT green bean casserole) or salad but I am having trouble this year coming up with a refreshing option. Do you have any favorite side dishes? Please share, I need some inspiration.
As far as dessert goes, I always have a number of options. This year, I am bringing this show-stopping cinnamon angel food cake with caramelized apples to the table. Why should pumpkin get all the glory for Thanksgiving?? Apples deserve a prime spot on the dessert table if you ask me.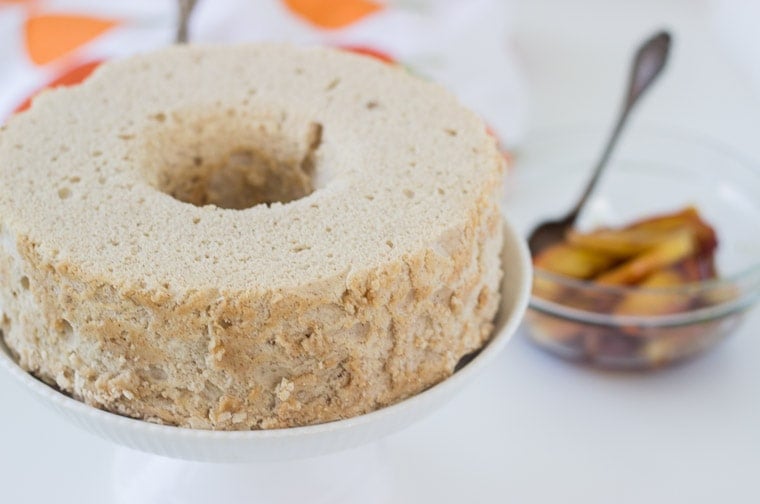 I also think angel food cake should be an all-year round dessert; not just in the summer. It's just so easy to whip up and with no fuss or decorating needed, it is the perfect holiday cake to wow your guests with little or no effort. For this cake, I used my favorite light and fluffy angel food cake recipe and infused it with some of fall's warm spices (cinnamon and nutmeg) and flavors (apples and caramel). Topped with a sweet caramelized apple concoction, this cake is everything an apple dessert should be.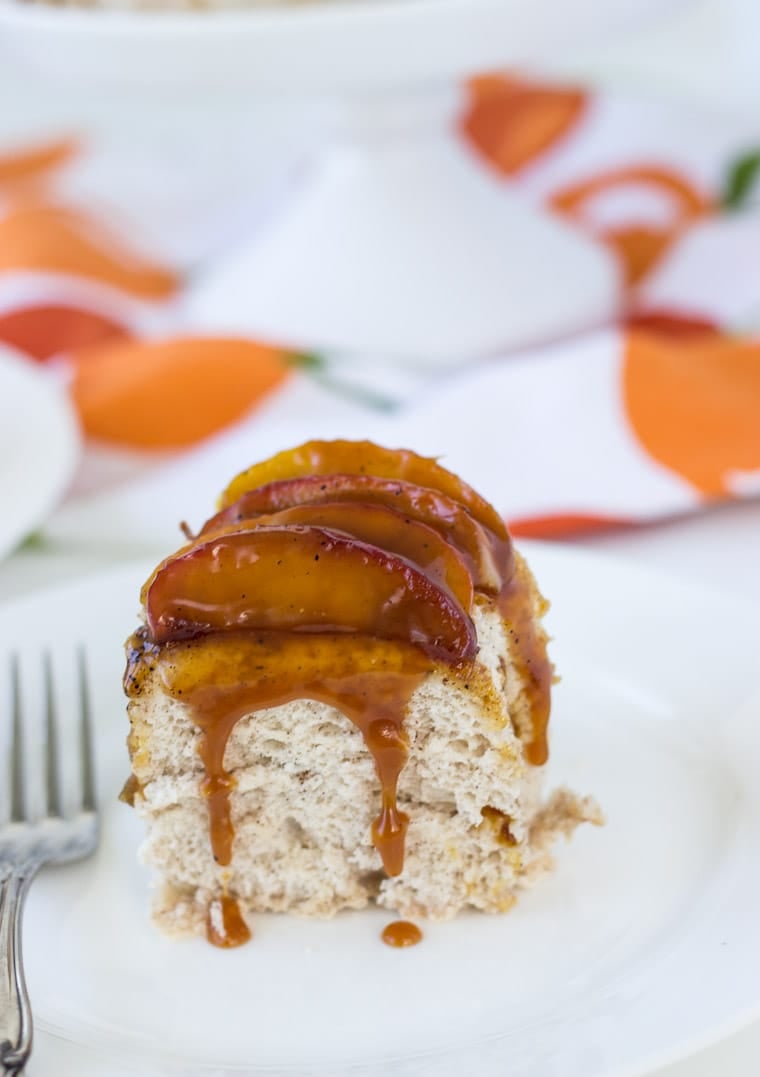 I'm sharing the recipe over on Best Friends for Frosting, one of my favorite lifestyle websites with lots of inspiration for stylish and creative living. Be sure to grab the recipe and make this cake this holiday season!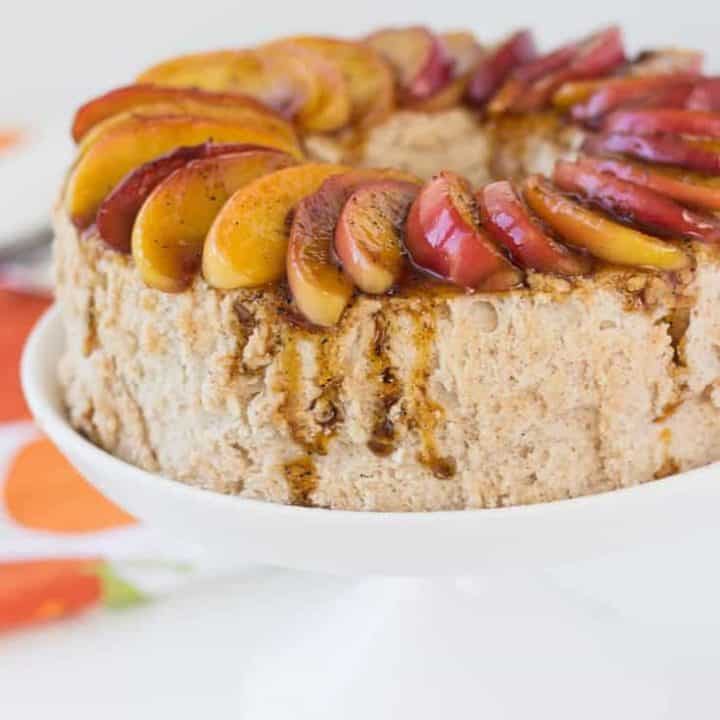 Yield: serves 8-10
Cinnamon Angel Food Cake with Caramelized Apples
Ingredients
For Cake
¾ cup sifted powdered sugar
½ cup sifted cake flour
1 teaspoon ground cinnamon
¼ teaspoon nutmeg
¾ cup egg whites (5 to 6 large), at room temperature
¾ teaspoons cream of tartar
1 teaspoon vanilla extract
½ cup granulated sugar
For Topping:
2 tablespoons unsalted butter
2 tablespoons brown sugar
2 apples, peeled and diced
2-3 tablespoons caramel sauce
Instructions
Adjust the oven rack to the lowest position in the oven. Preheat the oven to 350 degrees F.
Sift the powdered sugar and flour three times in a large bowl. This aerates the flour and allows the cake to be light and airy. Do not skip this step. Whisk in the cinnamon and nutmeg.
In the bowl of the stand mixer, combine the egg whites, cream of tartar, and extracts. Whip the egg whites on medium speed until soft peaks form. With the mixer on, gradually add the granulated sugar about 2 tablespoons at a time, beating until stiff peaks form.
Sift about a fourth of the flour mixture over the beaten egg whites. Fold flour into the egg whites using a rubber spatula. Repeat sifting of the flour mixture and folding gently until all the flour is incorporated into the egg whites.
Pour the mixture into an ungreased 10-inch tube pan. Use your spatula to gently cut through the batter to remove any large air pockets.
Bake cake on the lowest rack for 40-45 minutes or until the cake top springs back when lightly touched. Remove immediately from the oven and invert the cake still in the pan. Let cool completely in the inverted pan.

When cooled, loosen the sides of the cake from the pan and remove the cake.
Using a serrated knife, slice the cake gently into three equal layers. Transfer
to a serving plate.
In a small saucepan, combine the butter, brown sugar, and apples. Cook, occasionally stirring, until the sugar dissolve and the apples soften. Cook for about 5 minutes, remove from stove top, and let cool.
When ready to serve, top the cooled cake with the caramelized apples. Drizzle with caramel sauce and serve.