Mini Pumpkin Pies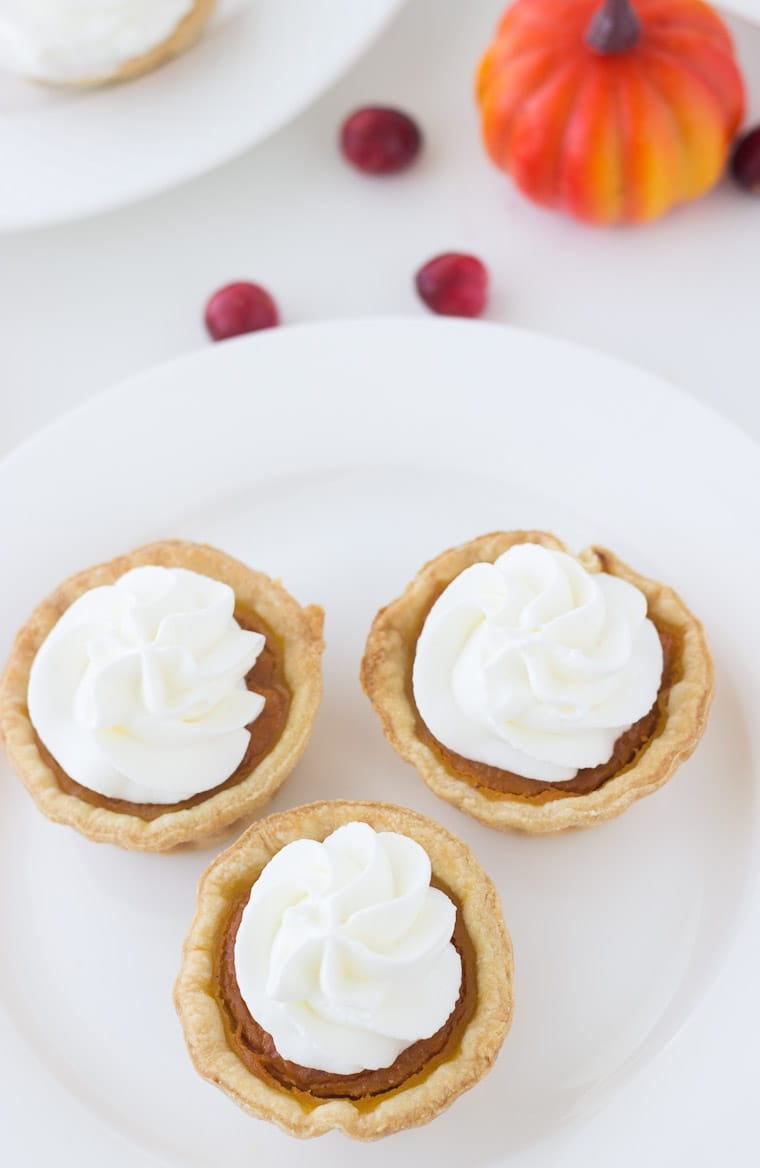 I realized I haven't made a traditional pumpkin pie…EVER! I love using coconut milk when I make my pumpkin pie to add a twist and plus it's lighter but the hubs recently asked for a good ole fashioned pumpkin pie and I will be honoring him soon with it. But in the meantime, I created a spread of mini pies for a holiday dessert table including these mini pumpkin pies. Mini pies are a great way to entertain during this time of the year and are always pretty on a dessert table.
Despite my excitement to reinvent classics, I know that sometimes people just crave and love those classic flavors of the season like pumpkin, cranberries, and caramel. These mini pumpkin pies will satisfy those cravings. Starting with a simple, buttery, and flaky pie crust, I filled these with a rich pumpkin pie filling and topped them with homemade whipped cream. Delicious little delights that will be perfect after a feast…and also for Friendsgiving parties!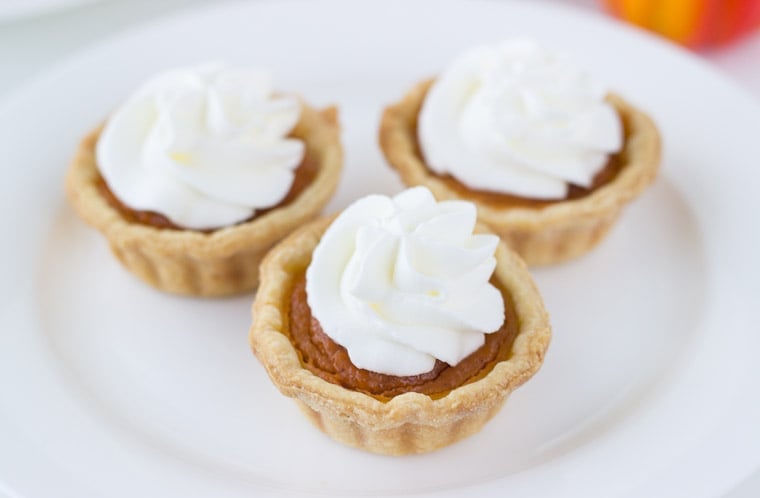 Also, try out my pumpkin tart. The pumpkin pie filling is sweetened with maple syrup.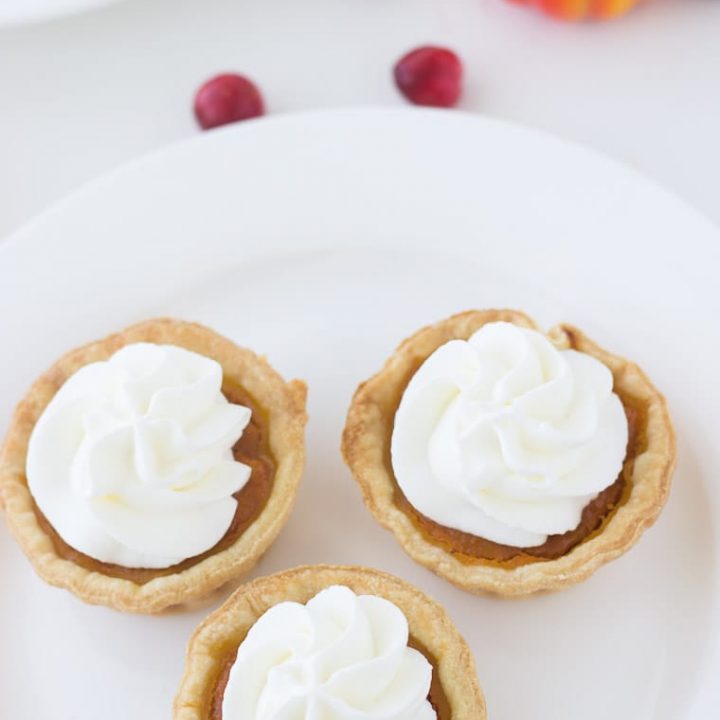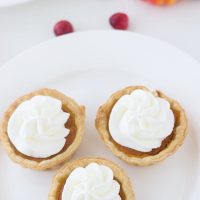 Mini Pumpkin Pie Tarts
Ingredients
For pie crust
1 1/4 cup all-purpose flour
6 tablespoons unsalted butter, cold and cut into cubes
2 tablespoon shortening, cold and cut into cubes
2 tablespoons granulated sugar
1/4 cup ice cold water
For pumpkin pie filling
1/4 cup granulated sugar
Pinch of salt
1/2 teaspoon ground cinnamon
Pinch of ground ginger
Pinch of ground cloves
1 large egg, room temperature, lightly beaten
1/2 cup canned pumpkin puree
1/4 cup milk
1 teaspoon vanilla extract
For cranberry ginger filling
4 ounces fresh cranberries
1/4 cup brown sugar
1/2 teaspoon freshly grated ginger
Pinch of salt
For topping
Homemade whipped cream
Caramel Sauce
Instructions
To make the dough, combine all the ingredients except the water in the bowl of a food processor. Process a few times until butter is about the size of a pea. With food processor on, slowly drizzle in ice cold water to mixture, one tablespoon at a time, until dough comes together. Remove dough from bowl and pat down into a disc. Wrap in plastic wrap and chill for at least an hour.

For the pumpkin pie filling, combine all the ingredients in a bowl and mix until well combined.
When you are ready to make your pies, preheat oven to 400 degrees F. Remove chilled dough from the refrigerator and roll out onto a lightly floured surface into a 10-inch circle. Use a 4-inch round cutter to cut out 6 rounds. Transfer rounds to a KitchenAid® Professional-Grade Nonstick Mini Pie Pan and fit well by pressing down gently. Fill each mini tart 3/4 of the way with pie filling, about 1 tablespoon each.

Bake for 20 minutes or until crust is golden and filling is just set. Transfer the mini tarts from the tart pan to a wire rack for cooling. Top pies with whipped cream and caramel sauce drizzle. Store leftovers refrigerated.