Pumpkin Maple Tart with Spiced Pecan Crust
Classic pumpkin pie filling is made with pure maple syrup and wrapped in a spiced pecan crust. This pumpkin maple tart is the perfect last-minute Thanksgiving treat.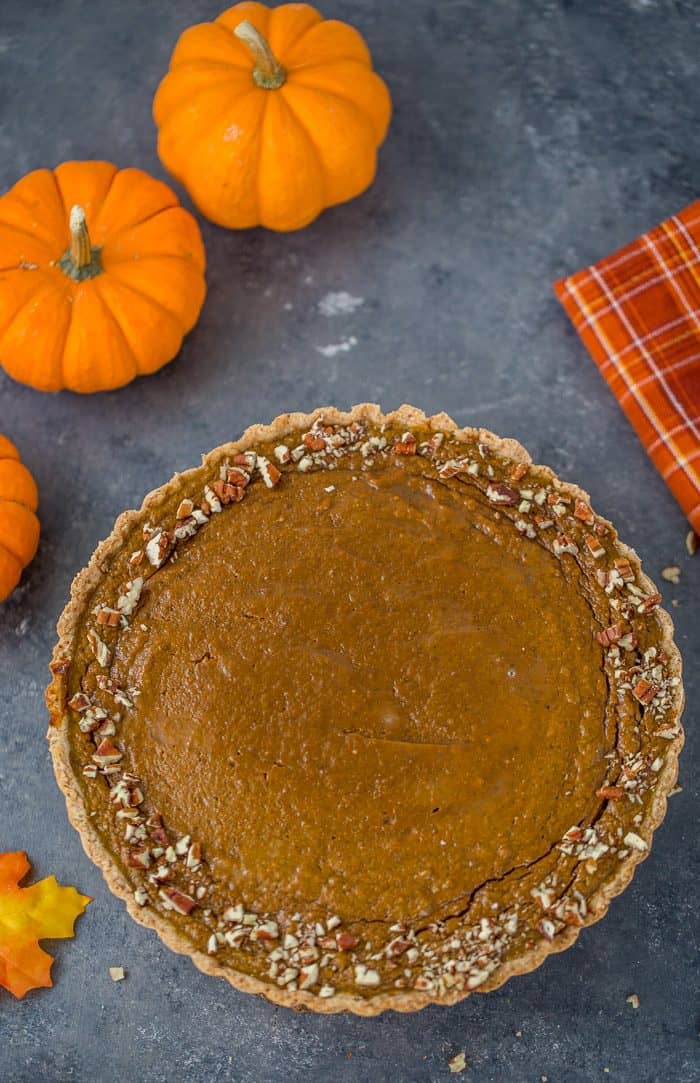 Hi friends! Are you still looking for a last minute Thanksgiving dessert?? Look no further than this make-ahead pumpkin maple tart. It's your classic pumpkin pie (in a tart form) with a twist of a spiced pecan crust. This recipe is an oldie but a goodie that is a hit at any gathering.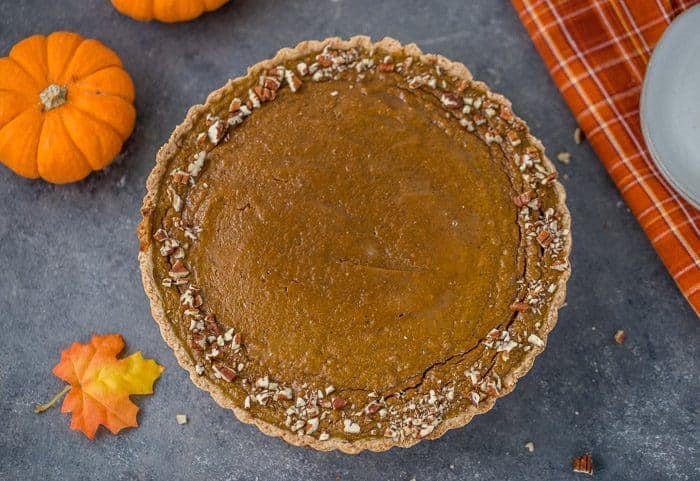 Since we are talking last-minute here, this pumpkin maple tart is EASY to make and you can prep it a day or two ahead of time to make room for other busy cooking.
Starting with the crust, this tart boasts of a spiced pecan crust. Buttery tart crust with cinnamon, ginger, cloves, and pecans blended right in for a robust nutty fall flavor. The filling is basically pumpkin pie filling made with pure maple syrup.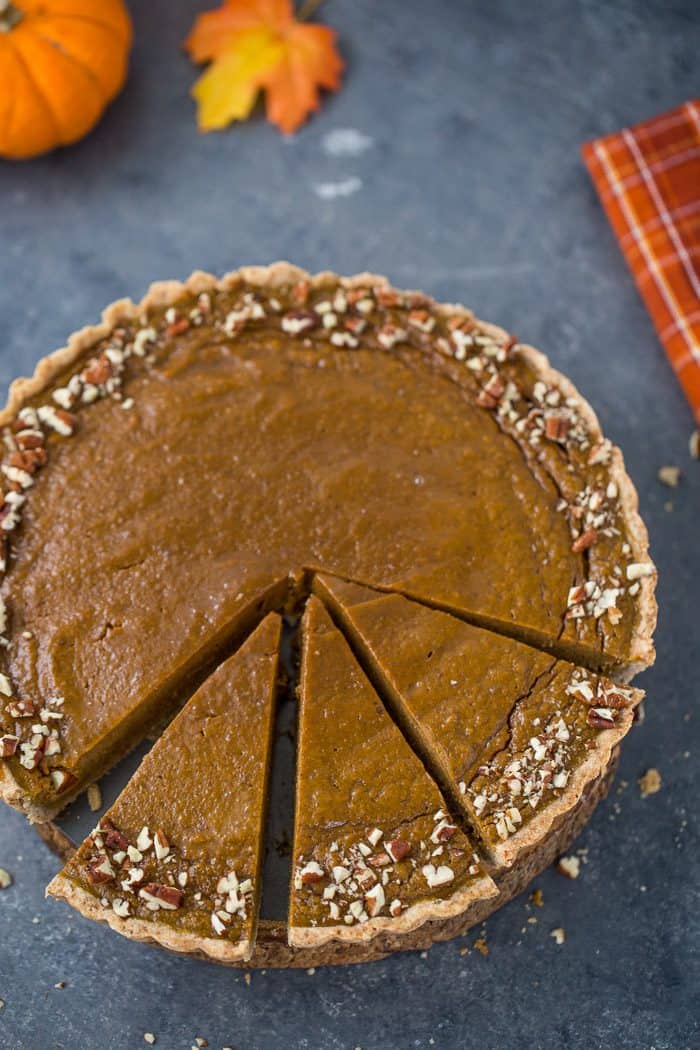 Bake it the day before, chill and you are party ready. I've served it with fresh whipped cream and a drizzle of caramel too. I hope you enjoy it!
For more Thanksgiving dessert ideas, check out my Thanksgiving archives. This cranberry apple pie or pumpkin coconut pie can be made the day or two ahead as well.
Have a Happy and safe Thanksgiving weekend with your friends and family.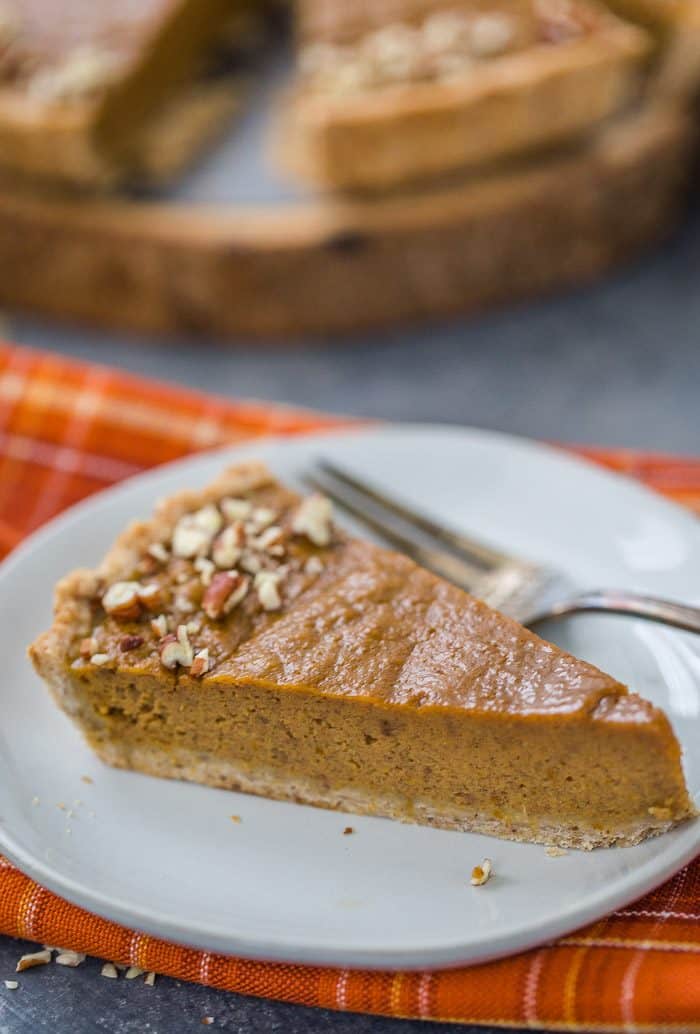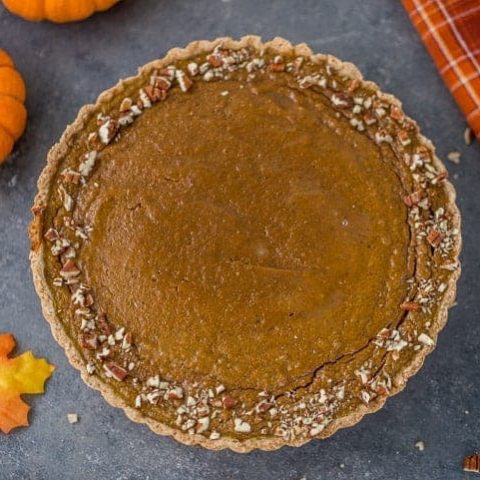 Yield: 1 9-inch tart
Pumpkin Maple Tart with Spiced Pecan Crust
Classic pumpkin pie filling is made with pure maple syrup and wrapped in a spiced pecan crust.
Prep Time 40 minutes
Cook Time 1 hour 15 minutes
Total Time 1 hour 55 minutes
Ingredients
For Crust
1 cup + 2 tablespoon all-purpose flour
1/4 whole wheat flour
1/4 cup pecans
1/2 teaspoon cinnamon
1/4 teaspoon ground ginger
1/8 teaspoon cloves
2 tablespoons brown sugar
1/4 teaspoon salt
1/2 cup unsalted butter, cold and cut in cubes
For Filling
1 can (15-ounce) pumpkin puree (~2 cups)
1 teaspoon ground cinnamon
1 teaspoon ground ginger
1/4 teaspoon freshly grated nutmeg
1/2 teaspoon salt
A pinch of cloves
1/2 cup pure maple syrup
4 large eggs, lightly beaten
Instructions
For Crust:
Prepare 1/2 cup ice-cold water and keep in fridge. In a food processor bowl, pulse the flours, pecans, cinnamon, ginger, cloves, sugar and salt.
Add in half of the butter and pulse for 30 seconds. Add in the rest of butter and pulse until the mixture looks like coarse meal. Sprinkle 2-3 tablespoons cold water over mixture and pulse until dough comes together in clumps. If dry, add a little bit more water (1 teaspoon at a time) until dough starts to come together.
Remove dough from food processor and pat into a disk. Wrap in plastic wrap and chill for at least an hour or overnight. The dough can be made up to 3 days ahead. Keep chilled.
Let stand at room temperature a few minutes before rolling out.
Preheat the oven to 375 degrees F. Roll out dough on a lightly floured surface into a 12-inch circle and fit into a round tart pan. Trim off excess dough and poke the bottom with a fork. Fill crust with pie weights and bake on a baking sheet for about 15 minutes or until crust is lightly golden. Let cool completely.
For Filling:
In a medium bowl, whisk together the pumpkin puree, cinnamon, ginger, nutmeg, salt and cloves.
Whisk in maple syrup and eggs until well combined.
Pour the filling into the cooled crust and bake until just set, about 50-60 minutes. Transfer tart to a wire rack and let cool completely in pan, about 2 hours.
Before serving, remove tart from pan and top with chopped pecans.
Notes
Crust can be made up to three days ahead. Tart can be assembled up to a day in advance. Keep refrigerated until ready to serve.
Recipe was originally published on The Kitchenthusiast in 2014 but revamped with new pictures and notes in 2018.
Recommended Products
As an Amazon Associate and member of other affiliate programs, I earn from qualifying purchases.