Cranberry Apple Pie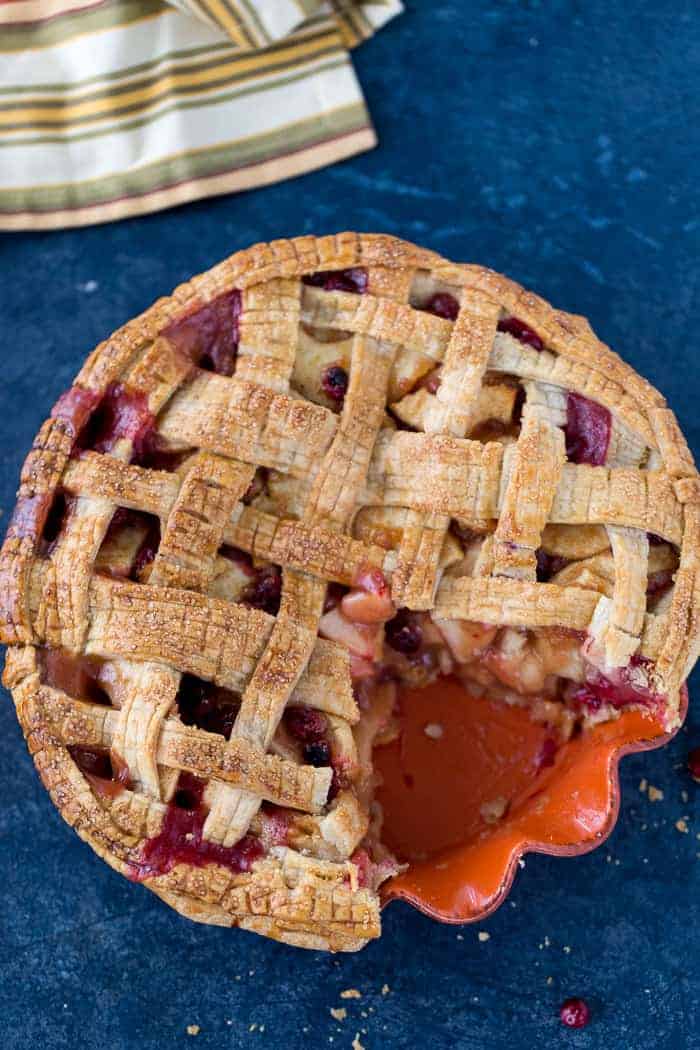 Happy Tuesday friends! It's pie season and I am on a mission to practice my pie art. I find myself whipping up old and new favorites just so I can make pretty crust. This cranberry apple pie was a recent weekend project and tasted too good not to share. The tart cranberries were a perfect compliment to the warm spiced apple filling. So so yummy and a holiday table must-have.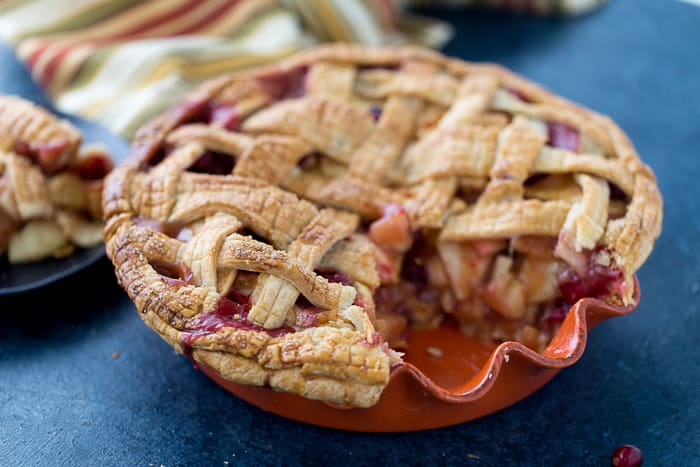 Talking about pretty pies, what are your secrets?
I love baking pies and will do anything for a flaky pie crust. But when it comes to looks, I really haven't mastered that skill. I guess I spent a lot of time mastering my pie crust – my go-to pie crust is in this blueberry pie recipe. I eventually mastered the fillings – both fruit and custard fillings. My favorites – this brown butter apple cheddar pie and this coconut cream pie. But now I think I need to up my presentation skills of the crust.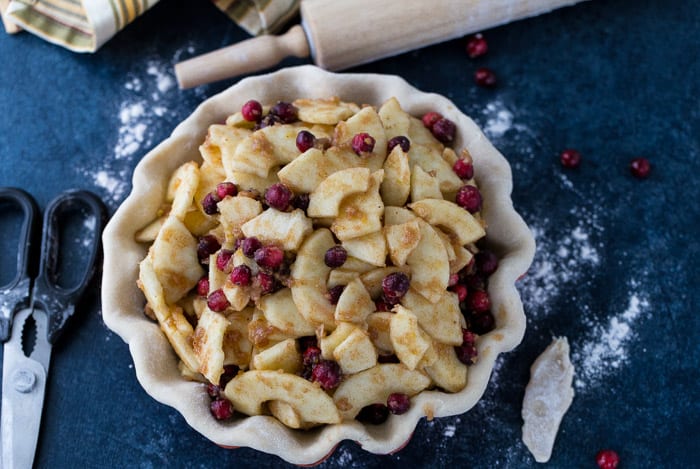 Oh well, send me your tricks and tips and I will keep practicing. That just means more pies to bake and eat!
If you are a cranberry lover (who isn't?), then you will love this apple cranberry pie. I added just a handful of cranberries so it is not overpowering. Just enough to enjoy the sweet and tart combo in each slice.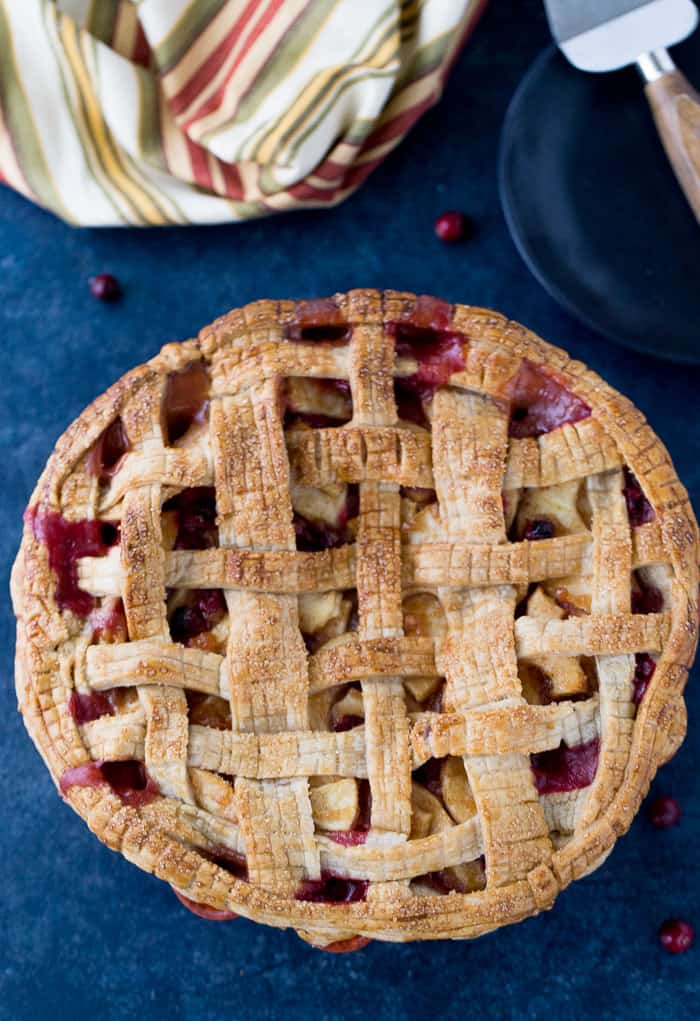 Keep this pie in your holiday planning list and wow your friends and family with a little oomph to the apple pie.
More Pies to try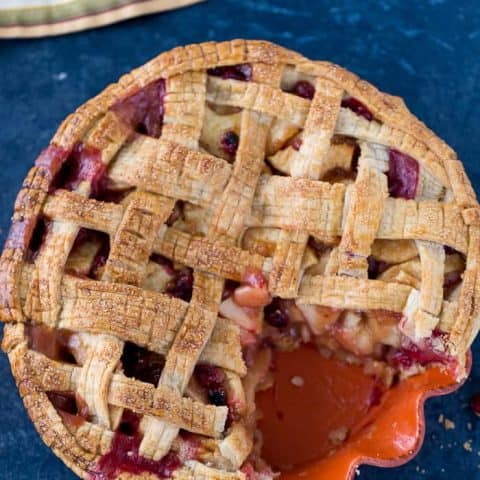 Yield: 1 9-inch pie
Cranberry Apple Pie
Add a little color to your classic apple pie with cranberries. This cranberry apple pie is the perfect combination of sweet and tart in every slice.
Prep Time
1 hour
10 minutes
Cook Time
1 hour
20 minutes
Ingredients
For Crust:
1 cup cold water
¼ cup cider vinegar
2½ cups all-purpose flour
1 teaspoon salt
1 tablespoon sugar
1 cup (2 sticks) unsalted butter, cold, cut into pieces
For Filling:
1/2 cup granulated sugar
1/4 cup (packed) golden brown sugar
2 tablespoons all-purpose flour
1 tablespoon lemon juice
2 teaspoons grated lemon peel
1/8 teaspoon ground nutmeg
3 pounds apples, peeled, cored, thinly sliced
1 cup fresh cranberries
Instructions
In a large measuring cup, mix 1 cup ice-cold water with the apple cider and add 1 cup ice to the mixture. Keep in fridge until needed. In a food processor, pulse flour, sugar and salt. Add in half of the butter and pulse for 30 seconds. Add in the rest of butter and pulse until the mixture looks like coarse meal. Sprinkle about 6 tablespoons cold water mixture over mixture and pulse until dough starts to come together in clumps. If dry, add a little bit more water (1 teaspoon at a time). Remove dough from processor and knead into a disk. Divide dough into two disks; one slightly bigger than the other and wrap in plastic wrap. Chill for at least an hour. The dough can be made up to 3 days ahead. Keep chilled. Let stand at room temperature 15-30 minutes before rolling out.
Roll out larger disk of dough on a lightly floured surface to a large 12-inch circle. Fit into an ungreased 9-inch pie dish, crimping the edges into your desired style. Refrigerate for at least 30 minutes and until ready to fill.
Preheat oven to 400 degrees F.
In a large bowl, whisk together the sugars, flour, lemon juice, lemon peel and nutmeg. Add in the peeled apples and cranberries and toss in mixture.
Add the filling to the prepared pie crust. Roll out the second dough disk on the floured surface. Cut out about 12 strips (I did a combination of wise and narrow strips). Arrange half of the strips across the pie and the other half diagonally to form a lattice. Gently press the ends into the crust edges. Brush the top of the pie with milk and sprinkle with turbinado sugar.
Bake pie for 10 minutes. Reduce oven temperature to 375 degrees F. Continue baking pie until juices bubble and the crust is golden brown, about 1 hour 20 minutes. If crust is browning too fast, cover the pie edges with foil and continue baking. Let cool on rack for at least 1 hour.