Pear Walnut Chocolate Tart
This pear walnut chocolate tart is unique with a light, flaky pie crust, that crumbles with each bite and is full of chocolate, smooth walnut paste, and tender poached pears! (NOTE: Pictures were updated Sept 2020)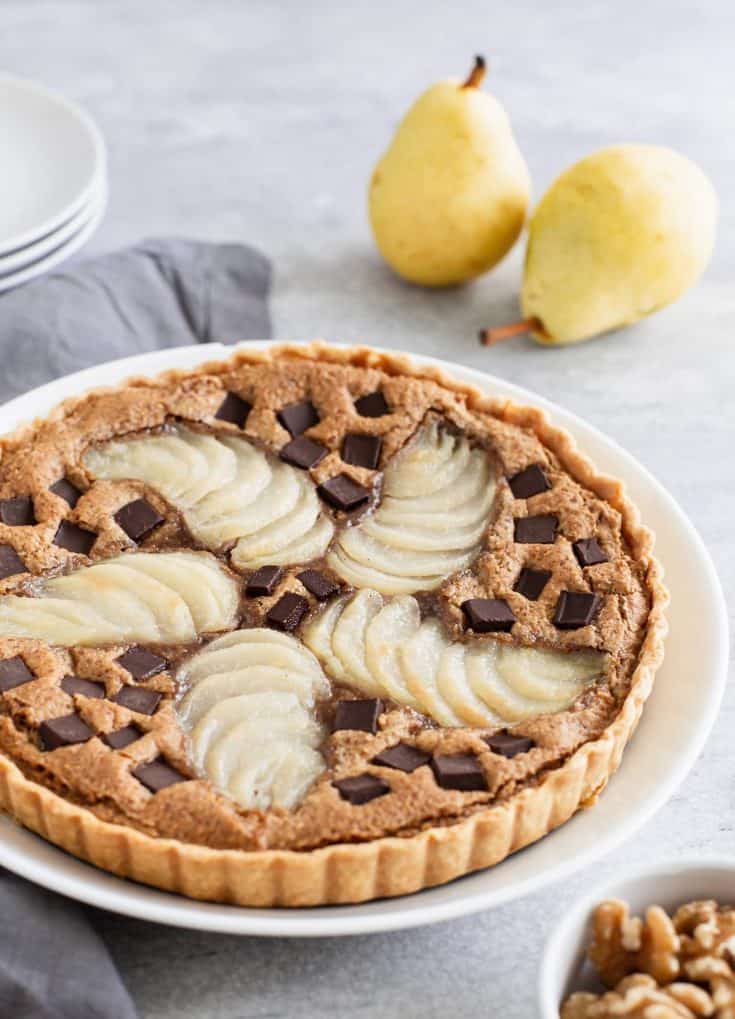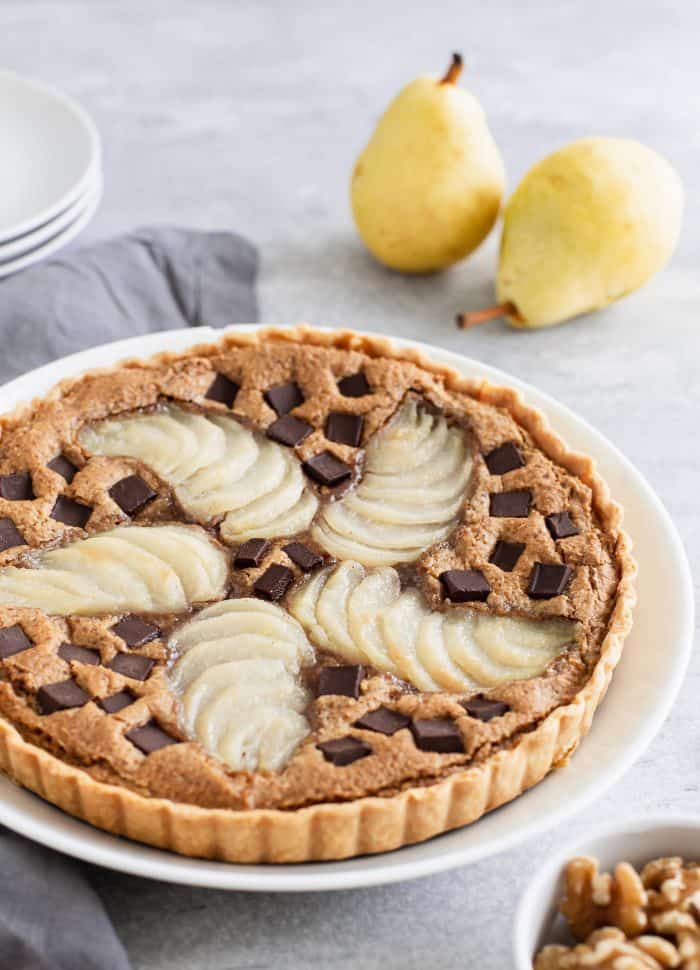 Welcome to Pie Fridays!
Thanks to you guys and the hubby, I will be giving pies some much-needed attention. From now till Thanksgiving I will be featuring a pie every Friday (except 11/15 since I will be traveling but more on that later).
Let's start off with a pear walnut chocolate pie (or tart)! What a unique combination if I must say so myself.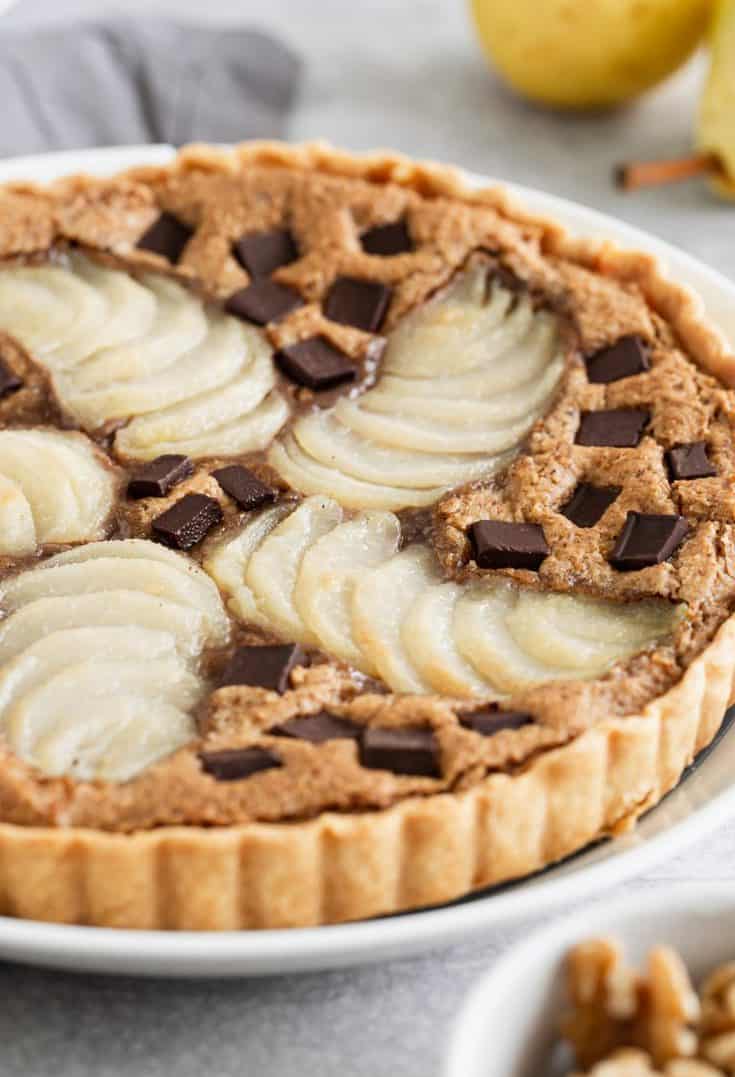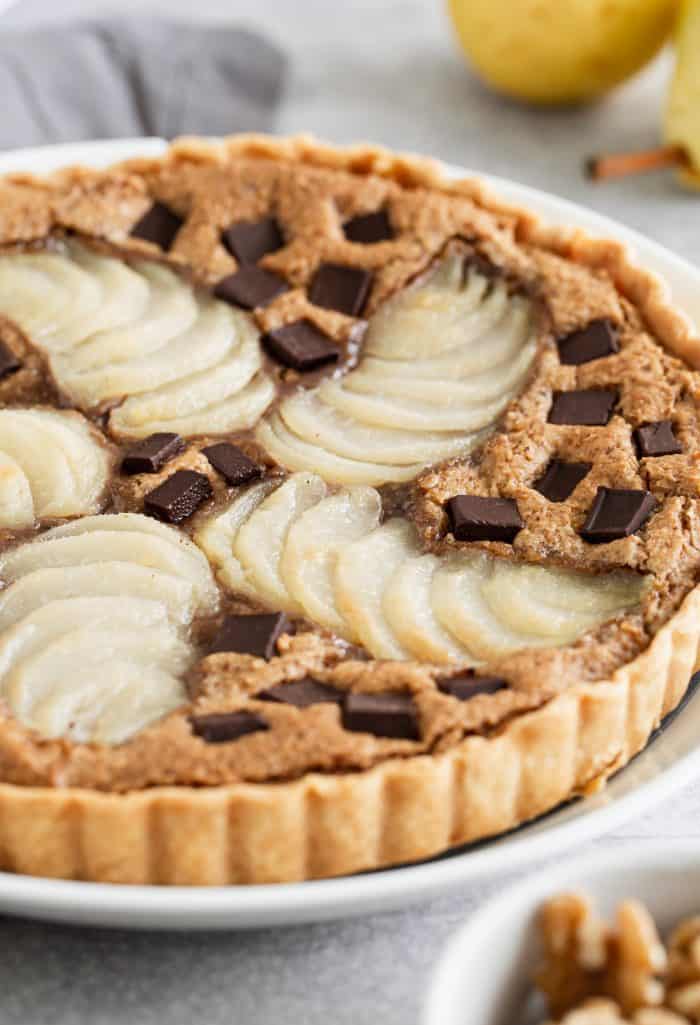 After my recent pear photographing dilemma, I had to pay another homage to pears and start off Pie Fridays with this pear walnut chocolate tart. Call me stubborn but I couldn't let those little guys win. I had a few pears left that were intended to remake this spiced pear bread. Have you tried the pear bread yet? You need to make it this weekend. It's the best!!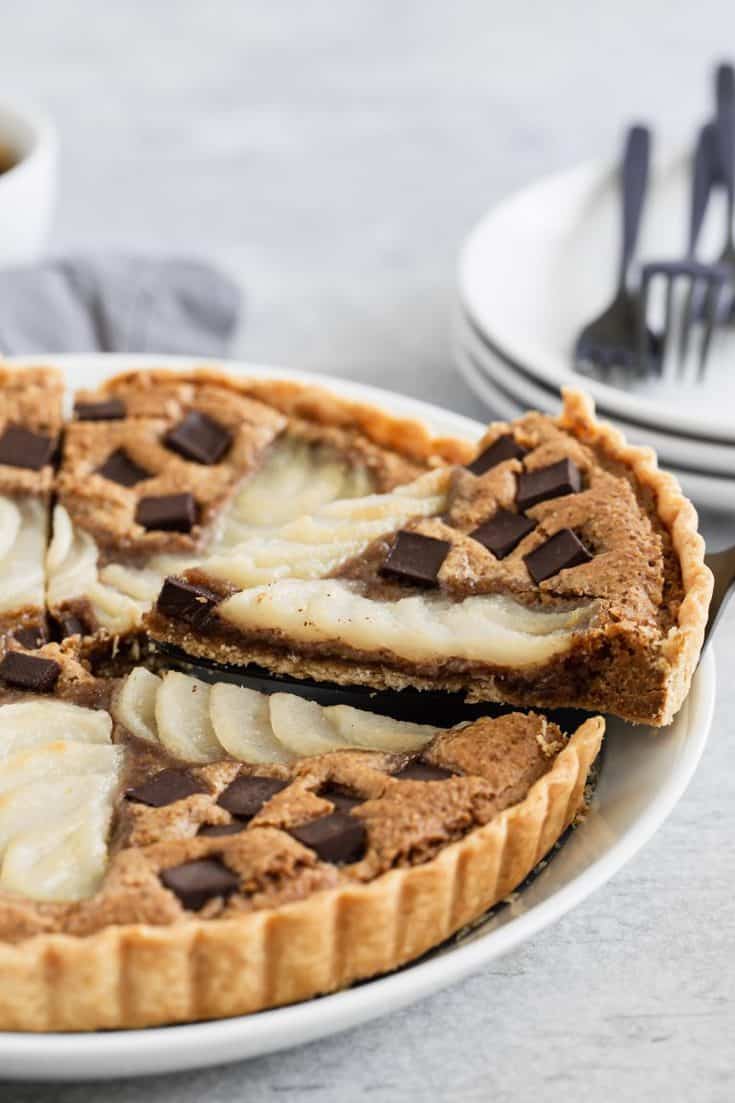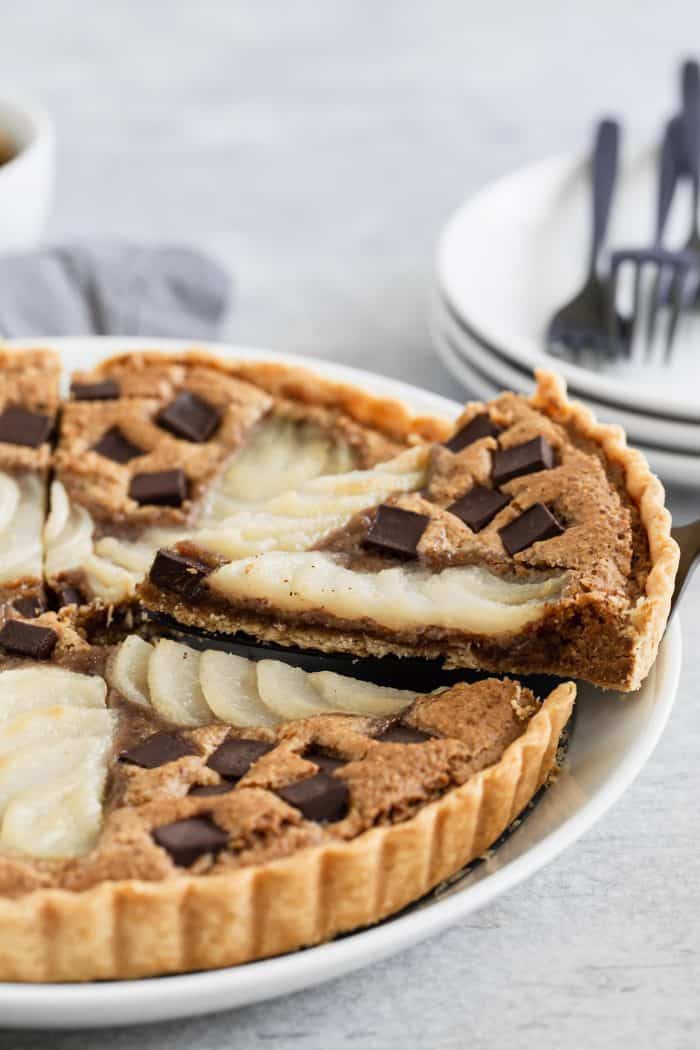 But hey we are here to talk about pies.
This pie/tart is different and I love that about it. The crust is our usual buttery and extra flaky crust, thanks to the addition of shortening. However, the crust is filled with a smooth walnut paste and then topped with tender pears and chocolate chips. Sounds amazing right?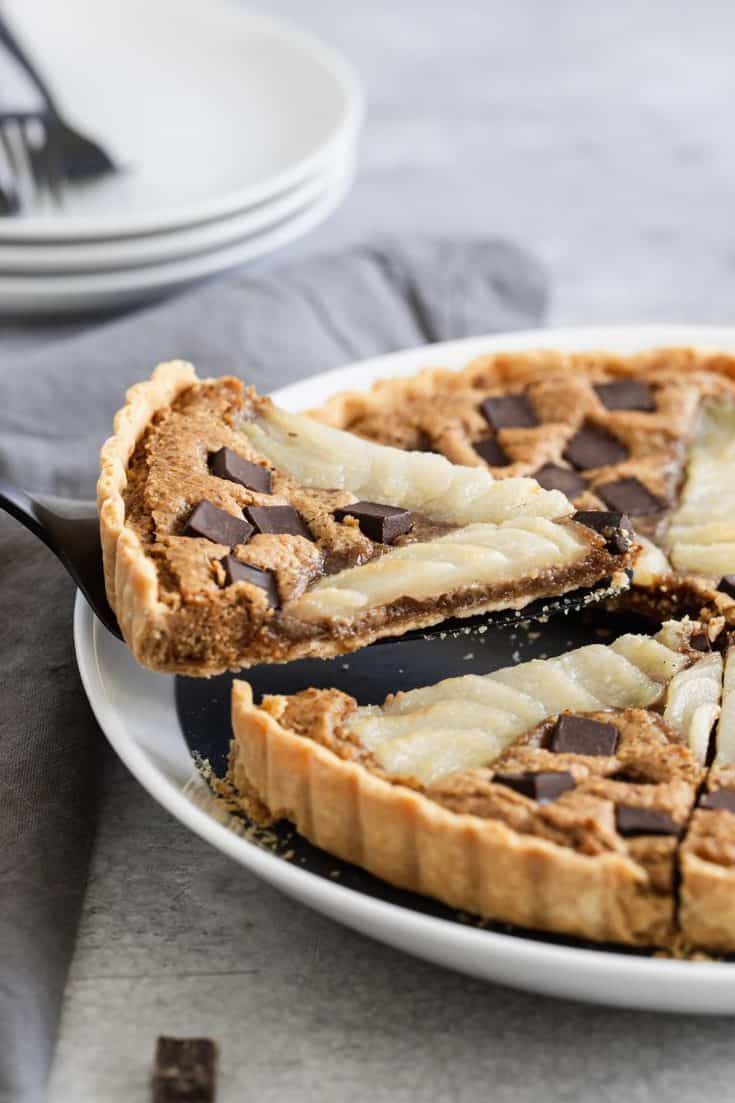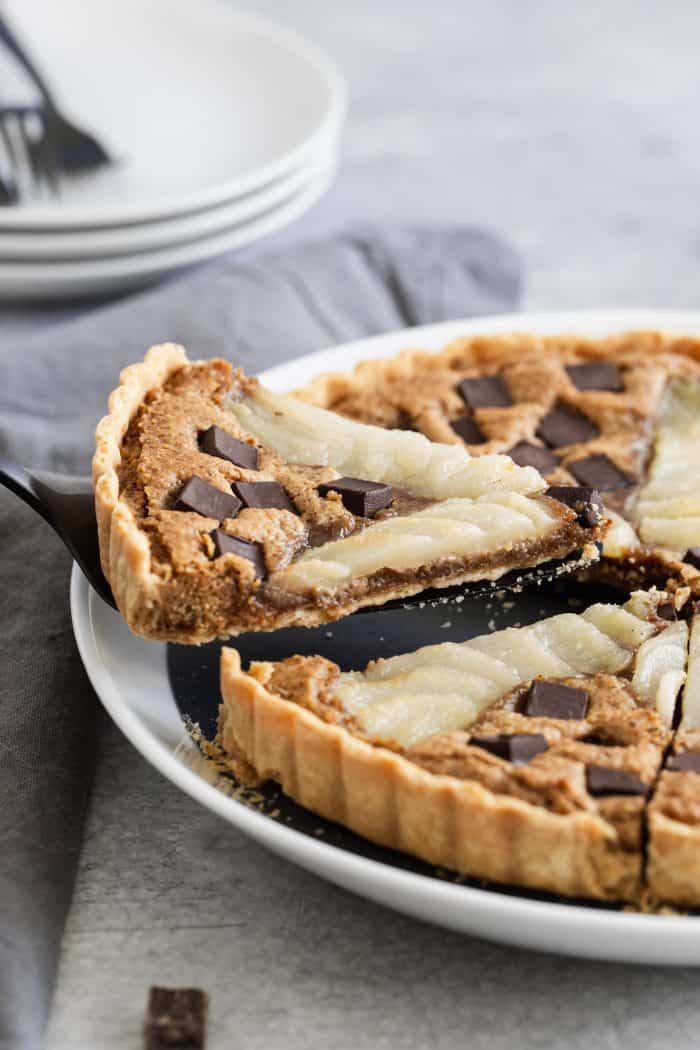 Well yeah, it is! Together, you have a buttery tart crust that crumbles with each bite and is full of chocolate. All that is missing is a scoop of vanilla ice-cream.
If you were like me and had a bumpy ride to making pies, fear not. It gets easier with the right temperature of butter and recipe. I hope this pie (and the rest to come) will inspire you to bake a pie or two.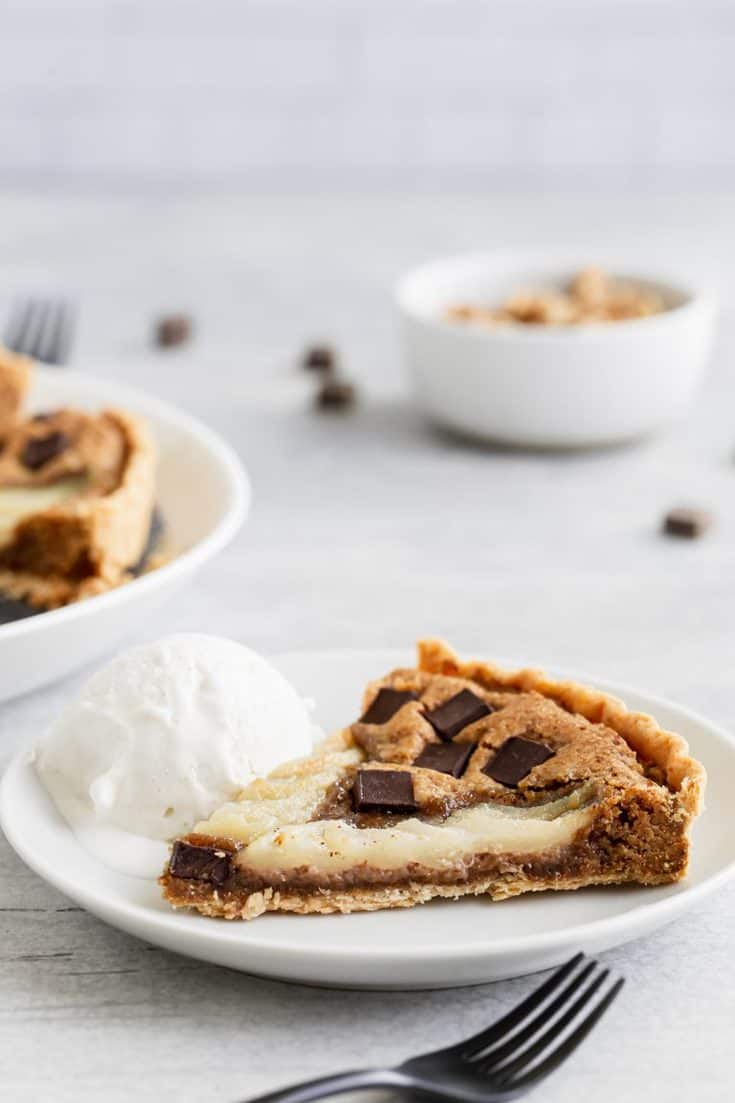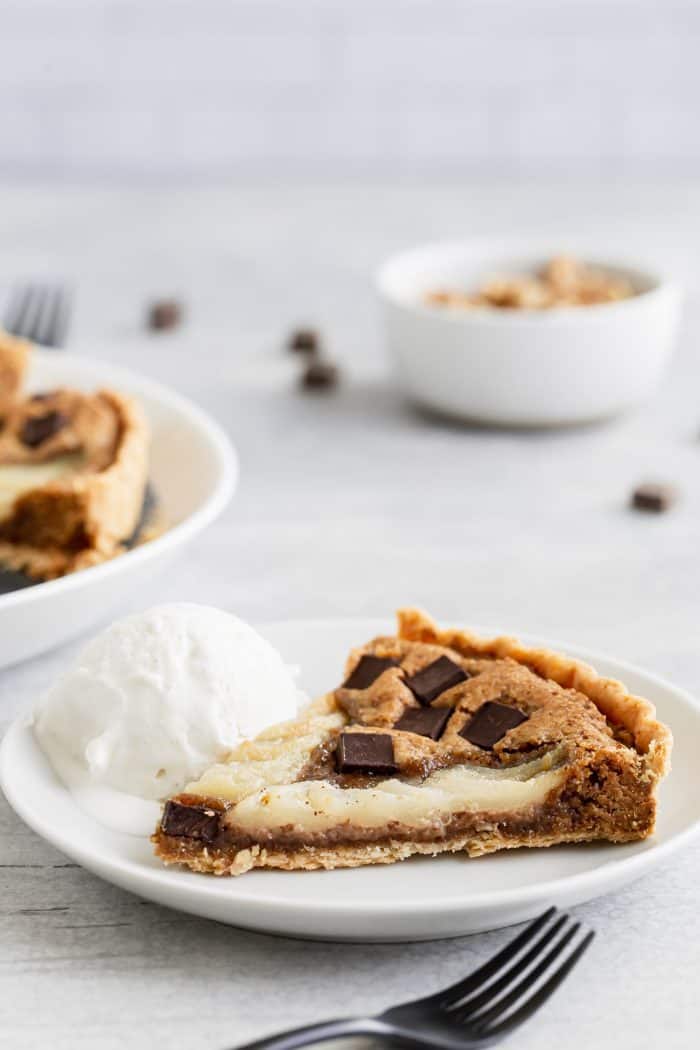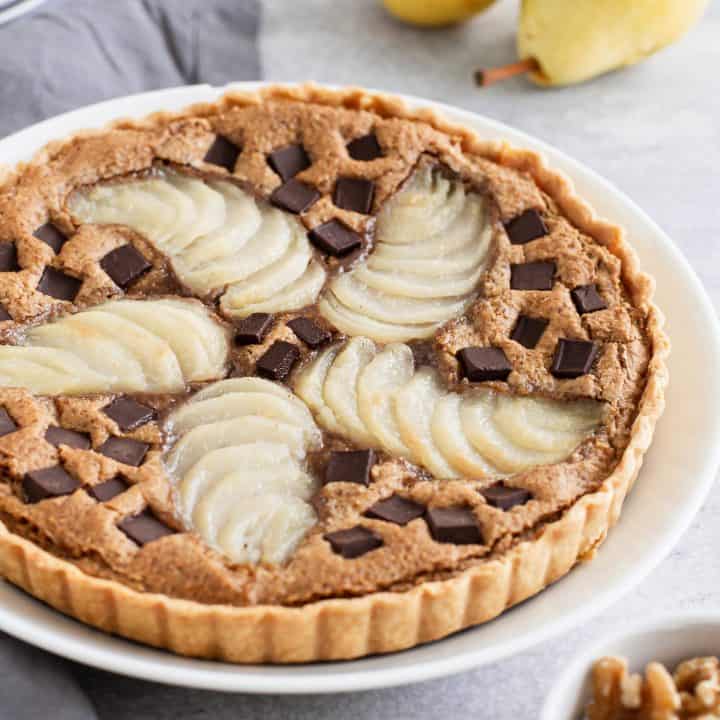 Yield: One 9-inch Pie
Pear Walnut Chocolate Tart
This pear walnut chocolate pie is unique with a light, flaky pie crust, that crumbles with each bite and is full of chocolate, smooth walnut paste and tender poached pears!
Total Time
1 hour
40 minutes
Ingredients
1¼ cup all-purpose flour
3 tablespoons cold vegetable shortening
1 tablespoon sugar
½ teaspoon salt
5 tablespoons cold unsalted butter, cut into cube sized
1½ cups walnuts
6 tablespoons unsalted butter, cut into cube sized and at room temperature
1 cup powdered sugar
1 large egg
¼ teaspoon ground cinnamon
A pinch of salt
½ cup granulated sugar
1 large firm pear (I used Bartlett)
⅓ cup semisweet or milk chocolate chips
Instructions
To make the crust:
Prepare ¼ cup ice-cold water and keep in fridge. In a food processor, pulse the flour, shortening, sugar and salt until combined. Add in half of the butter and pulse for 30 seconds. Add in the rest of butter and pulse until the mixture looks like coarse meal. Sprinkle about 2 tablespoons cold water over mixture and pulse until dough comes together in clumps. If dry, add a little bit more water (1 teaspoon at a time). Remove dough from processor and form into a disk. Wrap in plastic wrap and chill for at least an hour. The dough can be made up to 3 days ahead. Keep chilled. Let stand at room temperature 15-30 minutes before rolling out.
Roll out dough on a lightly floured surface and fit into a 9-inch round tart pan. Press the dough into the bottom and up the sides. Chill for 30 minutes. Preheat oven to 350 degrees. Line the crust with foil and top with pie weights or beans. Bake crust for 15-20 minutes, until the edges are golden then remove the foil and pie weights and continue baking until the crust is golden all over, another 10-15 minutes. Let cool completely.
Make the filling:
In a medium saucepan, combine 2 cups of water and sugar. Bring to a simmer over medium heat and add the pears. Simmer until tender, about 10 minutes. Drain and spread onto paper towels and let cool.
Line a baking sheet with foil or parchment and spread the walnuts. Toast in oven until golden, about 8-10 minutes. Let cool. In the bowl of a food processor, combine the toasted walnuts, powdered sugar, egg, cinnamon and salt. Pulse to form a paste.
Spoon the walnut filling into the cooled crust and spread evenly. Press the pears and chocolate chips into the filling,. Bake until the filling is puffed and golden and a toothpick inserted into the center comes out clean, 35-40 minutes. Let cool completely on a rack. Serve with a scoop of ice-cream if desired.
Have a great weekend!! I will be adventuring onto a haunted hayride and hoping not to pee my pants.