Spicy Macaroni and Cheese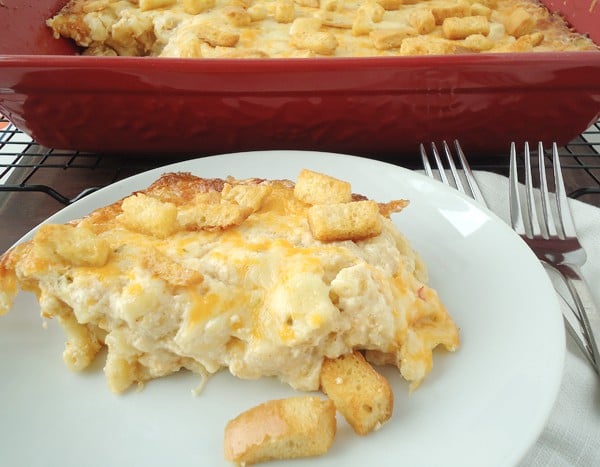 Macaroni and cheese is one of our favorites and I am sure is a staple in your home too. This spicy macaroni and cheese recipe is from Sunny Anderson's new cookbook Sunny's Kitchen: Easy Food for Real Life and she takes your regular mac and cheese to a whole new level…a spicy level and that is a place I ALWAYS want to be. It is one of three recipes we are cooking up for Pass the Cookbook Club including a loaded apple puff pastry sticky bun (so need to try this!!) and Honey BBQ Short Ribs. However, the chilly fall weather calls for a great homey spicy macaroni and cheese.

With most recipes, I change a few things to suit our taste and needs. But this needed no adjustment. It was perfect from the first try and I loved the crunchy topping of croutons. Of course you can adjust how much chilli pepper you add to the recipe. I added 2 teaspoons of a special blend of chilli pepper my mom sends from home every time she sees someone coming across the Atlantic. It was just the perfect amount to not mask the cheesy custard base but enough to add a mighty kick to this mac and cheese. (The original recipe is below for your convenience!).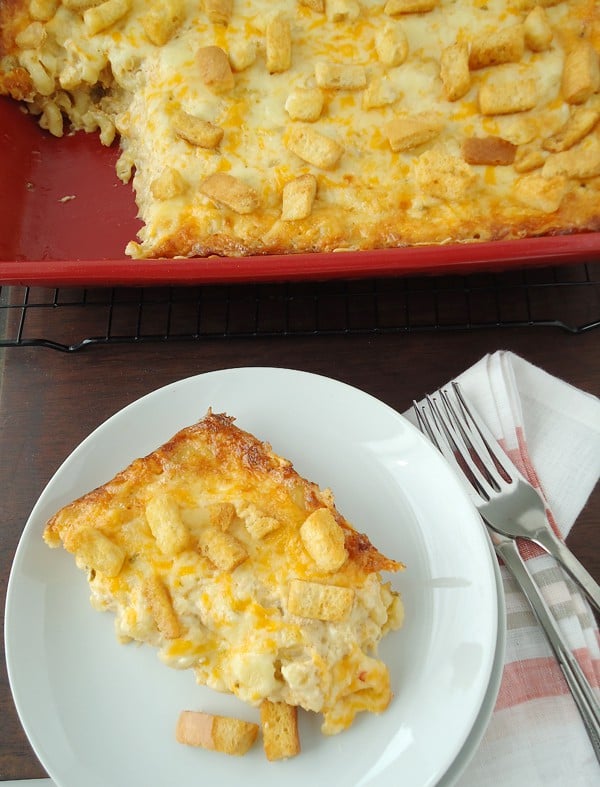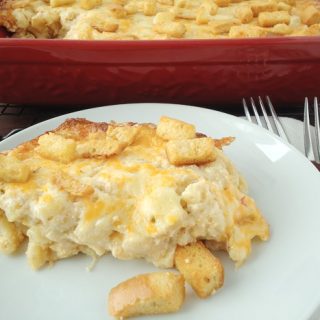 Yield: 1 9x13 pan
Spicy Macaroni and Cheese
This Spicy Macaroni and Cheese takes dinner to a whole new level! With plenty of spice, plus crunch from the croutons, it will become your new fall favorite!
Prep Time 30 minutes
Cook Time 50 minutes
Additional Time 1 hour
Total Time 2 hours 20 minutes
Ingredients
For the Croutons:
1 tablespoon unsalted butter
4 slices white bread cut into ½-inch squares
Kosher salt
For the Pasta:
1 tablespoon unsalted butter
8 ounces Cheddar cheese, shredded
8 ounces Colby cheese, shredded
8 ounces pepper jack cheese, shredded
2 cups elbow pasta, cooked until almost al dente
For the Custard:
2 teaspoons all-purpose flour
½ teaspoon kosher salt
½ teaspoon freshly ground black pepper
½ teaspoon cayenne pepper
½ teaspoon dry mustard
⅛ teaspoon grated nutmeg
¼ cup sour cream
1 egg, beaten
¼ cup grated Vidalia or sweet onion
1 cup heavy cream
1 cup half-and-half
Instructions
In a skillet over medium high heat, melt the butter.
Toast the bread cubes in the butter until golden – about 5 – 6 minutes.
Remove to a paper lined plate, season with a bit of salt, and set aside.
Preheat the oven to 350°F.
Butter a 9x13 casserole dish, making sure to get the bottom and sides.
In a medium bowl, toss together the Cheddar, Colby and pepper jack cheeses.
In a large bowl, add the cooked pasta and two-thirds of the mixed cheese and set aside.
Whisk together the flour, salt, black pepper, cayenne pepper, mustard, nutmeg, sour cream, egg, onion, heavy cream and half-and half in another large bowl. Suggestion – whisk together the dry ingredients first and then start to add in the wet starting with the sour cream.
Pour the custard over the pasta and cheese blend and mix well.
Pour the macaroni and cheese mixture into the baking dish and top with the remaining cheese.
Bake the macaroni and cheese, uncovered, for about 35 minutes until the cheese is just about set and top is beginning to brown.
Remove from the oven, sprinkle on the croutons and return back to the oven for another 10 minutes or so until everything is golden brown.
Enjoy!
Here's what the rest of the club made from this cookbook!
'); // ]]>
(affiliate link)
MAKING THIS RECIPE? Share it with us on Instagram using #aclassictwist so we can see what you are baking up in your kitchen!