Spiced Pear Bread
This spiced pear bread is moist, flavorful, and delicious! Filled with homemade applesauce, walnuts (optional), and fresh pears, it is seriously the best quick bread recipe. (Note: Pictures and recipes updated in Sept 2020)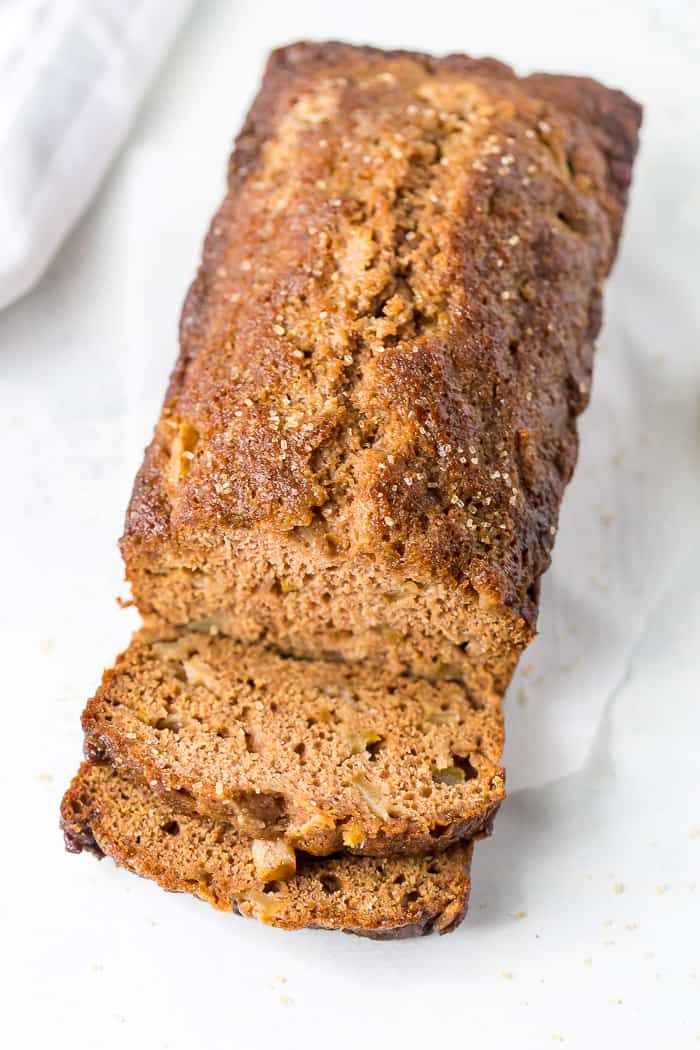 This is a tale of lack of inspiration.
I think pears hate me. This is the third pear recipe I've made in the past month that failed to photograph well. First, there was a very high top brown butter pear muffin. It was just not happening that day I tried taking the photos and I gave up and enjoyed them instead. The recipe was inspired by this one in case you want to indulge!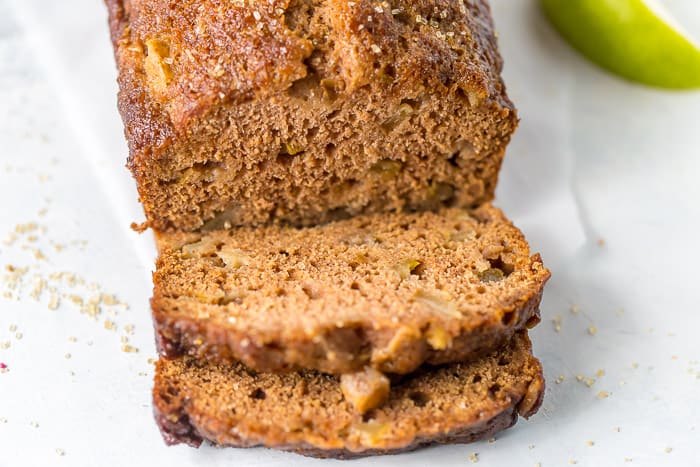 Then there was this pear tart three weeks ago and the photos were very bland so they stayed in my archives, untouched. Surprisingly, it is one of my favorite recipes so far because the vanilla bean custard filling of the tart is to die for. I was very proud that I developed a recipe idea on my own and it tasted great! Just didn't picture well at the time.
Not giving up on pears, I made this spiced pear bread the other day only to have the same issues shooting. But bad pictures could not stop me this time from sharing the recipe with you.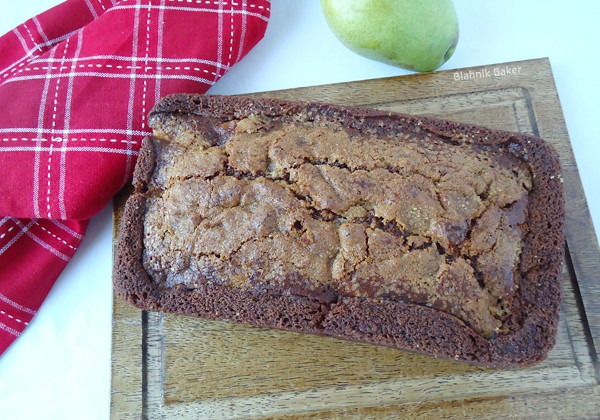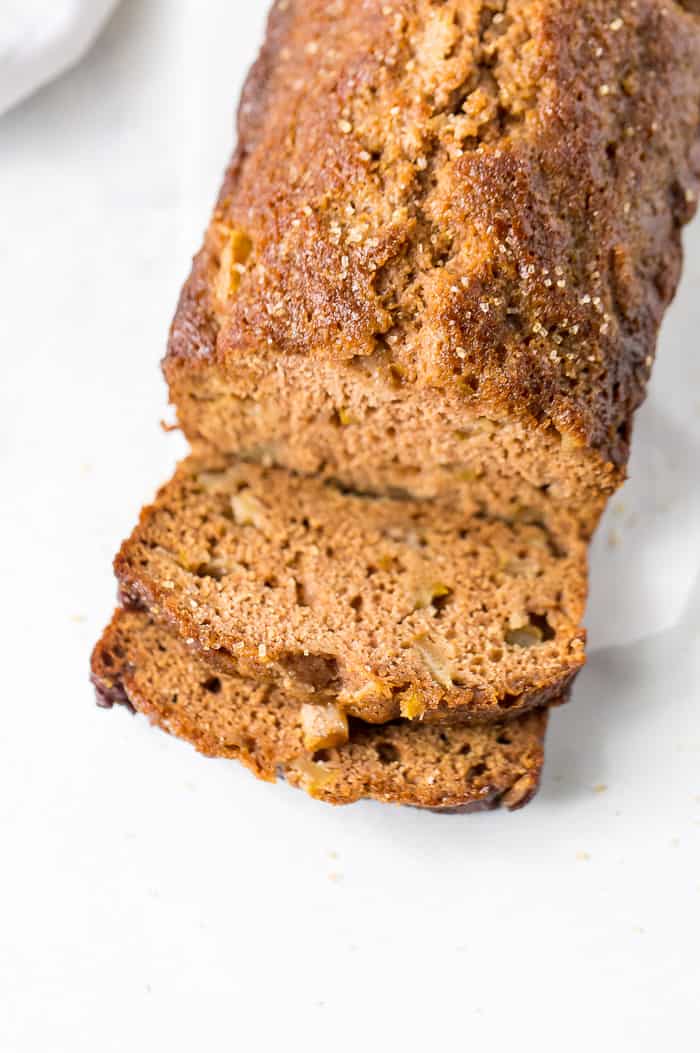 This spiced pear bread is moist, flavorful, and delicious! Filled with homemade applesauce, walnuts, and pears, it is seriously the best bread I have ever tried. We devoured it in TWO days. Mr. J loved it so much that I am required to make it again…at least that's what the not-so-subtle sign of pear purchase is telling me.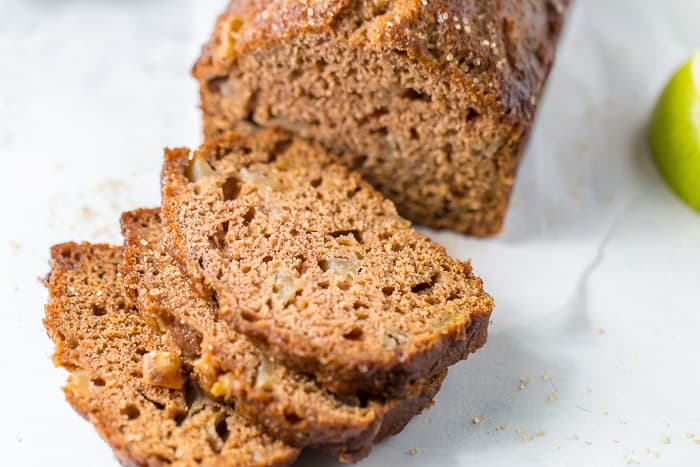 Obviously, I can't blame the pears for my picture misfortunes. It's all me and my uninspiring moments in October. I've not been feeling very motivated about blogging lately because of many things going on in my life and this is clearly coming through in my pictures. But just with pears though. Look at this brown butter cheddar apple pie? One of my favorite photos to date and happened a few days after this bread. Makes me wonder if pears are secretly sabotaging me. But who cares, as I step away from my computer to get inspired once again, I will be munching on this spiced pear bread!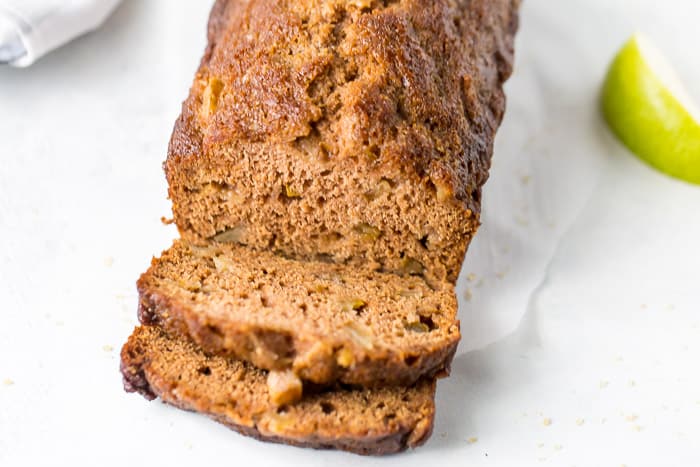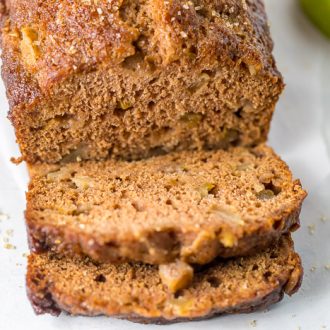 Yield: 1 9x 5 loaf
Spiced Pear Bread
This spiced pear bread is moist, flavorful and delicious! Filled with homemade applesauce, walnuts and pears, it is seriously the best quick bread recipe.
Total Time
1 hour
5 minutes
Ingredients
1 ½ cups all-purpose flour + 2 tablespoons divided
1 teaspoon baking soda
1 teaspoon ground cinnamon
¼ teaspoon ground nutmeg
¼ teaspoon all-spice
½ teaspoon kosher salt
2 large eggs, room temperature
½ cup granulated sugar
½ cup brown sugar
¾ cup applesauce
1/4 cup Greek yogurt, at room temperature
1 teaspoon pure vanilla extract
1 cup peeled and chopped pears
½ cup walnuts, chopped (optional)
1 tablespoon Turbinado sugar, for sprinkling
Instructions
Preheat oven to 350 degrees F. Grease a medium loaf pan with baking spray.
Whisk together the 1 1/2 cup flour, baking soda, cinnamon, nutmeg, allspice, and salt in a medium bowl.
In a large bowl, whisk the eggs, sugars, applesauce, Greek yogurt, and vanilla extract to combine. In another small bowl, toss the pears with two tablespoons of flour.
Add the dry ingredients to the wet ingredients and mix until it is combined. Fold in the pears and walnuts, if using.
Pour the batter into the prepared pan. Sprinkle with turbinado sugar and bake for 35-45 minutes or until a toothpick inserted into the center comes out clean.
Cool in pan for 10 minutes before removing and cooling completely on a rack.
Recommended Products
As an Amazon Associate and member of other affiliate programs, I earn from qualifying purchases.
How do you stay motivated? What keeps you inspired?