Winter Citrus Salad
This winter citrus salad with bold fresh herbs, blood oranges, grapefruits, and Cara Cara oranges is going to become a winter favorite.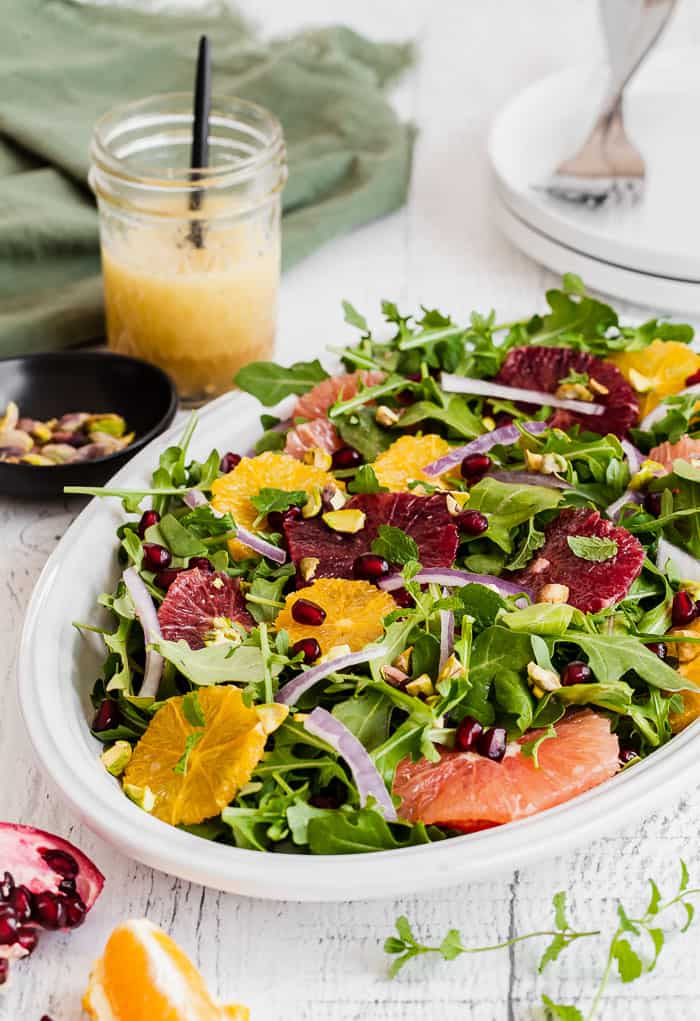 Hi friends! Happy Monday! I hope you had a restful weekend and ready to head into a brand new week energized. I think the world expects some sort of healthy recipe from one this time of the year no?? I am here to deliver! Today's winter citrus recipe is not a cupcake but a salad. A winter citrus salad that is bursting with the season's boldest citruses and a tangy vinaigrette.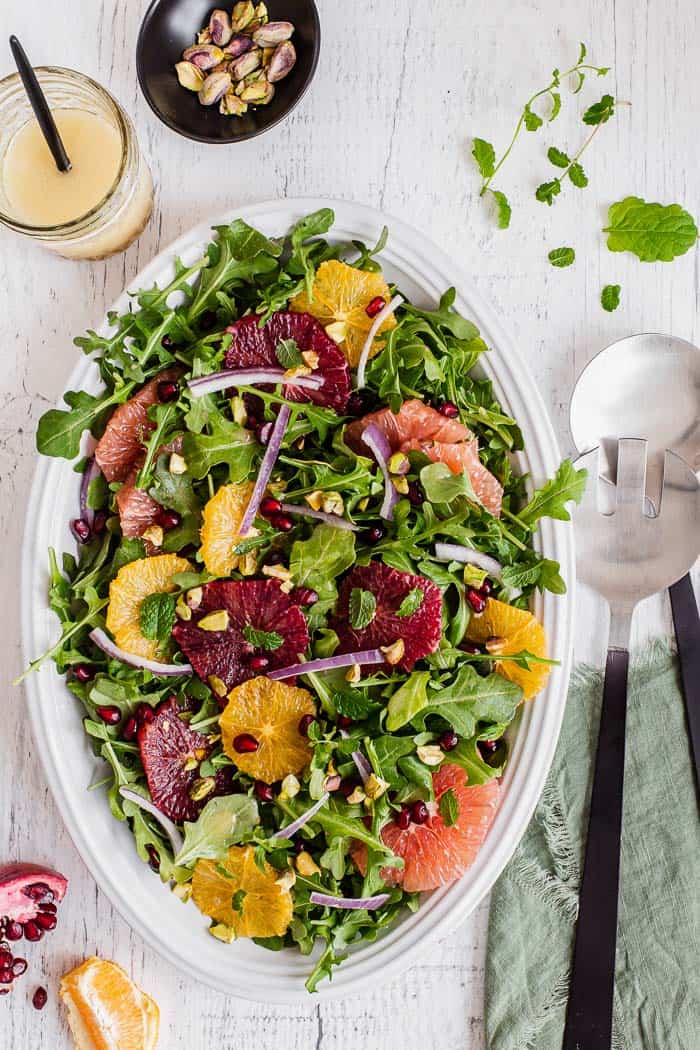 After making these winter citrus cupcakes from last week, I had a few blood oranges, Cara Cara oranges, and grapefruits lying around. Nothing better than to top them on my weekly salads.
Since the pandemic lockdown and working from home situation, I've had to streamline my lunches. The line between lunch hour and work is blurrier than ever when you are at home. I realized I was skipping lunch more often than I liked and then spiraling into unhealthy eating habits because of this.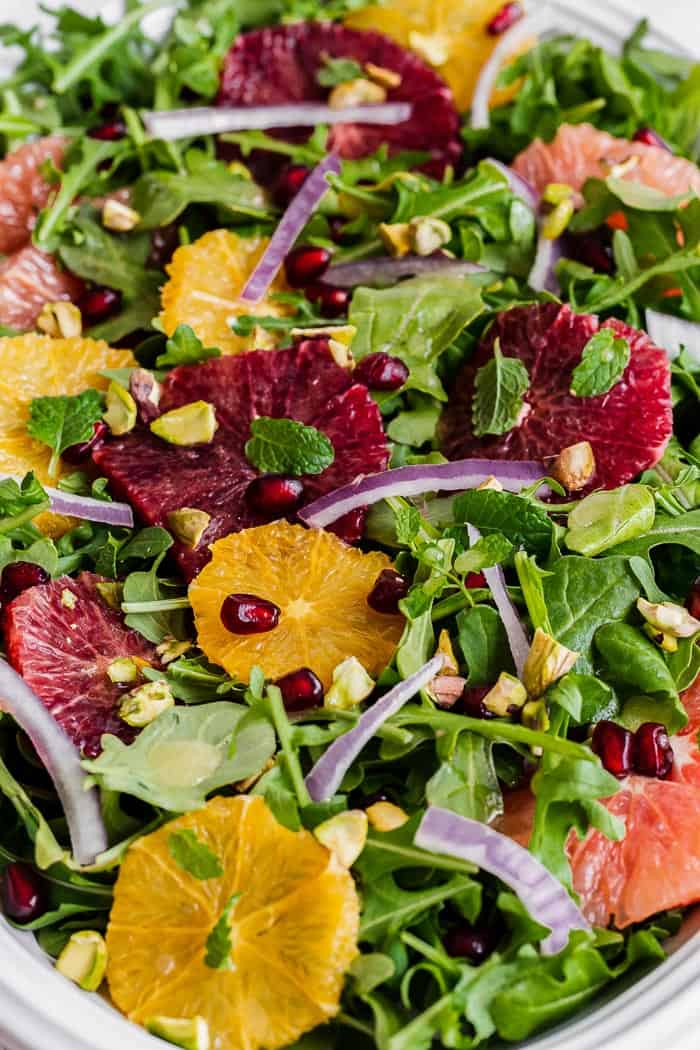 One way I am dealing with this is prepping as much as possible over the weekends so I can always have lunch in the fridge. Salads are easy to put together and perfect for this. For my winter citrus salad, I make a batch of the vinaigrette on Sunday and keep that in the fridge.
The dressing I use is sweet and tangy. Just like I like. Blood orange juice (or just orange juice), a hint of mustard and honey, garlic, and a dash of apple cider vinegar thrown in with the olive oil. It is so yum and can be kept in the fridge for up to a week.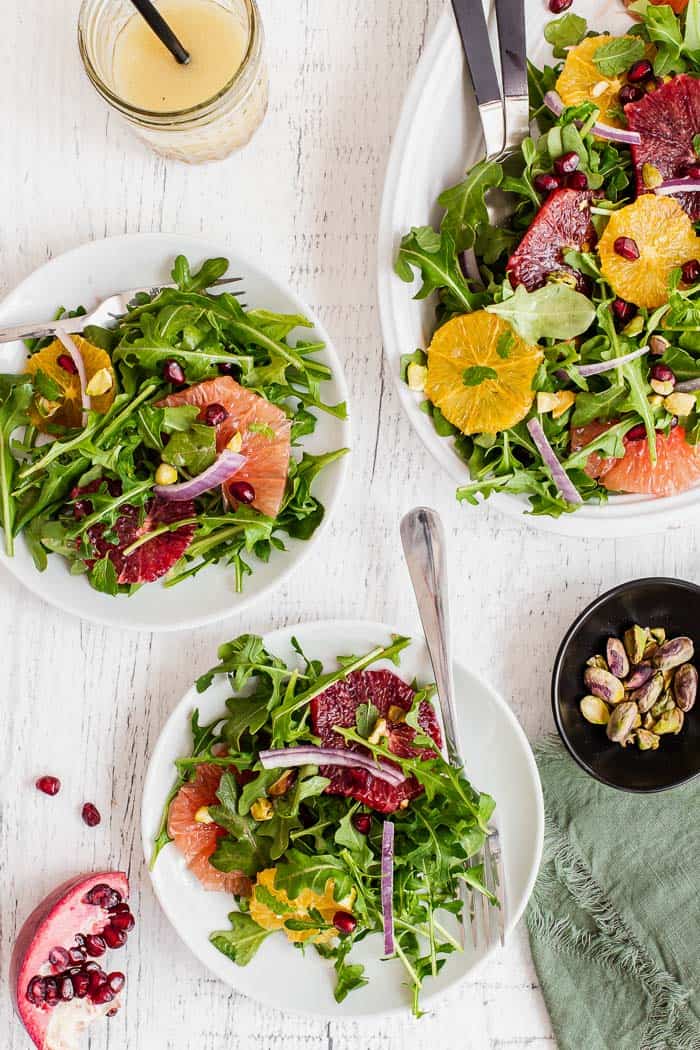 The night before, I will cut up my citruses and save them in the fridge. I use any citrus I have lying around which at this time of the year is usually blood oranges, grapefruits, and any other oranges in season. This makes assembling so much easier the next day!
I toss any lettuce I have with fresh mint leaves or parsley (a tip I learned from my friend Liz from The Lemon Bowl), the citruses, any nuts I want (almonds, pistachios, etc), and some pomegranate seeds. That's it! As usual, you can customize this salad any way you like. I sometimes add grilled fish or chicken when I want protein. It is also a great side to any dinner.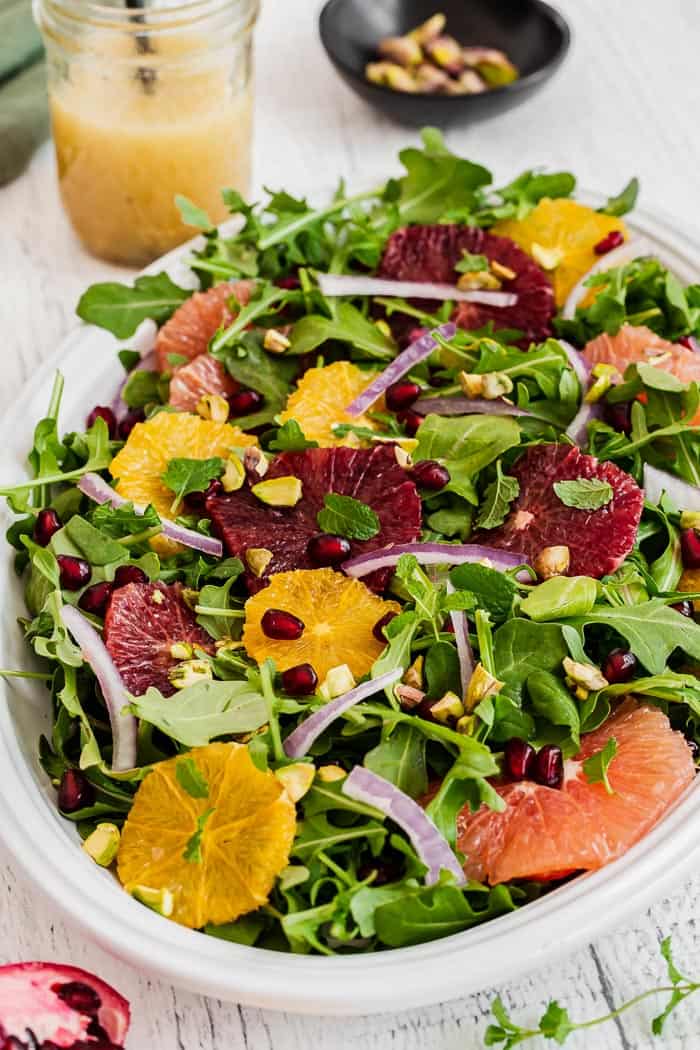 As you embark on healthier eating habits this year, I hope you consider adding this winter citrus salad to your repertoire. It is bright, full of vitamins C and bursting with citruses that make us enjoy winter yet yearn for warmer days.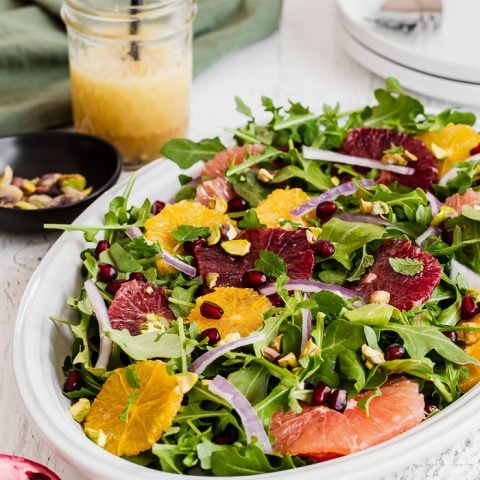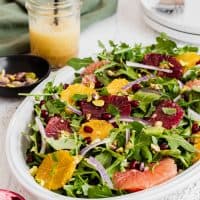 Yield: 2 servings
Winter Citrus Salad
This winter citrus salad with bold fresh herbs, blood oranges, grapefruits, and Cara Cara oranges is going to become a winter favorite.
Ingredients
For the Dressing:
2 tablespoons blood orange juice
1 lime, juiced
1 tablespoon red wine or apple cider vinegar
1 tablespoon honey
1 teaspoon Dijon Mustard
1 small clove garlic – minced or pressed
Kosher Salt & Black Pepper
1/3 Cup Extra Virgin Olive Oil
For the Salad:
3 to 4 cups lightly packed arugula or mixed greens
1 Blood Orange, peeled and sliced
1 Cara Cara Orange, peeled and sliced
1/2 grapefruit, peeled and sliced
1/4 red onion, thinly sliced
a handful of fresh mint or parsley, torn
½ cup pomegranate arils (optional)
2-3 tablespoons pistachios
grilled chicken or fish (optional)
Instructions
Make the dressing: In a small bowl or jar, whisk or shake
together with the orange juice, lime juice, vinegar, honey, Dijon, and garlic.
Season with salt and pepper to taste. While whisking, stream in the olive oil. Taste and adjust for seasoning with salt and pepper and adjust for sweetness with more honey if desired.
Assemble the salad: Layer lettuce with oranges, red onions, and fresh herbs. Sprinkle with pomegranate and pistachios.
To serve: Drizzle with dressing and serve immediately. Enjoy!
Recommended Products
As an Amazon Associate and member of other affiliate programs, I earn from qualifying purchases.