Spinach Artichoke Dip
With only 5 minutes of prep, this easy Spinach Artichoke Dip recipe is perfect for game day, parties or even a delicious snack option!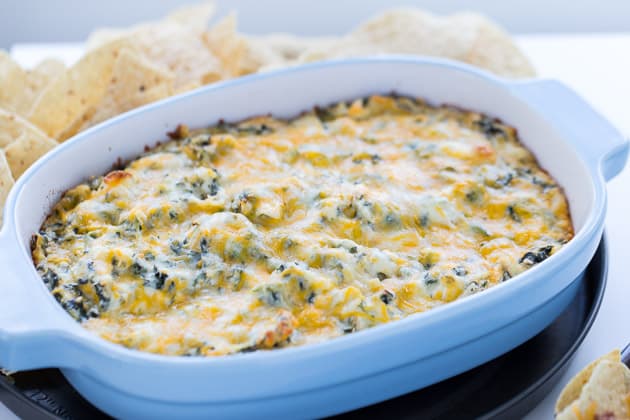 Hi friends! I have a treat for your today! I know we do a lot of sweet recipes and desserts around here, but it's always nice to throw a savory recipe into the mix sometimes; especially one as good as this Spinach Artichoke Dip!
We aren't throwing parties right now, but hopefully, we'll get back to that one day soon! And this dip is exactly what all your guests will crave! And not only is it great for parties, but it would be perfect for a certain big game that's coming up!
That's right, I'm talking about the Super Bowl! I love having hot, creamy dips to snack on during the game, and I'll bet a lot of you do too! Whether you make it for game day, a party, or even just a light dinner or snack, you will love this dip!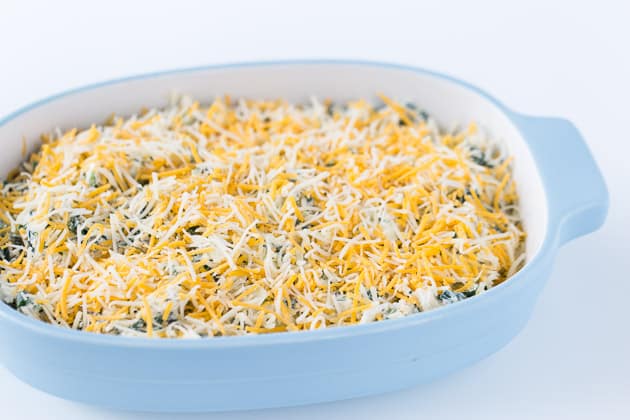 Spinach Artichoke Dip Ingredients
The ingredients for this dip are super simple! And the best part about this recipe is, it's as simple as combining the ingredients, baking, and enjoying! I'll list them out for you here, but check the recipe card for the amounts.
Artichoke hearts- this one is a given. You can't have spinach artichoke dip without artichokes! Make sure these are chopped small enough to be bite-sized.
Fresh spinach- I prefer to use fresh, but you can use frozen. Just thaw and squeeze out the water before you use it.
Garlic cloves- you want these to be minced pretty finely. No one wants a huge chunk of garlic in their dip!
Onions- these need to be chopped.
Sour cream- this helps to give that creamy, delicious texture.
Cream cheese- make sure your cream cheese is softened! It will make your dip much easier to mix, plus adds to the creamy texture.
Romano cheese- I love using multiple kinds of cheese for this recipe. It enhances the flavor profile.
Mozzarella cheese or Mexican cheese- you can use either or both kinds of cheese if you prefer. This will also be used for topping your dip!
Parmesan- you can't have too much cheese! Parmesan has a strong flavor that works nicely with this dip.
Dried basil- a simple spice that adds so much flavor (and a little color) to your dip.
Crushed red pepper flakes- you can omit these if you'd like to, but I like to add a little kick and spice to my dip and these flakes are the way to do it!
Salt and pepper- add these to taste. Some like more spice (so add more pepper!) and some like things a little less salty. Just taste before you add.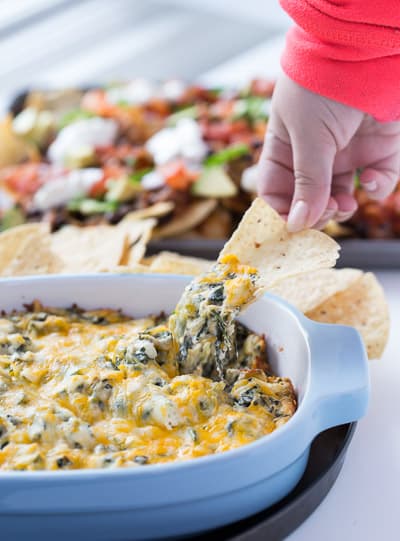 And that's it my friends. I know you will love this spinach dip as much as we did. Let me know if you have any special touches you add to this classic.
If you liked this Spinach Artichoke Dip, check out these other savory appetizers: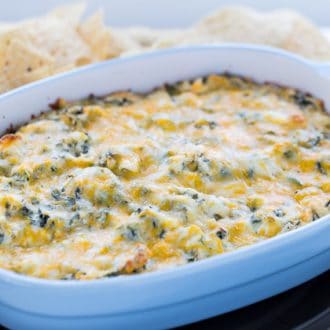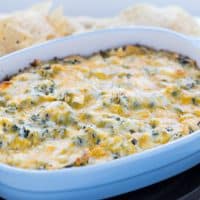 Yield: 8-10 servings
Spinach Artichoke Dip
Ingredients
1 cup artichoke hearts, chopped
3/4 cup fresh spinach (You can use frozen, but thaw and squeeze out the water before using)
2 garlic cloves, minced
1/2 cup chopped onions
1/2 cup sour cream
6 ounces cream cheese, softened
1/4 cup grated Romano cheese
1 cup shredded mozzarella cheese or Mexican cheese, plus more for topping
1/4 cup grated Parmesan
1 teaspoon dried basil
1/2 teaspoon crushed red pepper flakes
Salt and pepper, to taste
Instructions
Preheat oven to 425 degrees F. Spray a baking dish with cooking spray.
Combine all the ingredients in a medium bowl and mix until well combined. Spoon the dip into the prepared baking dish. Top with extra mozzarella cheese.
Bake until bubbling and golden brown, about 25-30 minutes.
Serve with tortilla chips, veggies, or crackers.