Shredded BBQ Chicken Nachos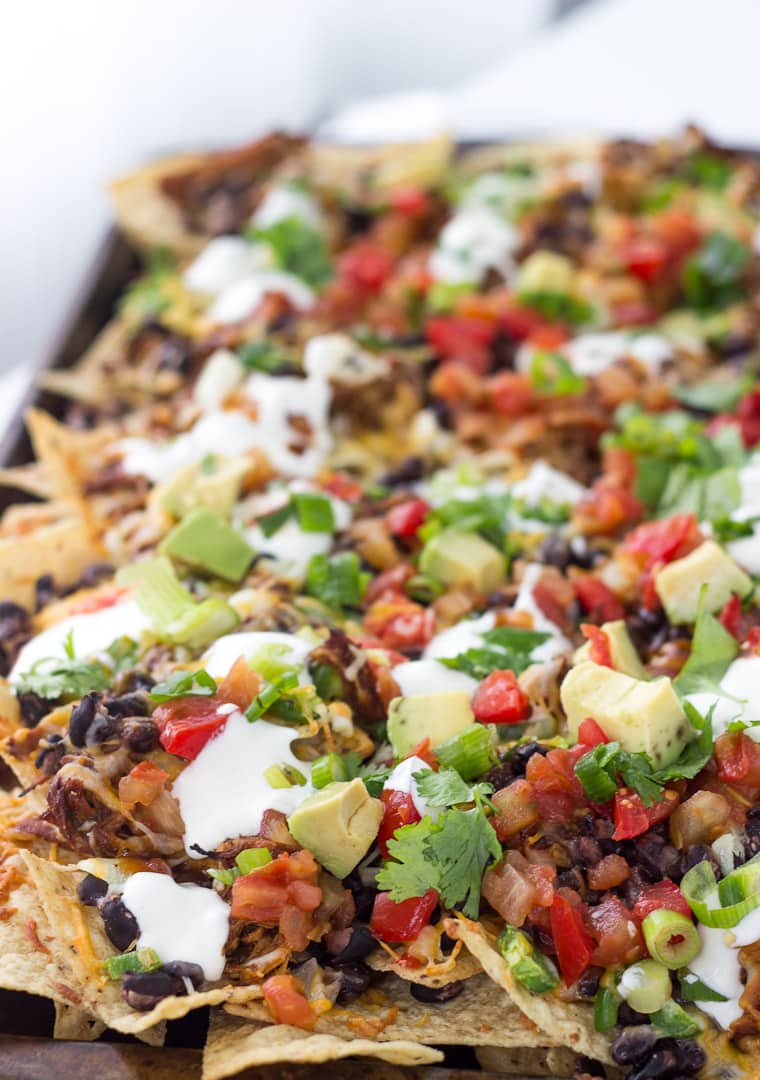 I've been obsessed with my slow cooker since the baby arrived because it has saved my life so many times. A quick 10 minutes of prep and dinner is ready in a few hours. That means I could make dinner, clean the kitchen, put in a load of laundry and take a quick shower all within a 30 minutes nap time. I've had zero time for elaborate dinners and since he was born our dinners have all been quick and easy like these shredded bbq chicken nachos! Every new parent or busy adult needs these nachos and why I am sharing it today as we celebrate a dear friend and blogger in a surprise virtual baby shower. Surprise David!!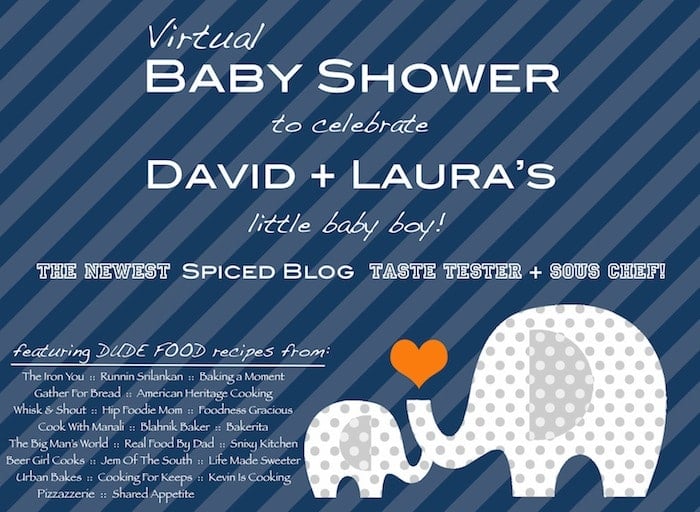 David (from Spiced Blog) and his wife are expecting a baby boy and a few of his blogger friends are showering him with love and food today as he prepares for his bundle of joy! As a long time reader of his blog, I know they are going to be the best parents to their little man and he is going to be an amazing sous chef before he can even walk. Just don't forget to nurture his sweet tooth 🙂
David, your lives are about to change in an unimaginably wonderful way and you will quickly develop a 'new' normal revolving around him. Those first few weeks are hectic and honestly brutal but will be filled with so much love and joy that you won't even remember how hard they were. The key to survival becomes easy to grab food as you cuddle and love your new one. Bring out your slow cooker and make easy dinners like this slow cooker shredded BBQ chicken. Make it! Freeze the chicken and assemble when you got a few minutes 🙂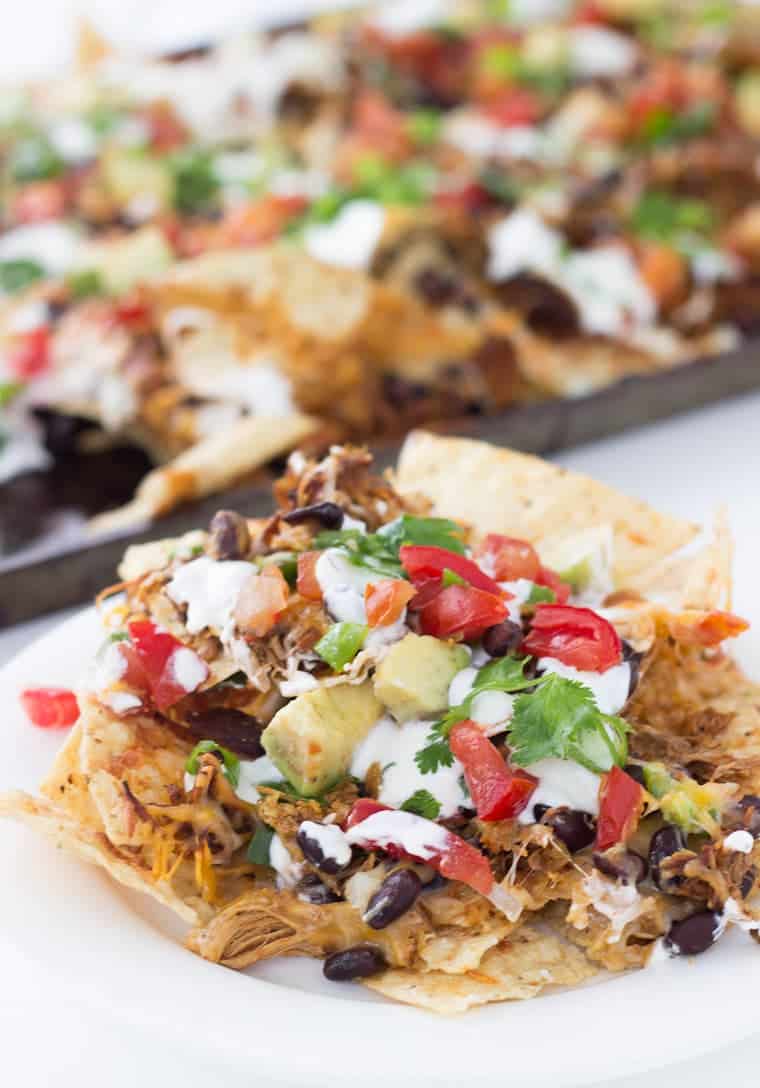 I first made pulled BBQ chicken in the slow cooker a few weeks ago and we've been obsessed. Served in a salad, on a bun or just munched on, it's a great dinner. I used leftovers of my second batch of that recipe to make this shredded BBQ chicken nachos. The nachos is topped with whatever you have on hand and it's simply amazing.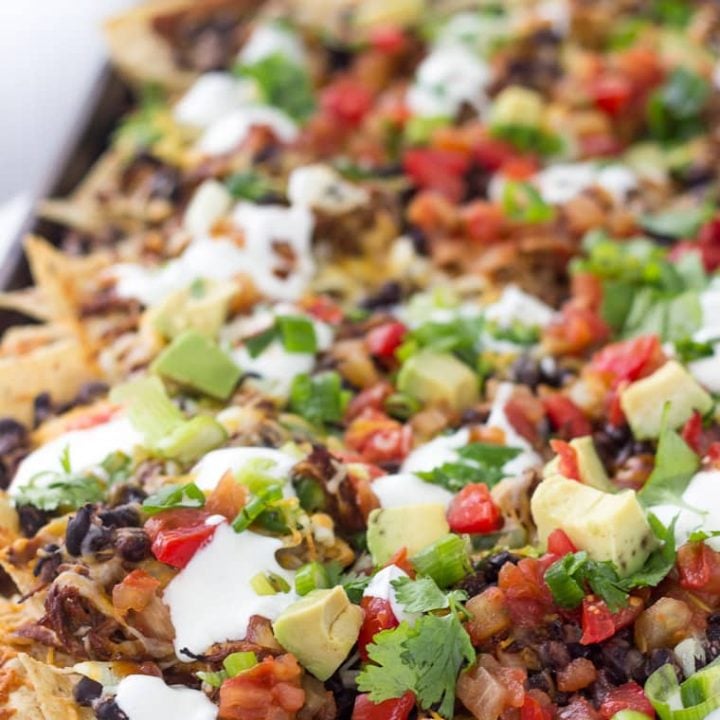 Yield: 8-10 servings
Shredded BBQ Chicken Nachos
Ingredients
2 bags (9 oz each) tortilla chips
Shredded BBQ chicken (slow cooker recipe below but you can use rotisserie chicken tossed in bbq sauce)
1 can (15 oz) black beans, rinsed and drained
1 medium white onion, diced
1 jalapeño pepper, chopped
1 lb shredded cheese (I used sharp cheddar and Monterey Jack)
¼ cup fresh cilantro, chopped
Toppings
1 avocado,
Pico de gallo
1/2 cup sour cream, thinned with a little bit of water
Green onions, chopped
Hot pepper sauce
Slow Cooker Shredded BBQ Chicken
2 chicken breasts, trimmed
¾ -1 cup of your favorite BBQ sauce
2-3 tablespoons worcestershire sauce
1 teaspoon apple cider vinegar
salt and pepper to taste
Instructions
Make ahead:
If you are making your own shredded chicken, place the chicken breasts in your slow cooker. In a small bowl, whisk together the bbq sauce, worcestershire sauce, vinegar and salt and pepper. Pour sauce mixture over chicken. Cook on high for 3-4 hours. Once chicken is cooked through, remove the breasts and shred into pieces (I usually use a stand mixer for this, just beat the chicken with the paddle attachment OR you can use a fork as well.). Return chicken to slow-cooker and toss with bbq sauce mixture.
For Nachos:
Heat oven to 350°. Spray one large baking sheet with nonstick spray to coat.
Arrange one bag of the chips on the prepared sheet and top with half of the bbq shredded chicken, black beans, onions, jalapeños and cheese. Top with another layer of chips and repeat the toppings.
Bake the nachos until the cheese is melted, about 20-25 minutes. Sprinkle with fresh cilantro and your choice of toppings (avocado, pico de gallo, salsa, sour cream). Serve immediately.
Congratulations David!! I wish you guys a speedy and easy delivery. Enjoy the little man. And hang in there… those first few rough weeks will come to an end.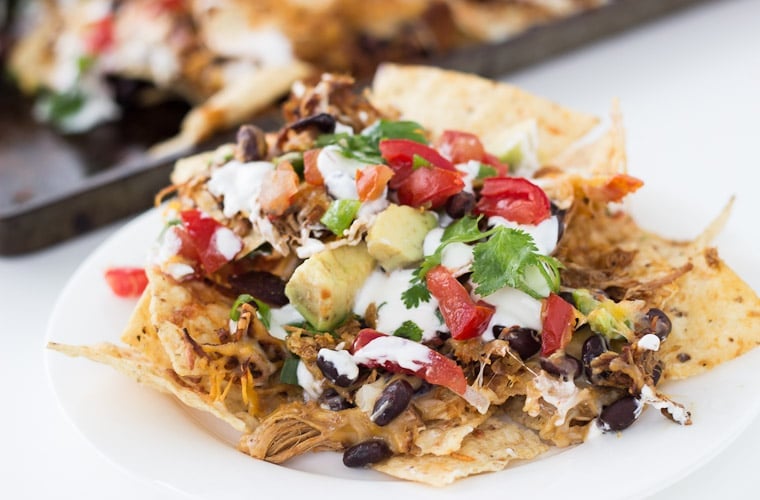 Here's everyone celebrating David today! There are LOTS of "Dude Food" ideas that's making this manly baby shower very delicious! Thank you Chris for getting us all together to celebrate David!
Buffalo Chicken Blue Cheese Hand Pies by American Heritage Cooking
Chocolate Bacon Toffee by Bakerita
Pumpkin Beer Soft Pretzels by Baking A Moment
No Bake Salted Caramel Apple Slice by The Big Man's World
Philadelphia Cheesesteak – Southern Style by Beer Girl Cooks
Shredded BBQ Chicken Nachos by Blahnik Baker
Cinnamon Churros by Cooking With Manali
Grilled Brown Butter Burgers with Swiss + Boubon Mushrooms by Cooking for Keeps
Cider Braised Brisket by Foodness Gracious
Ham Potato and Corn Chowder by Gather For Bread
Mini Croques Monsieur Sandwiches by Hip Foodie Mom
Wolfpack-Style Meatballs by The Iron You
Pecan Praline Popcorn by Jem Of The South
No Bake Pumpkin Cheesecake Pecan Tarts by Kevin Is Cooking
Maple Sriracha Pulled Pork Mini Pies by Life Made Sweeter
Vanilla Almond Snowball Cake by Pizzazzerie
Something Amazing by Real Food By Dad
Cinnamon Bacon Donuts by Runnin Srilankan
Buffalo Garlic Knots by Shared Appetite
Spicy Butternut Bacon Deviled Eggs by Snixy Kitchen
Maple Bourbon Bacon Chocolate Donuts by URBAN BAKES
Vegan White Pizza with Spinach & Basil by Whisk & Shout