Pineapple Jalapeno Chicken Wings
This post and these sweet and spicy pineapple jalapeno chicken wings are sponsored by The Coca-Cola Company. All thoughts and opinions are my own.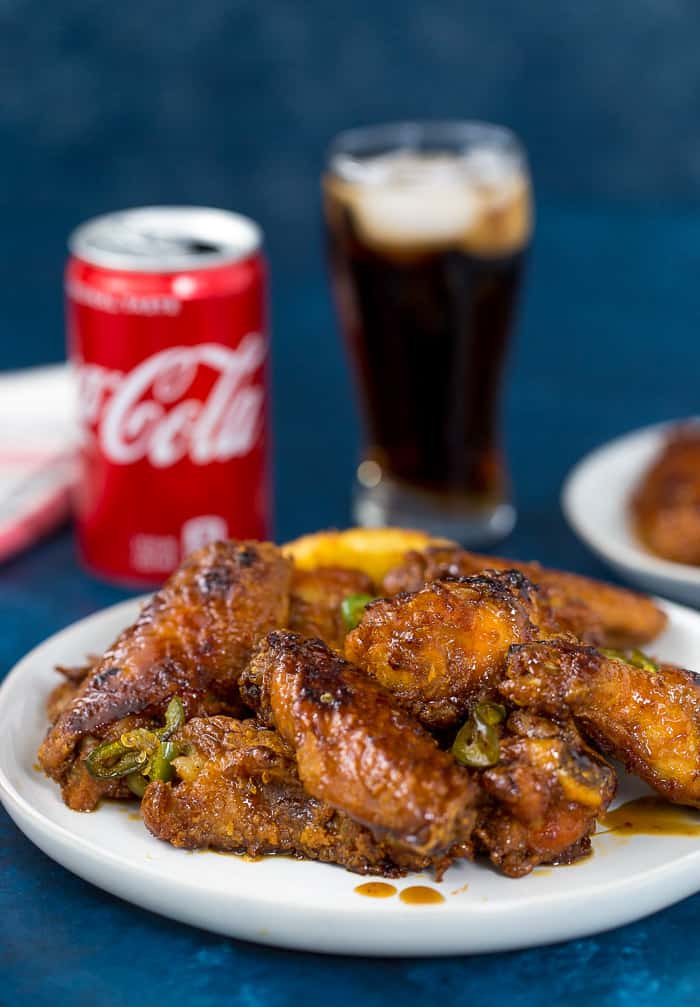 Now that Memorial Day, the unofficial start of summer has come and gone, let's get this summer started! Nothing says summer like an afternoon backyard barbecue with burgers, chicken wings, and angel food cake. In preparation for summer, I was on a mission to perfect crispy oven baked chicken wings and I am happy to report that these pineapple jalapeno chicken wings are exactly that. Crispy to perfection and you don't even need to fry them.
Chicken wings are a staple in our house and although we always order them out, I've been trying to make a good homemade version worthy of game day or family barbecues. These sweet and spicy pineapple jalapenos chicken wings are the first of many successes I have to share with you.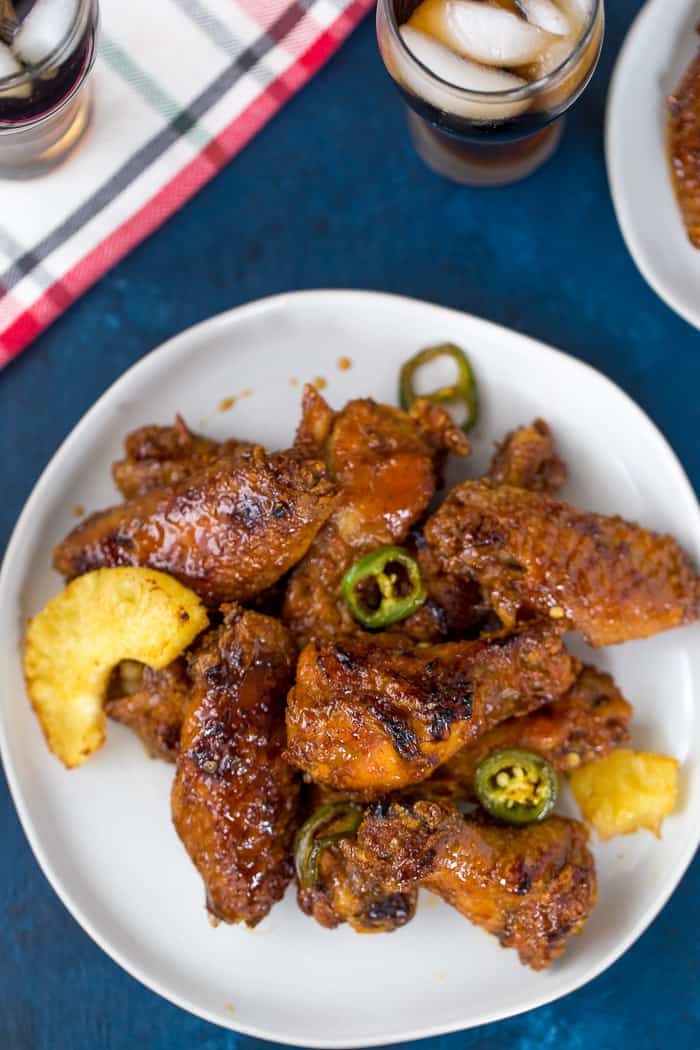 The key to crispy oven baked wings is to coat the wings with a mixture of light flour + baking soda AND drying them out in the refrigerator before you bake them. That's it. After months of trial and errors, this simple combination yielded the best results. What's very important is letting the wings dry out and the longer you let them dry, the crispier they would be. Be patient with this step and you will LOVE the reward.
For these wings, I decided on a sweet and spicy combination. Sticky delicious wings that are finger licking good! (←—-Sorry I had to lol). And that's thanks to the Coca-Cola® glaze that's coating these wings. I cooked down classic Coca-Cola® with brown sugar, jalapenos (for the heat) and pineapples (for the sweet). This sticky sweet glaze can be made as spicy as you want. I added a few teaspoons of chili powder into the glaze as it cooked for more heat but you can choose to stick with the jalapenos alone. It's up to you!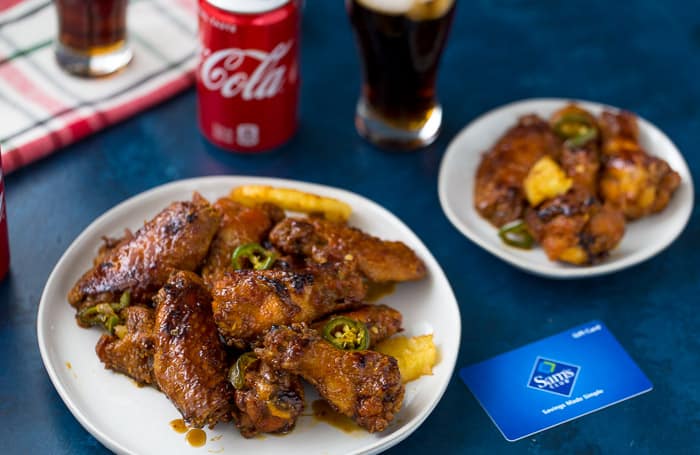 Speaking of Coca-Cola®, have you seen these Coca-Cola® Mini Cans? They are adorable and seriously perfect for summer gatherings. At 7.5 ounces a can and only 90 calories, it's just the right amount you need to quench your thirst on a hot summer day. I buy mine at Sam's Club whenever I do my monthly haul. I love all the savings with buying things in bulk.
Okay, back to our crispy oven baked wings friends. Once the wings are spiced and dried in the refrigerator they will look like this.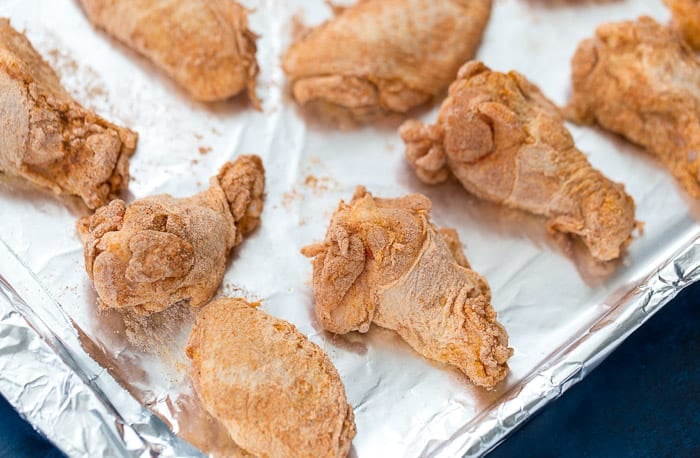 We will bake the wings at a very high oven temperature, 475 degrees F initially and then 425 degrees F to finish. This allows the chicken wings to cook through slowly AND crisp the outside without burning. Can you see the crispy skin after baking?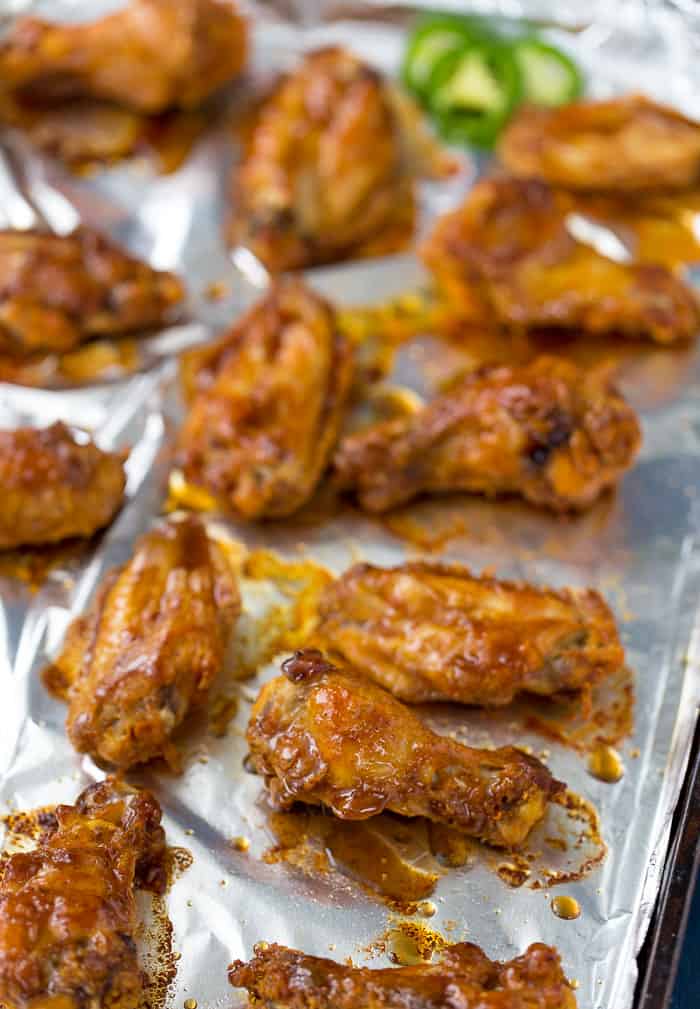 Once the wings are baked, you will toss them lightly in the glaze. Return the wings to the oven and with the broiler on, broil the wings for additional 10 minutes. This final step is important for the final crispy result, please don't skip it.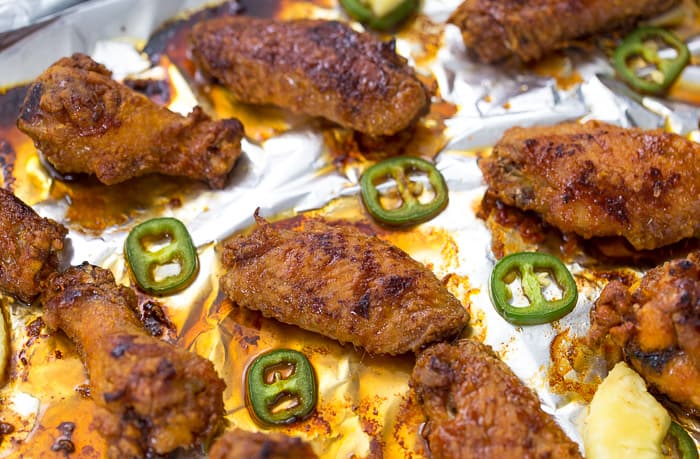 And there you have it guys, the secret to crispy oven baked wings is pretty simple. And once you try these pineapple jalapeno chicken wings, you will not stop making them at home. All your summer gatherings need these wings. Try them with my pineapple jalapeno margaritas!!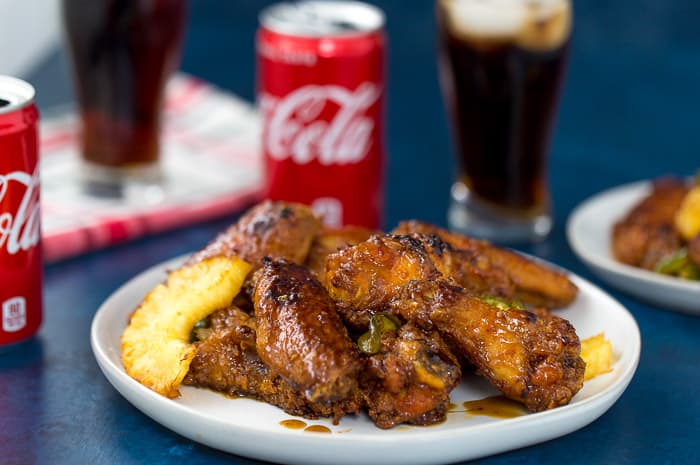 Don't forget to shop for all your summer entertaining at your local Sam's Club. These Coca-Cola® Mini Cans are definitely ideal for summer parties.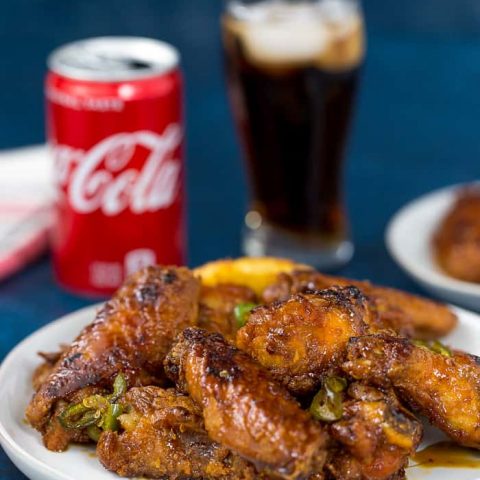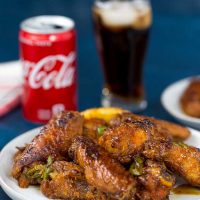 Yield: 2 pounds chicken wings
Pineapple Jalapeno Chicken Wings
Total Time
1 hour
15 minutes
Ingredients
For Wings:
1⁄3 cup all-purpose flour
½ teaspoon baking soda
1 tablespoon smoked paprika (I used this one)
1 teaspoon kosher salt
1 teaspoon black pepper
1 teaspoon garlic powder
1⁄2 teaspoon chili powder (optional)
2 pounds chicken wings
Coarse salt and freshly ground black pepper
For Glaze:
1 cup Coca-Cola®
Juice of 2 limes
1 cup firmly packed light brown sugar
3 jalapeno chiles, finely chopped, plus 2 jalapeno chiles, sliced, for garnish
½ teaspoon chili powder (optional)
¼ cup fresh pineapples, chopped
Instructions
In a large ziplock bag, combine the flour, baking soda, paprika, salt, black pepper, garlic powder, chili powder.
Wash wings, cut off extra fat and pat dry completely.
Toss the wings in the flour mixture in the ziplock bag.
Place the seasoned chicken wings onto a baking sheet in a single layer. Place wings in a refrigerator, uncovered, for at least an hour or preferably overnight. This is the key to crispy baked wings so be patient.
Preheat the oven to 475 degrees F.
Spray another large rimmed baking sheet covered with foil with cooking spray. Don't skip this step as you will regret not coating the foil when your wings stick to the foil.
Place the wings in a single layer on the prepared cookie sheet, skin-side up, and place in the oven.
Roast wings for 20 minutes and then turn wings over. Reduce temperature to 425 degrees F. Continue roasting for 20-25 minutes more or until the wings are cooked through.
While the wings bake, make the glaze. In a small saucepan, bring the soda, lime juice, brown sugar, chopped jalapeno and pineapple chunks to a boil over high heat. Decrease the heat to medium-low and simmer until syrupy, about 30 minutes; keep warm over low heat.
When the wings are done baking, carefully toss them in the glaze and return to the baking sheet. Alternatively, you can use a basting brush and apply the glaze over the wings. Don't forget to glaze both sides.
Preheat oven to broil. Place the wings back in the oven and broil for about 10 minutes, or until the sauce is bubbling and wings are crispy.
Toss the wings in the remaining glaze and serve.