How-To Make One Bowl Chocolate Cake
Easy step-by-step directions (with pictures) on how to make one bowl chocolate cake. This go-to recipe is decadent and moist! Perfect for all your chocolate cake and chocolate cupcakes.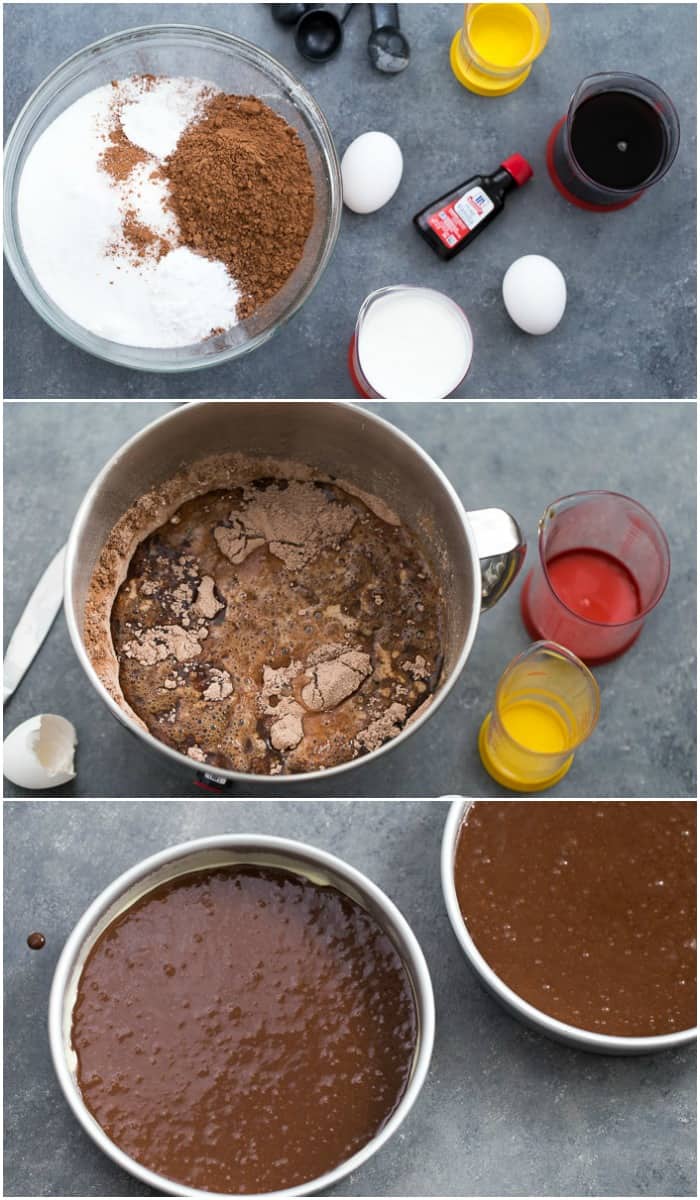 Hi friends! I have another simple how-to post for you today. I am starting with basics like how to frost a layer cake and now how to make one bowl chocolate cake. This chocolate cake recipe is the MOST popular recipe on my blog and I spend a lot of time responding to questions and emails from those of you just starting out on your baking journey. So here it is in one place, walking you through how I make my favorite one-bowl chocolate cake recipe. It's the most decadent and moist chocolate cake that is perfect for your chocolate loving family.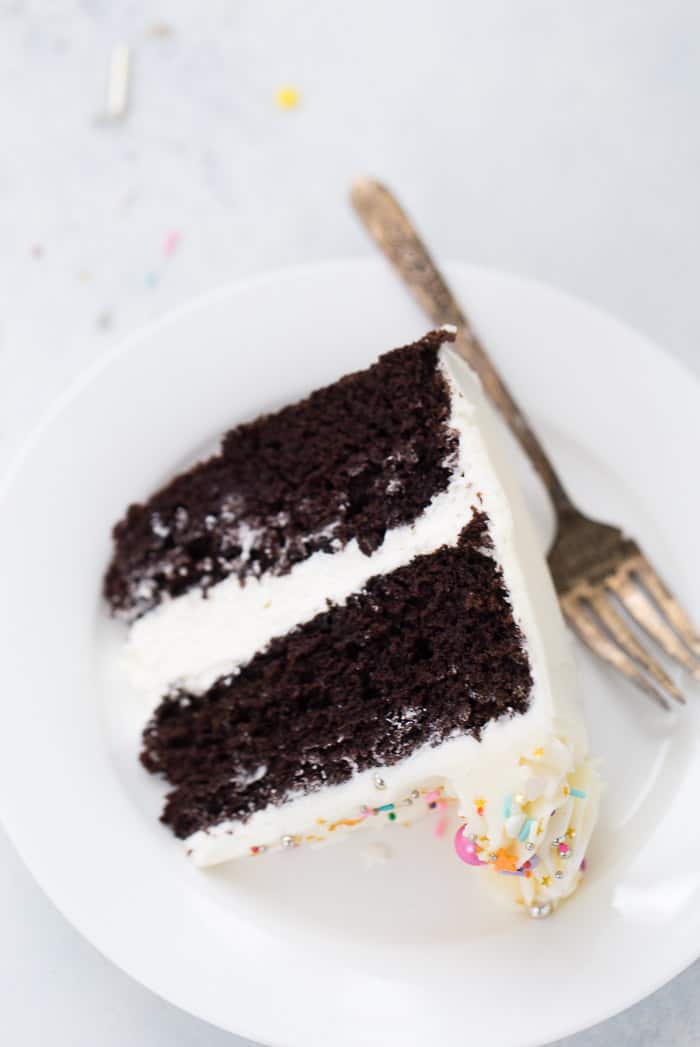 To say this is simple is an understatement. Here are the ingredients needed for two 8-inch round cakes.
First, the dry ingredients include:
All-purpose flour
Granulated sugar
⅓ cup cocoa powder (I used Ghirardelli but you can use any high-quality cocoa powder)
1 teaspoon baking soda
½ teaspoon baking powder
½ teaspoon kosher salt

For the wet ingredients:
1 large egg, at room temperature
½ cup buttermilk, at room temperature
½ cup strong black coffee, hot
¼ cup vegetable oil
1½ teaspoons pure vanilla extract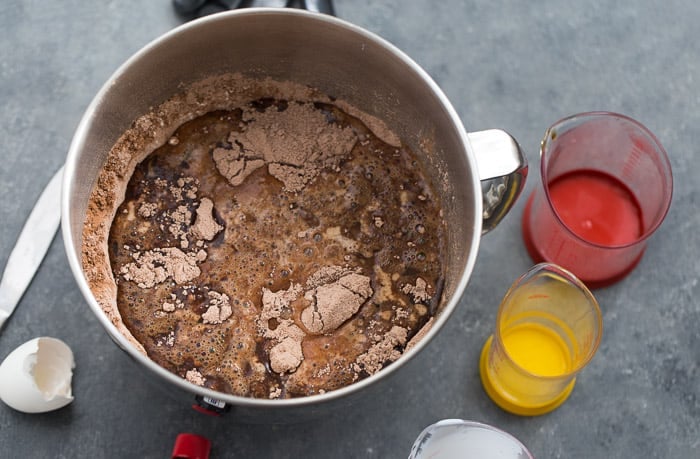 Combine the dry ingredients in a large bowl. Whisk together to make sure it's all well combined. In a separate bowl, you want to also whisk together your wet ingredients. I like adding the hot coffee last slowly to ensure not scrambling the eggs.
Add the wet ingredients to the dry and mix until well combined. I like beating on medium speed for 2-3 minutes to really mix the batter.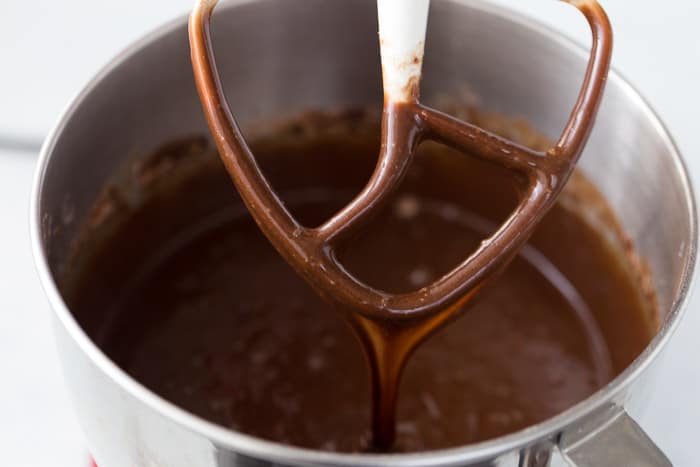 As you can see it is a thin batter but that is expected. Before baking, I like using a spatula and give it one more mix.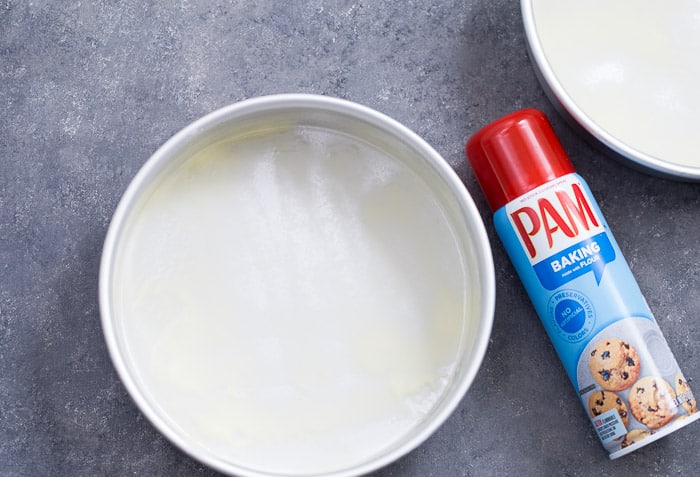 The key to any great cake is in the baking. I love using Fat Daddio's baking pans – these 8-inch rounds are my go-to for celebration cakes. Butter and flour your pans really well before adding your cake batter. I use PAM baking spray (not sponsored, just love them) which mixes butter and flour for easy greasing. It has never failed me even for intricate bundt cake designs like this passion fruit bundt cake (know on wood).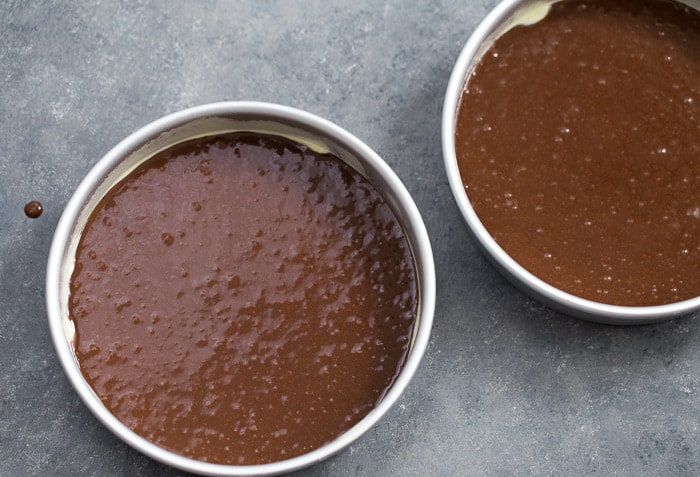 Divide your batter evenly into two 8-inch round cake pans. You can double this recipe to make three 9-inch cakes.
Once the batter is in the cake pans, give the pans a few good taps on the counter to release any air bubbles.
Bake the cake at 350 degrees F for 22-25 minutes or until a skewer inserted into the center comes out clean.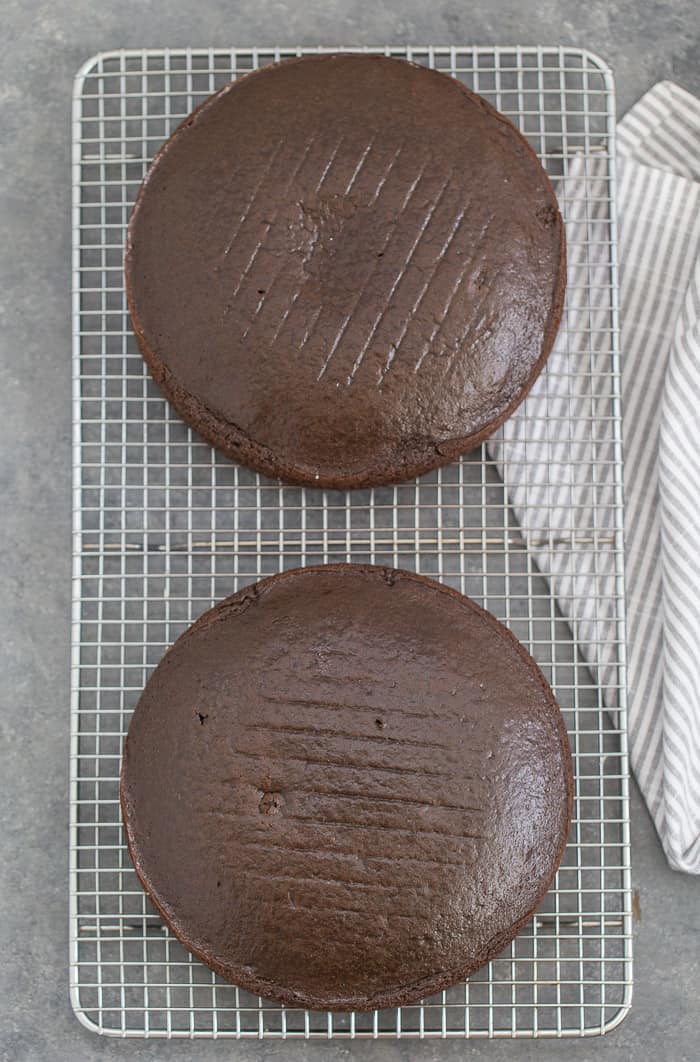 Let cool in pan for at least 10 minutes. Invert to a wire rack and let cool completely.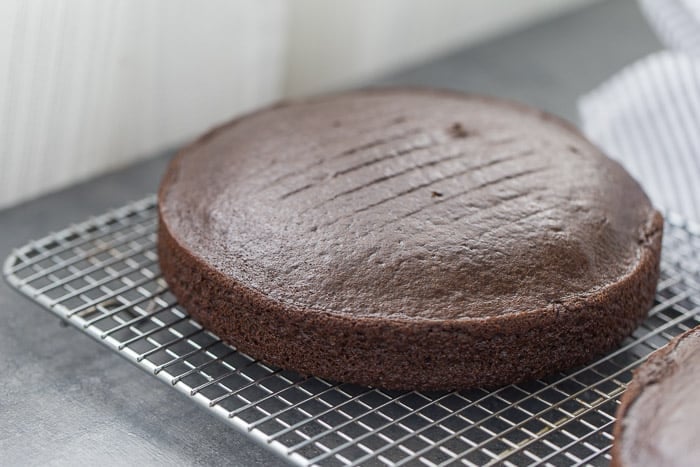 There you have it, friends. An easy chocolate cake to make and one that will soon become your go-to if you haven't tried it.
This one-bowl chocolate cake recipe is one of my favorites. The coffee in the cake batter enhances the chocolate flavor making it, even more, richer (aka decadent). Using vegetable oil instead of butter ensures maximum moistness (is that even a thing??). It's my go-to recipe and you can see I use it in a base from everything from this Chocolate Cake with Salted Caramel Frosting to these Chocolate Cupcakes.

Substitutions:
You can use just plain hot water in place of the coffee.
You can also use 1/4 cup coconut oil to make this recipe dairy-free.
You can double the recipe and bake in three 9-inch round cake pans. Adjust bake time accordingly (about 25-28 minutes).
You can also bake this in cupcake forms. Bake the batter in cupcake liners for 12-15 minutes.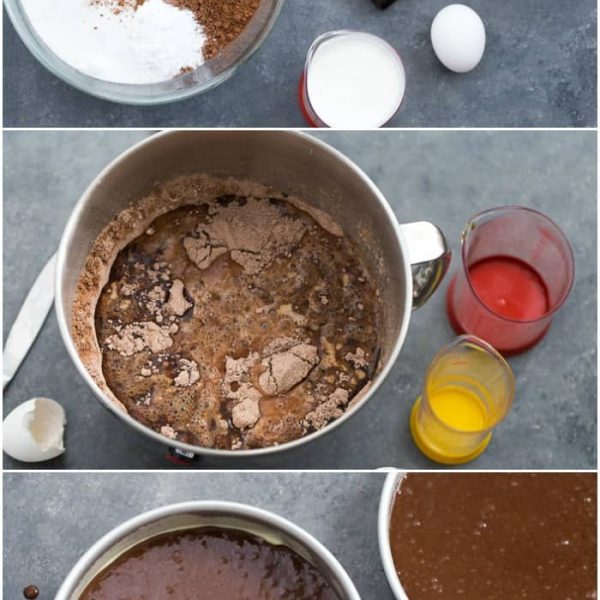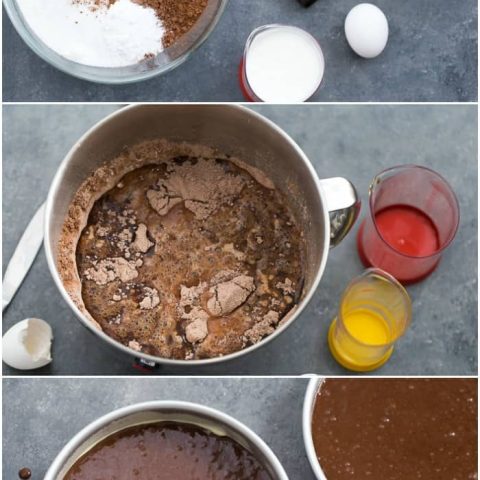 Yield: 2 8-inch round cakes
How-To Make One Bowl Chocolate Cake
Step by Step directions on how to make a decadent one bowl chocolate cake.
Ingredients
1 1/2 cup all-purpose flour
2 cups granulated sugar
1 cup unsweetened cocoa powder (I used Ghirardelli)
2 teaspoons baking soda
1 teaspoon baking powder
1 teaspoon kosher salt
3 large eggs, at room temperature
1 cup buttermilk, at room temperature
1/2 cup vegetable oil
1½ teaspoons pure vanilla extract
1 cup strong black coffee, hot
Instructions
Preheat oven to 350 degrees F. Grease and line two 8-inch cake pans with parchment paper. Grease the parchment.
Sift together all the dry ingredients into the bowl of an electric mixer.
In a medium bowl, combine all the wet ingredients, except the coffee, using a whisk.
Mix the dry ingredients on low speed for 1 minute. Slowly add the wet ingredients. Mix on low until well combined, scraping down the side of the bowl. Pour in the hot coffee and mix until just combined. Try not to overmix the batter.
The batter will be thin. Divide the batter evenly into the prepared pans.
Bake for 25-30 minutes or until a toothpick inserted in the center comes out almost clean.
Cool cakes in pan on a wire rack for 10 minutes before inverting onto the wire racks to cool completely.
Recommended Products
As an Amazon Associate and member of other affiliate programs, I earn from qualifying purchases.