Passion Fruit Bundt Cake
This passion fruit bundt cake is the pure magic of sweet, tropical passion fruit flavor soaked into a moist pound cake. The cake itself is just incredible!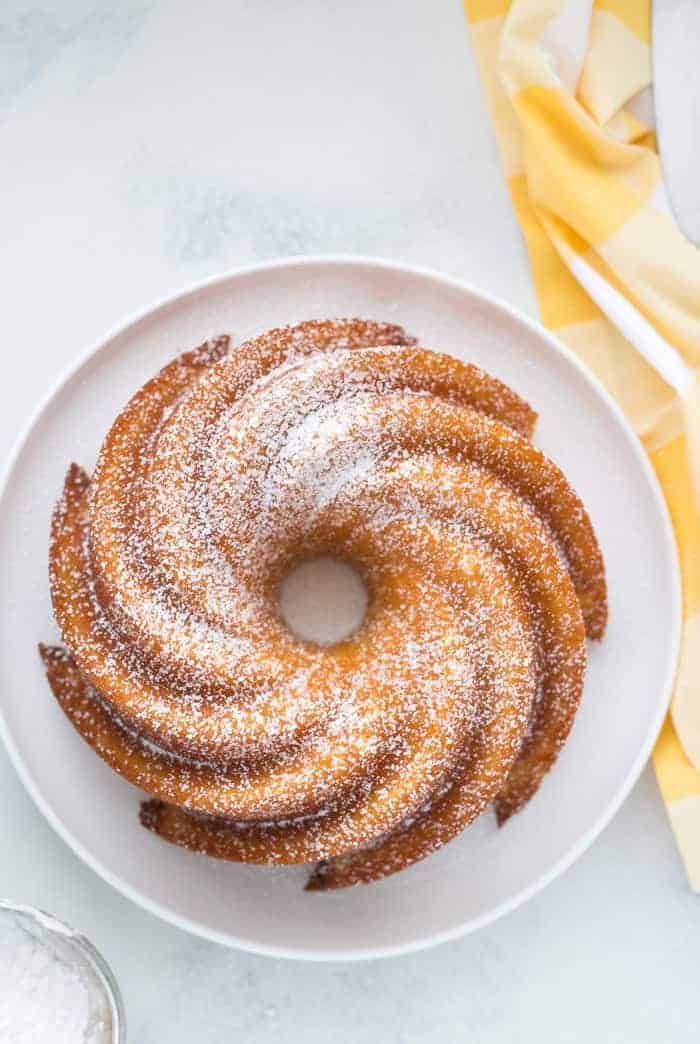 I have a complicated relationship with passion fruit and this passion fruit bundt cake is the first passion fruit recipe on the blog. It is one of my favorite tropical fruits, even more so than coconut and if you know me and my coco-loco self, you know it's a LOT of love. However, despite my love for passionfruit, I've been staying away from it like the plague.
I was first introduced to passion fruit as an 8-year old (+/- 1 year or so) when my father brought the seeds home. My father was a plant biologist and loved experimenting with local and foreign plants. On a trip to Indonesia, he was introduced to passion fruit. He brought home to Sierra Leone the seeds with the hopes to propagate it there.
Of course, passionfruit was not native to Sierra Leone but with similar climate and conditions, my dad was determined to have us try this gem. It was a fun experiment that I vividly remember helping with. From sowing the seeds to nurturing them to finally see the fruits, it was an exciting experience.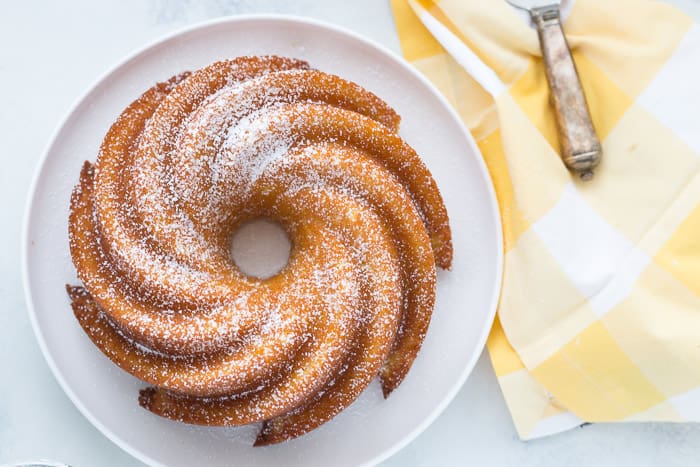 Needless to say, we had several passionfruit trees/bushes in our yard growing up and I loved the juices from the pulp. We would make the best passionfruit juice, similar to the hibiscus sparkler I shared with you every dry season (our version of summer).
When I left home to study abroad in South East Asia, I always found myself buying passionfruit juice and passionfruit to stay connected to home. It was one of the foods that would alleviate being homesick. I even remember sending my dad a picture of me in Bali with a passionfruit!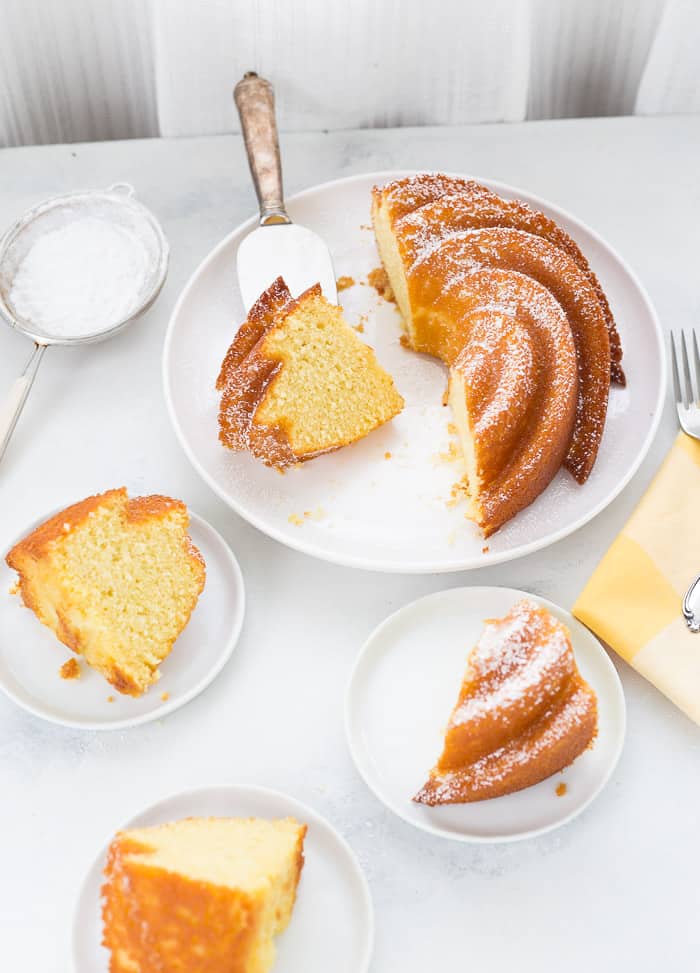 My relationship with passionfruit stayed that way until I lost my dad 7 years ago. For a long time, I made the conscious/unconscious choice to stay away from passionfruit because of the memories and the pain that was associated with those memories. I stopped buying it and enjoying it.
As I started this baking journey, I kept getting drawn into passion fruit treats but was resisting having to make any or bring myself to think about how special it was to me.
But every year, almost like clockwork, Love and Olive Oil (she doesn't know this), will post a drooling passion fruit recipe and I will all over again dream of the flavor of my childhood that I loved so much. Without even realizing it, just seeing her passionfruit treats in my inbox yearly, I started yearning for passionfruit treats. She posted this Passion Fruit Meringue Tart in 2014, 4 years after my father passed and I think it was the first time I thought about why I was avoiding passionfruit. It was actually the nudge that I needed to face this loss.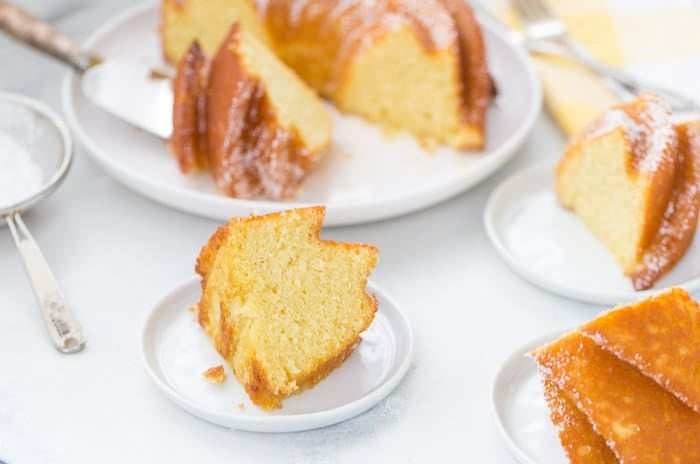 To cut a long story short, I eventually started eating passionfruit again and embracing the memories of my childhood. I shared it with my husband and son who both never got to meet my dad and have yet to visit Sierra Leone. Thanks for this baking journey and seeing passion fruit continuously in my blogosphere (Thanks Lindsay) every so often. It was just what I needed (plus time) to heal.
So there you have the story of my complicated relationship with passionfruit. I'm clearly a HUGE fan and love it in everything. Especially in baked goods. This passion fruit bundt cake is bursting with it. The original recipe (from Bake From Scratch Magazine) drizzles chocolate over this cake but I skipped that as I wanted to enjoy the pure magic of sweet, tropical passionfruit flavor. Uninterrupted by chocolate or anything else. The cake itself is very moist that it crumbles in the mouth. Just incredible!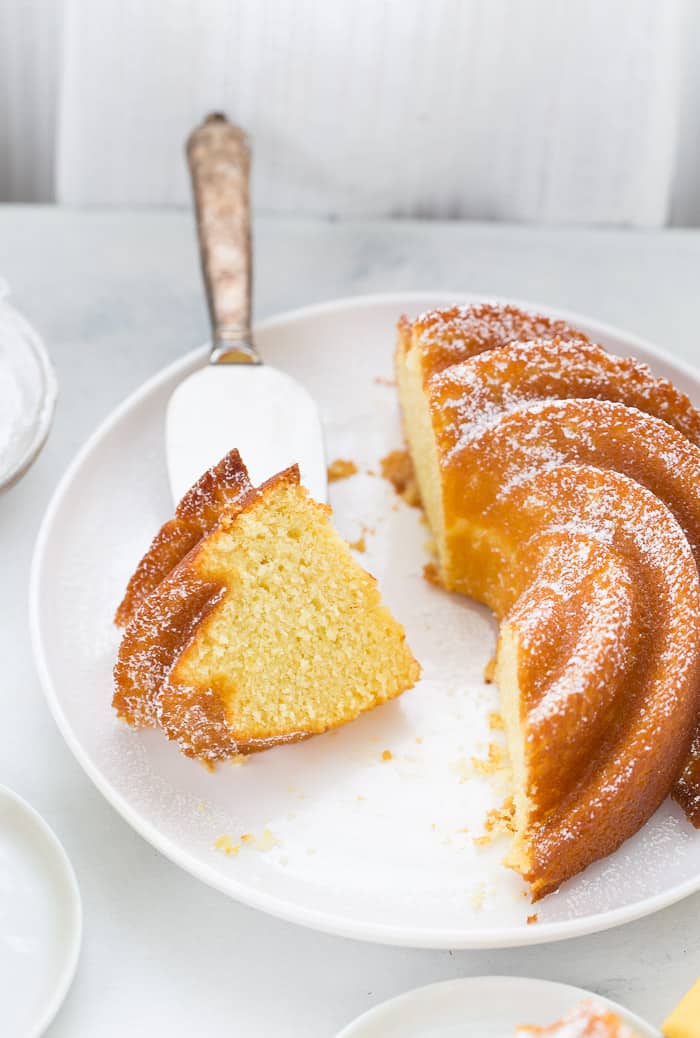 I feel like I am making up for the lost time. There are SO MANY passion fruit recipes I want to make and share with you. I just might get a little carried away with it as I do with the coconut. But it's so good!
You can find fresh passionfruit seasonally in some grocery stores, I know my local Wegmans carry it every now and then over the summer. But you can also buy frozen puree in most grocery stores (ethnic sections) or online.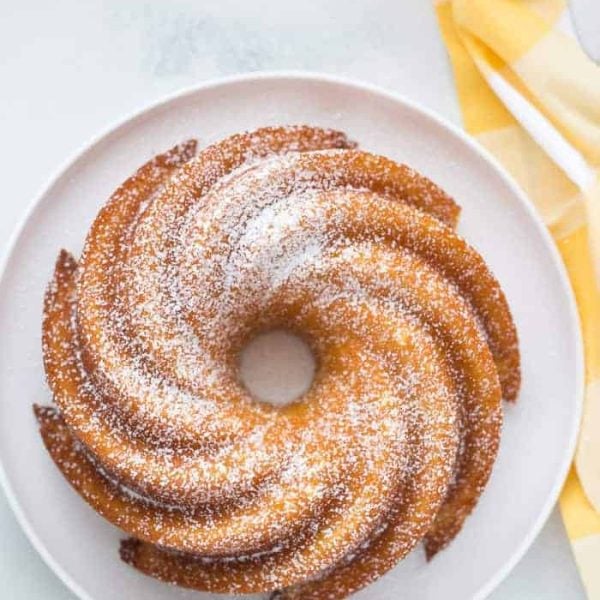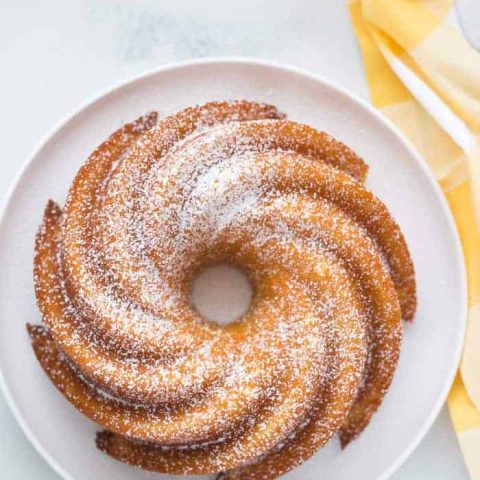 Yield: 1 large bundt cake
Passion Fruit Bundt Cake
Total Time
1 hour
15 minutes
Ingredients
For Cake:
5 large eggs, at room temperature
1 ¼ cups granulated sugar
zest from 1 lemon
½ cup + 2 tablespoons olive oil
1/3 cup yogurt, at room temperature
1 cup self-rising flour
½ cup almond meal/ flour
1/3 cup fine semolina
¼ teaspoon baking powder
For the passionfruit syrup:
1/3 cup passionfruit puree
1/3 cup granulated sugar
Instructions
Preheat oven to 350 degrees F. Grease an 8-10 cup bundt pan with baking spray.
In a large bowl combine the eggs, sugar and lemon zest. Beat on medium speed until pale and light, about 5 minutes.
Add the olive oil, yogurt and passionfruit puree. Beat until just combined.
In a medium bowl, whisk together the flours, semolina and baking powder.
Reduce mixer to low speed and gradually add the flour mixture. Mix until just combined. Do not over mix.
Spoon cake batter into prepared pan.
Bake cake for 40-45 minutes or until a cake tester inserted into the middle comes out clean.
While the cake is baking, make the passionfruit syrup. In a medium saucepan set over medium heat, bring to a boil the passionfruit puree and sugar. Let simmer for 4-5 minutes until slightly reduced. Remove from heat and let the syrup cool.
Remove cake from oven and let the cake cool in the pan for at least 10 minutes before inverting onto a wire rack to cool.
Brush the cake while still warm with the passionfruit syrup. This adds moisture and more passionfruit flavor to the cake.
Serve cake with a dusting of powdered sugar or a simple passionfruit glaze (combine passionfruit puree with powdered sugar to make the glaze).
Notes
Recipe adapted from Boy Who Bakes for Bake from Scratch
If you do not have self-rising flour, use 1 cup all-purpose flour, 1 1/2 teaspoons baking powder, and 1/4 teaspoon salt.
Recommended Products
As an Amazon Associate and member of other affiliate programs, I earn from qualifying purchases.