Chocolate Cupcakes with Perfect Chocolate Buttercream
This Valentine's Day make my go-to chocolate cupcake recipe for your loved ones. It is moist and decadent with a perfect creamy chocolate buttercream.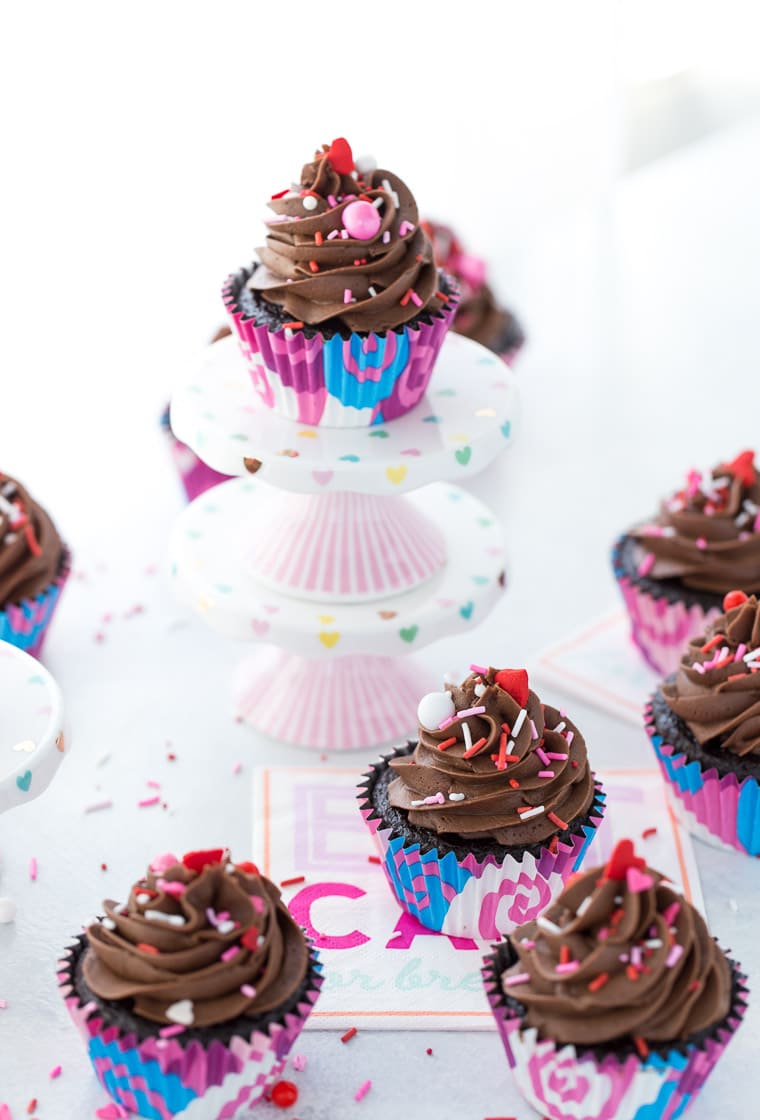 Every now and then I forget that we all need classic recipes for our baking repertoire. That is why I am bringing back these chocolate cupcakes with perfect chocolate buttercream back to your attention. I first shared this recipe over three years ago and I still use it every day. It is my go-to chocolate recipe for cupcakes and cakes and it is the only chocolate recipe you will need.
This chocolate cupcake recipe is a one-bowl devil's food chocolate recipe that is fool-proof. Made with buttermilk, vegetable oil and coffee, it is moist, decadent and every chocolate lover's dream. The addition of hot coffee to the batter always give a moist, rich mocha chocolate cake. If you don't want to use coffee, just replace with hot water.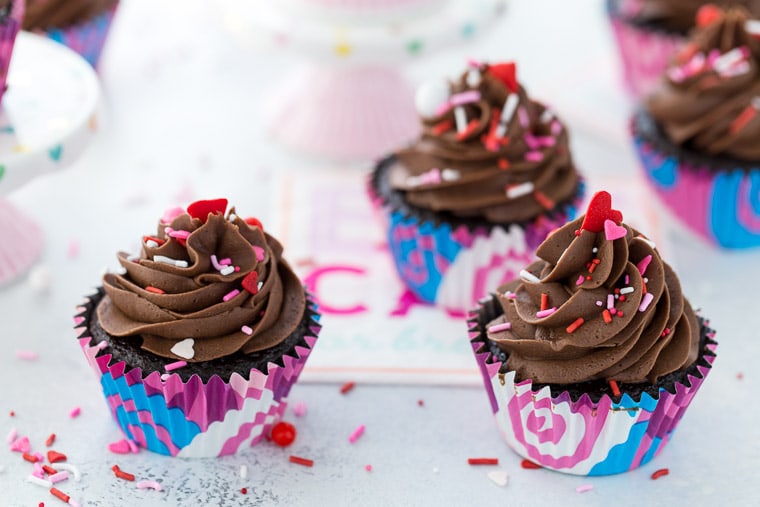 The buttercream here is a little different from my usual but it's been a delicious variation. Instead of adding melted chocolate to the frosting, I used cocoa powder. It gives a very creamy, fluffy and chocolate-y frosting. With the addition of cocoa powder you are in control of how much chocolate you add and how chocolate-y the frosting will be. Regardless of your chocolate preference levels, this frosting is amazing!!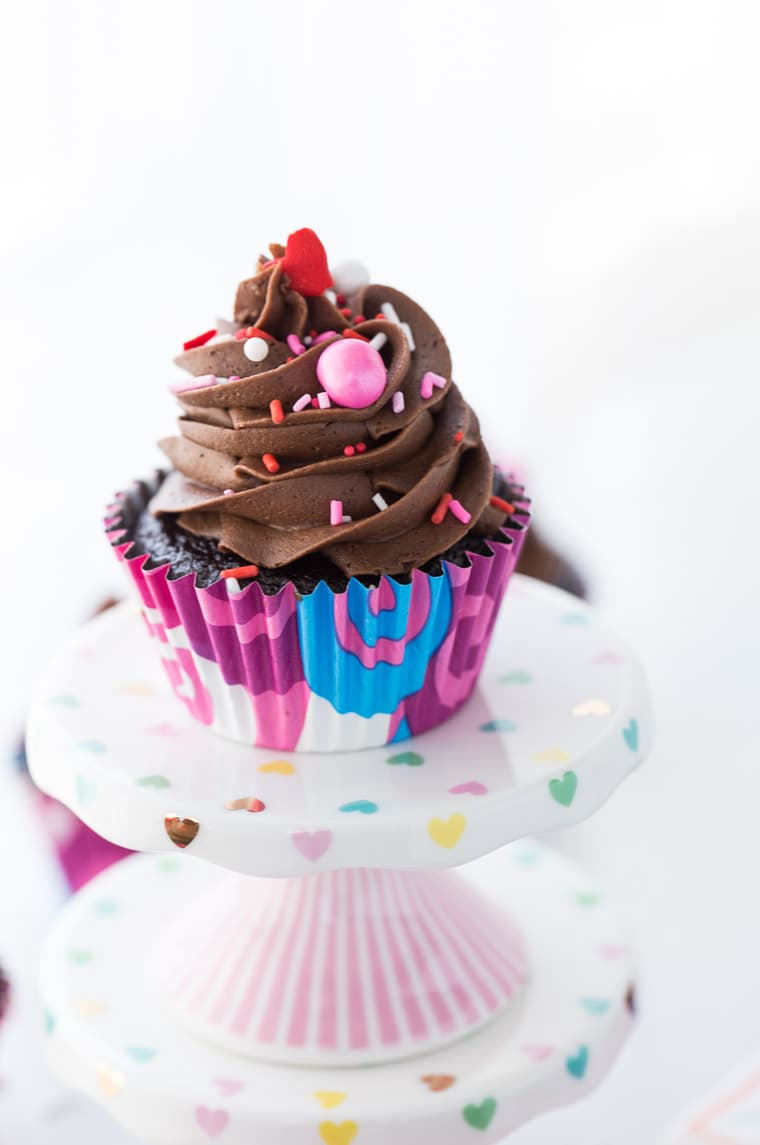 As I was putting this post together, I realized that I don't have a post on the blog dedicated to chocolate cupcakes with chocolate buttercream. I always dress things up. There were these dark chocolate salted caramel cupcakes (my absolute favorite, if I must say so) and this chocolate milky way cupcakes and even this chocolate peanut butter cake. But nothing just CHOCOLATE. And sometimes you just need a great chocolate cupcake.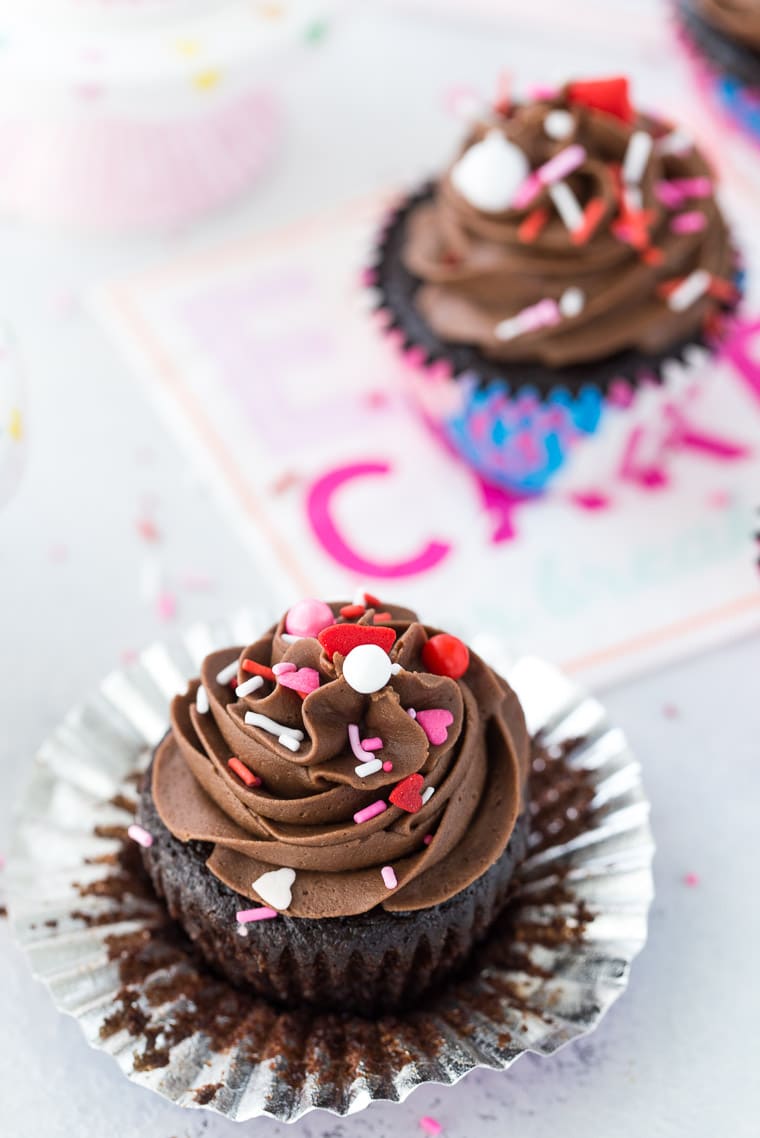 So if you are looking for go-to chocolate cupcakes with perfect chocolate buttercream, look no further. This recipe will not disappoint and is easy to whip up at any time!!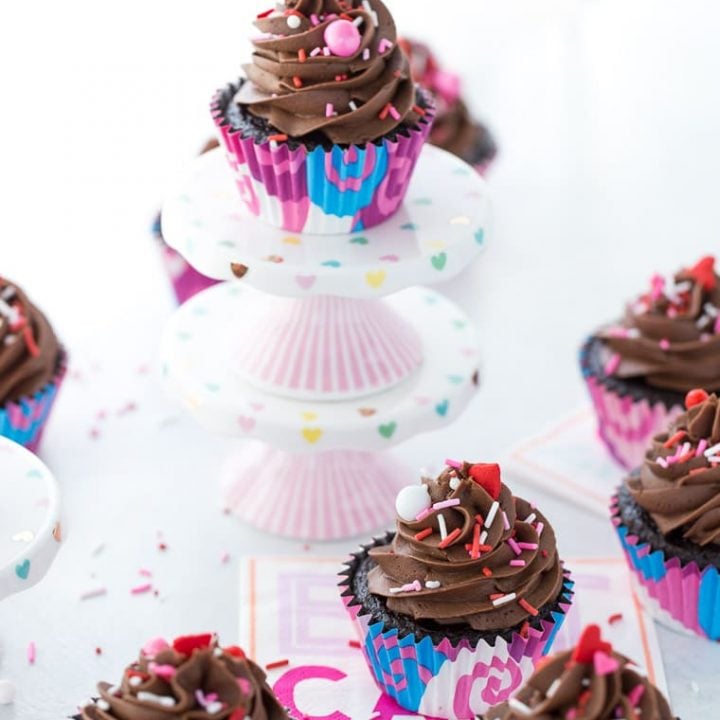 Yield: ~15 cupcakes
Chocolate Cupcake with Chocolate Buttercream Frosting
My go-to chocolate cupcake recipe is a very moist, airy, rich chocolate cupcake with a perfect creamy chocolate buttercream.
Ingredients
For Chocolate Cupcakes:
1 cup all-purpose flour
1 cup sugar
1 teaspoon baking soda
½ teaspoon baking powder
½ teaspoon kosher salt
1 large egg, at room temperature
½ cup buttermilk, at room temperature
½ cup strong black coffee, hot
¼ cup vegetable oil
1½ teaspoons pure vanilla extract
For Chocolate Frosting
1 cup (2 sticks) unsalted butter, at room temperature
2-3 cups confectioners' sugar, sifted
¾ - 1 cup unsweetened cocoa powder
2 teaspoons pure vanilla extract
Pinch of salt
2-3 tablespoons heavy cream
Instructions
For the Chocolate Cupcakes:
Preheat oven to 350 degrees F. Line muffin tins with cupcake liners.
Sift together all the dry ingredients in the bowl of an electric mixer.
In a medium bowl, combine all the wet ingredients using a whisk.
Mix the dry ingredients on low speed for 1 minute. Stop the mixer and add the wet ingredients. Mix for 2 minutes on medium speed and scrape the sides and bottom of bowl. Mix for additional minute on medium speed.
The batter will be thin. Divide evenly among the cupcake liners.
Bake for 12-15 minutes or until a toothpick inserted in the center comes out almost clean.
Cool cupcakes on wire racks completely. Meanwhile you could start on the frosting.
For Chocolate Frosting:
Whip butter on medium speed for about 2-3 minutes in the bowl of a stand mixer fitted with the paddle attachment until light and creamy. Add the powdered sugar, cocoa powder, vanilla and salt and mix on low for 1 minute until combined. Increase speed to medium-high and whip for 2-3 minutes.
Add heavy cream and beat on medium-high for an additional minute or two.
Frost cupcakes and decorate with sprinkles.
Notes
I got the sprinkles from HERE
Tools I used in this recipe:
(Some affiliate links included)